7 Le Creuset Dutch Oven Alternatives That Are Chicer and Cheaper Than Ever
Treat yourself for a lot less.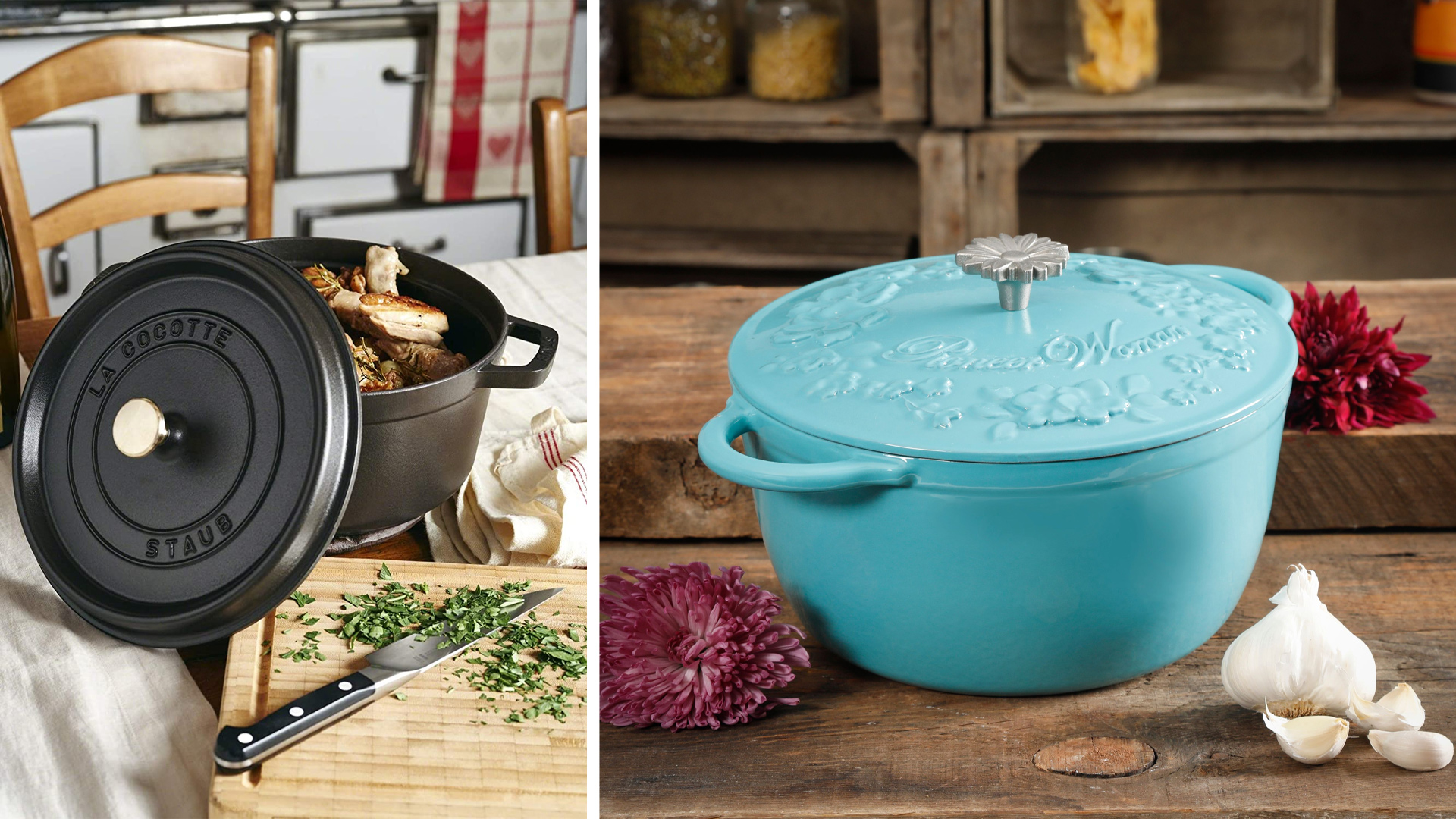 When you want to really treat yourself in the kitchen, you spring for the beloved Le Creuset cookware. While there's no questioning the iconic French brand's quality products, the extremely high price tags may have you questioning your potential purchase.
Depending on the size, a Le Creuset dutch oven could cost you up to $675. For those practical shoppers who don't necessarily want to spend hundreds of dollars on a pot, don't stress.
There are plenty of affordable enameled cast iron options on the market that look good and still get the job done, withstanding high heat on your stovetop and in the oven. Scroll through below for la crème de la crème Le Creuset alternatives all at a fraction of the cost.
1. Lodge Enameled Cast Iron Dutch Oven

Sale Price: $55.13 | Regular Price: $62.94
Many reviewers have pointed out that, considering the budget-friendly price tag, Lodge is the next best thing to Le Creuset. It's a family-owned brand from Tennessee that's been making high-quality cast iron cookware since 1896.
This Lodge option can take high oven heat of up to 500° F, and there's no denying how beautiful it looks. Personally, I'd be excited to serve any meal straight out of the oven in this statement piece.
2. Cravings by Chrissy Teigen Cast Iron Dutch Oven

Regular Price: $39.99
Who knew Chrissy Teigen would be the celebrity to gift the world with a kitchen line that includes cast iron? On top of that, her stylish Cravings by Chrissy Teigen cast iron dutch oven is less than $40 at Target. That's well below Le Creuset's offerings for a pot that is arguably just as trendy.
One thing you'll need to be aware of, however, is that Teigen's particular design isn't enameled cast iron. This means it'll require a little extra love and care. Unlike a standard enameled cast iron, this option will require seasoning and is more prone to rust if not properly cared for. At the end of the day, these are small sacrifices that can easily be dealt with to save hundreds.
Deal Tip: This item ships free, but if you want it even faster, check to see if it's available for complimentary curbside pickup at your local Target.
3. Staub Cast Iron Round Cocotte

Regular Price: $289.95
Do you have a bigger budget to splurge on higher quality features more in line with Le Creuset's? Perhaps the Staub cast iron round cocotte was made for you.
It's also cookware made in France, and is guaranteed to be a top-of-the-line addition to your kitchen. Not only does the silhouette look good, it can take oven temperatures of up to 900° F — which is nearly double the limit of other cast iron alternatives.
Deal Tip: Since the item is available on Amazon, customers can opt for free, often next-day, shipping. And if you're interested, you can currently snag a $100 Amazon gift card when you're approved for an Amazon.com credit card.
4. Cuisinart Round Cast Iron Casserole

Regular Price: $84.96
Thanks to Cuisinart, you can land a cast iron casserole with a porcelain enamel exterior made to last. This under-$85 option is convenient and easy to care for, as it's dishwasher safe. However, hand washing is still recommended to maintain its quality.
Moreover, whether you're broiling, searing or grilling, this casserole can do it all. Cuisinart's high-end enameled cast iron has fantastic heat retention and even heat distribution capabilities that are certainly worth its modest price tag.
5. Artisanal Kitchen Supply Enameled Cast Iron Dutch Oven

Regular Price: Starting at $39.99
Artisanal Kitchen Supply has an enameled cast iron dutch oven that's priced as low as $39.99. The brand boasts a lifetime of superb cooking performance with enamel that is super easy to clean and comes in a variety of beautifully rich colors. It also has a matching lid that prevents heat or any moisture from leaving the pot, ensuring only the best cooking process.
Deal Tip: Before you finalize your cart, remember to sign up for the Bed Bath & Beyond email newsletter to receive a 20% off coupon for your first order.
6. La Cuisine Cast Iron Dutch Oven

Regular Price: $127.49
Cast iron can be really heavy, but La Cuisine has the lightweight option you've been waiting for. The brand's cookware, like this cast iron dutch oven, is made from single-use sand molds, resulting in a lighter product with a fine enamel finish that's one-of-a-kind. At the same time, you're still getting the oven-friendly even heat distribution you expect from a dutch oven.
Deal Tip: This item is readily available at Lowe's and it meets the free delivery minimum requirement. Alternatively, you can opt for complimentary in-store pickup at your nearest Lowe's.
7. The Pioneer Woman Timeless Beauty Dutch Oven

Sale Price: $44.94 | Regular Price: $49.97
Grab a dutch oven that stands out, while still offering the same durable capabilities as the alternatives. Food Network's The Pioneer Woman sells unique and affordable cookware that you'll want in your kitchen ASAP.
This gorgeous dutch oven is now on sale at Walmart and features a lid with an embossed floral design you won't find anywhere else. It's sure to add some top notch country charm to your stovetop and oven.
---
Set a Deal Alert to make sure you're getting the best price on your next cookware purchase. Additionally, browse our Kitchenware Deals page to find all the current sales and offers from a variety of brands and retailers.
Up Next:
---
Any product or service prices/offers that appear in this article are accurate at time of publish, and are subject to change without notice. Please verify the actual selling price and offer details on the merchant's site before making a purchase.