Little Caesars is Introducing Meatless Impossible Sausage to the Menu
The pro-meat pizza parlor is turning over a new leaf with this plant-based topping.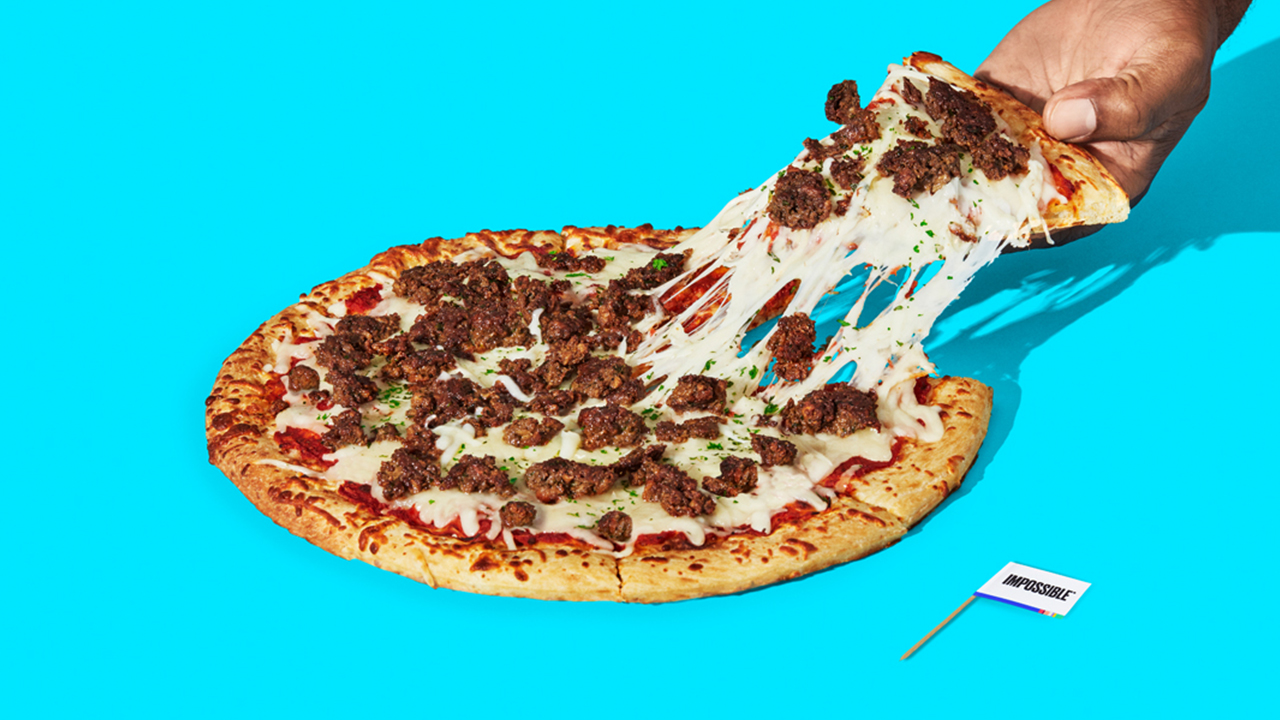 Impossible Foods disrupted the burger industry with its meatless patty back in 2016, and now its tackling another American favorite: pizza.
The company is partnering with Little Caesars to offer its next meatless creation: The Impossible Sausage. Herbivores and carnivores can now enjoy this halal and kosher-friendly meatless sausage on top of the new Little Caesars $12 Impossible Supreme Pizza.
Perfecting the Impossible Sausage was no easy task. In fact, it took Impossible Foods more than 50 prototypes to concoct the right one for Little Caesars.
And though pizza isn't exactly in the healthy category, the plant-based product claims to offer all the taste of sausage with none of the cholesterol, less fat, fewer calories and even more protein.
All this pizza talk may have you drooling to try it but, for now, the pizza is a limited-time promotion at 58 select Little Caesars in the following cities:
Yakima, Washington
Fort Meyers, Florida
Albuquerque, New Mexico
But with the viral success of its predecessor, it is very likely that the Impossible Sausage will soon be rolling out to a pizza parlor near you. And if you're looking to wash down that planty-sausage, you can get a free 2-liter soda with any pizza purchase through the Little Caesars app when you use the promo code FREE2L1.
The Possibilities of Impossible Foods
The plant-based food manufacturer has been on a recent hot streak with partnerships. In April 2019, the company announced that Burger King would debut the meatless Impossible Whopper during the summer.
Related: Burger King Debuts New Vegan Option with the Impossible Whopper
However, meatless sausage has way more possibilities than the Impossible Burger when it comes to culinary creations. David Lee, the CFO of Impossible Foods, remarked, "ground sausage is used in a lot of different cultures and cooking, so this is exciting for us. It also makes for great shumai, a great dumpling, and a great bao."
This statement seems to be hinting that Chinese restaurants may soon join the Impossible meatless craze. Could there be a meatless menu at Din Tai Fung? It's 2019 — nothing is impossible.
For the latest on fast food offers and discounts, make sure to set up a Deal Alert with us.
Our editors strive to ensure that the information in this article is accurate as of the date published, but please keep in mind that offers can change. We encourage you to verify all terms and conditions of any product before you apply.