Every Highlight from the Made by Google 2019 Event
Products, prices, release dates and more from Google's annual hardware unveiling.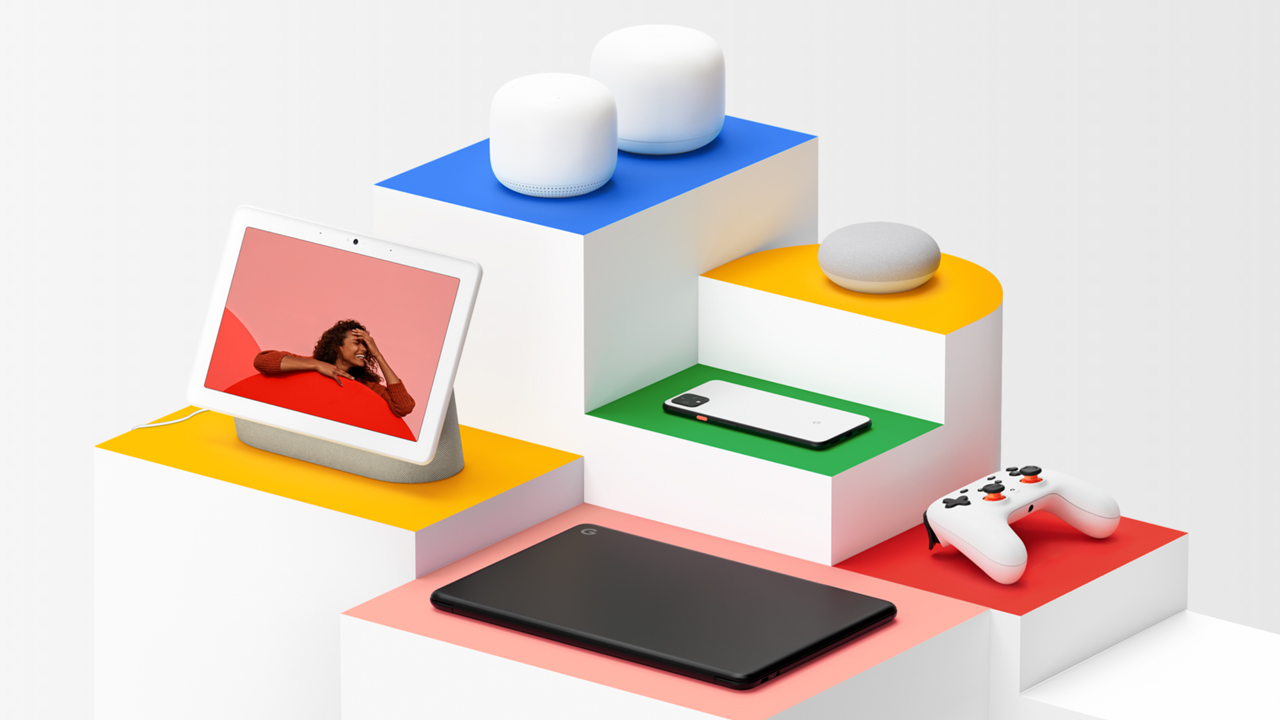 The much anticipated "Made by Google" event recently took place in New York City. The tech giant's annual hardware seminar gave us an exciting look at its next generation of products, covering all sorts of goodies from headphones to smartphones to Chromebooks and more.
If you would like to watch a recording of the live-streamed event, you can check it out here.
Made by Google 2019
But for those without 67 minutes to spare, we've recapped the products announced at the event and what to expect in terms of pricing.
Stadia

Set to launch on November 19th, Stadia is Google's latest innovation in cloud gaming. Rather than purchasing expensive equipment to play video games, the games will be rendered in the cloud service and then sent to your Chromecast, smartphone or computer. The service will be $10 a month, and Google has already confirmed a decent number of popular titles including:
The Elder Scrolls Online
Cyberpunk 2077
Final Fantasy XV
Borderlands 3
Mortal Kombat 11
Check out the full list of games here.
Pixel Buds

Taking another stab at competing with AirPods, Google will release Pixel Buds some time in Spring 2020. Dropping the tethered earbud style of previous headphones, the design of these fully wireless earbuds is a bit more aligned with the competition today. Though Samsung, Sony and a number of other companies have control of the Android earbud market, the improvements stated by Google may make a decent impact.
The Pixel Buds will use a long-range Bluetooth that allegedly can maintain connectivity within three rooms indoors and is expected to hold the connection outdoors up to the size of a football field. Built-in microphones will harness adaptive technology to hone in on your voice and reduce ambient sounds like wind noise. The battery is slated for 5 hours of use and up to 24 hours of battery life with the charging case.
The Pixel Buds are set to release at $179 and since the launch is for next spring, we probably won't see any Black Friday deals unless they come in the form of pre-orders.
Google is admittedly a software company, so some cool features with the apps may come out of the woodwork in the coming months. We will just have to wait and see.
Pixelbook Go

While Chromebooks have generally been cheaper alternatives to full laptops, the Pixelbook Go aims to compete at the high-end. With a starting price of $649, the portable PC is loaded with power yet to be seen by others in its category.
Here are the specs and options for the 13.3-inch laptop:
16:9 HD or 4K Touch-Screen Display
Intel Core M3, i5 or i7 CPU
8GB or 16GB of RAM
64GB, 128GB or 256GB SSD
As a clear competitor to the MacBook Air, Google expressed the importance of its design: thin, light, powerful, long-lasting and, of course, beautiful. At just 2 lbs and 13mm thin, the chassis is made with a magnesium alloy and features "Hush" keys for a quieter typing experience. The bottom of the device comes with an unique rippled texture to prevent slippage while holding the device and the Pixelbook Go will be available in the colors Black and "Not Pink."
The release date is currently up in the air but you can pre-order the bottom tier versions in black now. "Not Pink" and higher tiered versions are still labeled as "coming soon."
New Nest Aware

The Nest Aware plan gave owners of the Nest security camera enhanced abilities like continuous recording, intelligent alerts, video clips and more. Pricing for the service pretty much came down to a dollar per day of history you wanted, separated into 5-day, 10-day and 30-day tiers. The real issue was for owners with multiple cameras, as each setup required their own subscription.
To alleviate this inconvenience, Google has reworked the Nest Aware subscription and it comes with the kind of savings we Slickdealers enjoy. While continuous recording has been dropped, you now only have to pay $6 a month for a 30-day event history or $12 per month for a 60-day event history with 10 days of 24/7 video.
Another important update to Nest Aware is its integration with the Nest Mini and Nest Hubs. If your smoke alarm happens to go off, the Nest Mini can pick up this signal and immediately shoot you a notification. You can then listen live to make sure and, if needed, use the Home app to call emergency services right away.
You will have the option to change to the new plans in early 2020.
Nest Wifi

Combining the Wifi mesh router with the Google Home speaker, the new Nest Wifi comes with a couple upgrades. Users can expect double the speed and a 25% increase in network coverage. The product includes two devices: a router to plug into your model and an extender to amplify your home's Wifi signal.
Since the Nest Wifi is built with Google Assistant support and a number of microphones, it also acts as a smart speaker to aid you in everyday tasks. With the Google Home app, you can easily set up the device and seamlessly manage all your smart devices in one place.
Nest Wifi ships out on November 4th, and you can pre-order for a two-pack ($249) or three-pack ($349) depending on the size of your home.
New Nest Mini

Competing with Amazon's Echo Dot, Google announced a new Nest Mini to take the place of the Home Mini. While the new device is cosmetically similar, there are a few enhancements built in. The improvements include better sound quality, machine learning for better battery management, and it can also be used as a communication device with Duo.
A cool addition to the new Nest Mini is the wall mount. So there's no more ambivalence on where you should be placing it on your kitchen counter or desk. For those who are environmentally conscious, the fabric that encompasses the speaker is also made of recycled bottles.
You can get your hands on one starting October 22nd for the low-barrier of entry cost of $49. Pre-orders are available now.
Pixel 4

With so many deals showing up on our Frontpage for the Pixel 3, it must have been leading to something and indeed it has. During the "Made by Google" event, the company finally introduced the next generation of their flagship phone: the Pixel 4 and the Pixel 4 XL. The components are the same in each phone and the XL has a larger screen and battery.
Pixel 4 Specs
5.7-Inch FHD+ 90Hz OLED with 444 ppi
16MP(Telephoto) and12.2MP (Wide) Back Camera
8MP Front Camera with Motion Sense Face Unlock
64GB or 128GB Storage
6GB RAM
Android Q
Qualcomm Snapdragon 855
Usage Time up to 25 Hours with up 9.5 days of Stand-by Time
18W Fast-Charging and Qi-Certified Wireless Charging
The phones also include the "Project Soli" radar chip that allows you to control your phone simply by waving your hands. While you may look like an orchestra conductor, being able to change songs, snooze alarms or silence phone calls this way is actually kind of cool.
As with top tier smartphones nowadays, the focus is always on the camera. Utilizing their expertise in software, Google has employed AI and machine-learning to improve the pictures you take. The phone has an intuitive white balance and a Night Sight mode to make better photos in the dark.
You can pre-order the Pixel 4 and Pixel 4 XL now, and the phones will start shipping out on October 24th with an entry price of $799.
Related: The Best Pixel 4 Pre-Order Deals Available Now 
The "Made by Google" event featured many products that you may be excited about. Don't miss out on any sales and discounts, and head over to our Deal Alert page to set up your notifications.
You also might be interested in this popular Google deal from our Frontpage:
Search URL: https://slickdeals.net/newsearch.php?firstonly=1&pp=20&sort=newest&rating=frontpage&filter%5B%5D=517038&forumid%5B%5D=9&hideexpired=1&r=1
All images courtesy of Google.
ncKxk_Yhu_A
Our editors strive to ensure that the information in this article is accurate as of the date published, but please keep in mind that offers can change. We encourage you to verify all terms and conditions of any product before you apply.