MagellanTV Will Pay You $2,020 to Educate Yourself in Time for the 2020 Election
Election Day is right around the corner.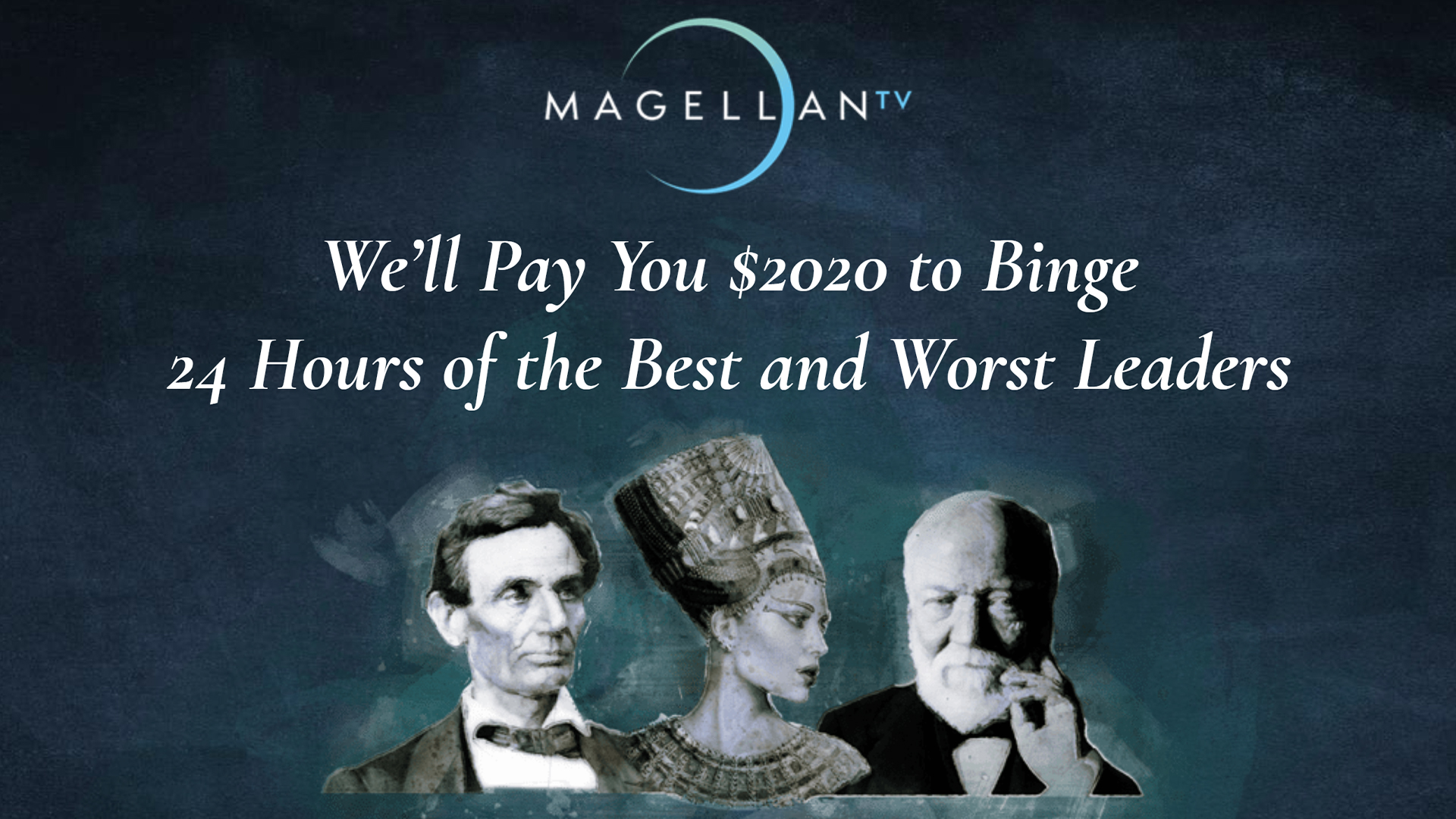 It's an election year, and the best thing you can do is educate yourself — and, of course, register to vote. To ensure you're well informed, MagellanTV is willing to pay one person $2,020 to stream 24 hours of documentaries (within a 48 hour period) about great and terrible leaders, just in time for the 2020 U.S. Election. Read on to get all the details on how to enter.
How to Enter the MagellanTV Contest
You won't win this contest by luck. Contestants have to apply here and answer a few questions about leadership. You'll also be required to share at least one social media account to be considered. This is because part of the experience will require the winner to provide thoughts and insight online. Additionally, you'll need to submit your application by October 5 at 5 p.m. EST to be considered.
A few of the documentaries that are on the 24-hour binge watch list include Gettysburg: the Final Measure of Devotion, Evolution of Evil, Nixon in the Den and more. In addition to the cash prize, the winner will receive a free one-year membership to MagellanTV's streaming service, along with two three-month subscriptions for friends and family.
Where to Stream Free Political Films and Documentaries
For those who don't have a full 24 hours to spare or prefer a less intense binge watch session, check out the streaming services below that offer a selection of political films and documentaries.
MagellanTV
You can go at a slower pace and watch the documentaries included in the contest with MagellanTV's free trial of up to 14 days. If you don't make it within that time frame, breathe easy knowing that plans can be had for as low as $4.99 a month.
Netflix
Netflix is filled with more recent political documentaries. In Knock Down the House, you can follow four Democratic women, including Alexandria Ocasio-Cortez of New York, Cori Bush of Missouri, Amy Vilela of Nevada and Paula Jean Swearengin of West Virginia, who all ran in the 2018 congressional election.
Get Me Roger Stone is another insightful film about Roger Stone, Trump's former political adviser. But beyond exploring the current President's rise to power, it showcases Washington's political culture. All in all, there's plenty to watch and learn from. Fortunately, Netflix's free trial lasts an entire month, with plans as low as $8.99 after that.
Hulu
If you're interested in revisiting the past, tune into to Hulu. The platform features Hearts and Minds, an Academy Award-winning film released during the Vietnam War, as well as War Room, a behind-the-scenes look into Bill Clinton's 1992 presidential campaign and so much more.
New subscribers can start streaming them all today at no charge for one month. Once the free trial is up, plans cost as low as $5.99 per month.
AppleTV
For AppleTV, the major film generating buzz is Boys State, which was a grand jury prize winner at this year's Sundance Film Festival. While the documentary focuses on the Boys State leadership camps in Texas, past events molded leaders such as President Bill Clinton, Supreme Court Justice Samuel Alito, U.S. Sen. Cory Booker and more.
Intrigued? Grab a complimentary seven-day trial for AppleTV+ now, or if you've recently purchased an Apple device, check here to see if it includes a free subscription. When the trial ends, don't stress, as you'll only be charged $4.99 a month to keep the streaming going.
Upgrade Your Streaming Experience
If you're looking for a new streaming device or smart TV to improve your documentary binge sessions, we've got you covered. Check out these recent streaming device deals from our forums:
If you miss out on these offers, just set a Deal Alert and we'll let you know as soon as a new deal is posted.
---
Up Next:
Our editors strive to ensure that the information in this article is accurate as of the date published, but please keep in mind that offers can change. We encourage you to verify all terms and conditions of any product before you apply.