Sponsored
Meet Mint Mobile, the Carrier with the Smarts To Stand Up to Big Wireless
No frills, no hidden fees, no problems.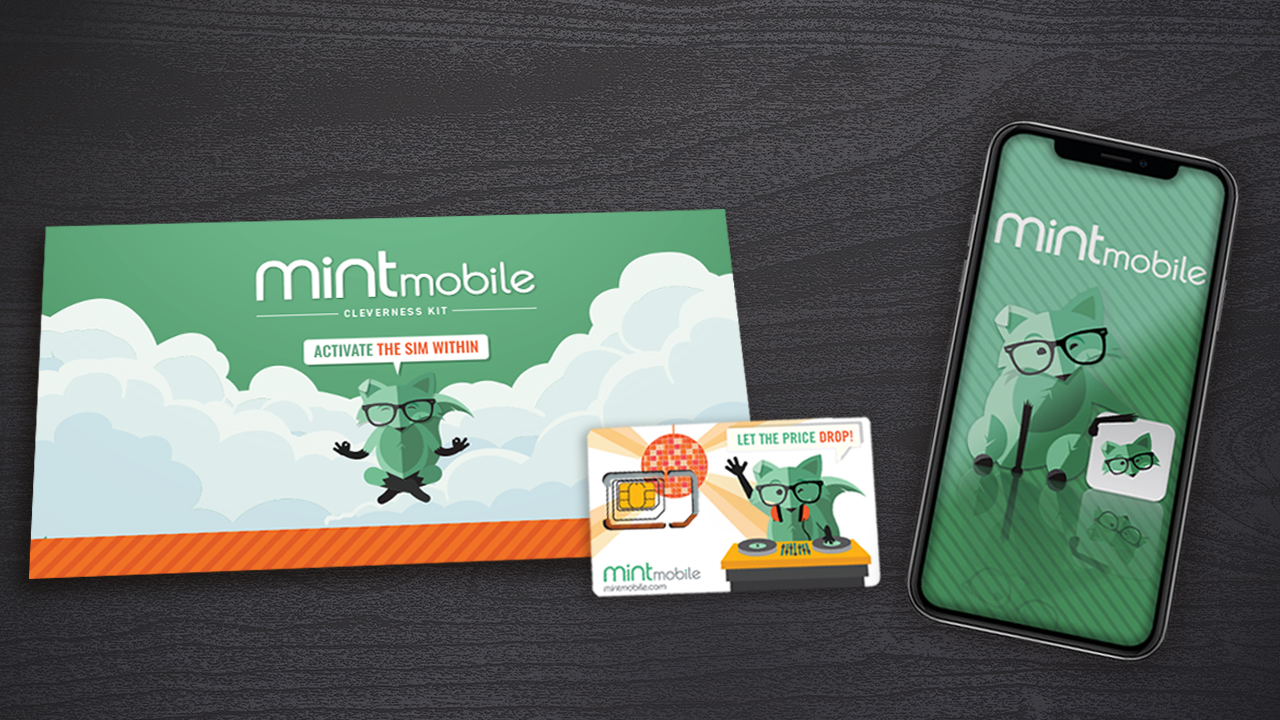 While data speeds may have increased over the last decade, much of how we purchase wireless plans feels antiquated in the modern era. All too often, wireless customers end up paying for "features" they don't actually need or use, be it a massive data cap they'll never realistically hit, a subscription to a streaming service they might not use or some other perk that's unrelated to the quality of service they receive.
For this reason, it is always refreshing to see a new competitor gain traction in the market by offering a better alternative to what's become the accepted standard.
Enter Mint Mobile.
What is Mint Mobile?
Mint Mobile is an online-only carrier that operates on T-Mobile's cellular network. Mint claims to have the lowest monthly talk, text and data plan of any nationwide carrier. And its business model is built around bulk savings.
Customers can choose their preferred time frame (three, six or 12 months) and amount of 4G LTE data (three, eight or 12 GB) per month. While even the lightest plan available (three GB, three months) is still comparatively inexpensive, you'll save more when you spend more. Make sure to take the time to consider how long you'll need phone service for, as you'll save the most money in the long run by opting for the 12-month plan.
If that isn't exciting enough for you, you should know the company was recently bought by none other than Ryan Reynolds, Mr. Deadpool himself.
How Does Mint Mobile Work?
As a mobile virtual network operator (MVNO), Mint Mobile uses T-Mobile towers and coverage infrastructure. However, unlike many big wireless companies, Mint is digital only — rather than operating a bunch of brick-and-mortar stores, Mint sells plans online and sends them straight to your door. And since Mint isn't burdened by the costs associated with big retail infrastructure, the company is able to pass these savings directly on to you in the form of lower monthly rates.
Mint also utilizes a BYOP (bring your own phone) system. While you still have the option to purchase a new phone directly through Mint, you may choose to utilize the BYOP system to swap out the SIM card in your old phone for Mint Mobile. That way, you can use the same device you're used to at a fraction of the price, and you even have the option to port your current phone number to Mint.

Mint Mobile Service Plans
While the three months for $45 deal is the best wireless deal you're going to find right now, it's still worth checking out the full pricing matrix for regular plans:
Three Month Plans (Introductory Rates)
$15 with 3GB per month ($45 total)
$20 with 8GB per month ($60 total)
$25 with 12GB per month ($75 total)
Six Month Plans 
$20 with 3GB per month ($120 total)
$25 with 8GB per month ($150 total)
$35 with 12GB per month ($210 total)
12 Month Plans
$15 with 3GB per month ($180 total)
$20 with 8GB per month ($240 total)
$25 with 12GB per month ($300 total)
There is no family plan option currently, but you are able to buy up to four rate plans per order. Once the service cycle ends, you have the option to renew (or even upgrade) your plan.
You can't change the length of your plan until it's time for renewal, but for those of us who tend to enter accidental YouTube spirals that eat up all our data, you can pay to increase your data allowance mid-cycle. However, you can't downgrade your data until your next renewal, so you may as well enjoy some YouTube algorithm surfing to get your money's worth.
What Phones Work With Mint Mobile?
As a general rule of thumb, any unlocked GSM device that accepts SIM cards will work with Mint Mobile. Mint Mobile has an IMEI checker that will tell you if your device is compatible with its network. You might have to get your phone unlocked by your current carrier before transferring over to Mint Mobile. As long as the phone is fully paid for, a rep has to unlock it for you if you ask.
How Does Mint Mobile Compare to Other Plans?
When you compare Mint Mobile to big wireless companies like AT&T or Verizon, it's clear Mint is the most budget-friendly option available. While larger c0mpanies try to justify their high prices by including extra features like carryover data and rewards programs, Mint Mobile's pricing structure is designed to help you get exactly what you want without paying for unnecessary perks.
When you look at how Mint's 8GB plan stacks up against comparable plans offered by Verizon and AT&T, the difference is easy to see:
An 8GB monthly plan at Verizon costs $70 a month.
A 9GB monthly plan at AT&T costs $60 a month.
An 8GB monthly plan at Mint Mobile costs $20 a month.
Even compared to other MVNO carriers, Mint is still one of the least expensive options on the market. Companies like Cricket and Boost Mobile tend to follow big wireless's example by including unnecessary extras with their packages. However, while offers like free subscription bundles may seem generous, their true cost tends to show up on the monthly bill.
To illustrate this, check out how Mint Mobile's 3GB monthly plan compares to the plans offered by Boost Mobile and Cricket:
A 3GB monthly plan at Boost costs $35 a month.
A 2GB monthly plan at Cricket costs $30 a month.
A 3GB monthly plan at Mint Mobile costs $15 a month.
Is Mint Mobile Right for Me?
If you've made it this far and you're interested in checking out the Mint Mobile deal, there are a few steps you can take to make sure Mint Mobile is right for you.
Check the coverage map to ensure Mint Mobile services your area. If your area receives T-Mobile signal, you are automatically good to go. Environmental factors like mountains and other natural features or tall buildings might impact signal.
Use Mint Mobile's IMEI checker to make sure your current device is compatible with Mint Mobile.
Consider your needs and dealbreakers. If you can get by on 12GB of data or less per month, don't require a family plan and don't care about flashy add-ons, Mint Mobile is your new best friend.
For $5, Mint Mobile will send you a trial starter kit so you can see it for yourself. The trial SIM card comes with 100MB of 4G LTE data, 100 minutes and 100 texts. You'll get your $5 refunded if you hate it, and you'll get your $5 refunded if you sign up. What is there to lose?
Sponsored by Mint Mobile.
Our editors strive to ensure that the information in this article is accurate as of the date published, but please keep in mind that offers can change. We encourage you to verify all terms and conditions of any product before you apply.