Nest Thermostat 3rd Gen. Reviews: What the Critics Say About This Popular Learning Thermostat
Is this the right smart thermostat for your home?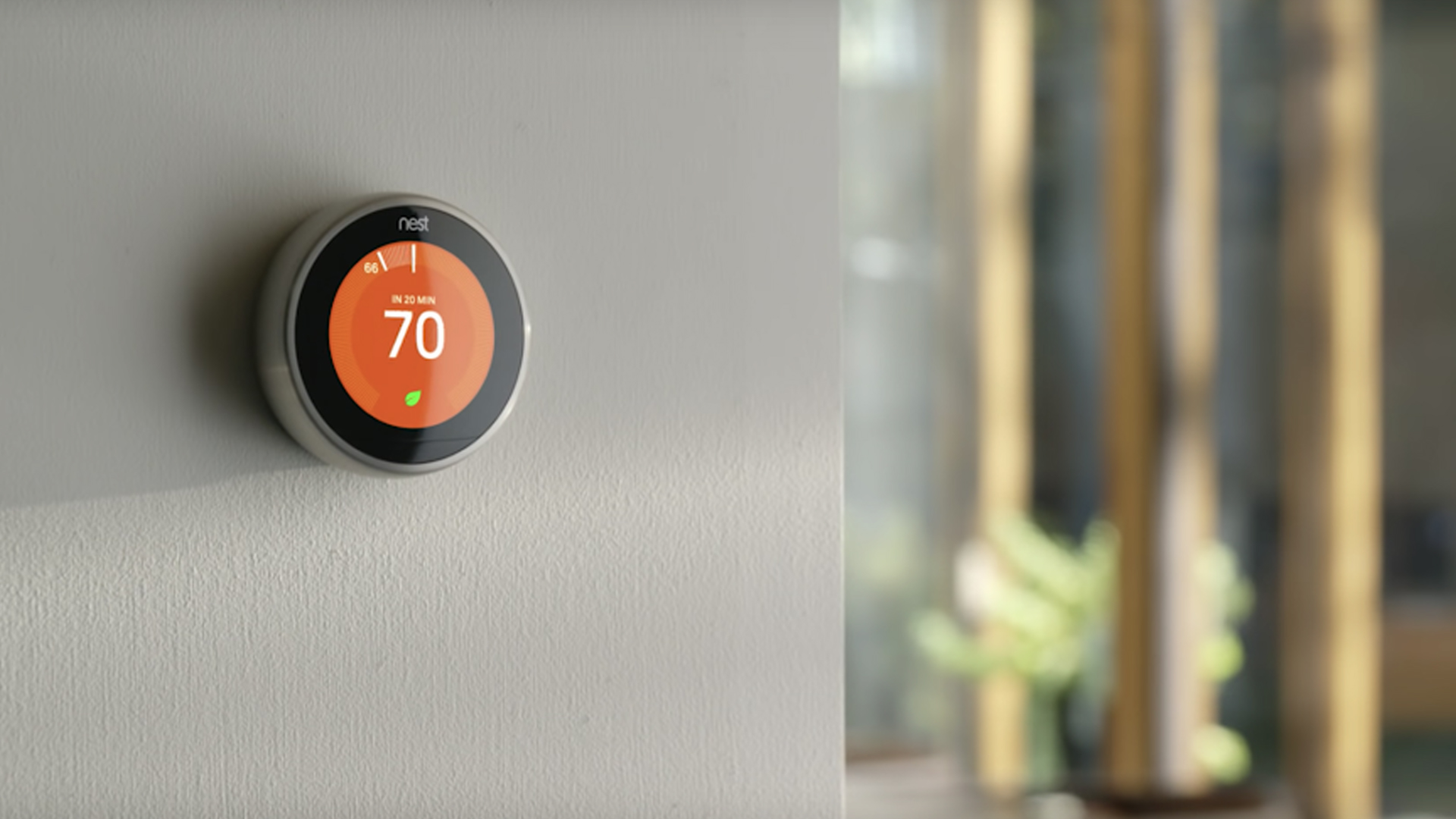 Google's Nest Thermostat is one of the most popular smart home appliances out there, and the third generation offers a variety of improvements over previous models.
The Nest "learns" your schedule and adjusts to reduce your overall energy usage, saving you up to $145 a year, according to Google. But is it your best option for a smart thermostat? We've taken a look at the top reviews of the third iteration of the Nest to help you decide if it's the right choice for your home.
Starting Price: $249.99
Average Sale Price: $100 – $150
General Consensus: The Nest's third go-round at a thermostat is largely seen as the best iteration yet, addressing several complaints about previous models, such as the size of the display and connection with remote sensors.
Specs
Android/iOS compatible app
24-bit color LCD display (480 x 480 pixels)
Rechargeable lithium ion battery
Compatible with 95% of 24V HVAC systems
Pros
Simple installation and set-up
Flexible, useful app
Speedy, efficient learning
Upgraded, more sensitive sensors
Cons
Apple HomeKit only recently integrated
Remote sensors don't come with the unit
Installation limited by the location of your thermostat wiring

Design
Consensus: Generally Positive (3/5 Positive, 2/5 Neutral)
Main Takeaway: The Nest has gotten a substantial display upgrade with this model. It features a 40% larger display and more than twice the overall pixels, making it easier to see across a room. There were some minor complaints, however. Top Ten Reviews noted that while the unit responds quickly and seamlessly to touch, the display interface doesn't match that of the app, which could make navigating between the two an issue.
"…the app's interface is different from the thermostat's physical display, so it isn't seamless to switch between the two." – Top Ten Reviews
The round design was generally seen as an "if it isn't broken, don't fix it" proposition, though there are now new finishes available for the decor-minded. And while this model touts a slightly slimmer profile compared to previous versions, as CNET's review notes, the difference is negligible.
"While I noticed the updated display size and resolution instantly, the "thinner" depth was much less obvious. A side-by-side spec comparison shows that the second-gen Nest measured 3.2 inches in diameter (8.1cm) and 1.26 inches in depth (3.2cm). The new thermostat is a touch bigger at 3.3 inches in diameter (8.4cm), but slimmer with a depth of 1.21 inches (3.1cm)." – CNET
Sensors
Generally Positive (3/5 Positive, 2/5 Neutral)
Main Takeaway: The Nest has a built-in temperature and humidity sensor that drives the entire system, and works by measuring the room that it's in. But it's strictly limited, in each room, to one sensor. Additionally, extra sensors are not included in the price, so you'll have to shell out $39 each if you want more coverage.
"Unlike the Ecobee3, which can be paired with multiple sensors in each room, the Nest covers only one area." – Tom's Guide
A review from Pocket-Lint, however, noted that the Nest does have an excellent motion sensor, allowing it to know when a human is in the room. This sensor improvement assists with both ease of use – the dial becomes visible when someone enters the room – and learning mode.
"For Nest 3.0 there's improved sensor range, which Nest calls 'Farsight,' to catch motion at greater distances and with heightened accuracy compared to with Nest 2.0." – Pocket-Lint

Smart Home System Integration
Consensus: Generally Positive (4/5 Positive, 1/5 Neutral)
Main Takeaway: The Nest works with Alexa and Google Assistant, as well as the If This Then That (IFTTT) platform. Reviewers almost all agreed that if you've got those smart platforms running, integration will be no problem.
"It responded to my Alexa voice commands to raise and lower the heat without fail…" – PC Mag
In February 2020, Nest added support for Apple's HomeKit software. This move addressed a key complaint from CNET's review, which initially suggested an alternative option that offered more smart home integrations.
The new HomeKit integration is an ongoing project, so the critics may revisit the topic at some point, but it's worth noting that even without the support, PC Mag singled it out as an Editor's Choice.
Ease of Installation
Consensus: Generally Positive (4/5 Positive 1/5 Neutral)
Main Takeaway: Most critics found the Nest easy to install, taking, at most, half an hour to set up. However, Nest does recommend professional installation in certain situations, such as if you have whole-home humidifier or dehumidifier systems or dual-fuel setups.
"If you know how to use a screwdriver, you can probably install the Nest yourself in about half an hour, if not less." – Tom's Guide
That said, most of the reviewers, such as the PC Mag expert below, seemed to already know what they were doing in the first place. So while the Nest comes with clear instructions and the necessary tools, at least one critic suggested hiring a professional for the installation.
"Before removing my old thermostat I took a picture of the wiring and used the included tags to label them. I screwed the base onto the wall using the built-in level to ensure that it was straight, and connected the red and green wires to the Rh and Rc (power) terminals, the white wire to the W1 (heat) terminal, and the blue wire to the C (common) terminal. I snapped the thermostat onto the base and it fired up right away." – PC Mag
"We certainly wouldn't advise buying Nest and trying to install yourself unless you're a professional." – Pocket-Lint

Ease Of Use
Consensus: Universally Positive (5/5)
Main Takeaway: A common theme in the reviews was how smart the Nest has gotten. Letting it program itself was as easy as turning it on and walking away.
"Although you can set a seven-day schedule, this smart thermostat can program itself without any help… If your weekly schedule is predictable, it matches to your routine seamlessly." – Top Ten Reviews
The only hiccup was that Pocket-Lint and Top Ten found the app, available on Android and iOS, easier to use than the actual dial on the thermostat. The app was seen as more intuitive and had handy features like drag-and-drop scheduling and copy-paste.
"Temperature settings can be set at 15-minute intervals… using an easy press-and-drag interface via the app. Or, if you prefer, it can be controlled on Nest itself which works fine, but is a bit more fiddly to program given the single press and rotational controls." – Pocket-Lint
How Often Does the Nest Thermostat Go on Sale?
Your utility company, and possibly your local government, really want you to install a smart thermostat. It saves them money and helps them meet energy efficiency goals. So check your state website or call your utility and ask about any rebate plans or discounts. These usually reduce the cost to around $100 to $150 per unit, although we've occasionally seen deals in certain states for as low as $50.
If you'd rather get a unit and some sensors in a bundle, expect to find the best bundle deals from retailers in the spring. The winter shopping season also tends to bring big discounts. Finally, Google regularly discounts the Nest in its store a few times a year, typically to coincide with company events, such as during its developer meeting, Google I/O.
And remember, even at full price, Google estimates the Nest will pay for itself in power savings within two years.

---
Make sure you don't miss another Nest sale. Set a Deal Alert and we'll let you know about all of the top deals as soon as they're posted. Plus, find all the current discounts on smart thermostats on our Home and Home Improvement Deals page.
Reviews Consulted
Up Next:
Our editors strive to ensure that the information in this article is accurate as of the date published, but please keep in mind that offers can change. We encourage you to verify all terms and conditions of any product before you apply.