Olive Garden's Legendary Pasta Pass is Back, But it Won't Last Long
All 24,000 of last year's passes were gone in less than a minute.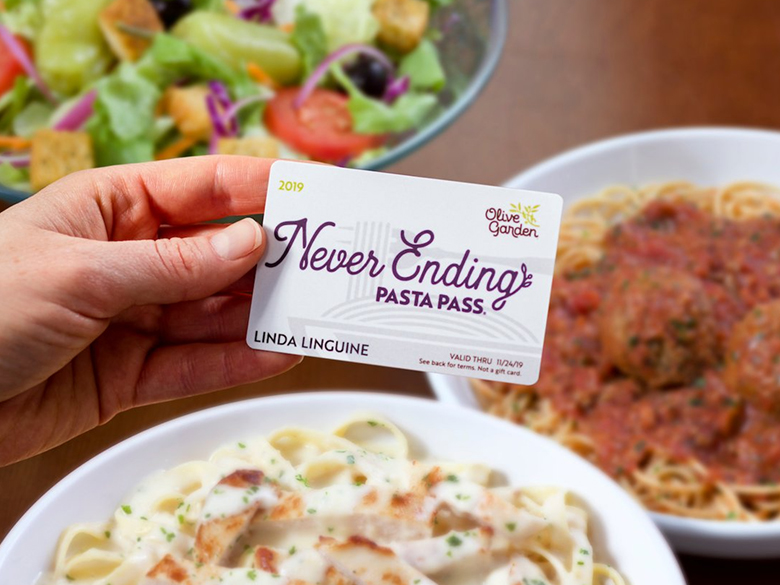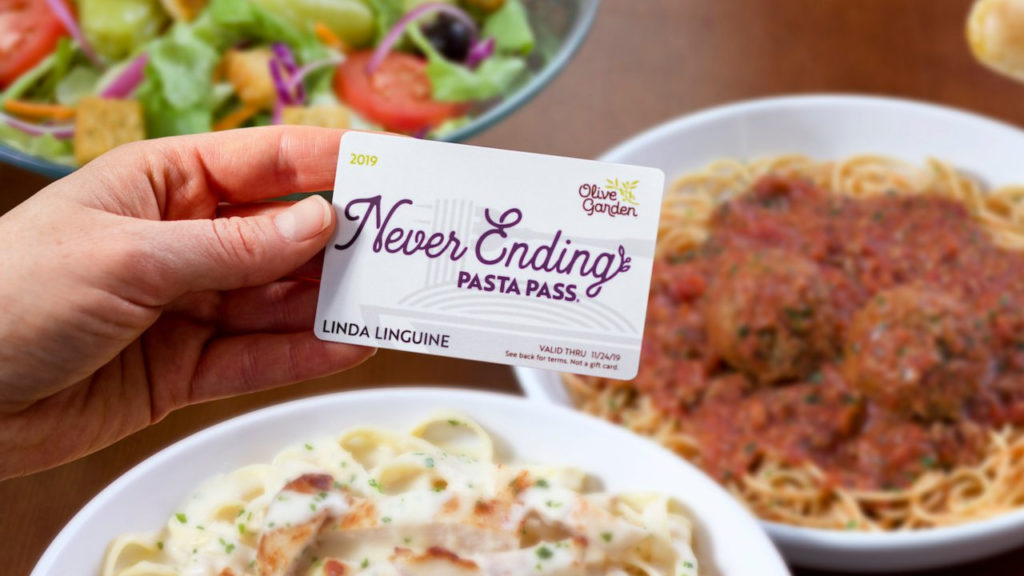 Mark your calendars, because Olive Garden's Pasta Pass is making a comeback on August 15th. The Never-Ending Pasta Pass costs $100 and grants you unlimited pasta for 9 weeks straight (September 23rd, 2019 through November 24th, 2019). Olive Garden deals are pretty solid overall, but this one truly takes the cake — or pasta, as it were.
If you love Olive Garden, the Pasta Pass is pretty much a no brainer. Prices vary by location, but a create-your-own Pasta Bowl typically goes for about $9.99. So at $100 for the pass, you only need to eat about 10 bowls of pasta before you're eating for free. That's pretty darn accomplishable given that the card is active for 56 days, which is probably why Olive Garden limits the number of passes available.
It's no surprise that the Pasta Pass is a wildly popular promotion, so be prepared for it to sell out near instantaneously. Last year, Olive Garden sold its supply of 24,000 passes in less than a minute. If you want the best chance at scoring a Pasta Pass, we recommend camping out at this link. This deal goes live at 2:00 p.m. on August 15th, so you be ready if you want all of those glorious carbs.
The Pasta Pass is good for select dishes only, and Olive Garden doesn't carry the Pasta Pass menu in its restaurants. But check out which dishes are eligible on the FAQ page.
There is a little bit of mystery surrounding this year's Pasta Pass as well. Olive Garden has been teasing the arrival of something new alongside this year's pass, and PastaPass.com leads you to a landing page with a cryptic poem.
Theories about the bonus are all over the place, ranging from complimentary wine to a free trip to Italy. Whatever the case, though, extra value is always a good thing. We'll just have to wait and see what Olive Garden has in store for us.
If you're looking for a deal now, however, check out one of our most popular Frontpage offerings here:
Search URL: https://slickdeals.net/newsearch.php?firstonly=1&pp=20&sort=newest&rating=frontpage&forumid%5B%5D=9&hideexpired=1&r=1
Images courtesy of Olive Garden. 
Our editors strive to ensure that the information in this article is accurate as of the date published, but please keep in mind that offers can change. We encourage you to verify all terms and conditions of any product before you apply.