Your Eyes Aren't Lying: Oppo's New Smartwatch is Basically an Apple Watch
The small touches and clean aesthetic might be enough to make Oppo a viable competitor.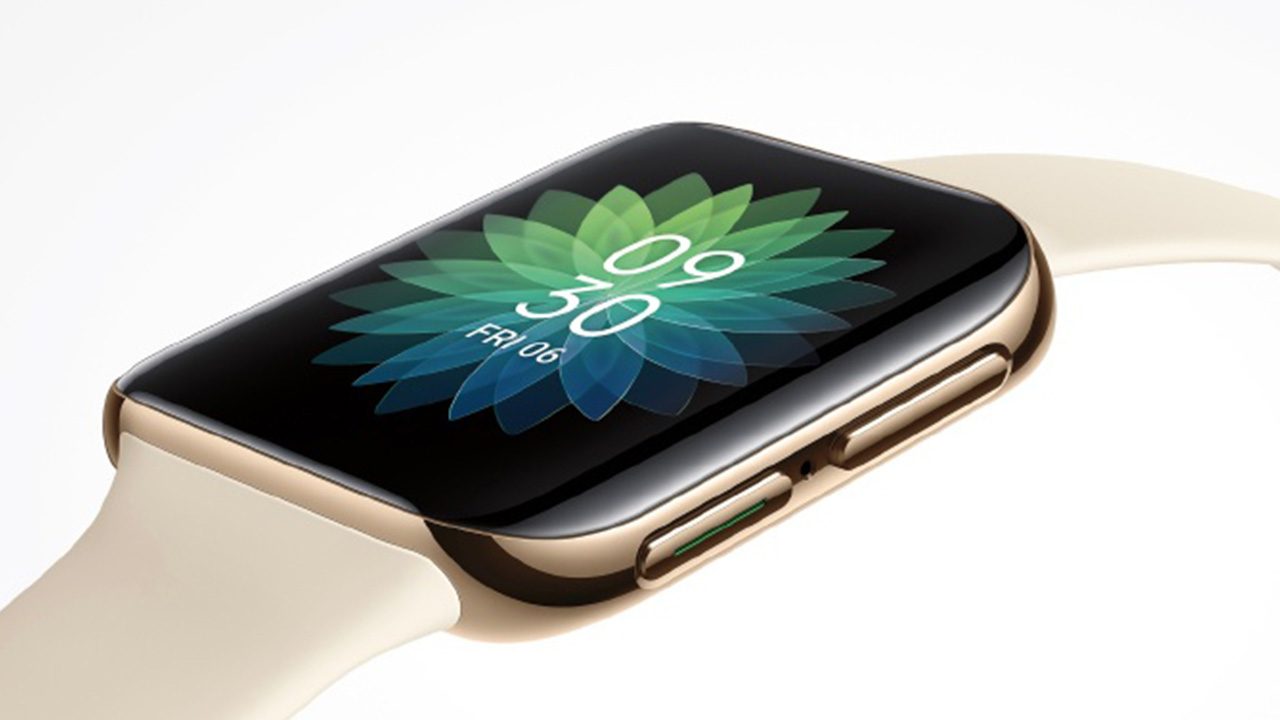 The Apple Watch has dominated the smartwatch market since its release in 2015. With its slick design, clean interface and instantly-recognizable Apple branding, it's the gold standard in smartwatches. Samsung and other companies have tried to compete, but – as is evidenced by the Apple Watch's staggering sales figures – the public clearly has an affinity for Apple's look and feel.
While Apple's watches are clearly luxury items, it's high time another manufacturer entered the fray with a serious competitor. That's why electronics giant Oppo is attempting to dethrone Apple the king of watches. Its strategy? Build a watch that's nearly identical to the Apple Watch.
Oppo recently announced its latest smartwatch, and early renderings are suspiciously similar to the Apple Watch. The designs are pretty much identical, except the Oppo watch features a curved digital display. Oppo's watch also has two side buttons rather than Apple's single button and digital crown design, but that's pretty much where the aesthetic differences end.
We don't know much about Oppo's smartwatch beyond what it looks like, but we do expect it to launch in early 2020. It will also likely include a lot of Apple Watch users' favorite features, such as fitness monitoring technologies. As more information becomes available, we'll get a better sense of how this new device will hold up against the Apple Watch.
Current Deals on Smartwatches
If you're in the market for a new watch and aren't interested in waiting for Oppo to release its product, here are some current deals on Apple Watches that might get you excited.
NOTE: This Best Buy offer also includes a free, four-month subscription to Apple Music for new subscribers.
If you're looking to stay up to date on all the latest smartwatch deals, set a Deal Alert, and get notified whenever a new smartwatch offer hits the web.
RELATED: NEVER Pay $350 for the Bose QuietComfort 35 Series II Headphones
Enjoy this popular Apple deal from our Frontpage:
Search URL: https://slickdeals.net/newsearch.php?firstonly=1&pp=20&sort=newest&rating=frontpage&filter%5B%5D=525850&forumid%5B%5D=9&hideexpired=1&r=1
While we work hard on our research, we do not always provide a complete listing of all available offers from credit-card companies and banks. And because offers can change, we cannot guarantee that our information will always be up to date, so we encourage you to verify all the terms and conditions of any financial product before you apply.