Starting a Podcast? Here's All the Equipment You'll Need
The basic equipment set-up to start your 2021 podcast.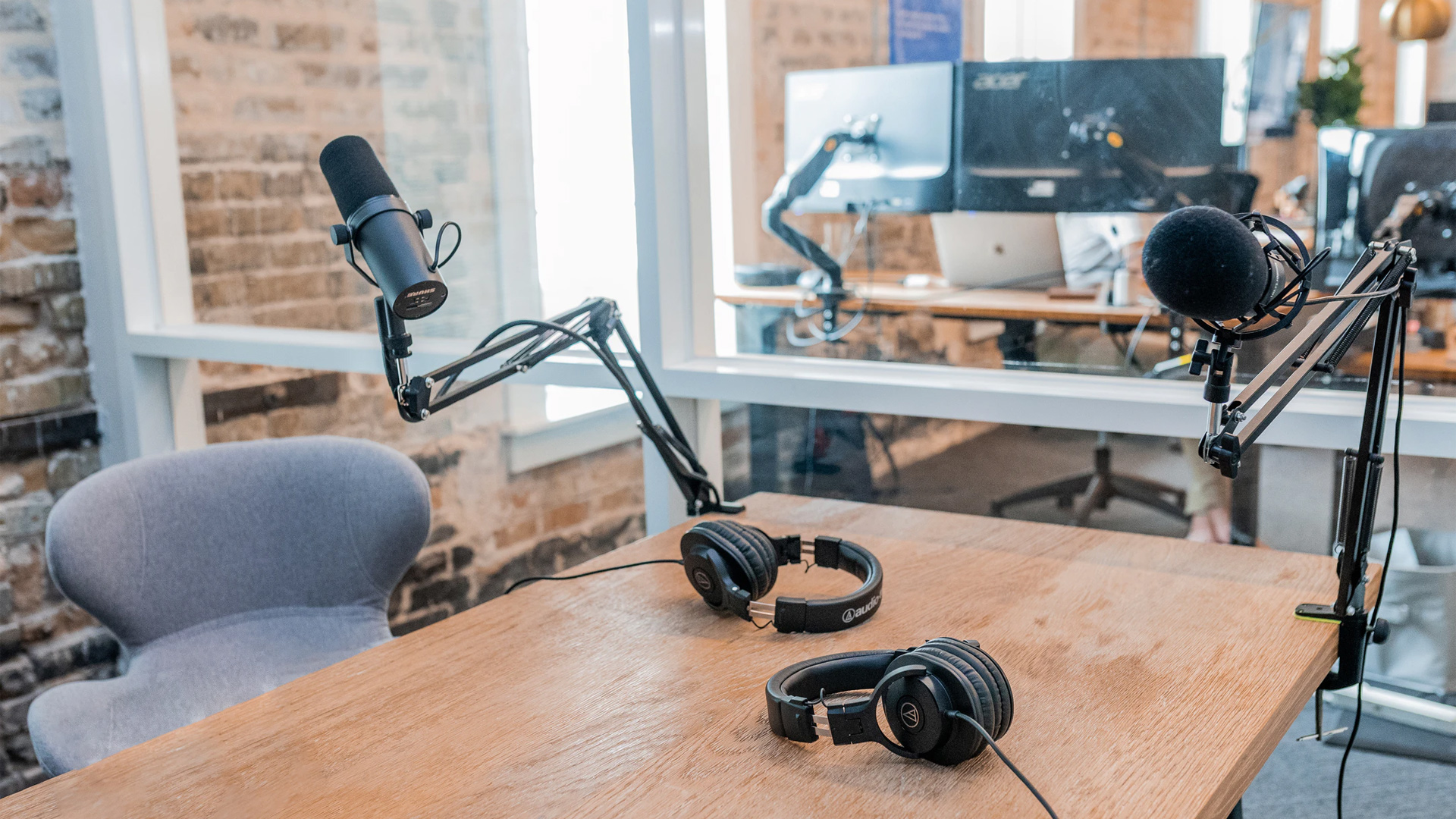 If you didn't launch a podcast in 2020, did you really even quarantine? This is the question I found myself asking before deciding to take the dive. If you never got around to starting your show last year, 2021 could be your year of "yes" to launching your own podcast.
I've already recorded several episodes of my own podcast, and I've spent hours researching the best equipment. I've been writing tech product reviews since 2017, and I've been lucky enough to try out an array of recording equipment, including microphones and headphones. Ahead is a round-up of the products that will score you the best bang for your buck. If you're just starting your podcast, you'll find everything you need to get it off the ground.
---
Microphones 
Plug-and-play mic option
JLab Audio Talk Pro USB Microphone – Reg. Price: $149 (JLab Audio) 
This is perhaps the best option if you're just getting started and you're not sure you'll even stick with it. It's a real one-and-done situation. You can place this in the middle of a table where you'll be recording, and plug it directly into your computer for plug-and-play sound quality. Slick Tip: Trade your email for 10% off your first online purchase.
It comes with volume and gain (which artificially boosts your volume and output sound) controls, as well as four-directional pattern modes so that you can have people sitting all the way around it, and it will still pick up the sound perfectly.
The USB cable that comes with it is 10-feet-long, so you're way less limited on how you set it up. It's also an ideal microphone if you're traveling — not only is it small and super packable, but it doesn't require a cloudlifter or pre-amp of any sort.
A mic worth the investment
Shure SM7B Cardioid Dynamic Microphone – Sale Price: $399 | Reg. Price: $499 (Amazon)
I'll admit it, this podcast mic is expensive. But boy, is it worth it. First off, it's used by a TON of professional podcasts because the sound quality is amazing. It provides a super warm tone for vocals, which is perfect for a podcast wherein you'll probably be talking a good bit. It comes with windscreen and a pop filter so that any explosive breath or vocal sounds are nonexistent. It will also prevent any electromagnetic hum from showing up in your final recording. 

The only downside is that you will also need a Cloudlifter — I recommend this one (on Amazon and their top sold item in Microphone Preamps). It will regulate the volume in your mic perfectly and will make sure that you always sound super clear. The great thing about this cloudlifter is that you can use it with any XLR microphone, and it will enhance the sound dramatically — even if you have a much cheaper microphone. Finally, this microphone includes mounting so that you can adjust it as much as you want.
Mid-range mic option
Audio-Technica AT2035 Microphone Bundle with Pop Filter and Cable – Reg. Price ranges from $199 to $299 (Amazon), so keep an eye out for price drops. Even better, get an alert sent right to your phone by setting up a Slickdeals Deal Alert and be notified when the price drops to your liking.
This mic works to reduce the pickup of background sounds from the sides and the back, which allows it to beautifully isolate your voice when you're speaking. It has a large diaphragm, which helps it produce a sound that is natural and low. 
It comes with a detachable pop filter, which will reduce at pops or vocal arcs, as well as a 10-foot-long XLR cable and a microfiber cleaning cloth.
---
Headphones 
Sony MDR7506 Professional Large Diaphragm Headphones – Sale Price: $88.99 | Reg. Price $96.06  (Amazon)


Here's the thing, you really do need to wear headphones while you're talking — even if it's annoying to you — because it will be your only indicator of sound quality. These headphones fit comfortably over your ears and close out external noises and interference. They also come with a 9.8-foot cord so that you have the most mobility.
Don't worry, they also sound amazing. They produce a warm, very detailed sound that is perfect for podcasting because they won't pick up any outside noises or unwanted vocal variations.
---
Free Basic Software 


We can all be thankful that technology has progressed to the point where the actual computer software needed to start a podcast is now free. If you're a Mac user, you probably remember playing around with GarageBand when you got your computer… and if you're like me, you probably remember deleting it so that it didn't take up space. Well, fear not, because it can be yours again with a simple visit to the app store. 
If you have a PC, don't worry, Audacity is a great free option, so much so that Mac users may even find it worth a download just to test out. 
While all of the software included comes with pretty comprehensive tutorials, I always remind people that YouTube is the biggest online resource, and it should really be treated as such. Seriously, just go in and type out your exact question, and someone out there has most likely made a video that will help you out.
See something you like? Set a Deal Alert to be notified when it goes on sale.
Our editors strive to ensure that the information in this article is accurate as of the date published, but please keep in mind that offers can change. We encourage you to verify all terms and conditions of any product before you apply.