Conquer Pool Clutter and Outdoor Mess With These Organizers
Stash pool floats, garden tools and more with these chic and clever storage ideas.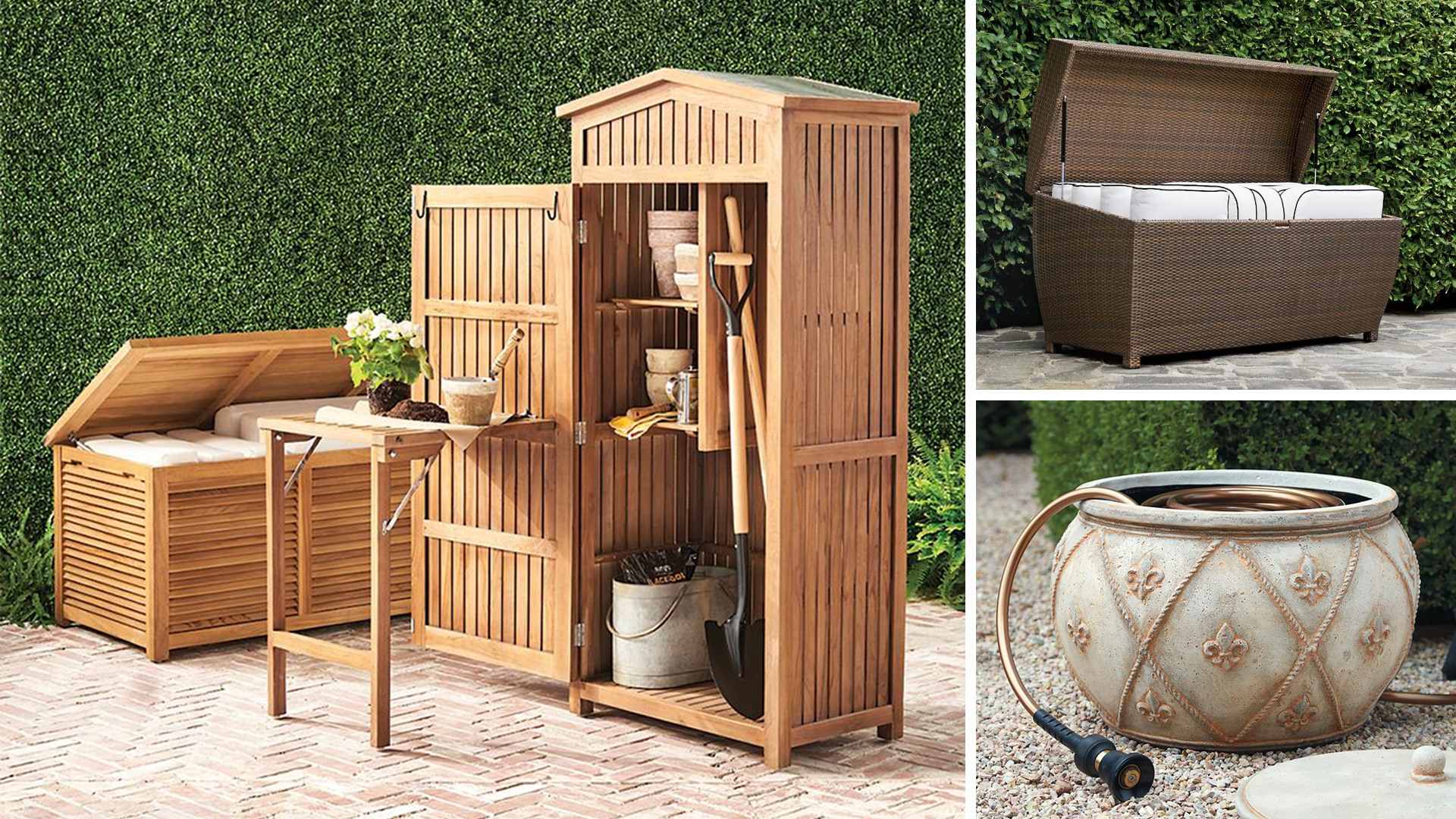 Summer is the season of outdoor living, and If you have limited garage space or struggle to keep your pool and garden accessories in one place, you might want to invest in additional outdoor storage. This way, your beautiful outdoor areas won't get all grimy and drastically disorganized with mountains of stuff that's ready to spill over into your yard at any time.
Frontgate is also offering discounts up to 20% off retail prices through August 5th (discounted prices will show at checkout, and some exclusions apply):
Shop All Outdoor Solutions on Frontgate
Save 10% on purchases of $300 – $999
Save 15% on purchases of $1,000 – $2,499
Save 20% on purchases over $2,500
1. Stash Floats Neatly Poolside Instead of Piled on the Ground
Reg. Price: $129
You'll never have to worry about your floats blowing all over the yard again with this float holder. You can dry your pool floats all in one area without having to take up much space in your backyard. Plus, there are two different colors to choose from to match your backyard style.
2. Never Trip Over Your Hose Again and Keep It Hidden

Reg. Price: $199
Reel in your unruly garden with a stylish hose pot that makes a great decorative addition to your yard or driveway. By wrangling it up and storing it in a pot, it'll be out of sight, yet still easy to access. Also included is a drainage hole that will prevent water from accumulating, so the pot won't be a breeding ground for mosquitoes.
3. A Real Space-Saver and Like Having an Extra Hand for Yard Work

Reg. Price: $199
A garden hose reel will keep your hose free from kinks and tangles and your backyard nice and tidy. You won't have to worry about the hose getting tangled inside the reel because the guidance system ensures it will roll up perfectly every time.
4. Moveable Storage on Wheels and a Place for Every Noodle or Pillow

Sale Price: $449.10 | Reg. Price: $499 | 10% off
This rolling storage is perfect for bringing over to the pool and rolling away when not in use. A pool caddy is a perfect option if you have several pool floats. They can all be placed sideways for easy storage, and there's a compartment for other water accessories like pool noodles and goggles.
5. An All-Weather Wicker Storage Chest Can Last for Years

Sale Prices: $809 -$1,104.15 | Reg. Prices: $899-$1,299 | 10% – 15% off
Whether it's in your backyard or on the patio, you won't regret this purchase. This outdoor storage box is more than just for your pruning scissors, clay pots or a bag of soil; it also provides a nice seating area, and keeps cushions clean between use for longer life.
6. Keep Cushions Mildew-Free and Looking Brand New

Sale Price: $1,104.15 | Reg. Price: $1,299 | 15% off
Since patio cushions are prone to weather damage, it's essential to store them appropriately so they won't get mold, musty and full of mildew. A durable storage box will keep them safe from the elements all year long.
7. A Garden Shed That Looks Chic

Sale Price: $1,529.15 | Reg. Price: $1,799 | 15% off
This teak outdoor storage shed has enough room for your lawn and garden tools. It's smaller than a typical tool or garden shed, but it's a perfect fit for a nook or corner. It also has a built-in work table space to work on projects and fold it up after you're finished. Plus, there's enough room to stack items on the shelves and fit long-handled tools.
Missed This Sale? You Can Still Save
If you missed this sale, you can trade your email address and receive an extra 10% off. Plus, If you refer a friend, you will both get an extra $50 off of your purchases of $200 or more for even more savings. Prefer to shop old-school style offline? You can request a free catalog now from Frontgate.
Shop All Outdoor Solutions on Frontgate
Or, Set a Deal Alert and Get It on Sale
Looking for something in particular? Set a Deal Alert at Slickdeals and we'll notify you as it goes live. Sign up for free with just an email and start seeing deals right away. Then, let us know what you want to buy, and Slickdeals will send matching deals to your email or as a notification on your smartphone (or both, if you choose) as soon as that exact item is on sale.
Slick Tip: To receive alerts only for the very best sales and the absolute largest discounts, select "Popular" or "Frontpage" in your Deal Rating filter.
Read Next:
Stop Overpaying for Shows and Get on These Streaming Bundles
Affordable Organizers That Make Your Life So Much Easier
Our editors strive to ensure that the information in this article is accurate as of the date published, but please keep in mind that offers can change. We encourage you to verify all terms and conditions of any product before you apply.