Relive the Glory Days of MTV With the New (Free) Roku Vevo App
There are now four free music video channels on your Roku device.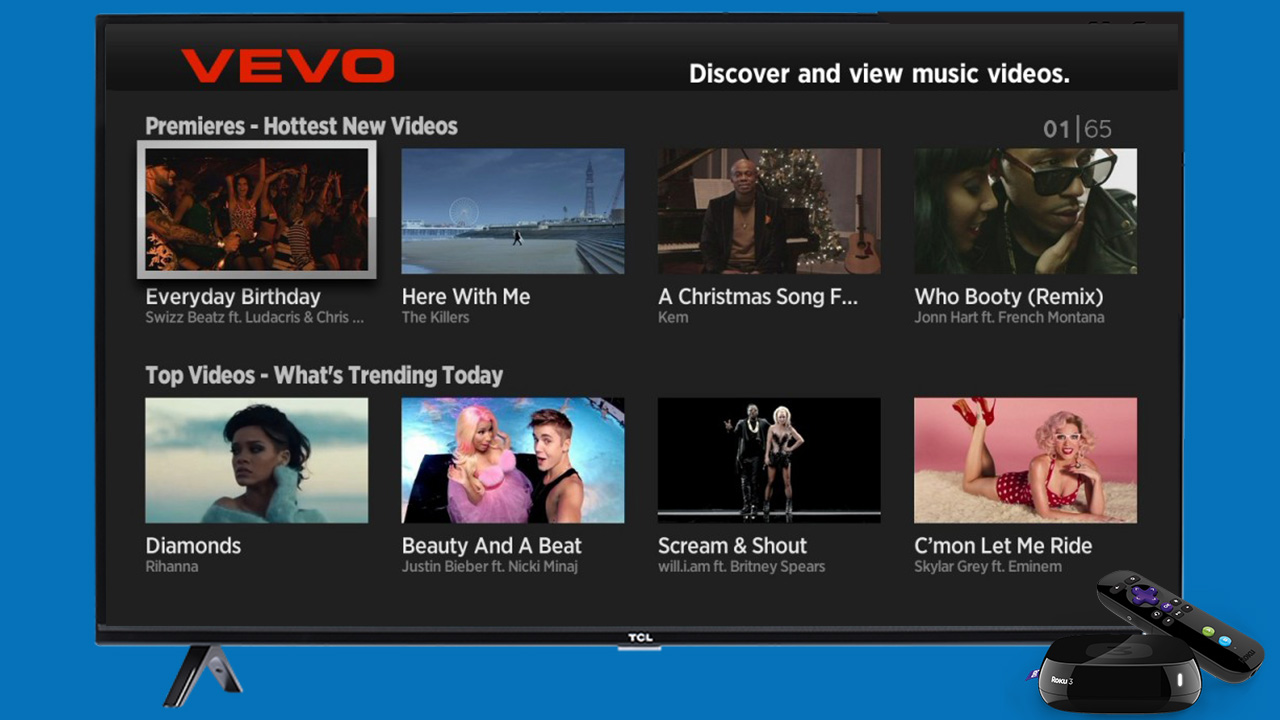 In the era of smart devices, it's difficult to find a moment when there is nothing to watch or listen to. This is far from a bad thing, but there is something to be said for the delicious satisfaction of hearing your favorite song come on the radio after an extended period of pop-filler. Or better yet, catching the hottest new music video on MTV, back when it was a music video service.
Thankfully, we now live in the future where there is a free dedicated Vevo music video channel on your Roku Player and Roku TV. You have your choice between four curated channels: Vevo Country, Vevo Pop, Vevo Classic Rock and Vevo EDM.
To access the Vevo music video channels, all you need to do is go to the Featured Free menu and scroll down to the station that you'd like to watch.
Why Choose Vevo Over YouTube?
Sure, it may be more efficient to find specific videos by searching for them on YouTube, but Vevo music stations are not trying to compete with instant gratification. Instead, Vevo is focused on discovery. Each of the channels offers a series of music video playlists crafted for people who like the channel's primary genre. With 50,000 videos from 11,000 artists, there's bound to be plenty of new music you haven't heard. And once you've found a video you like, you can go watch it on YouTube whenever you want, or just listen to the audio on Spotify. Roku has you covered as well.
If you have ever found yourself lost in the "Next Video" algorithm, unsure of what to listen to next or just plain sick of your usual music, why not broaden your horizons by exposing yourself to a curated selection of new videos you may not have found otherwise?
Streaming Deals to Consider
If this news has sold you on buying a Roku streaming device, we have found a few sales to start you off. For those who already have a Roku streaming device, it's never a bad idea to enhance your setup for optimal music video viewing.
Here are a few of the best recent deals we've seen:
Roku Streaming Stick+ – Sale Price: $43.83 | Reg. Price: $59.99 at Amazon
When compared to the least expensive streaming options and the devices with the most robust feature sets, the Streaming Stick Plus manages to pull off the best of both worlds. It is tiny, filled with apps and can stream 4K.
V300 All In One TV Sound System – Sale Price: $299.99 | Reg. Price: $899.99 at KEF
If you're really dedicated to your newfound music video lifestyle, it might be time to upgrade your sound system. Stock speakers aren't going to cut it when you're listening to Vevo EDM. The V300 All In One sound system is super low-profile and easily repositionable.
Looking to upgrade your media center for the new decade? Set up a Deal Alert, and we will let you know as soon as your favorite streaming services and gadgets go on sale within your ideal price range.
UP NEXT: Slickdeals Editor's Choice CES 2020: Add These to Your Wish List Right Now!
You might also like this popular headphones deal from our Frontpage:
Search URL: https://slickdeals.net/newsearch.php?firstonly=1&pp=20&sort=newest&rating=frontpage&filter%5B%5D=21983&forumid%5B%5D=9&hideexpired=1&r=1