Glide into Summer with Roller Blades Starting at $79.99
Regardless of your experience level, there's a roller blade for you.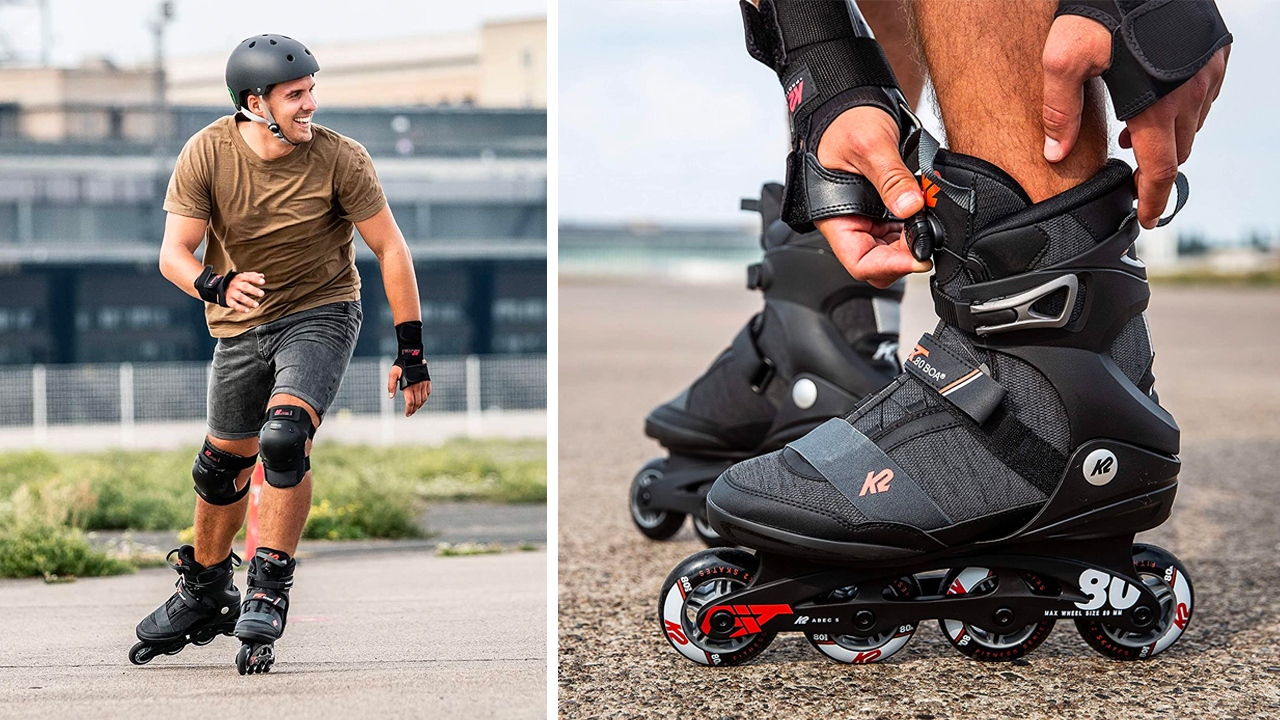 If you live in a beach town this might be old news: roller blades are back. This fun recreational activity we used to enjoy as kids is great as adults too! And if you're experiencing cabin fever or just need a break from social distance walks, look no further. Roller blades, also called inline skates, are not only fun but they help improve balance, coordination and core strength. Talk about a triple threat! If you haven't strapped skates on since you were a kid, don't fret. We've curated a selection for all experience levels and road conditions.
Best Roller Blades and Inline Skate Deals
---
1. DBX Women's Reaction XT Inline Skates

Sale Price: $99.99 (plus free shipping) | Reg. Price: $149.99
Great for exercising or transporting yourself from point A or B, DBX focuses on skates for beginners. The large boot plays to any foot type and will keep you comfortable and locked in while you ride.
Check Deal on Dick's Sporting Goods
---
2. Rollerblade Men's Macroblade 80 Inline Skates

Sale Price: $149.99 (plus free shipping) | Reg. Price: $219.99
Sometimes the hardest, and often scariest part, of rollerblading is learning how to stop. Rollerblade has solved this issue for you with their control features. The cuff buckle will help align ankles and laces to keep you secure all ride long.
Check Deal on Dick's Sporting Goods
---
3. Rollerblade Women's Zetrablade Inline Skates

Sale Price: $99.99 | Reg. Price: $169.99
The perfect skate for a fun workout or a cruise around the block. You'll be surprised how addicting these are with the comfort of this soft boot design and the smooth ride.
Check Deal on Dick's Sporting Goods
---
4. Men's K2 Kinetic 80 Inline Skates

Reg. Price starting at $79.95 (plus free shipping)
Excellent for beginners and intermediate skaters, K2 Kinetic 80 has a generous amount of padding, making it easy to skate for hours. Free express shipping with Amazon Prime.
---
5. K2 Skate F.I.T. 80 Boa Inline Skate

Reg. Price: $159.95
The most expensive of the bunch, experts recommend K2 for it's 25-year history of servicing top inline skate customers. With the turn of a dial to tighten laces, these unisex skates are a definite upgrade from the ones you had as a child. If you're more of an advanced skater, you'll enjoy the 80 mm wheel size, making it easier to gain speed and execute tricks.
Pro-tip: Although Amazon is out of a few sizes, you can still purchase today and receive an email when it will ship.
---
If you're not ready to splurge on a pair of roller blades just yet, set a Deal Alert so you'll be notified the next time there's a great deal.
Need roller blades for the entire family? Walmart has a huge selection of inline skates for kids right now at prices starting at just $29.99 and many of these items qualify next-day delivery or free shipping!
---
---
Any product or service prices/offers that appear in this article are accurate at time of publish, and are subject to change without notice. Please verify the actual selling price and offer details on the merchant's site before making a purchase.