New to Grocery Delivery? Here's How to Cook Your Way to Savings
A little planning and prepping goes a long way.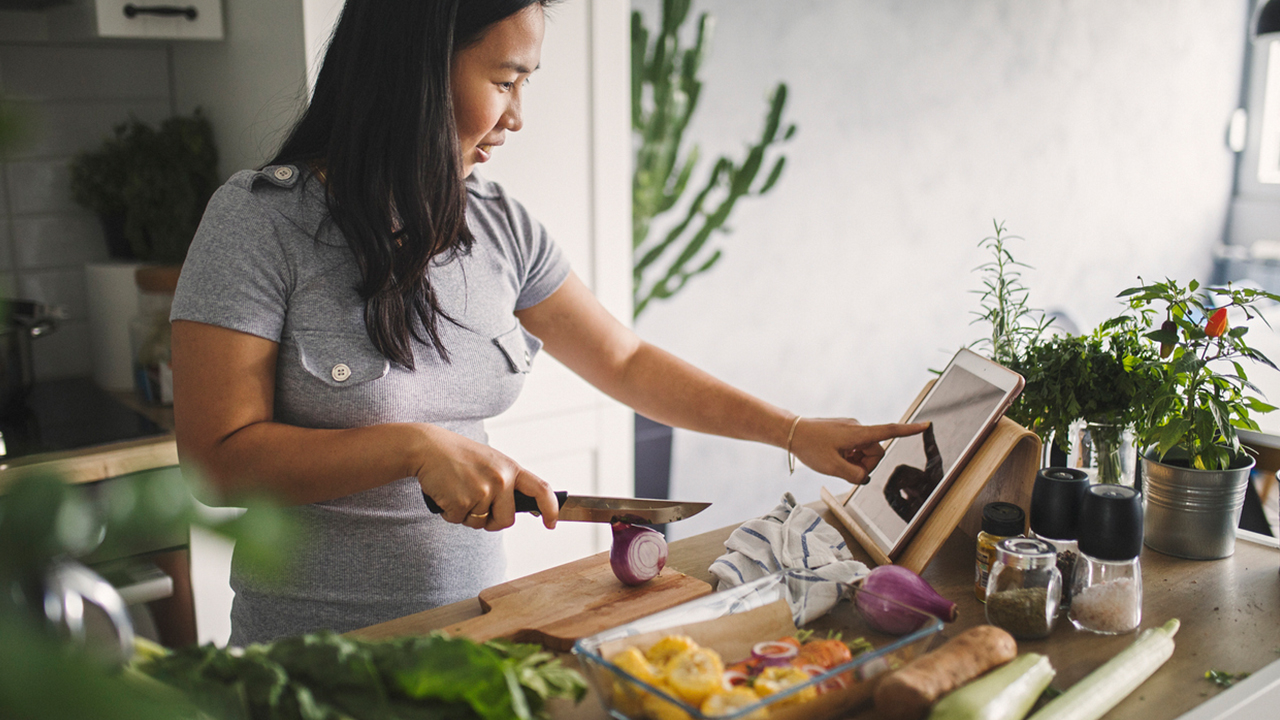 With food, you can spend your money, or you can spend your time. But with grocery delivery, you can save both, if you follow the right strategy. Here's how to get the most for your hour and your dollar.
It Starts with Planning

Just like investing a little money now, spending a little time developing a meal plan, a schedule, a kitchen inventory and a food budget before you place that first grocery delivery order will pay quite a few dividends later.
The kitchen inventory is the simplest. Take stock of the various implements and tools you have around the house. If you have a slow cooker, for example, note that down so you know you have access to it.
The schedule is straightforward as well. When are you home? When do you go to bed? How many people do you need to cook for, and what else needs to get done in between?
Next, work out your food budget. An analysis of spending by Business Insider found that what you spend depends on where you live. A Seattleite will spend $516 a month, while an Atlantan will spend $314.
But remember, there's also $3000 a year of takeout, on average, to consider, so factor that in as well. Similarly, don't forget that grocery delivery will have a markup on products on top of the fees and tips. So do some price checks on the things you eat most.
Finally, there's the meal plan. This should be focused on what you like to cook, and eat, as well as what you can reasonably expect yourself to do in the time you have. Aim for goals you can reasonably achieve, such as scheduling a cooking day every week.
Once you have all this in place, it's as simple as placing the order, picking a delivery time and, oh yeah, actually cooking.
What do You Want to Make and When?
All the planning in the world, though, isn't going to matter if you're not willing to eat what you order. We throw out around $165 billion in food every year, a full 40% of the food we buy. So ask yourself what you want to make and how much you want to eat it.
Timing also matters. Grocery delivery can arrive at any time during the day you want to set it, but if you're not in the mood to cook when it shows up, you may find yourself ordering a pizza. Consider your motivation when planning.
Don't forget to consider your skill level and the tools at your disposal as well. If you've got a pressure cooker, for example, you can make some soups in as little as 17 minutes — chopping included. Or if you've got a slow cooker, you can put everything in the pot, plug it in and have it cooked when you come back.
Make Meat a Sometimes Food

Whether you eat steak daily or just cook a chicken and eat it throughout the week, meat just costs more, no matter how you get it. The average price of sirloin boneless steak, for example, has risen from $4.10 a pound, or about $6.96 in 2019 dollars, to $8.10 a pound today. And it's only heading up.
Pork has gone up 180% in price compared to 1975, the cost of chicken per pound has risen four-fold, and it's unlikely these prices will meaningfully drop as world demand for meat is only rising.
Compare this to the cost of a plant protein, like beans: a $1.79 bag of dried beans makes about 12 servings. So while you should definitely splurge on that steak if you want one now and again, beans, lentils and chickpeas (especially dried) will get you more for your buck.
Buy Staples in Bulk

There are some foods that are just universal, either to your favorite cuisine or even beyond. Onions are popular almost everywhere they go, the potato is near-universal in cuisine and so on. Even if you stick to just one type of cuisine as your favorite, you'll still probably find yourself reaching for the same set of ingredients.
So, for dry goods and other shelf-stable items you can keep around, and especially considering that delivery markup, order them in bulk. Buying wholesale is generally the way to get the best deal, so as long as you're willing to eat that 50 lb bag of rice, put it in your cart. Just be sure to tip generously, since whoever delivers will also have to carry it.
Cook Big Batches
Just like buying wholesale matters, cooking wholesale matters as well. Once you've got all this food at your door, then it's a question of how you want to prepare it.
First, take a look at your freezer space and your fridge space. Be sure you have enough food storage, like freezer containers and storage bags, to contain all your food.  You also might want to consider getting pre-cut items and frozen items like vegetables delivered instead of fresh in some cases.
There are three strategies, all of which have different approaches:
The "all-prep" strategy: you cut and season everything, freeze or fridge it and then put it in the slow cooker or the pan over the week.
The "cook and freeze" technique: you prepare everything, freeze it and defrost it as you eat it.
And the "component" approach: you cook core pieces like sides or certain ingredients, and pull them out as needed.
It all depends on what you want to cook and what you have delivered. But once you have it all in place, the savings will roll in.
UP NEXT:
Our editors strive to ensure that the information in this article is accurate as of the date published, but please keep in mind that offers can change. We encourage you to verify all terms and conditions of any product before you apply.