Literally Everyone Should Own a 3D Shrek Blu-Ray, Here's Why
Somebody once told me you can pretty much always buy Shrek Forever After for $3 or less.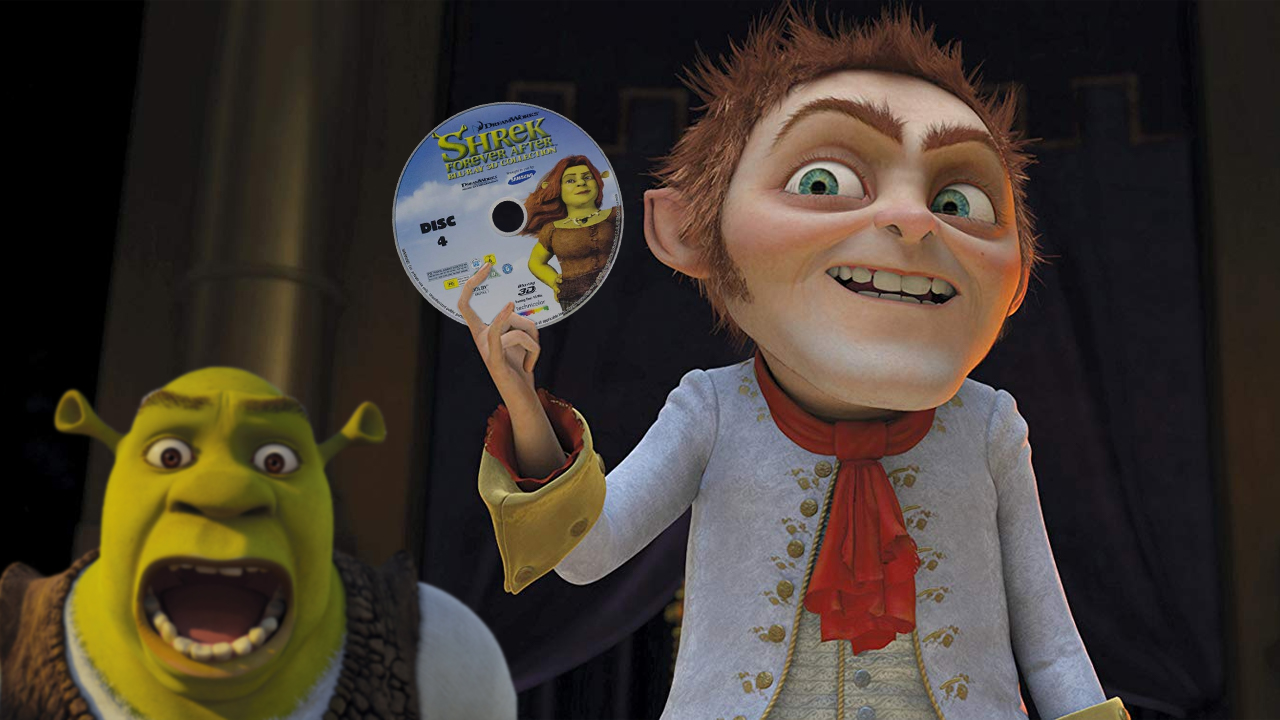 It's that time of year again; the holidays are over (including Black Friday) and in the case of many products, we're back to the cruel reality of paying MSRP. This hurts us as deal hunters, but we can all be grateful for the Slickdeals community that keeps the spirit of saving alive. And if you're a dedicated Slickdealer, you already know there is one deal more persistent than most — one that's pretty much always available whether you think you need it or not.
Let us introduce you to a crown jewel of deal hunting, the glue that holds our family together. The eternal bargain-priced copy of Shrek Forever After 3D. It might also be a Blu-ray with special visual effects, but don't let the title fool you — 3D actually stands for "three dollars."
Sure, the retailer has foregone the hard plastic case in favor of a humble paper sleeve, but that was just going to take up space in your house, anyways.
The Timeless Tale of Shrek Forever After 3D
It all began on a dark wintry day not unlike this one at the edge of 2016. Word broke that a comparably mysterious vendor by the name of iTechDeals was selling Shrek Forever After for a paltry $3, nearly $17 below MSRP.
A fine deal, by anyone's standards! Many users were curious and placed their orders immediately. What was there to lose? For seemingly half of the Slickdeals population — about $3. Some users received their copies while others remained Shrekless, but the sale has continued on until this day. To add insult to injury, the disc will occasionally go on sale for $1, automatically triggering the angry masses who were not fortunate enough to receive their naked copy of Shrek Forever After. The lack of fulfilled orders is more than enough to concern our team of Deal Editors, so this deal has never been featured on our website's Frontpage, but that hasn't stopped more than a few Slickdealers from reveling in the thrill of the chase.
Even in the interior of Slickdeals, staff has been baffled by this Shrek deal's frequent recurrence. Some theorized iTechDeals acquired a grotesque amount of these Blu-rays as part of a Samsung 3D starter kit promotional sale. Others had no use for theory, instead taunting one another with the threat of sending 50 copies of the final Shrek installation straight to their homes.
Despite it all, at an outrageous 90% off, you'd be a fool if you didn't buy Shrek Forever. Many customers who were scorned on their first try have returned again and again, desperately seeking their own personal copies.
Testimonials
With a total of 12 deal threads, 640 comments and over 220,000 views, Shrek Forever After and its mysterious ongoing sale is one of Slickdeals' perennial hot-topics. All across the site, users have responded to the news of the $3 Shrek Forever After 3D Blu-ray. Here are a few choice extracts:
Jean-PaulR: Somebody once told me…
Burton9Eric: Bought this the last time around and decided to get 6 more to watch 1 disc every day of the week! Only a true baller watches Shrek every day of the week off a different disc daily.
Vizzle13: I just buy random junk constantly.
cchen326: From the reviews I read, the fourth movie has the best 3D effects.
famewolf: Purchased some 3D equipment for the TV that came with some Blu-Rays… ironically, the Shrek "complete collection" was one of them but only had discs one through three in it… disc four missing…
Tragically beautiful.

Maximize Your Shrek Viewing Experience
You're already watching a Shrek Blu-ray in 3D, why not take your media journey to the next level?
V300 All In One TV Sound System
Sale Price: $299.99 | Reg. Price: $899.99 from KEF
The V300's slim build and low profile will enhance the dulcet tones of Shrek's voice without distracting the viewer from his charming visage. The on/off, volume and mute functions are controlled directly by your TV remote, so you won't have to fumble with multiple controllers during the movie.
Sale Price: $16.99 | Reg. Price: $34.98 from Amazon
Okay, to be fair, this four-disc collection does include a copy of Shrek Forever After, but even when you factor that out you're still getting three Shrek films for just under $6 each. Plus this version comes with digital copies of all three movies, so you'll never have to be without the most beloved Tetralogy of the 2000s. Who knows, maybe you can even find a special someone to gift your second copy of Forever After to; or just send it to one of the Slickdeals forum members who's still waiting patiently for theirs to arrive.
If you already have your copy of Shrek Forever After or can't suffer the heartache of waiting for it yet again, why not set a Deal Alert for another title? We'll let you know when it goes on sale within your price point (hopefully for $3 or less).
UP NEXT: How to Find the Best Discounts on Slickdeals
You might like this hot movie deal from our Frontpage:
Search URL: https://slickdeals.net/newsearch.php?firstonly=1&pp=20&sort=newest&rating=frontpage&filter%5B%5D=7860&forumid%5B%5D=9&hideexpired=1&r=1
Our editors strive to ensure that the information in this article is accurate as of the date published, but please keep in mind that offers can change. We encourage you to verify all terms and conditions of any product before you apply.