Smart Baby Gadget Deals to Help New Parents Worry Less
Baby gadgets to help new parents - and baby - rest easier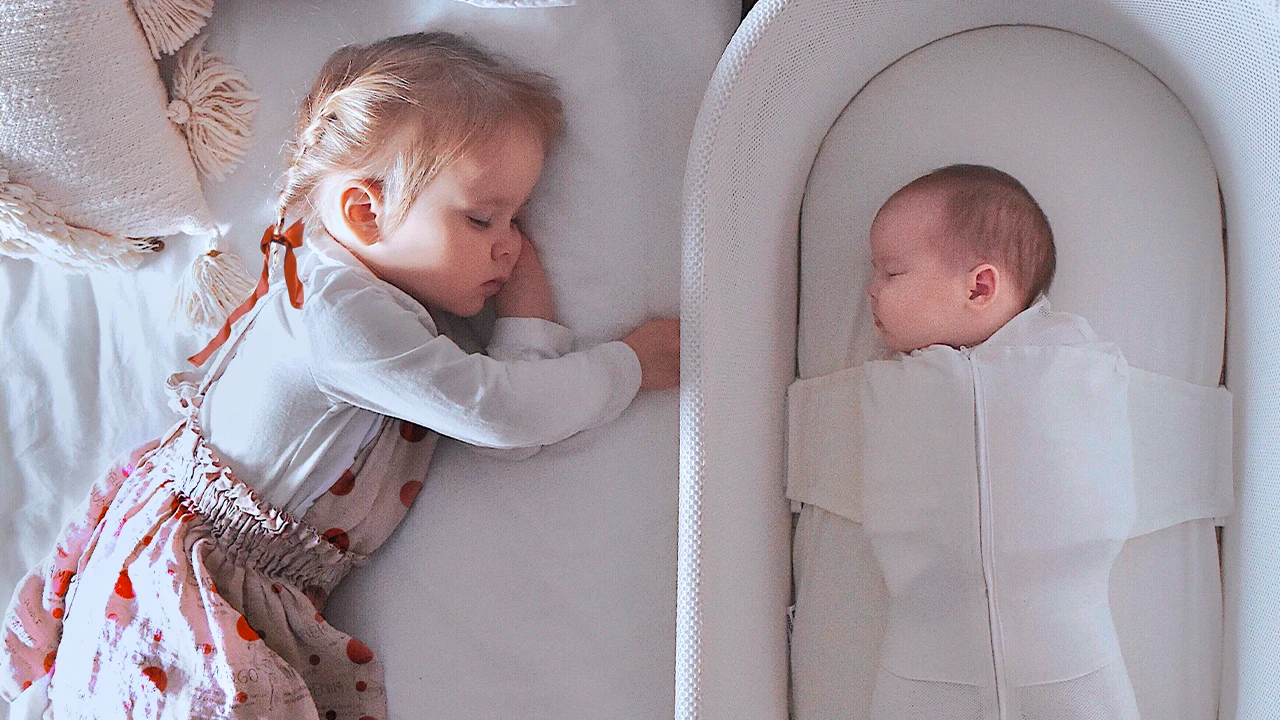 While having a new baby is certainly exciting, it can also be overwhelming trying to navigate the big sea of baby gear and smart baby tech. Fear no more, we rounded up the top smart baby gadgets for new parents who love tech (or just want to use techie gadgets to help them care for baby easier) along with a few tips and deals on how to integrate these items into the nursery but still save money.
Top Smart Baby Cameras

There are a lot of baby camera and monitor options on the market but not many of them connect with your smart device. Using a baby monitor with WiFi allows you to check on your baby from any smart device in the home and even allows you to check on your little one if you are away from home. Here are the top smart baby cameras.
Project Nursery Smart Nursery
Sale Price: $119.99 for camera only | Reg. Price: $199.99 for baby monitor system
The Project Nursery Baby Monitor System comes with a Project Nursery-branded Alexa. The voice-controlled, 720p HD video streaming WiFi camera allows you to view cameras and communicate with your baby remotely from the Project Nursery app.
Deal tip: Save 15% off on Project Nursery's website with coupon code 2020TRENDS. You can also find the camera only on sale at Kohl's for $112.49.
iBaby
Reg. Price: $179.99 (plus free shipping)
The iBaby offers 1080p video resolution with night vision and is compatible with most Apple and Android smartphones and tablets. It's also easy to add and monitor another camera. From personal experience, the camera is amazing, but the lullabies are too creepy sounding to lull any baby to sleep.
Deal tip: Save 20% one item buy joining their email list.
Owlet Cam
Reg. Price: $149.99 (plus free 2-day shipping)
The Owlet Cam does not need to be used with the Owlet Smart Sock to work. However, it does integrate with the sock seamlessly for more data tracking. The camera streams HD 1080p video with night vision and two-way audio to your smartphone over a secure, encrypted WiFi connection.
Deal tip: This baby camera is not HSA/FSA approved on its own, so buy the Owlet Monitor Duo if you are wanting to use health savings account funds to pay for your purchase.
Best Smart Baby Safety Gadgets

A lot of newborn stress comes from the anxiety of parents wondering if their little one is healthy. Having the right smart baby tech can help put these worries at ease while also keeping your baby safe.
Lumi Sleep Sensor
Reg. Price: $59.00 (plus free 2-day shipping)
The Lumi Sleep Sensor offers 24/7 sleep tracking wherever baby sleeps, and you'll receive personal tips and insights that are unique to your baby's development.
Deal tip: If you're already on the market for a baby monitor, consider springing for the Ultimate Baby Monitor Bundle which includes the Smart Baby Monitor, sleep sensor, 10 days of diapers and an all in one app. The bundle is currently on sale for $229.
See Sleep Sensor Price on Pampers
Hatch Changing Pad
Reg. Price: $149.99 (plus free 2-day shipping)
If you're worried about how your baby is growing or how much milk they are taking in per feeding, then the Hatch Changing Pad can help. It fits most changing tables and allows you to track baby's progress through your phone.
Deal tip: Use your Target REDcard to save 5% off your purchase.
Must-Have Sleep Tech for Babies

Most parents will spend anything for a semi-normal night of sleep. After sleep training three babies, my number one choice is a good sound machine. A sound machine that offers a constant white noise rather than different melodies or nature sounds on a loop can help baby stay asleep longer. Here are a few baby sleep gadgets to try out.
Yogasleep Dohm Connect
Reg. Price: $59.95 (plus free standard shipping)
The Dohm Connect is my favorite, and everyone in my family uses one to sleep, even me. The design is minimal and attractive while offering a fan-based natural white noise that is easy to change to your preference. The sound machine also connects to the Marpac app so that you can control the unit and set a sleep schedule with your smart device. The cheaper models of this brand did not measure up in the ratings.
Deal tip: Look for open-box or returned models of the Dohm Connect to save $10-15 off retail.
SNOO
Reg. Price: $1,295 (or can rent for $118 per month)
That price is not a type-o. The SNOO is designed to help parents get a priceless 1-2 extra hours of sleep per night as well as naturally sleep train babies without crying it out. Considering most parents would gladly fork over $10 for an extra hour of sleep, the SNOO can possibly grant you 182-364 extra hours in six months, making the $1,300 price tag look more appealing.
Deal tip: Finding a good deal on a SNOO is not impossible. Regularly, the $1,300 bed goes 30% off with free shipping at the Happiest Baby. You can also rent a SNOO for $118 per month, and since you will only need it for five to six months, it is a possible savings of $705.
Nanit
Sale Price: $16.66 each when you buy 3 | Regular Price: $24.99
Swaddling is another essential for successful sleep training. The Nanit Swaddle works exclusively with the Nanit Plus nursery camera (regularly $299) to monitor your baby's breathing motion and track their sleep habits with no sensors on their body or in their cot. You can also save $10 off your first order by joining their mailing list.
Deal tip: One swaddle is $24.99 whereas three are $49.99. Babies spit up often so save and go for the three-pack.
Once you have your baby gadget wishlist, set a Deal Alert for your favorite stores and products so you don't miss a deal. Turns out kids are expensive, so bookmark our Baby and Children's page to see daily savings.
Our editors strive to ensure that the information in this article is accurate as of the date published, but please keep in mind that offers can change. We encourage you to verify all terms and conditions of any product before you apply.