The Best Money Saving Smart Home Devices You Never Hear About
Energy waste can cost hundreds of dollars every year, but these gadgets could help.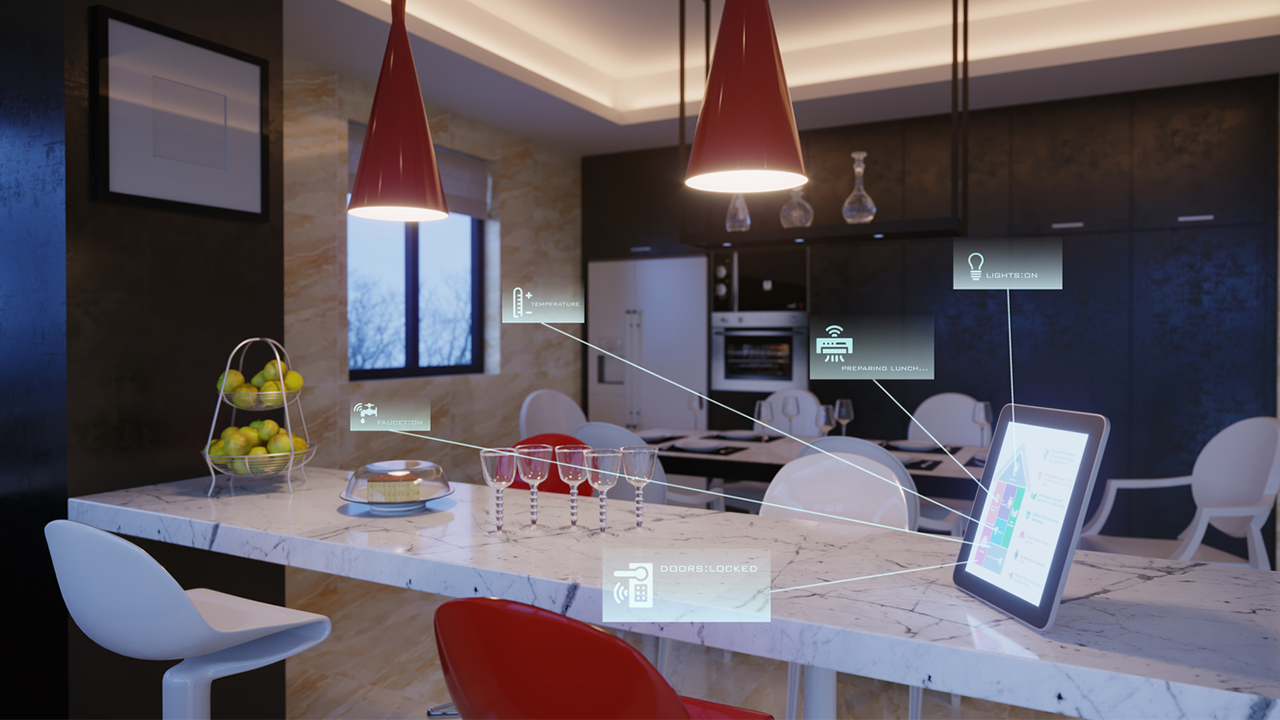 Smart home devices tend to be right up front and center. They chime when you talk to them, light up when you poke an app, or fire up automatically to clean your floor. But the smart home gadgets that will save you the most money aren't necessarily the ones you hear about everyday.
When it comes to saving money in your home, it's all about being smart with your energy and water usage, and eliminating waste. So we're taking a look at some of the top smart home devices that will both monitor your home energy use and help you identify where you're wasting money.
The Nest Smart Thermostat 

Price: Starts at $169
Average Annual Savings: Approximately 10%-12% of your bill, $131 on average
The biggest energy costs in your home come from heating and cooling. In fact, according to the U.S. Energy Information Administration, they account for 51% of your household energy consumption. A smart thermostat like the Nest helps by tracking when you use your HVAC system over time, and then adjusting it to be more efficient.
For example, if everybody's out of the house during weekdays, you can probably let the temperature rise for a while before the air conditioner flips back on. Nest claims that small adjustments like this could save you anywhere from 10% to 15% on your heating and air conditioning bills.
Pairs Well With: The Awair Glow C 
Price: $89 
There's more to your comfort than just the ambient air temperature. Humidity and overall air quality also play a role. You probably don't want to blast your humidifier or fan 24/7, though.
The Awair Glow C is a smart outlet packed with sensors to track temperature, humidity and the presence of volatile organic chemicals (VOCs) in the air. Simply connect your air quality tools (like a humidifier, fan or air purifier) to the Awair, and set the triggers that you want for ideal air quality.
Once it spots a drop in humidity, or a rise in stench, it'll trigger your tools. It's particularly ideal when you need more humidity in one part of the house, and for it to be a bit drier elsewhere. You'll not only save on electricity, but also wear and tear on your smaller appliances.
The Sense Energy Monitor 

Price: $300
Average Annual Savings: $360
Energy efficiency isn't just about saving the planet; it's about saving you money. We waste, on average, 283 kilowatt-hours (KwH) of energy a month, the equivalent of leaving your oven on for six straight days. At 13 cents per KwH, the current average price of electricity, that works out to $30 a month, or $360 a year.
The problem, of course, is narrowing down where the waste comes from. Is it your lights? Your electric gear going to "sleep" instead of turning off? Something else? You need the data, and that's where Sense comes in.
The Sense Energy Monitor is installed at your breaker panel or fuse box (note that you'll need to get an electrician for the installation.) It uses AI to determine each object plugged into your house and its overall energy drain. As it learns about your habits and what objects are draining power at any given time, it'll help you find the sources of waste so you can adjust your usage.
When you pair it with other tools, like smart power strips, LED lights and, longer-term, Energy Star rated appliances, you'll be able to lower your energy bill and burn less carbon in the bargain.
Pairs Well With: Caseta Smart Switches 
Price: Starts at $65
Not every item in your house is easy to make smart. Have you ever counted how many light bulbs go into your average vanity? If you'd rather not use smart bulbs in everything, go with a smart switch instead.
Caseta smart switches are available for pretty much anything hard-wired into your home, including fans, can lights, dimmer switches and more. Plus, you can generally set them up yourself if you've got a little electrical knowledge.
Once installed, you'll simply set up the bridge and the app, and you're ready to go. For example, if you constantly forget to turn off the lights before you leave, you can tie the switches to your phone, so when you pull out of your driveway, the lights turn off. When you arrive back, they turn back on. It'll help you cut down on your power bill, without having to think about it.
StreamLabs Smart Home Water Monitor

Price: $170
Average Annual Savings: $43
Water waste drags your wallet down the drain with it. The average family wastes 180 gallons of water a week, and while water is currently priced at roughly a penny a gallon, that may not be true forever. Either way, that money adds up, and the StreamLabs Clamp-On Water Meter will save you plenty of pennies.
Once clamped onto your main water pipe, it will learn where the water flows, what temperature it flows at and your overall water use habits. Then, it'll keep an eye out for unusually high water usage, water getting dangerously cold and other risks that could cost you a major plumber's bill.
Browse StreamLabs Smart Home Water Monitors
Pairs Well With: The WaterHawk Smart Shower Head ($40) and The Orbit B-Hyve Faucet Timer ($55)
Speaking of water, showers tend to be water hogs; the average showerhead flows at 2.1 gallons a minute. The WaterHawk, which doesn't even need a battery, will track your gallons per minute in the shower with a nice, bright and visible digital monitor in the front. It also has a temperature sensor to tell you when your shower goes from cold to warm.
Browse WaterHawk Smart Shower Heads
The B-Hyve serves much the same purpose for the hose outside your house. Connecting with Alexa, it ties into weather reports to ensure that you only water your plants when absolutely necessary. Since your average garden hose can fire 17 gallons a minute, that's a handy way to keep your water bill down.
Browse WaterHawk Smart Shower Heads
How You Can Save on Energy Costs
Keep in mind that the most effective tool of all for making your home smart is the people inside it. Making sure everybody tightens faucets and flips off lights will also go a long way in saving on energy costs.
Additionally, while many smart home products are not cheap, you'll often find that the savings they bring will more than pay for themselves over the years.
---
Set a Deal Alert to make sure you're not overpaying for your next smart home purchase. We'll let you know as soon as a new offer or price drop is posted. Additionally, check out our Home Automation Deals page for all the latest offers on smart home devices.
UP NEXT:
Our editors strive to ensure that the information in this article is accurate as of the date published, but please keep in mind that offers can change. We encourage you to verify all terms and conditions of any product before you apply.