You Can Price Match Amazon Products at These Major Retailers
Always get the best price when you price match with Amazon at these stores.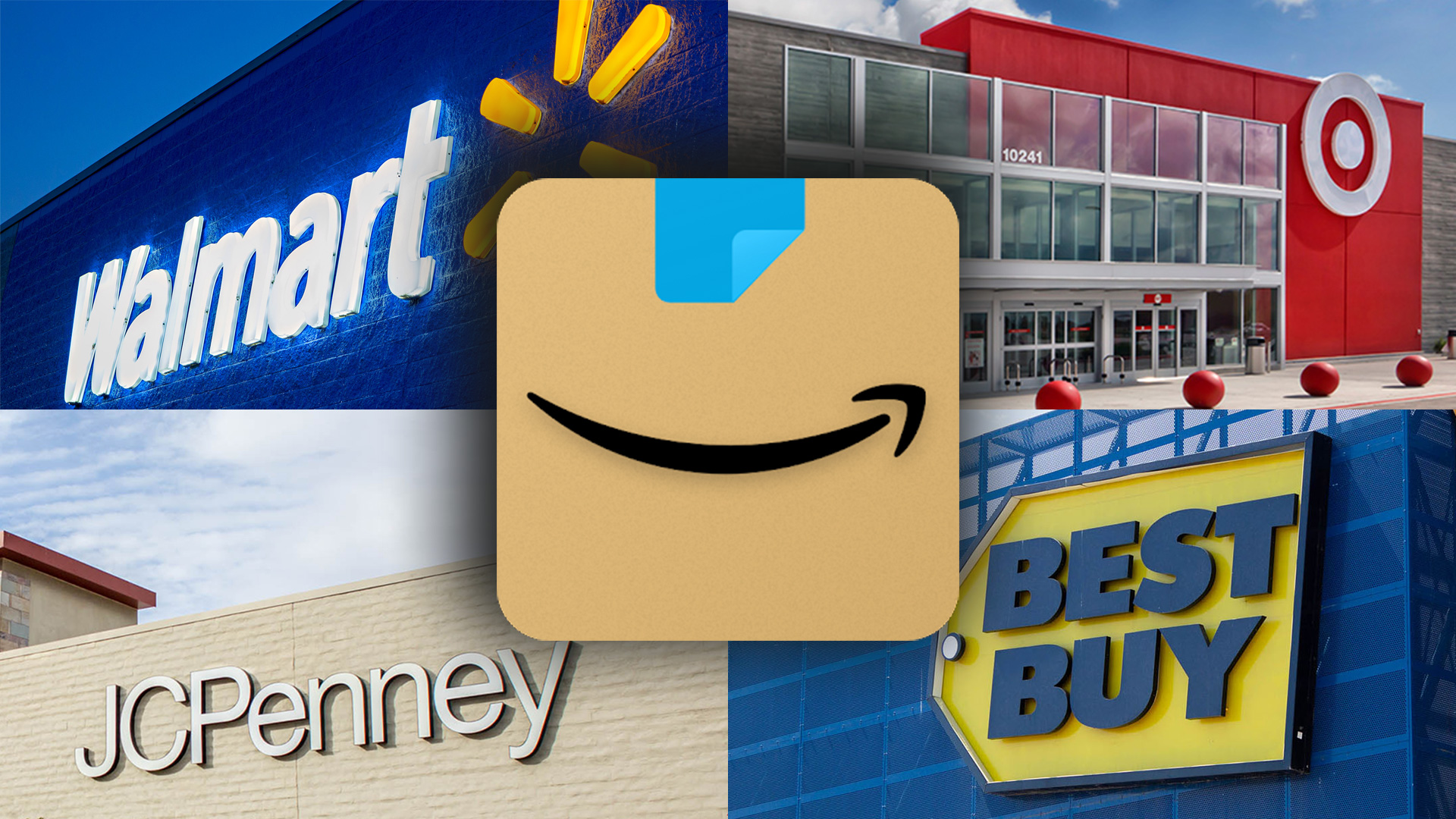 Price matching allows customers to shop with confidence knowing they'll get the best deal and have immediate access to goods. There's no waiting or shipping time, so you can get your items at a nearby store at the best price.  Faced with competition from Amazon, many retailers are jumping on the price match bandwagon to be able to compete with the online retail giant—both in stores and online.
If you're wondering how to get in on the savings, keep reading to find out how to do it and where to get it!
What is price matching?
Price matching means that if you find an identical product with a lower price tag at a qualifying competitor's store, the retailer will match that price. If you've already bought the item and see a lower price at another store, some retailers may even let you keep the item and offer a refund for the price difference. This is known as a price adjustment.
Does Amazon price match?
If you're one of the 197 million monthly Amazon shoppers you might have wondered: Does Amazon price match?
Unfortunately, Amazon does not offer price matching. Amazon uses dynamic pricing, which means prices change frequently based on market data. The price for any given product changes on average every ten minutes.
Popular Retailers That Will Price Match Amazon
While Amazon doesn't price match with other companies, there are many major retailers that will price match with Amazon. If you do a little research before you shop, you can use Amazon's ever-shifting prices to your advantage when you shop at other retailers.
Target

When searching if Target price matches Amazon, you'll be happy to know that this retail store giant will price match and offer price adjustments within 14 days of purchase if you find an identical product for a lower cost on Amazon.
How to price match: Provide proof of the lower-priced item at your local Target store or call Target's customer care and request the adjustment.
In-store purchases also qualify for price matching, so you can get the extra savings when you go in to pick up your order. Coupons are also accepted when price matching, but note that only manufacturer coupons are approved for price matching.
Conditions & Exclusions: Door-buster deals and Lightning Sales including Amazon Prime exclusive offers are excluded from the price match guarantee.
Check Out More Details on Target's Price Matching Policy
Walmart.com

If you love Walmart's history of low prices and want to get more of those sweet deals, you'll be pleased to know that you can price match at Walmart.com.
How to price match: Although the Walmart brick-and-mortar stores won't price match Amazon, if you contact Walmart customer care before placing your online order, you'll likely save money.
Conditions & Exclusions: Walmart will only price match its Walmart.com products and all products must be in stock and identical. Additionally, they must not be in an online clearance sale or sold through third-party vendors.
Best Buy

Best Buy says they "won't be beat." And that means savings for customers because Best Buy will price match most Amazon products. They also offer online or in-store price matching, so you'll have an even greater chance of getting the best deal.
How to price match: Speak with a customer service representative in store to request a price match. For online orders, call their customer service line or use the online chat feature. Products must be identical to the competitor's product and must be available online or at a local competitor.
Conditions & Exclusions: Products sold by Marketplace vendors, competitors' service prices, special daily or hourly sales are not eligible. Also excluded are Black Friday sales that start the Friday before Thanksgiving Day through the Monday after Thanksgiving.
Lowe's

This home improvement store will match the price of an identical product found on Amazon within 30 days of the purchase date.
How to price match: Clip or print the competitor's listing and bring the ad to your local Lowes store to receive a price adjustment. For online orders, call Lowe's customer service line to request a price match.
Conditions & Exclusions: Certain brands and third-party retailers on Amazon are excluded from the price match policy, and the lower price must include shipping and handling charges.
JCPenney

Founded in 1902, JC Penney has operated under the same motto for more than 119 years: Treat others as we would like to be treated. Today, they still operate under that standard and offer you the lowest price guarantee.
How to price match: Find a lower-priced item and request a match with a customer service associate. Collect your savings by visiting a store or contact them at the JC Penney's customer care number listed on their website.
If you've already purchased the item, JCPenney will offer a price adjustment on the item within 14 days of purchase.
Conditions & Exclusions: Items sold by third parties on Amazon are excluded from the lowest price guarantee.
How To Get the Most Savings Out of Price Matching
Price matching is an excellent way to give you total control of your shopping experience. You are getting the product you want at the price you want and from the store you want to buy it from. Spend less time driving from place to place searching for the best deal. And be assured that you are getting the exact product you want for the least amount of money.
Here are a couple of ways you can get the most out of price matching:
Set up a Deal Alert: When you create a Deal Alert, you'll get notified when an item is on sale. Your alert can be customized down to the store, item, brand and any other keywords related to the item you want to purchase.
Know the exclusions: There is often a lot of fine print and exclusions on what qualifies under a price matching policy. It's always best to review these details to avoid being turned away at the checkout line.
Check price matching at your local stores: The major retailers aren't the only ones who have official price matching policies. Some small locally-owned stores in your area may be more than happy to price match with Amazon and keep you as a customer. It doesn't hurt to ask.
Find Your Match and Save
Most retailers already know that price matching is a valuable marketing tool for attracting and retaining loyal customers. Shoppers who love visiting their favorite stores will return time and again if they know they can depend on a company's willingness to earn their business.  And you can win big savings when retailers compete to earn your trust.
Our editors strive to ensure that the information in this article is accurate as of the date published, but please keep in mind that offers can change. We encourage you to verify all terms and conditions of any product before you apply.