The Best Approach to Finding the Right Store Credit Card
Let us "teach you to fish" with these important card-selection strategies.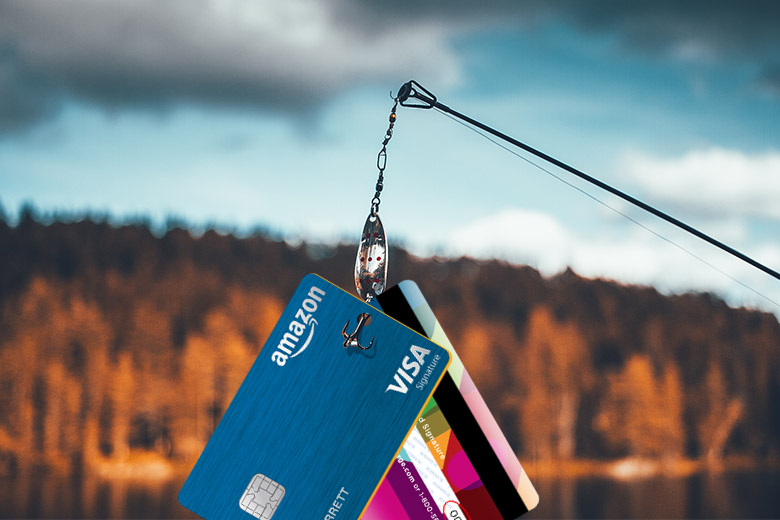 It seems like pretty much every retailer these days offers their own store credit card. Whether it's a store-only account or a legit credit card that can be used elsewhere, one fact remains — you'll be doing yourself a favor by selecting ones that leverage your existing spending habits.
One thing to keep in mind for almost every store credit card out there is that super-high interest rates are the norm; typical APRs hover in the range of 23% to 26%. Translation: It is not wise to routinely carry a balance.
With that said, we're not here to tell you which credit card is the best — we'd much rather "teach you to fish" by going over some important approaches to selecting the right card for your lifestyle.
Weigh Cash Back and Rewards Points
One big way stores incentivize their credit cards is by dangling cash back and rewards points. Amazon is a prime (no pun intended) example, offering up to 5% back across various categories with their Amazon Rewards Visa Signature card. Bed Bath & Beyond is another one, awarding 5% back for every dollar spent in the store; 1% elsewhere.
It's a more-you-spend-more-you-save mentality, which comes with some pros and cons. If you're diligent about paying it off in full each month, you can use a rewards card for your normal purchases, then reap the benefits. We do this with our Hilton Honors Card from American Express, which earns us points that we trade in for free hotel stays at Disney. But the biggest takeaway here is that we selected a hotel chain that we already stay at frequently. (We're Florida residents who go to Magic Kingdom several times a year.) In other words, we took our regular spending habits and signed up for a rewards card that lets us cash in on them.
When it comes to choosing a retail card, begin by taking a look at which stores you frequent the most and comparing their rewards programs to find one that makes the most sense for your lifestyle. Be sure to look at where points or rewards can be earned — in one store only, at a family of stores or at any retailer — and whether certain category purchases carry better rewards. Then assess your spending habits at those retailers and in those categories to determine if your normal expenses would net you decent rewards. Finally, keep in mind that some stores have expiration dates on their rewards points.
Consider Sign-Up Bonuses
If possible, consider opening a new store credit card right before you plan on doing some major shopping. Why? You might be able to snag even deeper discounts or better rewards by taking advantage of sign-up bonuses.
I did this recently with an Old Navy store card, which offers 15% off your first purchase. They were also running a promotion for new cardmembers that gave 10% off anything else you buy within the first 60 days. Since both my kids and I needed a wardrobe upgrade, I signed up for the card and went crazy. (In a good way.) I would have had to buy these things anyway, but the card saved me more than $100.
Kohl's and Macy's are also known for their introductory perks. Amazon even throws in a free $70 gift card if you're approved for their Amazon Rewards Visa Signature Card. You'd be hard-pressed to find a store card that comes with any sign-up fees, but that certainly doesn't mean that all introductory offers are created equal. According to a recent CheatSheet report, only a handful of store cards have valuable sign-up bonuses. For the most part, they say it's tough to find a bonus that's worth more than $25 for a $200 purchase, so it pays to really look at how much you're about to spend and whether the bonus is actually going to be worth it.
Think About Special Shopping Events and Discounts
Retailers want you to use their credit cards, which is why they frequently hit up cardholders with specialty coupons and shopping events. The Children's Place is a good example; exclusive discounts are sent to my inbox on the regular. Kohl's is another one, doling out 12 additional coupons per year to those with a store charge card, plus regular cardholder sales events worth 30% off your purchase.
Similarly, you can enjoy 10% off all Gap in-store purchases if you use your card on a Tuesday. Ann Taylor even offers up a free $15 birthday gift. On a day-to-day basis, some store cards also provide a per-purchase discount, like the 5% off you'll get on all Target purchases made with a REDcard.
The downside here is that all these opportunities to save could actually have the reverse effect by revving up your spending engine so that you can cash in on all the deals. Buying things you don't really need, just because they're on sale, will never save you money.
Learn About Additional Perks
Discounts, shopping events, and sign-up bonuses aren't the only ways to save with a store credit card. Check with your favorite retailers for any undercover perks. Lowe's, for instance, offers specialty financing for cardholders. This might translate to no interest for six months, or extra-low interest rates for big-ticket purchases. Other cards, like the Target REDcard, give cardholders free shipping with no minimums.
Again, just read the fine print here. In some cases, failing to pay off the full balance within the promotional period for a specialty financing perk will result in you getting hit all at once with a mountain of deferred interest. This scenario would definitely negate any up-front savings.
Look Into Multi-Store Cards
Is there a "family" of stores that you shop at the most? Gap, Old Navy and Banana Republic are all under the same umbrella; T.J. Maxx, Marshalls and Home Goods are under another. In many cases, retailers will let you use your store card at other "sister" stores, cashing in on member savings in the process.
If you're torn between opening two different store credit cards, having the ability to save at a handful of other stores might be the tie breaker. Just don't let your store card totally dictate your spending habits. Those with a store credit card may be less likely to shop around, which could cost you money in the long run. Additionally, while multi-store cards may be a good idea depending on your shopping habits and the rewards or discounts available, opting for a store card with a regular credit card logo on it, like Visa, MasterCard, etc., allows you to shop at most other retailers, while still earning rewards (though often at a lesser rate.)
*****
While a store credit card isn't a good idea for everyone, shoppers who are loyal to select retailers or who are about to make a big purchase at a certain store can definitely save if they play their cards right. Just remember to always pay off that balance every month and don't be sucked into over-spending in order to take advantage of rewards or discounts. Ready to turn your spending habits into rewards? The insights above should help you get started!
We want to make sure you get the best deal! Our editors strive to ensure that the information in this article is accurate as of the date published, but please keep in mind that offers can change. We encourage you to verify all terms and conditions of any financial product before you apply. Also, please remember this content wasn't provided, reviewed or endorsed by any company mentioned in this article.
---
Any product or service prices/offers that appear in this article are accurate at time of publish, and are subject to change without notice. Please verify the actual selling price and offer details on the merchant's site before making a purchase.