Working From Home with Kids? These Tips and Gadgets Will Help
Zone in on your work productivity while keeping kids happy.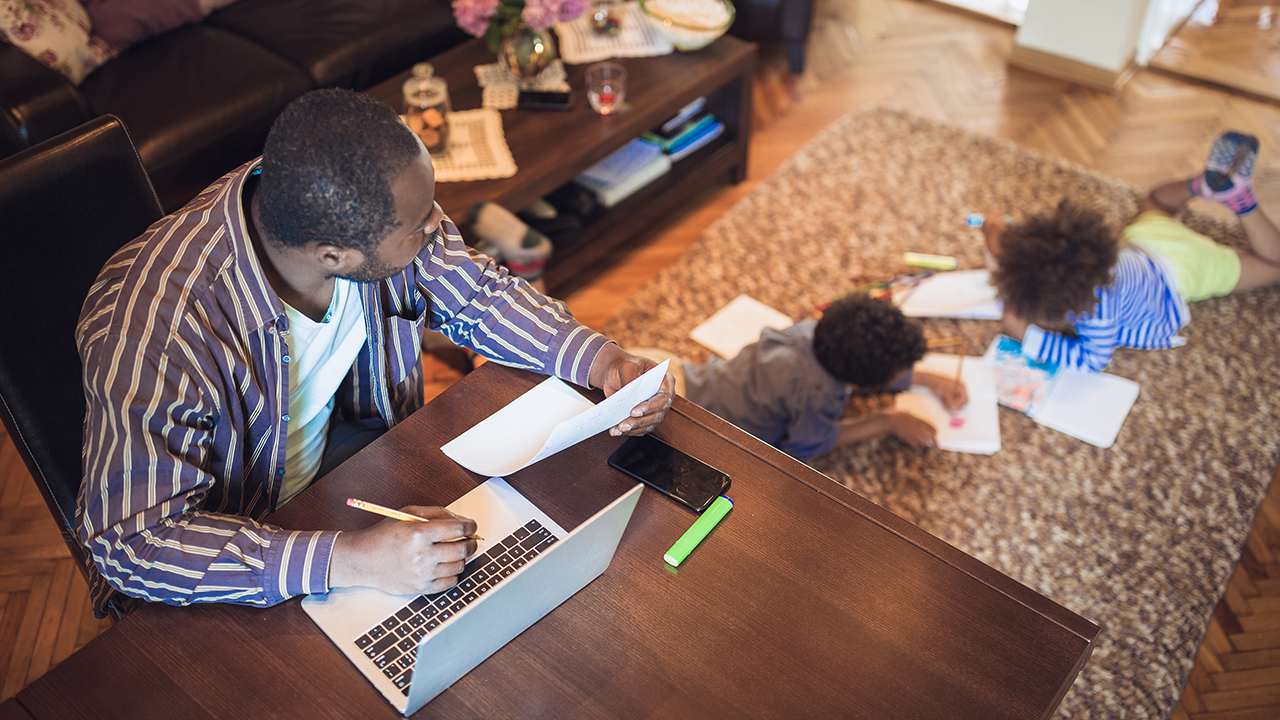 Working from home with kids is not the easiest setup, but it's also not impossible. The key is finding a schedule that works for both you and your children.
Add to that a few helpful pieces of technology and the task becomes even more doable. We've rounded up our best tips and gadgets to increase your work-at-home productivity, while also keeping the kids happy.
Tips to Succeed When Working from Home with Kids
It is essential to remember that your new workday is not going to look like the typical day in the office. Long gone are the days of uninterrupted phone calls. Try these tips to keep the peace between you and your new co-workers.
Divide Your Time. Split your time into focused hours and flexible hours. Accomplish tasks that require your undivided attention and minimal disruption away from kids. If you have young kids, this might require working before they wake up or during their nap. For more flexible tasks, such as answering emails, use noise-canceling gadgets to help you work and still be present with your children.
Use Screen Time Wisely. TV and tablets are your only source of babysitting right now, so don't burn your kids out on them before noon. Plan to use them 30 minutes at a time throughout the day to give you more focused work pockets. Diversify screen use, too. For example, 30 minutes of listening to a kids' Audible book during breakfast, 30 minutes of watching a TV show mid-morning and 30 minutes of using Amazon FreeTime after lunch.
Stretch Out Your Work Day. If possible, rotate between hands-on parent hours and work time. Sometimes, kids just need an hour of your undivided attention and love before they can play by themselves. Scheduling time in between work tasks to play a game, take a walk or do a craft together will help keep the stress level down in your home.
Must-Have Gadgets for Work-From-Home Success

Focus on optimizing your work station. You don't need to spend a ton on fancy, new gear, but if you aren't using tech made within the past two years, you might be feeling it.
Now that you're working from home full time, it may be time for some strategic upgrades.
Best Noise-Canceling Headphones for Working from Home
A good pair of noise-canceling headphones can keep your head at work when child chaos is unfolding around you. Here are a few of our top picks:
Best Webcams for Home Offices
Webcams have been hard to find lately, but if you own a Wyze camera, you can turn it into a webcam with the company's free help.
Slickdealer Master.Billy.Quizboy says, "Be warned: if you want to use this as a webcam, use a different mic source. Also, it may behave poorly with overhead LED or fluorescent lights."
Even if you have a webcam attached to your laptop, a separate webcam can prevent you from being hunched over your computer all day. A well-rated option is the Logitech C922 Pro Stream Webcam (Reg. Price: $99.99). It comes with its own tripod so you can set it up at the right angle for the best lighting. This is also a great option for teachers who are streaming lessons.
Shop the Logitech C922 Pro Stream Webcam
Separate Mouse and Keyboard
Again, if you are primarily using a laptop to complete your work, do yourself a favor and set up a work station so you can plant your laptop on a desk or table rather than working from your bed or couch.
Similarly, using a wireless mouse and a separate ergonomic keyboard instead of the laptop's can prevent worker fatigue.
Check out these deals for upgrading your home office space:
Keeping Kids Sane So You Can Have Work-From-Home Success

Kids are resilient, but that doesn't mean this change is an easy one for them either. Thankfully, there are plenty of free trials and digital resources available during this time. Here are just a few of our favorites.
Free Educational Resources
Free Museum Tours/Operas/Zoos
Free Classes
Bookmark our Babies & Kids Deals page for even more kids' freebies and deals on fun toys. Even ordering small toys, games or craft supplies in the mail is an exciting treat for them.
Try setting aside certain toys, games and activities to rotate through to keep the fun alive in your household.
---
Up Next:
Our editors strive to ensure that the information in this article is accurate as of the date published, but please keep in mind that offers can change. We encourage you to verify all terms and conditions of any product before you apply.