Walmart Has Enlisted A Grocery-Picking Robot to Streamline Shopping For Food
We could all save a little time and a lot of frustration by switching to robotic grocery shopping.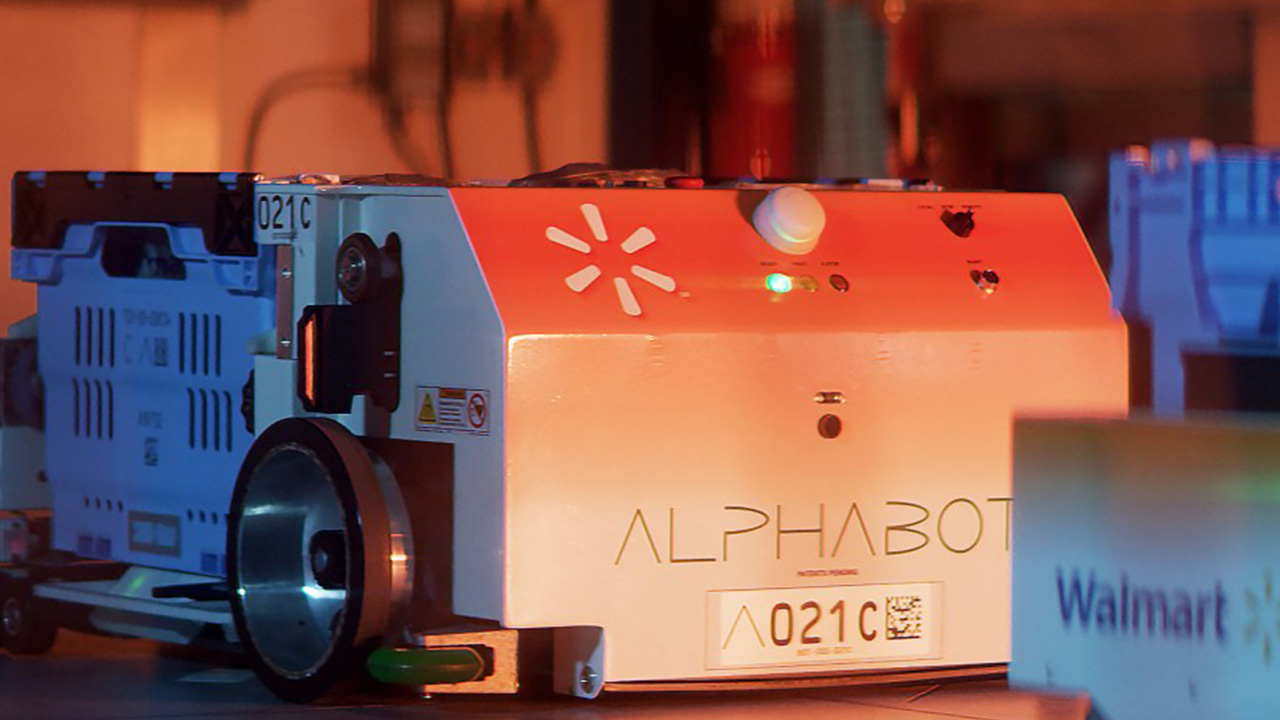 Since mid-2019, a fleet of potentially revolutionary cube-shaped robots has been quickly and quietly picking groceries at a Walmart in Salem, NH. The robot's name is Alphabot, and its goal is to streamline and speed up Walmart's online grocery shopping process.
While this will almost certainly streamline buying food, Alphabot's abilities aren't limited to grocery picking. The robots are also being used to make stocking more intuitive and geared towards customer needs. For example, Alphabot can gather data on specific customers' typical orders, then decide on an appropriate substitution for an item that is not in stock, updating the inventory in the process. The implications of this technology are interesting — could these picking robots someday lighten the often punishing workload for warehouse employees?
How Does Alphabot Work?
When you place an online grocery order at an Alphabot-enabled Walmart location, things go ever-so-slightly differently than they do at normal Walmarts. Instead of having a human associate pulling your groceries, Alphabot retrieves your pantry items and other household sundries in its own 20,000-square-foot warehouse attached to the Walmart (presumably so it won't run over any customers). Once all applicable items from your order have been pulled, Alphabot hands the bag off to a live store associate, who personally handles selecting produce and other fresh items. This way, you can enjoy the speed of automated service without having to worry about a robot's ability to judge the quality of your apples. As soon as everything's together, the grocery store pickup can continue as per usual.
You might not see an Alphabot near you for a while, but the initiative's test period has proven Walmart's ready to expand to more locations. New grocery picking facilities are expected to open in Mustang, OK and Burbank, CA later this year. As it stands, there is not enough data to determine exactly how efficient Alphabot is over Walmart's current curbside grocery pickup service, but the separate picking facility combined with the speedy robot's capability of quickly performing rote tasks eliminates most of the obstacles and distractions that might encumber a human grocery picker. Plus, it's safe to say Alphabot will pull groceries more accurately than the average human can, since it's been programmed to think of nothing else.
Once more Alphabots are rolled out, it will be interesting to see how they affect the shopping experience at Walmart. Aisles could be less congested, the stock reflected on the website might be more accurate and you could shave off some shopping time by only going to the brick-and-mortar store for things more fun than paper towels and Cheerios. For now, all we can do is mull that over while we shop slowly with our clumsy human hands.
Want to save on Walmart groceries (and if you're lucky, get your cheap pantry items picked by a cute little robot)? Set up a Deal Alert and we'll let you know when they go on sale within your ideal price range.
UP NEXT: Alienware's Concept UFO Wants to Be the Nintendo Switch of Gaming PCs
Have you seen this popular Walmart deal from our Frontpage?
Search URL: https://slickdeals.net/newsearch.php?firstonly=1&pp=20&sort=newest&rating=frontpage&filter%5B%5D=5485&forumid%5B%5D=9&hideexpired=1&r=1
Our editors strive to ensure that the information in this article is accurate as of the date published, but please keep in mind that offers can change. We encourage you to verify all terms and conditions of any product before you apply.