10 Games and Activities to Deck Out Your Yard from Wayfair's Huge Outdoor Sale
Turn your yard into the fun zone with these family-friendly summer lawn games.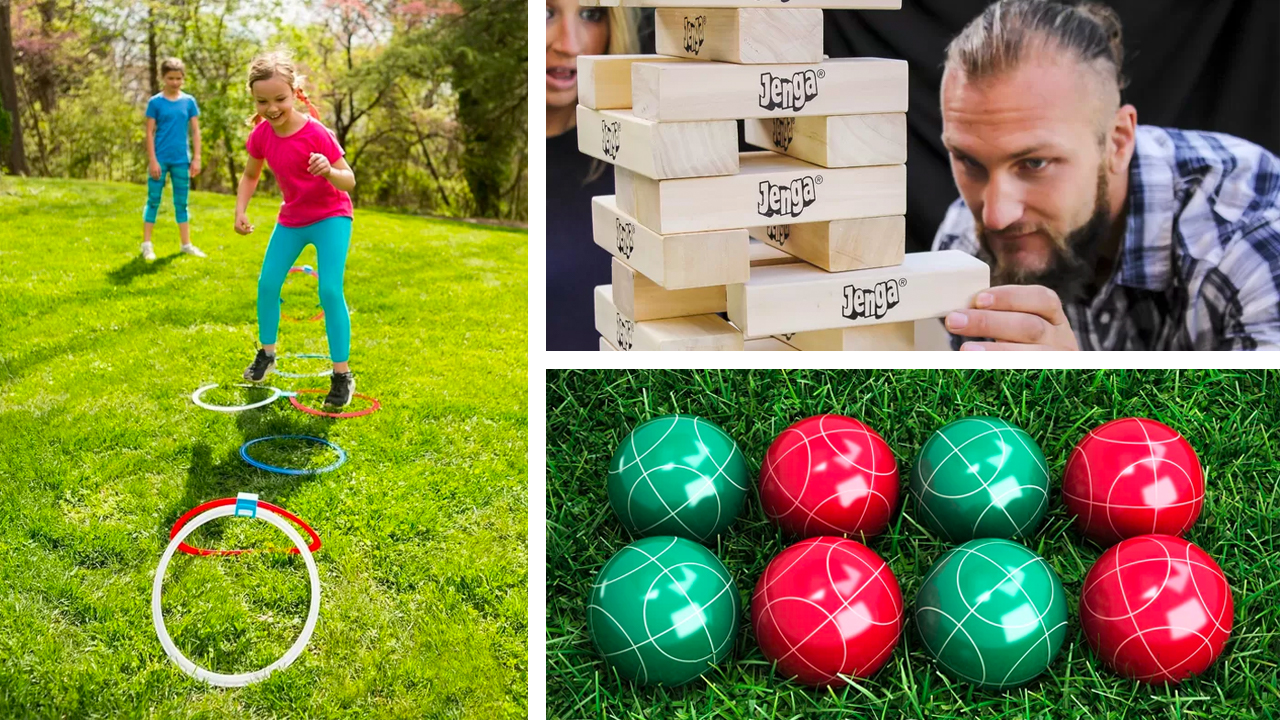 Summer is well on the way and home is still the place to be for at least a little while longer. The good news is that Wayfair is having a massive outdoor sale running through June 1st with lots of lawn games, activities and fun new pieces that'll help make these upcoming warmer months a lot more entertaining.
Below, check out 10 affordable family-friendly games that you can score from the Wayfair summer sale to upgrade your backyard into a space you'll love spending time in. And as an added bonus, enjoy free shipping on all items over $35.
Jenga GIANT JS7 Hardwood Game

Sale price: $118.50 | Reg. price: $169.99
Imagine the classic Jenga stacking game, but on a much larger scale. According to Wayfair's description, it's the biggest hardwood Jenga game yet, so you already know you're in for a real treat.
Hey! Play! 8 Inch Wooden Lawn Bowling Set

Sale price: $49.99 | Reg. price: $114.99
Bring the joy of bowling to your yard with this hand painted eight-inch wooden set that's made of tough New Zealand pine. The pins stand best on short grass, wood or concrete, and the set comes with wooden bowling balls and a mesh carrying case.
GoSports 48″ Four in a Row Giant Game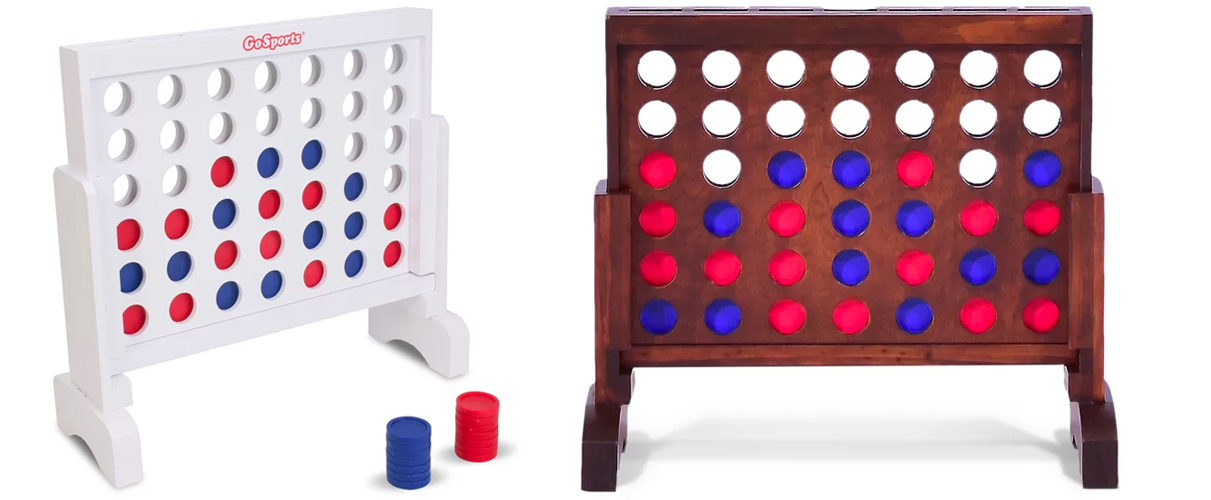 Reg. price: $139.86
Measuring over four feet wide, this super-sized game of four in a row requires very little assembly and is ready to go in seconds. Constructed of sturdy solid wood, the frame comes with 21 red plastic coins, 21 blue plastic coins and the potential for hours of fun.
Sportsquad Football and Disc Toss

Sale price: $49.99 | Reg. price: $79.95
Bring Sunday night football to your home with this challenging mashup game of football and disc toss. Throw footballs into the labeled targets to score a touchdown or even lose your turn by throwing an interception. Then, switch it up by swapping footballs for flying discs.
The smaller the opening of the target, the more points you can rack up. The set comes with a game frame, four footballs, four frisbee discs, four stakes and a carrying case.
BuitenSpeel Toys Domino Giant Game

Sale price: $29.99 | Reg. price: $43.99
No matter if you want to actually play a game of dominoes by the rules or just want to line them up to knock them down, this wooden domino set is fun for all ages. You can get it with standard shipping for a flat rate of $4.99.
Hey! Play! Bocce Ball Set

Sale price: $30.99 | Reg. price: $89.99
Bocce ball, also known as Italian Lawn Bowling, is one of the oldest yard games in the world, dating back to the ancient Romans who would play the game with coconuts, melons, wood or even brown rags.
This colorful set comes with everything you need to play the historic game: four green Bocce balls made of heavy-duty resin, four red Bocce balls, a pallino ball and a carrying case. You can get it with standard shipping for a flat rate of $4.99.
MegaChess Giant Plastic Chess Set

Sale price: $159.99 | Reg. price: $174.99
Take a game of chess to the next level with pieces that are nearly a foot tall. Just imagine how much more dramatic a checkmate will be.
American Ninja Warrior Obstacles

Sale price: $64.99 | Reg. price: $75.99
Hop, skip, jump and crawl your way across the backyard like an American Ninja Warrior. This challenging obstacle course set is great for testing your agility and comes with two hop sacks, two jump ropes, a bear crawl challenge with eight 24-inch poles and a spool of twine, eight 14-inch agility rings and 15 connectors to create hurdles that are sure to put your endurance to the test.
Viking Chess Lawn Game Kubb

Sale price: $33.99 | Reg. price: $79.99
In case you're wondering what in the world Viking Chess is, allow me to illuminate you. The objective of the game is to knock over all of the blocks (called kubbs) and then the red king block before your opponent does. Simple! The set comes with a king, 10 kubbs, six batons, four corner markers and instructions for further clarification.
You can get it with standard shipping for a flat rate of $4.99.
Retro Stained Bennett Pyramid Solid Wood Cornhole Board

Sale price: $155.99 | Reg. price: $199.99
Cornhole is a classic lawn game that almost all of us have played at some point, and the beautiful stained wood board in this set really elevates the game and brings a sleek sophistication to your outdoor space.
To play, the rules are simple: simply toss a baggie —traditionally filled with corn kernels — into the hole on the board to score a point.
---
Any product or service prices/offers that appear in this article are accurate at time of publish, and are subject to change without notice. Please verify the actual selling price and offer details on the merchant's site before making a purchase.