Use this Promo Code to get Your Wendy's Spicy Nuggets for Free
Wendy's is giving away over 2,000,000 Spicy Chicken Nuggets starting on August 12th, 2019.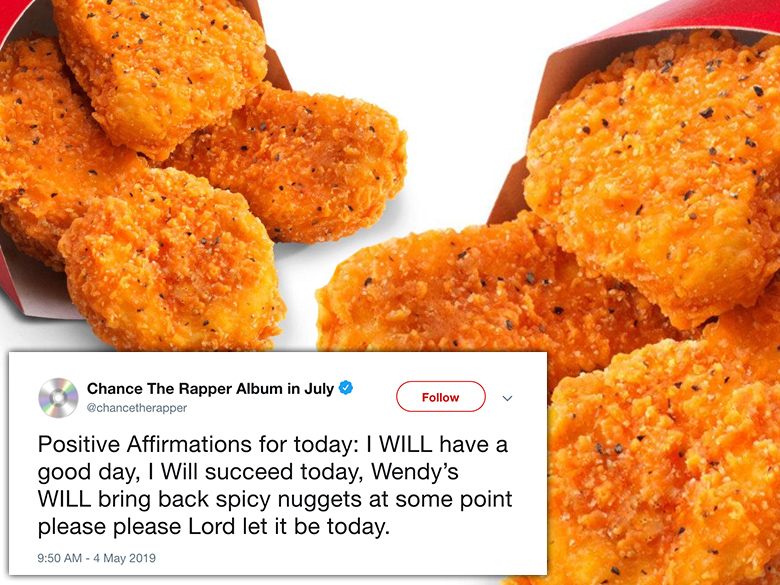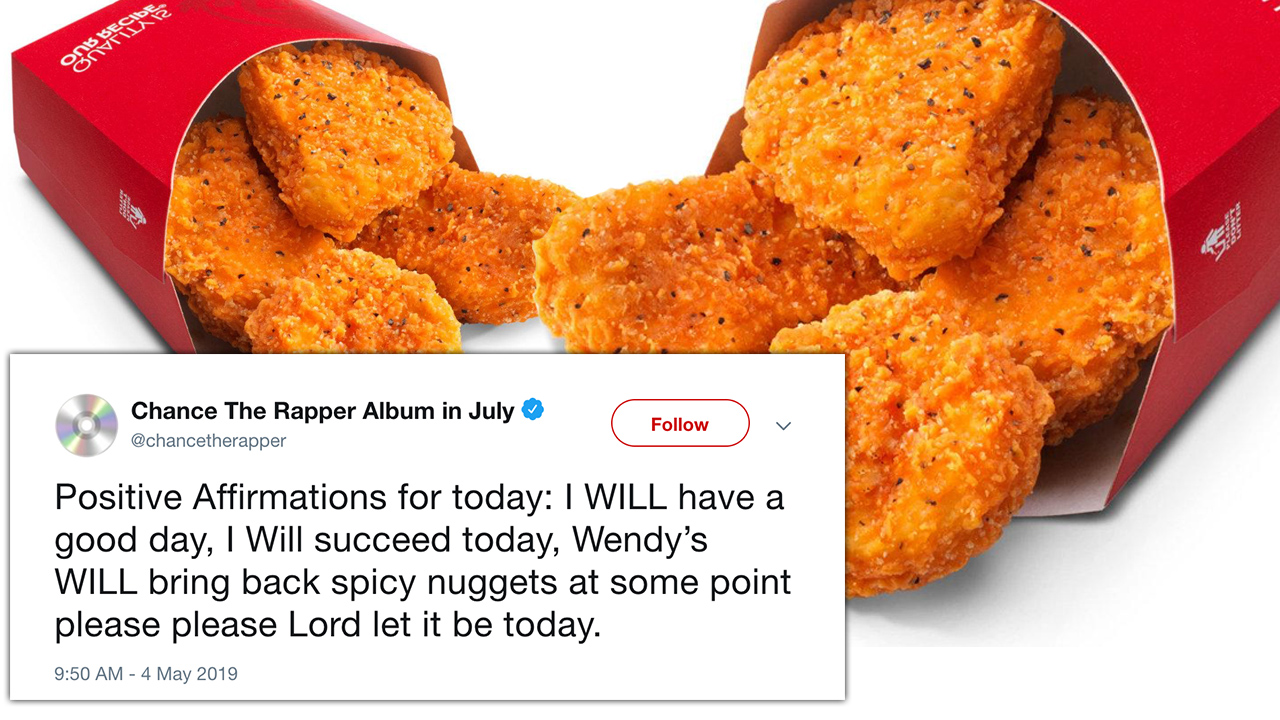 Wendy's promised us the return of Spicy Nuggets following a wildly successful social media campaign instigated by Chance the Rapper. We expected the nuggets to come back on August 19th, but Wendy's re-launched the fan-favorite menu item early on August 12th.
As has been the case with many of the chain's biggest stories, the announcement came by way of Wendy's delightfully snarky Twitter account.
And to make things even better, Wendy's is celebrating the 2 million likes it took to bring back the nuggets by giving away 2 million for free.
2 million likes deserve 2 million free Spicy Nuggs. Add a free 6-pc Spicy Nuggs to any order with code SPICYNUGGS exclusively through DoorDash. We did it, y'all 🔥🔥🔥 https://t.co/Hh0eXV4u0L pic.twitter.com/gXrY9qYiWV

— WENDY'S SPICY NUGGETS ARE BACK!!! (@Wendys) August 12, 2019
To cash in on this giveaway, all you have to do is order a 6-piece Spicy Nuggets through DoorDash and enter the promo code SPICYNUGGS. The giveaway is slated to run through August 19th (or while supplies last).
There's a limit of one order per DoorDash account, but it looks like there's no purchase required — you can just order the free nuggets by themselves! However, other fees like delivery, service and tip will still apply.
In an effort to make sure the free nuggets don't run out right away, there's an order cap of 50,000 per day. Over seven days, that's 350,000 orders total (or 2,100,000 nuggets). Keep in mind, the offer is only good at participating Wendy's, and it doesn't apply to drive-thru, pick-up or dine-in orders.
Wendy's originally removed the item from its menu in 2017, prompting a non-zero amount of outrage from its customer base. And with the restaurant chain discontinuing chicken tenders as well, we can all be grateful to finally have some chicken back for Frosty-dunking purposes.
Also, through August 18th, if you order using the Wendy's app, you can nab a free side of Baconator fries as part of "Baconfest." Truly, it's a wonderful time to be alive (if you're a fan of Wendy's and have access to a smartphone).
---
To stay on top of all the best fast food deals and promos, set up Deal Alerts for all your favorite restaurants.
You should also consider one of our most popular Frontpage restaurant deals:
Search URL: https://slickdeals.net/newsearch.php?firstonly=1&pp=20&sort=newest&rating=frontpage&filter%5B%5D=145&forumid%5B%5D=9&hideexpired=1&r=1