7 Questions to Ask Yourself Before You Buy an Instant Pot
This kitchen gadget is all the rage, but do you really need one?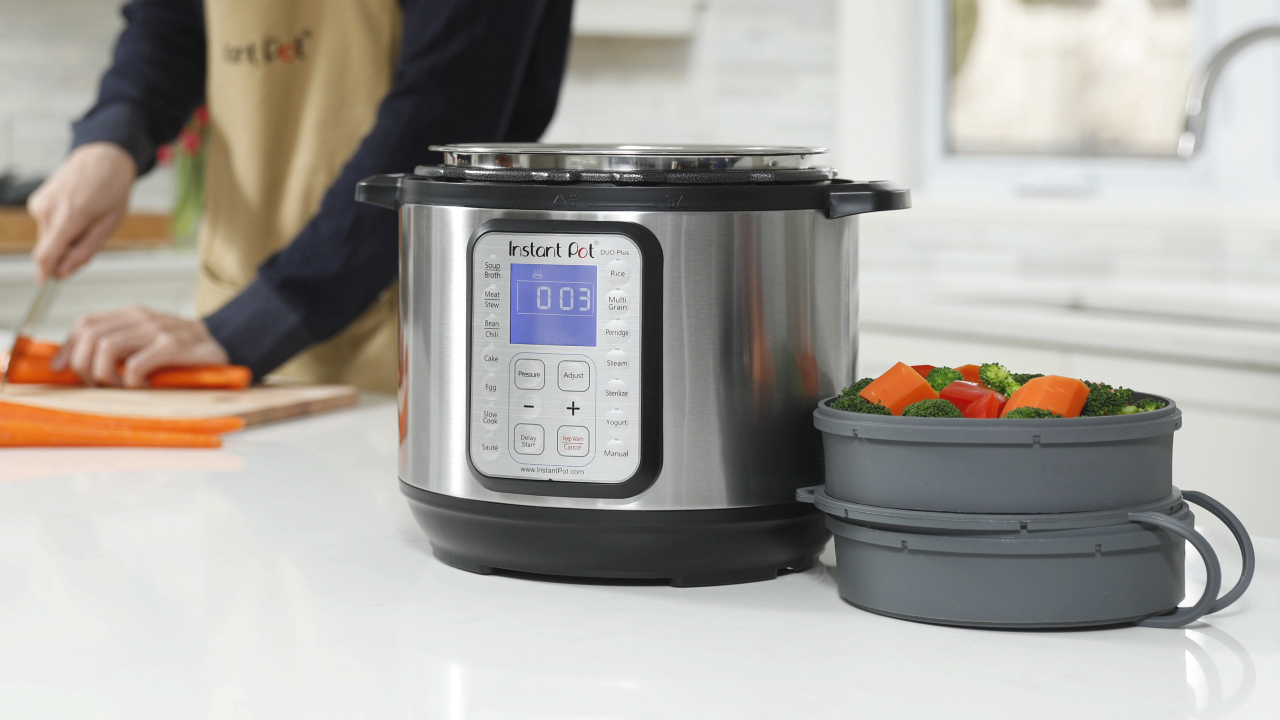 If the Instant Pot isn't the best culinary invention to come out of Canada, it's near the top of the list. An Instant Pot is the Swiss Army knife of kitchen gadgets, designed to replace your slow cooker, rice cooker, pressure cooker, steamer, yogurt maker, sautee and browning pan and warming dish.
Built for cramped apartments, busy lifestyles and tight budgets, they can be the life-changer your kitchen needs — provided you ask yourself a few questions before you buy.
How Much can I Save?
The Natural Resource Defense Council (NDRC) has estimated that we throw out $165 billion of food every year, which works out to an average $515 a year per person. And our takeout habits are not helping.
According to the same study, 17% of each takeout meal goes uneaten. Since we spend about $3000 a year at restaurants, that's another $500 out of your checking account.
Having a more efficient way to cook that suits your time needs and caters to our culinary skills, or lack thereof, can definitely make the modest price of an Instant Pot worth it. But it's just one piece of a larger question.
Do I Have the Right Meal Plan?


Start with what you eat and how you eat it. For example, if you're eating a lot of beans, you can make no-soak beans with ease in an Instant Pot. If your meal plan leans more towards bodybuilder-style meals of plain cod and raw vegetables, you probably should spend your money on gym gear.
Also consider what you like to eat, texture-wise. The cooking methods you can use here are "low and slow" style cooking, which is good for breaking down tough, fibrous veggies and stringy cuts of meat into rich, tender, saucy dishes. If you like crisp crunchy foods and entrees with a hard sear, you may not be happy with even the most flavorful Instant Pot dishes.
This doesn't mean that if you're regularly whipping up perfectly browned steaks and roasted asparagus that there's no room for this handy little cooker. But, especially on a budget, you should look closely at what you like to eat, what you need to eat more of, and where this tool can help.
Which Instant Pot Model Do I Need?
There are a lot of Instant Pot models, so you'll want to consider your needs before you buy. And size should be the first decision you make. They come in 3, 6, 8 and 10-quart varieties. Theoretically, you could cram the smallest 3-quart model with six pounds of food (there are two pints in a quart, and remember that a pint's a pound the world around).
Most Americans eat an average of 5.46 pounds a day across all their meals. You can see how those numbers don't entirely line up, even if you're making dinner for multiple people. With that said, if you've got to turn out big batches of brisket for family gatherings or you'll make use of the leftovers, go ahead and opt for a larger model. Single people and small families, on the other hand, may find the added size — and expense — of the bigger models unnecessary.
Your second consideration should be about what options are pre-programmed into the device. Newer models have added functions, like sous vide, along with more customizable programs. But think about the staples you regularly eat. Will you really use the advanced functions of newer Instant Pots or will you be sticking with the basics? Don't pay more for functions that you'll never touch.
Am I Willing to Change My Habits?

While an Instant Pot can do almost everything you need when it comes to the actual cooking, there are some things it outside of its purview.
If your fridge is always empty because you never have time to go to the store, or you come home and the idea of chopping a stack of vegetables makes you want to curl up around a carton of lo mein and cry, it's not going to help you much.
Before you put down the money, work out what needs to change so you will use it regularly and get your money's worth. This could mean doing all your meal prep on a Sunday morning, setting aside time after work to hit the store on your way home, buying a kitchen knife set or sharpener or finally deleting all the takeout apps from your phone.
Committing to a change now will ensure you're not throwing money down the drain.
Do I Want it Because It's Useful — or Just Cool?
It's really neat that you can make yogurt.
But while some of us will actually use it to make yogurt, many, many more will say "It makes yogurt!" — and then never actually make yogurt. And there's no shame in that. But if you're not going to use the feature, take it off your "pros" list when considering an Instant Pot.
That said, don't disregard it just because you may not use it every single week.
If it's going to help you with your meal prep plans or be a useful companion for making side dishes, or just make cooking on vacation less of a pain, it's still well worth considering if you can get a good deal.
Do I Already Have a Gadget that Does the Job?

The Instant Pot does a lot of things very well, but if you collect kitchen tech, you may already have products that fit the bill. Make an inventory of the gear you have, or that you're planning to get rid of, and figure out where the Pot fits in your cooking arsenal.
And don't forget, even after you get rid of your unnecessary gadgets, you'll still need to add a good food storage set to take care of those leftovers.
Do I Need this Immediately?
Probably the most important question for any major purchase is, do you really need this at the moment?
Holding out for a deal makes a lot of sense, as Instant Pots of all sizes regularly go on sale. For example, the 6-quart Viva has been offered for half its MSRP of $120, with some deals even throwing in free shipping.
If you look over the timing of the more popular deals, you'll notice that they tend to go on sale at the end of the summer, when students are returning to college, and right after Thanksgiving, when the gift-giving season really gets started. During these big sale periods, you can pick up the smaller models for as little as $30.
While Instant Pots are budget-friendly next to other computerized cookware, and reducing your food waste and takeout bills a little bit will make it worth the cash, they are still an investment. Waiting for a decent sale could definitely save you money and increase the value of your purchase.
---
Want to make sure you don't miss a good Instant Pot deal? Set a Deal Alert and we'll notify you as soon as a new offer is posted to our forums.
UP NEXT:
Our editors strive to ensure that the information in this article is accurate as of the date published, but please keep in mind that offers can change. We encourage you to verify all terms and conditions of any product before you apply.