7 Basic Reasons You Probably Need to Replace Your Old Refrigerator
They aren't meant to last forever.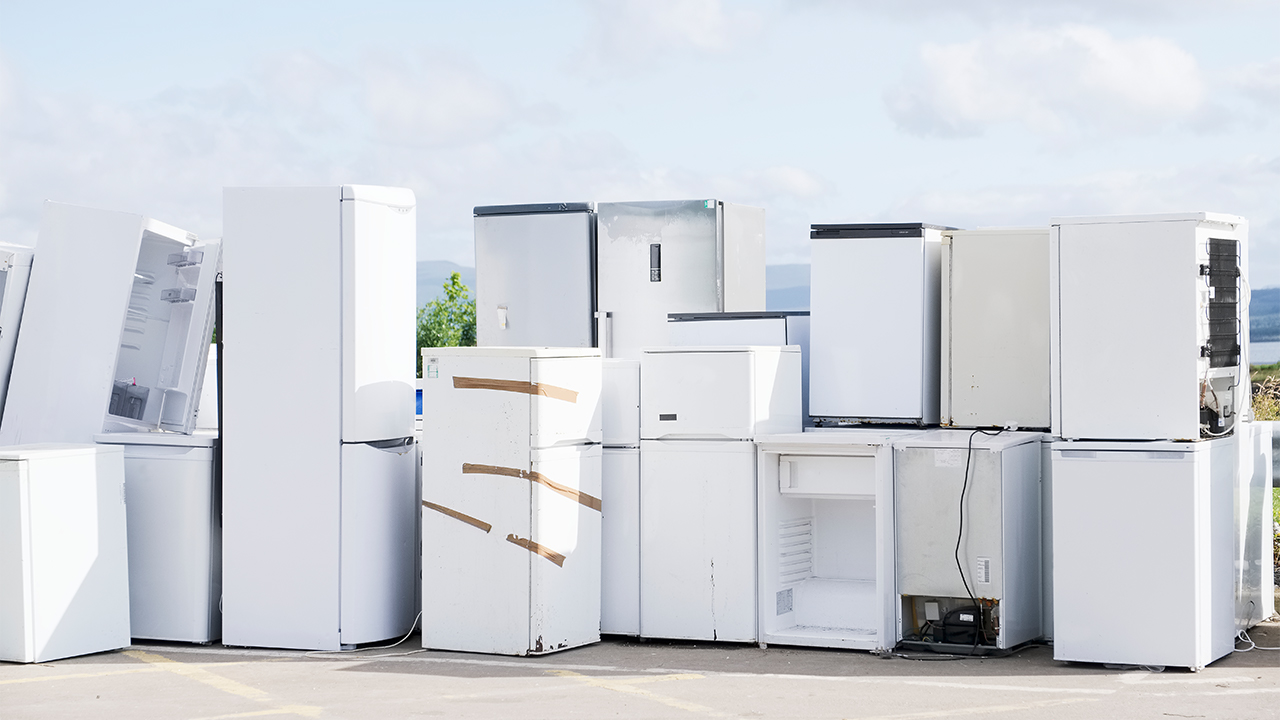 Other than cleaning or changing the water filter, you don't really have to do much to keep your refrigerator running. However, just because they don't require tons of constant maintenance, it's important to keep in mind that your fridge isn't meant to last forever. If you moved into your home ages ago, or you've noticed some less-than-stellar performance lately, it may finally be time to re-examine the focal point of your kitchen.
But don't worry, you won't have to go it alone. And contrary to popular belief, buying a new refrigerator doesn't have to cost you a fortune. Below you'll learn how to tell when you may need to replace your refrigerator. And more importantly, if you do need to find a replacement, we've added some affordable options for you to consider.
How Old is It?
On average, a standard refrigerator reportedly only lasts up to 14 years. Think about how long you've had your fridge. If it was there when you moved in, you may not even know how old it is.
Even if your fridge is still functioning, make sure it hasn't exceeded its intended life span. Since you use it on a daily basis, you shouldn't settle for a device that could give out on you at any moment.
Insignia 10.5 Cu. Ft. Top-Freezer Refrigerator
Regular Price: $359.99
There are plenty of budget-friendly refrigerators around, like this crisp white Insignia top-freezer silhouette that's available for less than $360. In addition, Best Buy offers a price-match guarantee, so be sure to shop around before you buy.
The 50/50 Rule
If you've been thinking about repairing your broken fridge instead of buying a new one, many experts note that you should consider both the age of the appliance and the cost of the repair.
If your refrigerator is more than halfway through its lifetime, and the repair is going to cost more than 50% of the price to replace it, then it's typically best to buy a new unit.

Samsung 36″ Side-By-Side 21.5 Cu. Ft. Energy Star Refrigerator
Sale Price: $1,799 | Regular Price: $2,499.99
You're actually in luck if you need a new fridge now, as Wayfair is currently having an incredible Memorial Day Sale. Top-rated appliances — including this Samsung Side-By-Side refrigerator — are up to 40% off. Moreover, the site offers a free installation and haul away service, so you won't have to worry about getting rid of your old fridge.
Is Your Fridge Still Meeting Your Needs?
Has your family grown and do you now need more storage? Or are you simply interested in upgrading to a smart kitchen that more easily meets your needs?
The good thing is, there are plenty of refrigerators out there with tons of impressive features. Make your dream list, do your research and see what's worth your purchase.
Samsung 36″ French Door 24.2 Cu. Ft. Smart Refrigerator
Sale Price: $1,999 | Regular Price: $2,799.99
Wayfair also marked down Samsung's state of the art smart refrigerators, which come with innovative designs, such as a family hub system that can play music and create digital bulletin boards right on the fridge door.
Your Freezer is Too Frozen
Yes, a freezer can be too frozen. It's an issue that needs immediate attention, as it leads to freezer burn that can affect the quality of your food. All in all, ice buildup typically means you have a faulty door seal or hinges that are letting in outside air. Depending on the age of the unit, this could mean it's time for a new one.

LG InstaView Smart Wi-Fi Enabled 21.7 Cu. Ft. Side-by-Side Refrigerator
Sale Price: $2,069 | Regular Price: $2,299
To completely eliminate this problem in the future, consider LG's InstaView Smart Wi-Fi refrigerator. Not only does the smart device alert you when a fridge door has been left open, it comes with a cold saver panel that reduces cold air loss to extend the freshness of food.
Listen To It — Literally
Is your refrigerator keeping you up at night? Rattling, humming, buzzing, clicking or sounds similar to these are not good signs. Sometimes it means your fan motor has lost lubrication and needs replacing. Either way, who would want anything that makes this much noise around the house anyway?
Chambers 24″ Energy Star Bottom Freezer 12 Cu. Ft. Refrigerator
Sale Price: $2,039.99 | Regular Price: $2,599
Who says you have to have a plain black or white refrigerator? If you need a replacement, snag a standout Chambers fridge that comes in eye-catching colors like champagne and bordeaux.
How High is Your Electricity Bill?
Refrigerators are always plugged in and could be the culprit of a higher energy bill. Apparently, refrigerators that are 25+ years old can use up three times more electricity than newer models. When you consider the savings you could get on your energy bill each year, the cost of a new fridge may be worth it.

Frigidaire 26.8 Cu. Ft. French Door Refrigerator
Sale Price: $2,114.10 | Regular Price: $2,349
This Frigidaire's French Door Refrigerator is currently on sale and features Energy Saver Plus technology that allows the fridge to automatically go into energy-saving mode if it hasn't been opened in 24 hours.
You Could Get Rewarded to Give Up Your Old Fridge
Finally, if you clearly need to replace your refrigerator because it has stopped working, know that many states have recycle programs which give people cash for old appliances.
Depending on where you're from, you could get up to $70 for an old or non-working refrigerator. It may not seem like a lot, but it's easy money that you can put towards a new fridge.
GE 27 Cu. Ft. French Door Refrigerator in Fingerprint Resistant Stainless Steel
Sale Price: $1,298.70| Regular Price: $2,199
Beyond sale prices, don't forget that plenty of companies offer flexible payment options. For this discounted GE French Door Refrigerator, Home Depot provides 12-month financing at the suggested price of only $109/month.
---
Once you decide on the right refrigerator for your home, set a Deal Alert to make sure you don't miss the next sale. You can also find a variety of currently available deals on our Refrigerator and Freezer Deals page.
Up Next:
---
Any product or service prices/offers that appear in this article are accurate at time of publish, and are subject to change without notice. Please verify the actual selling price and offer details on the merchant's site before making a purchase.