YouTube TV is Giving Away Free Showtime to Select Customers
You may already have access to this deal, but not everyone is so lucky.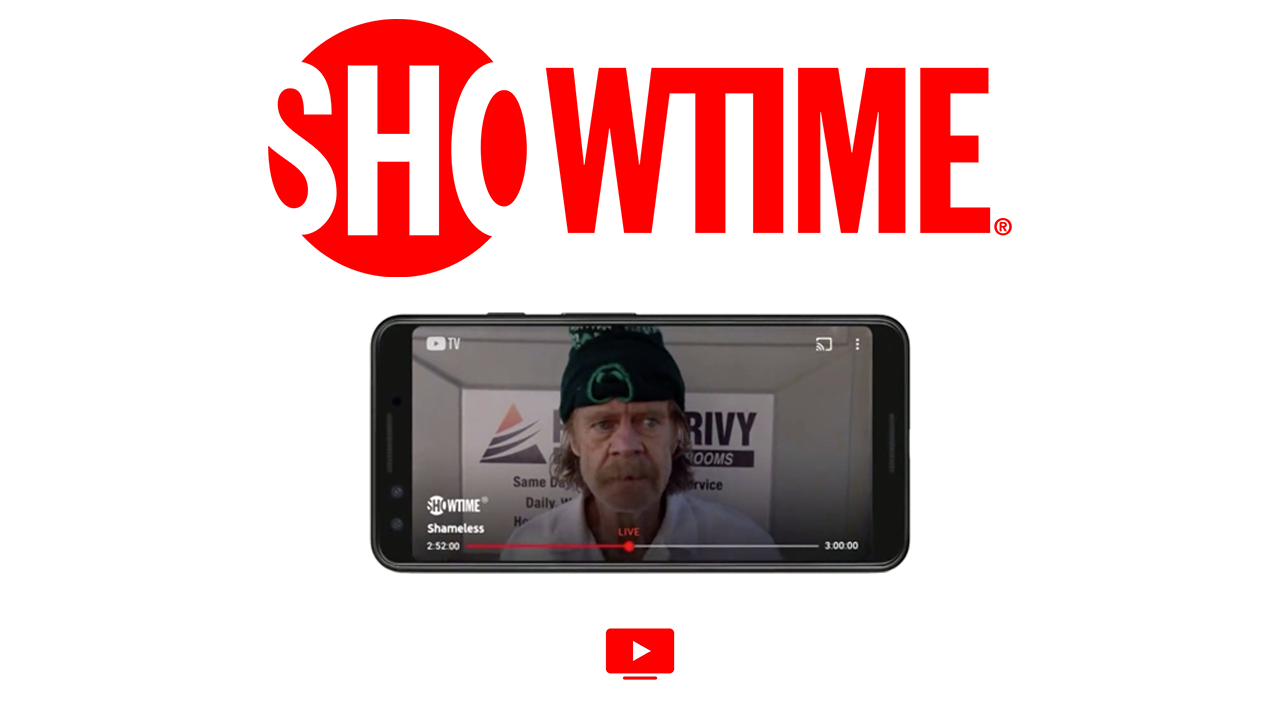 If you're a YouTube TV subscriber, get ready for some good news: YouTube TV has partnered with Showtime to give select users free access to the premium movie channel until September 5th.
Normally, YouTube TV subscribers have to pay an additional $7 a month to stream Showtime, which includes shows like Billions, Shameless, Homeland, Dexter and more.
Contrary to most free trial offers, you won't be automatically billed after the promotional period is over. Come September, you'll receive a message asking if you want to continue subscribing, but the service won't assume that's what you were planning on doing.
Who Gets Free Showtime?
It's important to note this offer does not seem to be available for all YouTube TV subscribers. If you're one of the lucky few who've been offered this deal, you'll receive a notification the next time you open up YouTube TV. The message will refer to you as a "longtime friend" of YouTube and offer you this reward for your loyalty.
Check your "Settings" menu to activate the offer, then download the Showtime channel on YouTube TV to start streaming Showtime live. Even if you don't see the message when you sign in, you might as well download the Showtime channel to see if the offer extends to you.
Looking for more streaming deals? Set a Deal Alert and we'll let you know when a new special hits the web.
What is YouTube TV?
For those unfamiliar with YouTube TV, it's a streaming platform that allows you to watch live television without a cable subscription. If you want to try it out, YouTube TV is offering a five-day trial subscription to new users. After that, the service costs $49.99 a month.
If the preview doesn't convince you to become a long-term customer, make sure to cancel your subscription before the trial period ends. Unlike the free Showtime promo, normal YouTube TV trials feature auto-billing, so if you don't opt out you'll be charged at the start of the next billing period.
We reviewed YouTube TV in February 2019, read on for highlights from our writeup or check out the full review here.
Is YouTube TV a Good Value?
Since YouTube TV offers a free trial subscription, you should feel empowered to sign up and test it out yourself. However, once the five-day trial period has lapsed you may find yourself wondering whether YouTube TV is actually worth $49.99 a month. Here's our breakdown of everything you might want to consider before committing to a paid subscription.
What Does YouTube TV Include?
The base YouTube TV subscription features plenty of high-profile TV networks, such as:
ABC
CBS
FOX
NBC
AMC
National Geographic
Food Network
FX
TBS
Telemundo
Golf Channel
USA
BBC World News
Cheddar
Bravo
Cartoon Network
CNBC
HGTV
BBC America
SYFY
USA
CNN
Fox News
ESPN
NBC Sports
Check out a full list of channels here or browse by show here.
Additionally, you can add on several premium channels for an additional fee, such as:
AMC Premiere — Price: $5 per month
Epix — Price: $6 per month
Fox Soccer Plus — Price: $15 per month
NBA League Pass — Price: $40 per month or $249 per season
Starz — Price: $9 per month
You can find a complete list of channels here or browse by show here.
Does YouTube TV Include Ads?
Unfortunately, YouTube TV does include ads just like regular cable television. However, there are certain times when you can skip through them, like if you pause live TV or if you're watching select shows you've DVR'ed (some DVR'ed shows still show unskippable ads).
Things to Consider Before Subscribing
Internet speed: As with most streaming services, you'll need relatively fast internet service and a good connection to avoid buffering or stuttering problems. YouTube recommends a download speed of at least 3 Mbps for optimal viewing. If you're watching YouTube TV on your mobile network, be aware of the potential for connection issues and also that streaming video eats up a ton of data.
Concurrent user limit: While you can share your account info with family (and technically friends), you can only stream YouTube TV on three separate devices at once. Additionally, all group members have to occasionally stream from your home location to maintain access.
Supported devices: While YouTube TV is available on a number of devices including the Roku, Chromecast, NVIDIA SHIELD TV and Apple TV, you can't get it on Amazon Fire TV, PlayStation 4 or other Sony-made devices. 
Refund policy: YouTube TV doesn't offer partial refunds if you cancel before the end of your billing period is up. You only get your money back if the service is defective in some way. 
Final Verdict
YouTube TV is worth it for people who absolutely cannot live without live television. If you are a sports fan or a news junkie, it's a great way to get your favorite content at an affordable price. In particular, it's one of the easiest ways to watch major televised events like the Olympics and the Super Bowl
YouTube TV's cloud DVR is also a nice perk. You can catch up on all the shows you miss if you're out of the house or traveling, plus it lets you bring recorded shows with you when you're on the road.
For $50 a month, YouTube TV offers a lot of features that make it worth the investment.
---
Deal Value: Watch free Showtime through YouTube TV (regularly $7 extra per month).
Timeframe: Offer ends September 5th.
Things to Remember: YouTube TV chooses who receives this offer. Even if you don't get the message, check the "Settings" menu and download the Showtime channel to double-check.
Even if you weren't chosen to receive free Showtime access, you can still save big by checking out the top deal from our front page:
Search URL: https://slickdeals.net/newsearch.php?firstonly=1&pp=20&sort=newest&rating=frontpage&forumid%5B%5D=9&hideexpired=1&r=1
Our editors strive to ensure that the information in this article is accurate as of the date published, but please keep in mind that offers can change. We encourage you to verify all terms and conditions of any product before you apply.