Slickdeals Blog
New Features: Facebook & Follow
August 22, 2012

at

03:21 PM
If you're anywhere but Washington DC where the Slickdealer : Regular Spender
ratio
is 1:11, it must be very frustrating to convince your family and friends that Slickdeals is a legitimate source for deals, coupons and financial advice. A lot of the front page deals are too good to be true that the uninitiated always look for the catch. To help legitimize your Slickdeals tales to your friends, we are adding a couple of new features that will make your Slickdeals activities official statements of fact. In fact, we're going to make them Facebook official.
Starting today, relationship statuses, new schools and new jobs will be joined with Slickdeals activities as terms to be described as "Facebook official". You will be able share your thumbs ups, thumbs downs, thread replies, and purchases with your Facebook friends with a quick integration of your Facebook account with your Slickdeals one. How strongly do you feel about a thread? Not strong enough unless it's Facebook official! And sure, you can "like" deals to share them with your Facebook friends, but what if you'd like to share your experiences about a product and recommend it not only to your Slickdeals community, but also to your Facebook friends? Facebook integration is our solution.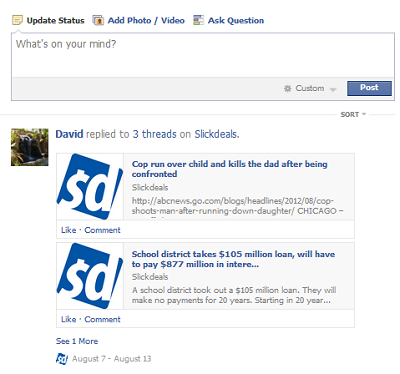 Linking your Slickdeals and Facebook will be a seamless process. There's a tutorial available
here
, but if you navigate around Slickdeals normally, you will eventually do an action that would trigger the Facebook integration. From there, you will be alerted of actions that you can share with your Facebook friends.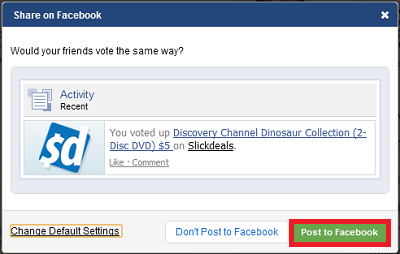 To find more deals more effectively, Slickdeals is also introducing a new "Follow" button within the community. Checking out the front page every 15 minutes seems to work, but you probably already know which Slickdealers post the best deals that are relevant to you specifically and not for the community at large. The "Follow" button lets you subscribe to your favorite users' activities. In addition to rep points, a follower count will now appear next to user names. Tutorials for the "Follow" feature are available
here
.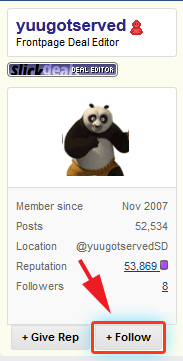 Lastly, in case any of these new features and the exciting giveaway prizes are not enough of a push to join our community, we've made registration much simpler through either Google or Facebook. You can now use your existing Google or Facebook accounts to register for Slickdeals and join the conversation, vote for your favorite deals and enter giveaways.
If you don't adapt well to change and need a more definitive heads-up before we launch new features, please join our beta testing group by going to
slickdeals.net/beta
. By joining or by exploring
beta.slickdeals.net
, you can preview, test and voice your opinion on Slickdeals features before they go live.
If you have any feedback, questions, bugs or issues, please report them in the feedback thread here: http://slickdeals.net/f/5086048-Facebook-Following-features-Feedback?v=1