Movies Turning '20' in 2020: Stream 'Cast Away' and Many Others at Home Now
We're saying "Happy 20th" to these classic films, even if we can't believe they're (we're) 20 years older.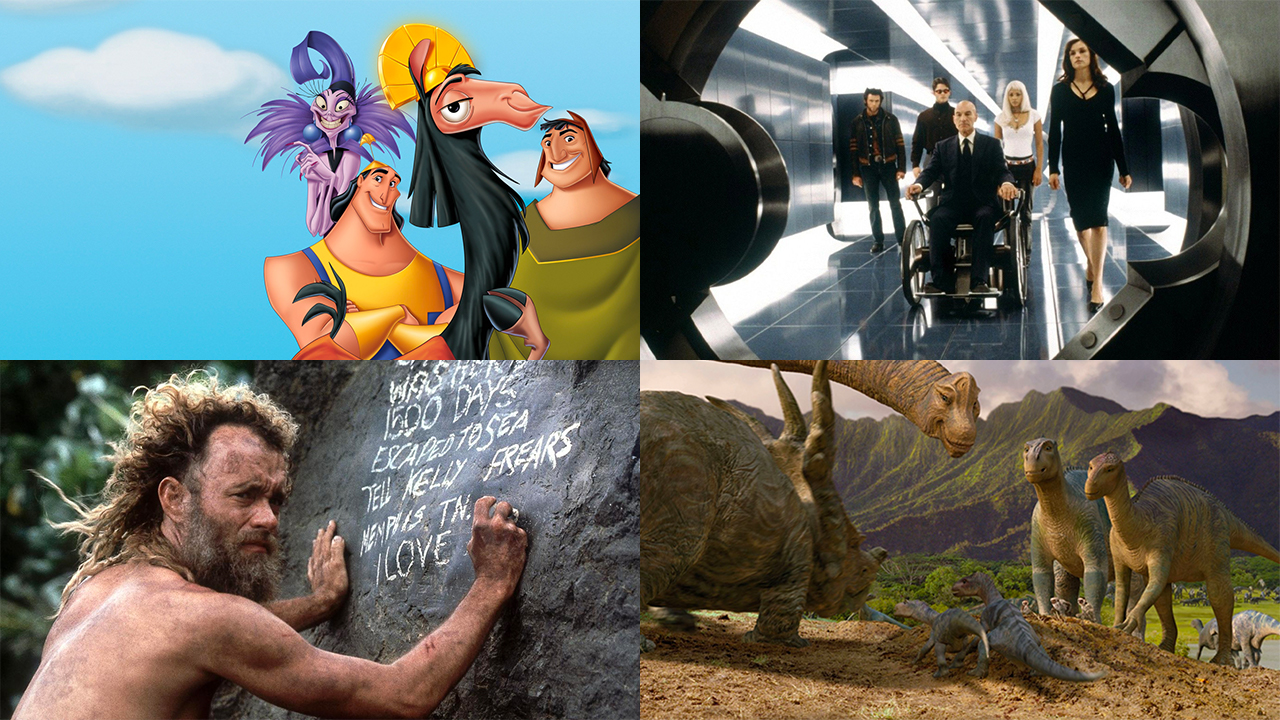 The year 2000 saw the release of countless movies that are now celebrating their 20th anniversary, including some Disney classics, iconic action films, and award-winning dramas. With many of these films available to stream on platforms like Netflix, Hulu, and more, now is the perfect time to share them with a new generation of movie lovers. To that end, we've rounded up some of the best titles of 2000 available to watch at home.
Classics from 2000
Cast Away

This amazing drama earned Tom Hanks a nomination at the Academy awards. He stars as a FedEx delivery man whose plane crashes near a remote island, where he is forced to survive alone.
X-Men

Often credited as the movie to begin the modern wave of superhero movies, 2000's X-Men still holds up pretty well to this day. Introducing Hugh Jackman's Wolverine and featuring a talented cast that included Halle Berry, Ian McKellan, and Patrick Steward, this is the film that kicked off the X-Men saga.
Charlie's Angels

This fiery action flick stars Cameron Diaz, Lucy Liu, and Drew Barrymore as Charlie's Angels, a team of special agents on a mission to prevent the creation of an extremely dangerous weapon.
Chocolat

Starring a young Johnny Depp at peak heart-throb levels, Chocolat tells the romantic story of a woman who opens a chocolate shop in a small French village. Her decadent treats attract people from all over town, including a handsome local man.
Unbreakable

M. Night Shyamalan's genre-bending classic stars Bruce Willis as a David Dunn, a security guard capable of near-supernatural feats of strength. Dunn is confronted by a comic book aficionado, played by Samuel Jackson, who is convinced that Dunn is a real life super hero.
Shaft

or
Samuel L. Jackson is John Shaft, a New York detective with lots of attitude and little patience for criminals. Whether it's gang members or crooked cops, Shaft is always ready to bring down the law.
Snatch

Guy Ritchie's Snatch stars Jason Statham as a crooked boxing promoter looking to score big by fixing fights. This slick crime film also stars Brad Pitt and Benicio Del Toro.
Family Classics from 2000 to Watch Together
The Emperor's New Groove

This hilarious Disney comedy, starring David Spade and John Goodman, tells the story of a decadent Incan emperor who is humbled after being turned into a llama. While often overshadowed by other Disney films, this one is definitely still a classic.
How the Grinch Stole Christmas

Jim Carey in his prime should really be enough to sell this zany retelling of the Dr. Seuss classic. Carey stars as the malevolent Grinch, a green grump whose on a mission to ruin Christmas for the amiable citizens of Whoville.
Dinosaur

One of Disney's earliest forays into 3D animation, Dinosaur is a Disney classic set in the distant pass. The story follows Aladar, a young iguanodon whose world is transformed once meteors begin to fall from the sky.
Remember the Titans

Even 20 years later, it's hard to forget this film. Starring Denzel Washington, this period sports drama set tells the story of a newly integrated high school football team and the coach that brings them all together.
The Legend of Bagger Vance

Set in the height of the Great Depression, The Legend of Bagger Vance stars Matt Damon as a downtrodden former golfer who attempts to make the comeback of a lifetime with the help of a mysterious stranger, played by Will Smith.
---
READ NEXT:
How to Get Free Trials from the 21 Best Video Streaming Services
New Shows and Movies Coming to and Leaving Netflix This Month
---
Any product or service prices/offers that appear in this article are accurate at time of publish, and are subject to change without notice. Please verify the actual selling price and offer details on the merchant's site before making a purchase.