5 Most Popular Deals of 2017, Voted by the SD Community
We look back at some of the best savings opportunities of the year.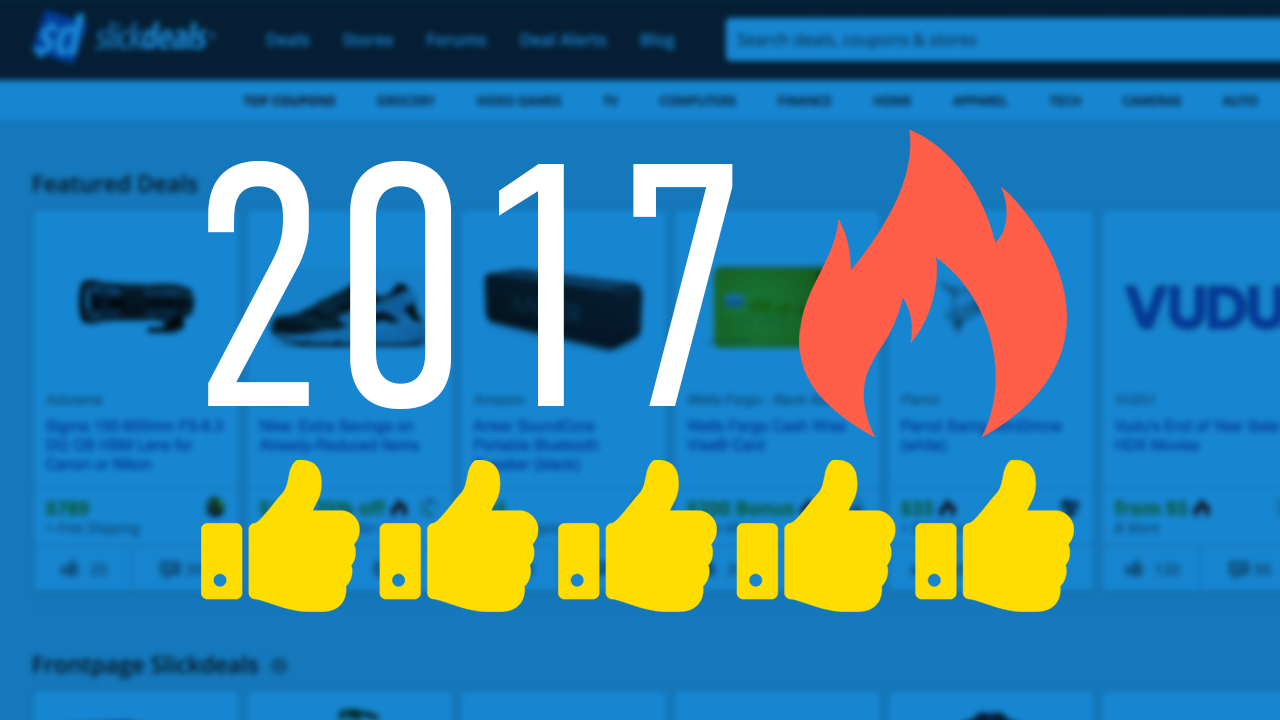 Slickdeals relies on its community of 10 million monthly users to find and discuss the best deals on the web, so we sorted through the countless deal threads created over the past year to put together a short list of the best savings opportunities, as voted by you!
For the sake of variety, we've grouped together free credit offers and omitted price mistakes (read our list of best price mistakes of 2017 here!).
Check out our curated list of the most popular deals of 2017:
1.) $5 Amazon Credit w/ $25+ Gift Card Purchase (2,842 Thumbs Up!)
If you shop regularly at Amazon like we do, receiving $5 for turning cash into a gift card is a no-brainer. We're happy to let Amazon hold our money as long as they keep rewarding us with credits, and the Slickdeals community seems to agree as well.
Other similar deals in 2017 included BOGO Chipotle entrees, $10 for a $20 Starbucks gift card, season 5 of Game of Thrones for free, and $8 of Amazon Video credit for free. If you couldn't already tell, Slickdealers love things that start, end, or contain "free."
threadID: 10343584
2.) MoviePass (1,086 Thumbs Up!)
For $10 a month, MoviePass allows subscribers to watch a movie every day at almost any theater in the country. It sounded too good to be true, but after trying it out for ourselves, we can't imagine watching movies any other way.
Its customer service is non-existent and the mobile app is shaky at best, but when you can recoup your monthly fee after watching one movie, we were willing to look past these flaws in exchange for real savings.
threadID: 10465584
3.) 4K Apple TV + 4-Months DIRECTV NOW (1,026 Thumbs Up!)
We love when new services try to buy our attention — in this case, DIRECTV NOW gave new subscribers a 4K Apple TV ($179 value) with 4-months of prepaid service at $35 per month.
Many of us took advantage of a similar deal last year to snag a regular Apple TV. The key is to remember to cancel your DIRECTV NOW subscription before you're automatically billed for a fifth month.
threadID: 10806843
4.) $25 off $100 with Visa Checkout at Best Buy (975 Thumbs Up!)
Every year, we wait for this deal to appear. It's literally a $25 discount on anything at Best Buy that costs $100 or more. The only catch is that you have to pay with Visa Checkout (Visa card not required).
This deal has limited redemptions, so be sure to set a Deal Alert for the next one.
threadID: 9673172
5.) 4-Pack Uni-Ball Signo Gel Pens (961 Thumbs Up!)
This one's a bit baffling, but savings are savings, and I guess these are really nice pens… Sometimes, the Slickdeals community gets excited over the funniest things!
threadID: 10415224
*****
How many of these deals were you able to take advantage of? Start voting on the best deals of 2018 by signing up for a free Slickdeals user account here!
Our editors strive to ensure that the information in this article is accurate as of the date published, but please keep in mind that offers can change. We encourage you to verify all terms and conditions of any product before you apply.