30 Under $30 Items You Need to Set Up Your First Kitchen
Say no to the things you don't need.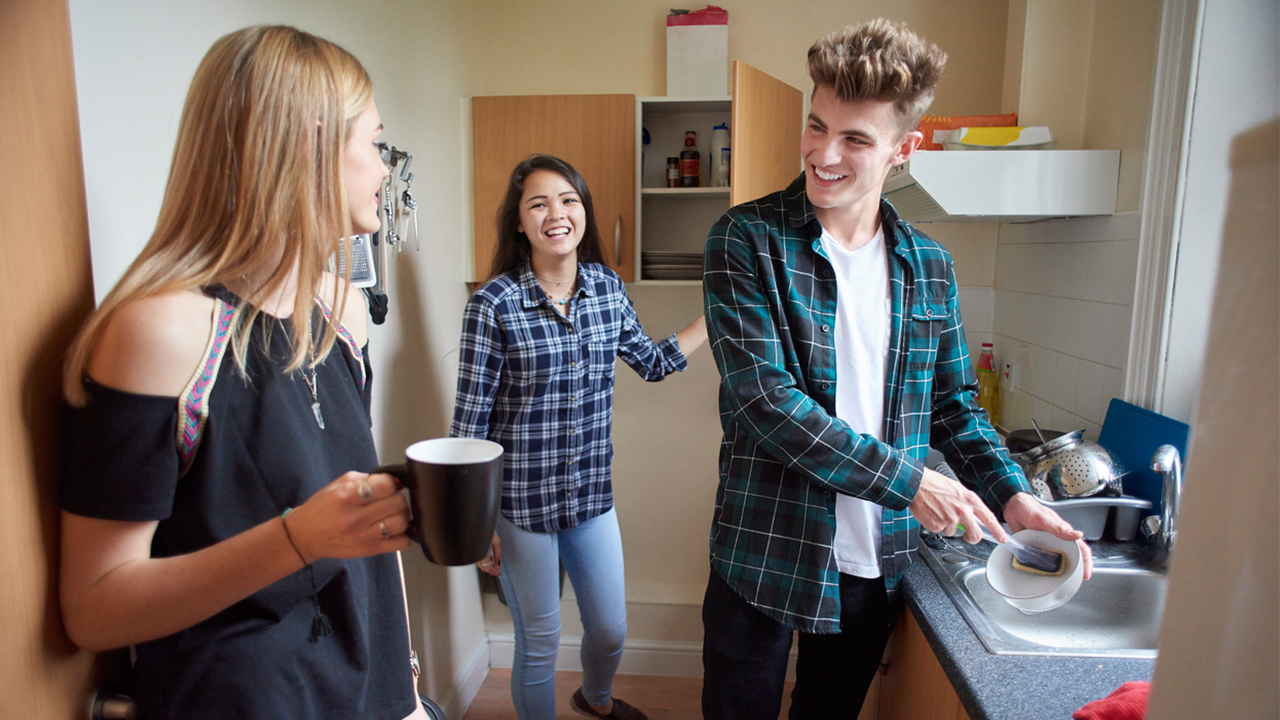 When you first move into a new space, it's tempting to grab all the things you think you may need. In reality, it's best to just stick to the basics. Before you hit the ground running and start committing to expensive appliances like that dream espresso machine or a fancy juicer, get your affordable kitchen essentials first.
Ahead, you'll find the Slickdeals 30 under $30 list. Yes, everything you see here sells below the budget-friendly $30 price tag. Considering the amount you already spent on rent and possibly a security deposit upon signing your lease, these major savings will feel like an even bigger win.
30 Affordable Kitchen Essentials
1. Chef's Knife

Sunnecko Hollow Edge Chef's Knife | Reg. Price: $29.99
It's going to be difficult to get any kind of cooking done without a sharp chef's knife. This multi-purpose Sunnecko chef's knife can be used to cut anything from meat to veggies and it's available for only $29.99 on Amazon.
If this is your first kitchen, there's no need to invest in an entire set of knives. Having one that works for all meals will go a long way.
2. Cast Iron Skillet
Lodge L8SK3 Cast Iron Skillet | Sale Price: $14.88 | Reg. Price: $26.68
Again, less is more and a cast iron skillet is a quality pan worth having in your cabinet. They're also known to be extremely durable, so you won't have to constantly replace them like with most cheap frying pans. Plus, you can't go wrong with this under $15 option from Amazon.
3. Tongs
Farberware Silicone Tip Locking Tongs | Sale Price: $7.97 | Reg. Price: $9.08
Regardless of what you're cooking, tongs are always useful, giving you better control of what's on your pan.
There are silicone ones from Walmart that won't scratch up your pan on-sale for around $8, but there are others without silicone for as low as $1.99 for those who aren't too concerned about a few marks.
4. Utensils

Black Smith Flatware | Sale Price: $27.20 | Reg. Price: $34
Utensils are something you'll use constantly in your kitchen, so I would splurge a bit on this purchase. This modern set from West Elm is sleek and goes with any aesthetic.
Deal Tip: For a limited time, orders over $79 receive free shipping with the code FREESHIP. Feel free to add other affordable essentials to save on a shipping fee.
5. Cutting Board
Jelli Reversible Marble Cutting Board | Sale Price: $11.96 | Reg. Price: $14.95
You're obviously not going to cut food on your kitchen counter, so grab a cutting board. Choose one as eye-catching as this under $12 marble pick from Crate & Barrel.
Deal Tip: Sign up for Crate & Barrel's e-mail newsletter to get an extra 10% discount on your purchase.
6. Kitchen Towels
Food Pun Dish Towels | Reg. Price: $19.95
Add some spice to your kitchen with these punny dish towels. A set of three is just under $20, and they'll definitely come in handy. Moreover, it's a waste to constantly dry your hands and clean up with paper towels.
7. Mixing Bowls

Made By Design Plastic Mixing Bowl (Set of 3) | Reg. Price: $7.99
From mixing food to serving salad, you'll always get a lot of use out of big bowls. The best part is, you can get three for less than $8 at Target.
8. Plates
Open Kitchen by Williams Sonoma Matte Coupe Dinner Plates | Reg. Price: $28
Similar to utensils, you'll be using plates a whole lot. Make sure you buy a set that you like and fits the look of your space.
These matte plates from Williams Sonoma are a solid option and come in a variety of colors, but more importantly, they're only $28.
Deal Tip: Use the promo code FREESHIP to get free expedited shipping.
9. Oven Mitts and Potholders
Williams Sonoma Bay Stripe Oven Mitt & Potholder Set | Sale Price: $14.99 | Reg. Price: $24.95
There's nothing worse than burning your hands. Avoid this situation by immediately getting an oven mitt and potholder set. Williams Sonoma is currently having a 20% off sale, so take advantage of this stylish striped set.
10. Nonstick Frying Pan

Farberware Neat Nest Nonstick Frying Pan Set | Sale Price: $14.99 | Reg. Price: $28.99
Depending on your pan, frying your food can sometimes lead to a majority of your food getting stuck. Snag this set and don't worry about that cooking disaster happening to you. You can get a 10.5 and 12-inch for less than $15.
11. Sauce Pan
Farberware Neat Nonstick Saucepot| Sale Price: $16.99 | Reg. Price: $18.99
If you're following this list, you don't even need to click out of the last page as Neat Nest also has a quality saucepan on sale for $16.99, also on Amazon. You'll need this for pasta and soup nights.
12. Colander
SALT Stainless Steel Colander | Reg. Price: $7.99
You can't wash vegetables or make pasta properly without a colander, so make sure you have one of these on hand for your home. Snag this stainless steel number from Bed Bath & Beyond for only $7.99
Deal Tip: Subscribe to Bed Bath & Beyond's e-mail list and get 20% one single item online or in-stores.
13. Stemless Wineglasses

Stemless Wine Glass | Reg. Price: $2.95
Stemless wineglasses have a dual purpose. They're obviously perfect for a glass of wine, but the lack of stems make them perfect for any drink. Go ahead, grab a few at $2.95 each from Crate & Barrel.
14. Bottle Opener
Wing Corkscrew Wine and Beer Bottles Opener | Reg. Price: $10.95
Make sure to get a wine opener with a corkscrew. Trust me, it's worth the few extra dollars and it will make your life a lot easier.
15. Vegetable Peeler
Leo Stainless Steel Serrated Y-Peeler | Reg. Price: $9.99
Do yourself a favor and get a vegetable peeler, otherwise cooking vegetables is going to be a real pain. You can't go wrong with this under $10 bargain from Home Depot.
16. Measuring Cup
Pyrex 2-Cup Measuring Cup | Reg. Price: $5.99
Getting the right measurements when cooking is key. Forget eyeballing amounts and buy this Pyrex measuring cup asap from Bed Bath & Beyond.
Deal Tip: By signing up for Bed Bath & Beyond membership, not only will you get 20% off your entire purchase every time you shop, but this could be yours for only $4.79
17. Measuring Set

Cravings by Chrissy Teigen Stainless Steel Gold Measuring Cups | Reg. Price: $14.99
If you need measurements for smaller quantities, Chrissy Teigen has a trendy rose gold measuring set selling for around $15 at Target.
18. Tupperware
S'Well Eats Small 4-Piece Prep Bowl Set | Reg. Price: Starting at $20
Meal prepping and cooking a little extra for lunch will save you tons. Grab this elegant set from Saks Fifth Avenue starting at only $20.
Deal Tip: You can also sign up for Saks Fifth Avenue's e-mail list and receive a 10% discount.
19. Spatula
Open Kitchen by Williams Sonoma Silicone Spatula | Reg. Price: $7
A spatula is a must. Imagine making eggs or pancakes without one. It's worth the buy and Williams Sonoma sells a silicone one for a mere $7.
20. Can Opener

KitchenAid Multi Function Can Opener | Sale Price: $8.99 | Reg. Price: $9.99
There's no reason to come up with complicated ways to open a can. Invest in a can opener, especially since Target has it on sale for $8.99.
20. Grater
Made By Design Stainless Steel Box Grater | Reg. Price: $9.99
You can't grate cheese or have lemon zest without a grater. For $9.99, you can have these extra levels of flavor in your meals.
21. Wooden Spoon
Hearth & Hand Acacia Wooden Spoon | Reg. Price: $4.99
Wooden spoons can last in high heat and won't melt like plastic utensils. It's worth having a few of these lying around and luckily, you can buy some for $4.99 at Target.
22. Silicone Utensils
Mini Coral Silicone Cooking Utensils (Set Of 4) | Reg. Price: $11.96
At the same time, having a variety of cooking utensils is useful and this silicone set will keep your pans in tact. They won't scratch any surfaces, making the extra affordable $11.96 price tag worth it.
23. Dutch Oven

Le Creuset Signature Petite Cocotte | Sale Price: $25.95 | Compare at Price: $35
Having a dutch oven in your kitchen is not only functional, it's a statement piece. Opt for an unexpectedly bright color and place it on your stove top for a pop of color.
Deal Tip: Signing up for Sur La Table's e-mail list may be another thing flooding your inbox, but worth it for the 15% and free shipping introductory discount.
24. Brita Water Filter
Brita Small 6 Cup Space Saver Water Pitcher with Filter | Reg. Price: $34.61
There's nothing better than having clean and cold filtered water waiting for you in your fridge. $34.61 is a small price to pay for this perk.
25. Utensils Holder
Cambria Utensil Crock | Sale Price: $12.99 | Reg. Price: $34.50
With all the different utensils you'll end up buying, you need a place to put them all. The good thing is, Pottery Barn is offering this utensils holder at nearly 40% off. Act fast before they're all gone.
Deal Tip: Before you finalize your order, make sure to add promo code SPRING to get an extra 25% off.
26. Coffee Mugs
Classic Rim Mug (Set of 4) | Reg. Price: $19.95
It's important to have cups for warm beverages. Come on, you're not going to drink coffee in stemless wine glass and a set of four is only $19.95 at Pottery Barn.
27. Whisk

Goodcook 10″ Whisk | Sale Price: $2.36 | Reg. Price: $4.17
A whisk is a cheap utensil to have in your kitchen drawers. Don't deprive yourself of fluffy eggs and grab this $2 buy from Walmart.
28. Sheet Pan
Wilton Cookie Sheets (Set of 3)| Reg. Price: $9.99
A sheet pan is a great way to make use of your oven. With this under $10 purchase, you receive 3 pans, allowing you to cook everything from vegetables to cookies.
29. Spaghetti Spoon
Made By Design Stainless Steel Pasta Server | Reg. Price: $5.99
Pasta is a quick and affordable meal that everyone makes and loves. Go for this under $6 spaghetti spoon and enjoy an easier pasta making process.
30. Garlic Press

Fante's Garlic Press | Reg. Price: $7.99
I absolutely despise it when my hands smell like garlic, but sadly, it's one of my favorite ingredients to cook with. This garlic press eliminates any odors as it automatically peels it for you. You simply put in a clove and the good stuff comes out on the other side.
Deal Tip: Again, if you join Bed Bath & Beyond loyalty club, this could be yours for $6.39
UP NEXT:
Our editors strive to ensure that the information in this article is accurate as of the date published, but please keep in mind that offers can change. We encourage you to verify all terms and conditions of any product before you apply.