Is Amazon Storefronts the Next Big Thing for Small Businesses?
The retailer just launched its latest initiative... but is it all its cracked up to be?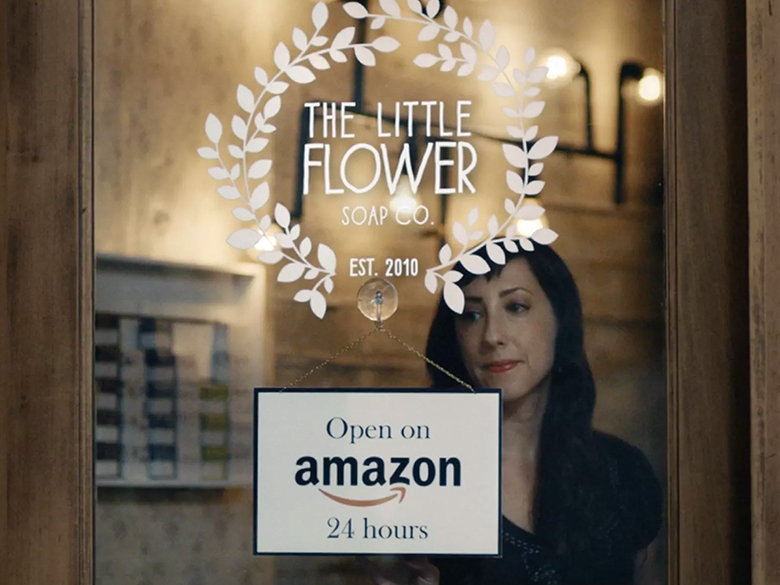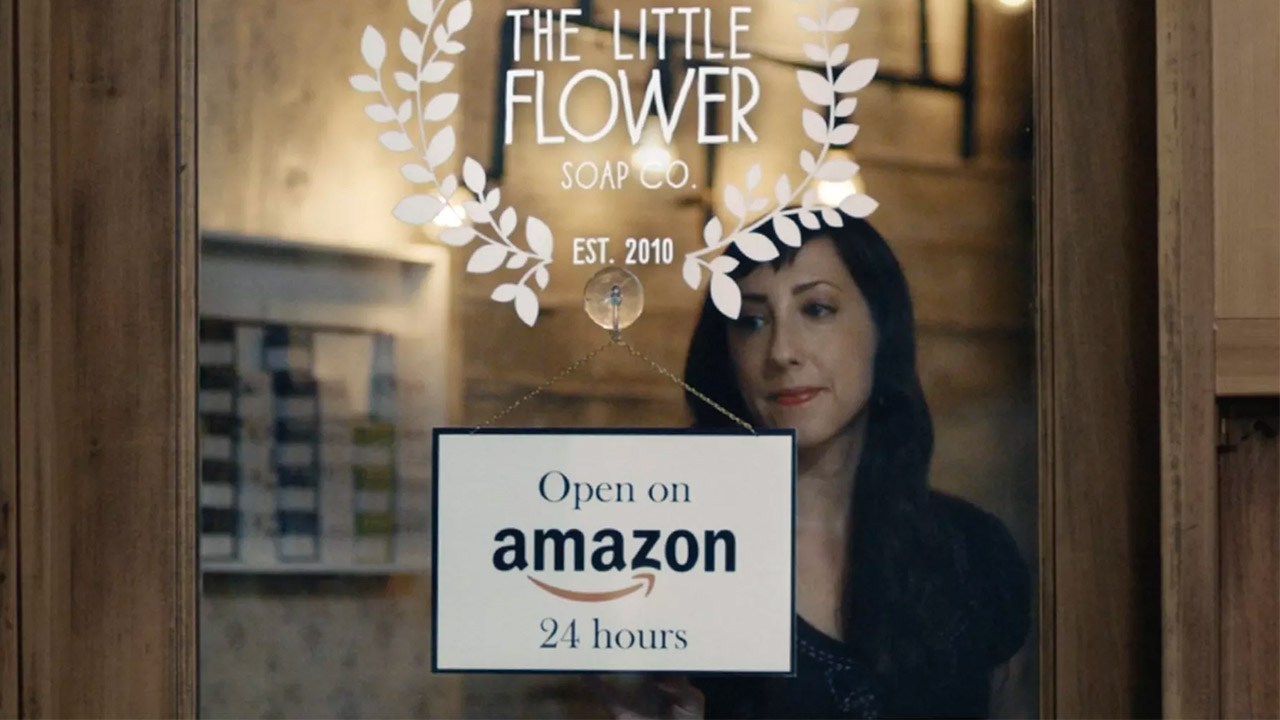 Recently, Amazon officially opened Amazon Storefronts in an effort to highlight the network of nearly 20,000 small- and medium-sized U.S. businesses selling on its site. Essentially a curated collection of more than a million products, Storefronts includes items from categories like Electronics, Back to School, Home, Pet Supplies, Grocery and more. In addition, the retailer is singling out various businesses each week to help promote specific brands.
While this may seem like a step in the right direction for small businesses nationwide, the initiative is getting its fair share of mixed reviews. We're breaking down the business model and exploring what this means for Amazon sellers and buyers alike.
Amazon Storefronts: Big Business for Small Shops?
MU3_ehImGH0
According to Amazon, half of the items sold on its site come from small- and medium-sized businesses. In a press release, Nicholas Denissen, the company's Vice President, says, "We've created a custom, one-stop shopping experience for customers looking for interesting, innovative, and high-quality products from American businesses from all across the country. Amazon first invited businesses to sell on Amazon nearly two decades ago, and today, small- and medium-sized businesses are a vital part of Amazon's large selection and commitment to customers. We're championing their success with this new store and a national advertising campaign featuring a successful Michigan business selling on Amazon to customers across the U.S. and worldwide."
The launch of Storefronts included Amazon's first-ever national TV ad promoting an American small business: Little Flower Soap Co. For its second week, the retailer is shining a light on Goldest Karat Publishing and its line of diversity-focused children's books.
What Can Amazon Storefronts Offer Customers?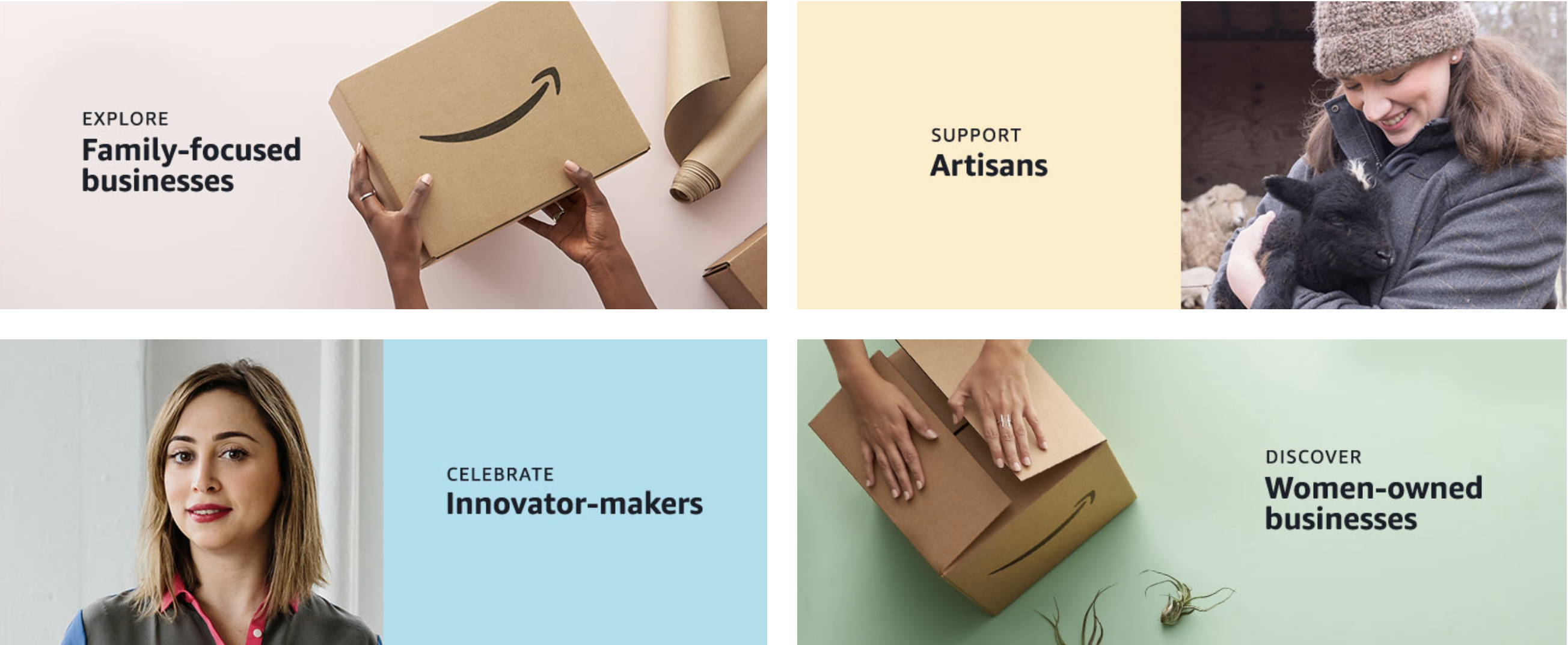 Amazon insists that Storefronts will give its customers access to the following benefits:
Curated American Collections: Customers can shop for items spanning more than 25 unique categories to discover artisan-made crafts and brand-new innovations from American entrepreneurs.
Storefronts of the Week: The retailer will highlight one U.S. business each week in an effort to drive traffic to that store's online inventory.
Meet the Business Owner: Amazon will also offer a series of profiles focused on select sellers ranging from family-focused stores to artisans, "Innovator-Makers," and women-owned businesses.
Interested in shopping Amazon Storefronts? Here are just some of the categories you can browse:
What People Are Saying About Amazon Storefronts?

Holly Rutt, the co-founder of Little Flower Soap Co., says, "Since we started selling on Amazon in October 2016, our sales have nearly doubled. Due to our success, we have been able to hire new team members from our community, including full- and part-time jobs."
Amazon's Small Business Impact Report shows similar results for small- and medium-sized businesses selling on Amazon. The retailer estimates that it has created more than 900,000 jobs worldwide. Additionally, more than 20,000 of the business selling on Amazon generated at least a million dollars in sales throughout 2017.
HubSpot VP of Marketing, Meghan Keaney Anderson, believes that the arrangement is a win-win for small businesses and Amazon itself. "Putting a face to the thousands of SMBs already on Amazon not only gives buyers that outlet, it arguably makes Amazon feel like a more familiar and trustworthy place."
But not everyone's jumping on the bandwagon. When recently asked for his viewpoint on Amazon Storefronts, Shopify's CEO Tobi Lütke said small businesses might want to re-think handing over their business data to the retail giant. Lütke even went so far as to say the whole thing "feels like a trap."
Also, as The Verge points out, "The definition of what Amazon considers a 'US small- and medium-sized business' seems pretty flexible . . . the storefront also features wholly digital products like Kindle Unlimited books that are only debatably a 'US-based business' and major tech products like the Eero mesh Wi-Fi router, the ChefSteps Joule, and the Essential Phone. Those are probably not what most people have in mind when they think of homegrown American small business."
The Final Verdict

The fact that Amazon is spotlighting items that are made in the USA and helping smaller American businesses grow and succeed seems like a positive. As Keaney Anderson advises, "You will never have control of the full buying experience selling your products on Amazon, but you will get reach. The impact of that reach could be an absolute game changer for your business."
That being said, she also suggests that "you don't have to lose control to gain reach" and adds, "Companies like Glossier and The Cactus Store have achieved remarkable traction and loyalty because of their decision to sell direct to consumer and have creative control over the entire customer experience."
More importantly, after Amazon's direct involvement in the eradication of numerous small and large businesses nationwide, the whole thing just feels disingenuous — especially considering that there's a Books section on the Amazon Storefronts homepage. As The Verge points out, it seems like Amazon is "trying to convince you that it isn't putting small businesses out of work." (Not to mention that it's almost as if Amazon is trying to sneak into Etsy's territory.)
But even beyond that, recent reports of Amazon's dismal factory conditions and pitiful treatment of its warehouse workers speak volumes about how the company really feels about the little man. This notion that they're out to save Main Street USA seems like forced propaganda at best.
Amazon Storefronts is a nice gesture, sure. But it may just be too little, too late.
*****
What's your opinion on Amazon Storefronts? Do you think it's a step in the right direction for small businesses, or do you doubt its overall potential? Sound off in the comments section below!
Images courtesy of Amazon.
---
Any product or service prices/offers that appear in this article are accurate at time of publish, and are subject to change without notice. Please verify the actual selling price and offer details on the merchant's site before making a purchase.