Amazon Fresh Review: Is This the Best Grocery Delivery Service?
We tried out Amazon Fresh for a month to find out if it's really the best option for at-home grocery shopping.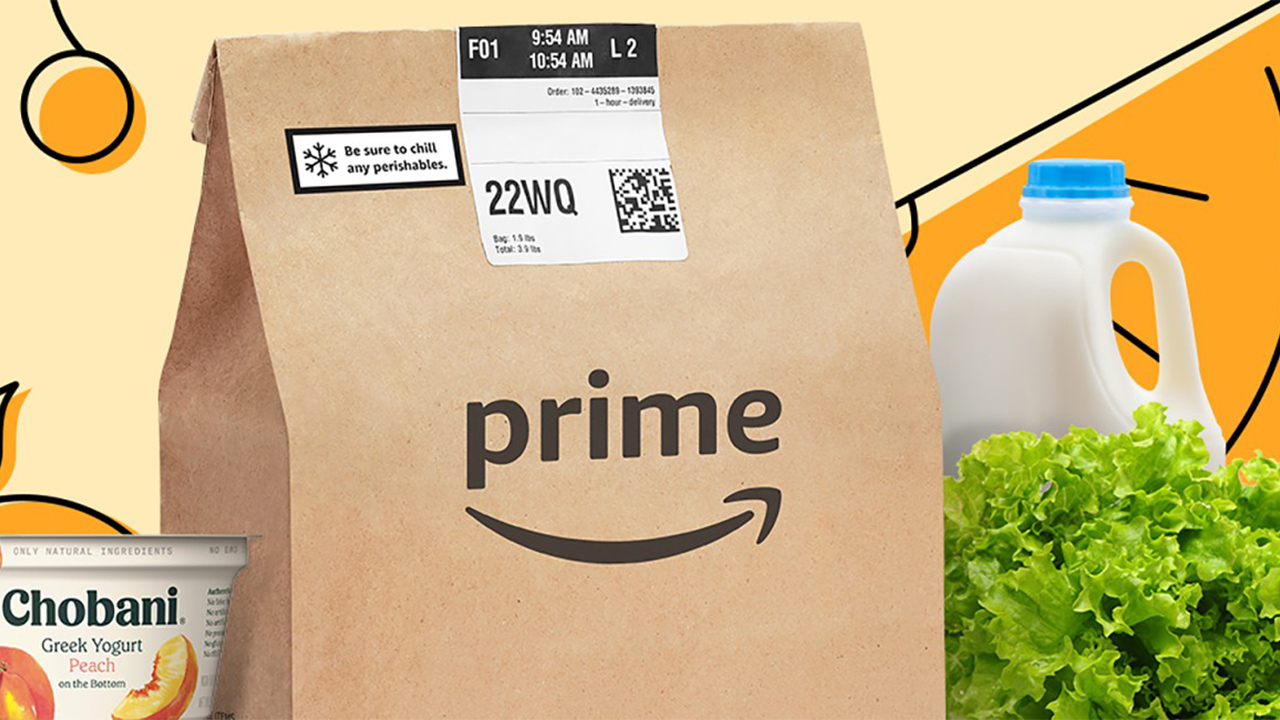 In what's presumably an effort to stay competitive with services offered by stores like Walmart and Target, Amazon is giving Prime members free access to its grocery delivery service Amazon Fresh. If you're currently a Prime member, you can now order groceries without having to pay an additional $14.99 per month. However, if you're just now subscribing to Amazon Prime, you'll need to express interest then wait for an invite to enjoy the free service.
Shopping for groceries can be really time-consuming, and while convenient and fast meal options may come cheap, they also tend to be pretty unhealthy. Luckily, more and more options are popping up to help maximize the value of your time. Amazon Fresh was started in 2007 (in limited markets) by the world's most popular online marketplace, and aims to deliver you fresh groceries at a price and time that works best for you.
Also, as a result of Amazon acquiring Whole Foods, you can order Whole Foods items through Amazon Fresh.
Amazon Fresh currently delivers to shoppers in select parts of Las Vegas, Atlanta, Baltimore, Boston, Chicago, Dallas, Denver, Los Angeles, Miami, New York, Philadelphia, San Diego, San Francisco, London, Seattle and Washington, D.C
Check if Amazon Fresh is Available in Your Area
I decided to give the service a try recently, and here's what I found.
How Much Does Amazon Fresh Cost?
To start, you'll need an Amazon Prime membership to access Amazon Fresh, which costs $119 per year.
Previously, the Amazon Fresh service required users to pay $299 up front for a year of service (which included Amazon Prime), but in late 2016, Amazon made it possible to pay $14.99 monthly instead. Then, in October 2019, the company decided to make the base service totally free to Prime subscribers.
As far as the cost of the groceries goes, produce through Amazon Fresh was around 25% to 50% higher than my local Vons grocery store. A bundle of celery, for example, cost $2.49 through Amazon and only $1.99 at Vons.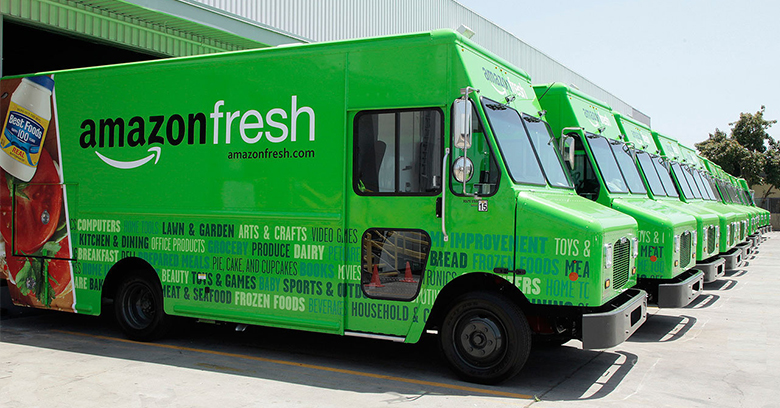 On the other hand, packaged products like Doritos cost $4.49 at Vons and just $3.98 on Amazon Fresh, while Philadelphia Cream Cheese was $3.99 at Vons and $2.99 on Amazon Fresh. On average, I found that packaged foods were 15% to 30% cheaper, which helped shift the total average cost closer than I had expected. After comparing several orders, the average cost of goods on Amazon Fresh was less than 10% higher than that of a traditional grocery chain.
How Does Amazon Fresh Work?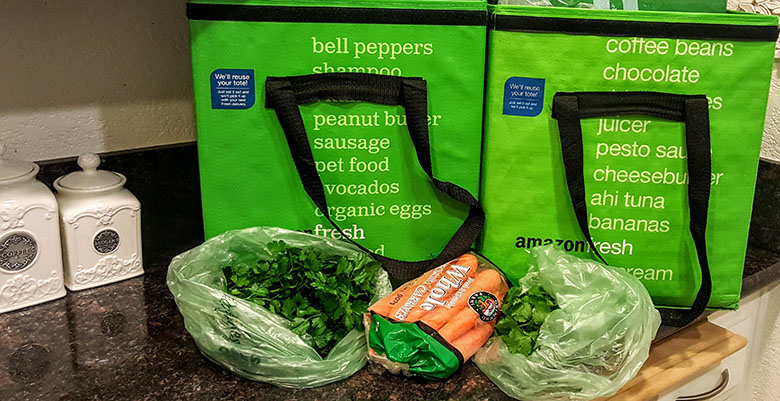 If you're familiar with browsing and shopping on Amazon, you should have no issues locating items in Fresh. Items in the grocery delivery service are broken up into traditional store categories, such as "Breads & Bakery," "Deli," "Produce," etc., and you can even narrow down food results based on things like "Kosher," "Gluten-Free," or "Organic." Here in the Los Angeles area, they even had a section titled "Local Market," with specialty items from local spots, such as The Cheese Store of Beverly Hills.
Once you have a cart full of Amazon Fresh items, just reserve a delivery time and check out. You'll be prompted to choose a delivery day (based on availability) and select either "Doorstep Delivery" for a three-hour delivery window which you do not have to be present for, or "Attended Delivery" for a one-hour window when you will be available to take the delivery. Nearly all of the time slots during the week were open for each of my orders, making delivery quite convenient.
Quality of Food and Delivery from Amazon Fresh
I opted for Doorstep Delivery in each of my three test orders and had no issues with the USPS truck rolling up and dropping off our bright green insulated bags. Each Amazon Fresh bag is made of durable plastic and includes ice packs to help keep your produce fresh until you bring the order inside. You can leave delivery bags outside to be picked up during the next order.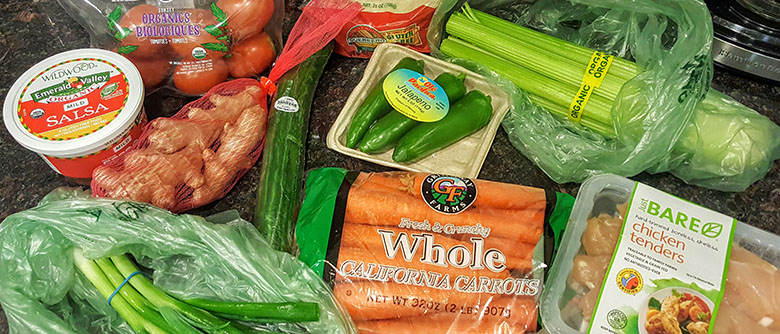 The produce quality from Amazon's food delivery was surprisingly good and packaged in individual plastic bags. I ordered an array of broccoli, tomatoes, carrots, celery, onions, ginger and more. Each and every one was without blemishes, and seemed to be hand picked to make sure it was of the highest quality. Your mileage may vary depending on your location of course, but I had no problems with any produce delivered throughout the month.
However, I did have a problem with a couple items not being available for a week, including packaged broccoli florets and a bag of avocados. This first world problem simply led me to get whole broccoli and abstain from guacamole for a bit. But for the most part, each packaged and produce item showed up without the damage or flaws one might be concerned about with a delivery service.
Amazon Fresh Coupons and Sales
One downside of Amazon Fresh is that they don't accept traditional coupons like you'd use at most grocery or department stores. However, a growing number of brands are starting to work with Amazon to offer the discounts and bulk deals. The deals seem similar, if not better, than traditional coupons.
For example, we saw a Canada Dry promotion to try their new Ginger Ale and Lemonade for only 1 cent. Other Amazon coupons included a "Buy 2, Save $1" on all Oreo Cookies and a "Buy One, Get One Free" on Gerber organic baby food. There's even an entire section of the Amazon site dedicated to Fresh coupons and a weekly Fresh Newsletter that shares the latest deals. You can also see more Amazon Fresh offers with discount up to 50% off here.
Whole Foods on Amazon Fresh

Somewhere around 1,000 Whole Foods products are available to order through Amazon Fresh, with more on the way. Most of them seem to be Whole Foods' "low cost" 365 Everyday brand. You'll find that product selection varies quite a lot by category. And luckily, Amazon has added a feature that lets you shop the specific Whole Foods that's closest to your house, so you don't need to guess about what's actually available.
What's the Best Grocery Delivery Service?
| | | | | |
| --- | --- | --- | --- | --- |
| | Amazon Fresh | Google Express | Shipt | Instacart |
| Annual Fee | $119 (included with Prime) | Free | $99 | $99 |
| Delivery Fee | Free over $35 | Free over $35 | Free over $35 | Free over $35 |
| | Yes | No | Yes | Yes |
The above table is a price comparison for Amazon Fresh and three other prominent online retailers. While costs and fees are important factors, convenience and availability are crucial aspects you should take into account when deciding which service to use.
Google Express vs Amazon Fresh
Google Express has removed its produce delivery and now only offers dry goods and products from stores like Walmart, Target, Costco and more. The minimum price for orders to include free shipping can vary by store, but is generally a $25 or $35 minimum.
This may seem like a cheaper option, but you have to consider the fee per store and make sure you don't spread your orders out across several locations. Additionally, the relatively limited dry goods options and lack of produce may remove this as an option for some shoppers.
Instacart vs Amazon Fresh
Instacart is another popular same-day delivery service operating in an expanding list of cities across the country. Prices range from $5.99 for a two-hour delivery window to $9.99 for a one-hour delivery window. Alternatively, they offer a membership fee of $99 per year to waive the delivery fees.
The annual pricing is a little higher than Amazon Fresh, but it could still be a good option if you live in a region where Amazon Fresh is not available. However, you should keep in mind that Instacart has an atypically high mark up on products compared to other services, and more service fees. And as with Google Express, Instacart charges a delivery fee per store, so it makes the most sense to get everything from one place.
Shipt vs Amazon Fresh
You could also check out the Shipt app, which is growing on the East Coast and in Texas, and offers similar features to Amazon Fresh with a yearly membership for $99 or a monthly membership for $14.
Shipping is free for orders of at least $35, but the company mentions an average product price increase of around 15%. Shipt continues to expand, but with limited stores and the increased cost of groceries, this program may not be the best option for you.
How to Cancel Amazon Fresh
You no longer need to cancel Amazon Fresh because it's included for free in your Prime Membership. That said, if for some reason you ever need to cancel the grocery delivery service, simply follow these steps to cancel your Amazon Fresh account:
Sign in to Amazon and select "Your Account" under the "Accounts & Lists" section
Check the box that says "Prime – View benefits and payment settings"
Under the Fresh icon, click "Manage Fresh Add-on"
Finally, hit "End Membership" and confirm your decision.
You can follow the same steps to cancel a free trial, all you have to do is hit "Do Not Continue" during step five.
Is Amazon Fresh Worth It?

Now that Amazon Prime includes Amazon Fresh with no delivery fees (assuming each order is at least $35), there's definitely a lot of appeal for busy folks looking to get their groceries delivered through Amazon.
With reasonable membership fees and one of the biggest available markets, Fresh might just beat out the competition depending on where you live and how you shop. If you are a current Prime member and can get Amazon Fresh in your area, I think it is certainly worth a try.
Photos courtesy of Nolan Browning and Amazon.
Our editors strive to ensure that the information in this article is accurate as of the date published, but please keep in mind that offers can change. We encourage you to verify all terms and conditions of any product before you apply.