Apple's Monthly Gaming Subscription Apple Arcade Announced for This Fall
Meet Apple's latest video game innovation, revealed on March 25th.
On March 25th, Apple announced its latest stab at the meaty flanks of the gaming industry: Apple Arcade. Coming this fall, Apple Arcade is a monthly gaming subscription service that promises to do it all — and do it best.
Subscribers will be able to enjoy unlimited access to a curated array of games, all of which will be accessible through iPhones, iPads, Apple TVs and Apple computers.
Apple announced the launch with a video naming flashy game developers and their creations, leading with the much-anticipated indie title Overland.
The tech giant even managed to rope in Final Fantasy-creator Hironobu Sakaguchi to say flowery things about its latest brainchild.
67umVefSXnY
What to Expect from Apple Arcade
Apple says it will help in the development of titles for the all-inclusive platform, but the extent of that aid is unclear. What is clear is that Apple Arcade will launch with at least 100 titles ready to go. Also, these games will be available offline.
For now, Apple also claims there won't be any ads or in-app purchases — but that's a lofty promise to keep if the platform grows in the coming years.
Apple is billing Arcade as the "subscription service for premium games," but it's difficult to say whether that title will hold water.
Overland has some gamers interested and hyped, but it's by no means a triple-A title. And other featured games, such as Where Cards Fall, don't necessarily scream "premium."
Apple Arcade vs. Google Stadia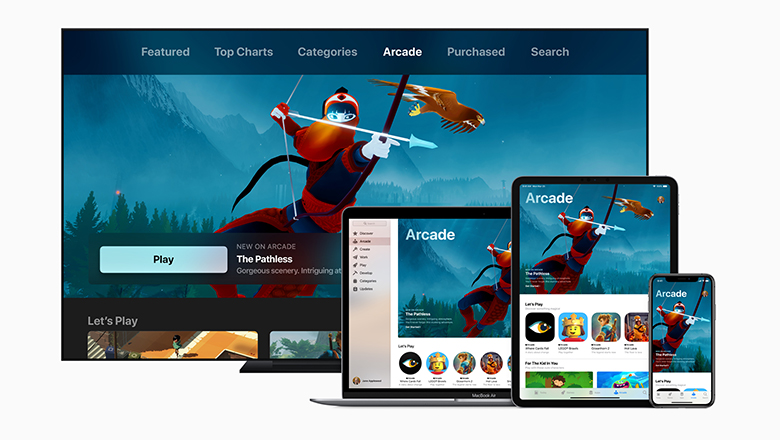 Apple Arcade's announcement was, it's fair to say, overshadowed. A monstrous shadow, in fact, in the form of Google's announcement on the release of Stadia at GDC 2019.
Stadia is Google's game-streaming service that also promises you a complete gaming experience on everything from tablets to phones.
RELATED: Google Reveals Cloud-Based Gaming Platform Called Stadia
So far, the hard numbers and costs for both services remain oblique. We don't know how deep Apple and Google intend to dip into our pockets for Arcade and Stadia.
Both, however, claim to be forever shaping the future of gaming with innovative and developer-inspiring software.
Regardless of how big the talk, the self-praise from Apple Arcade and Google Stadia is deserved, in a way. Both programs herald a new age in cross-platform development.
We just don't yet know how costly that epoch will be for gamers looking to join the fray.
If you want to stay up to date on the latest Apple news and discounts, don't forget to set a Deal Alert with us.
Our editors strive to ensure that the information in this article is accurate as of the date published, but please keep in mind that offers can change. We encourage you to verify all terms and conditions of any product before you apply.