Sam's Club is known for offering "savings made simple" year-round, and the store's upcoming "Amazing August" appreciation event proves that membership really does have its perks. We're breaking down all the advertised Sam's Club One-Day Sale deals to see which are worthy of your attention.
Jump to:
Sam's Club One-Day Sale Overview

The Sam's Club One-Day Sale takes place on Saturday, Aug. 4, with doors opening at 7 a.m. Prefer to shop online? You're in luck. Members can shop the sale early starting at 12:01 a.m. EST at samsclub.com/onedayonly. All of the items listed in the ad are only available in limited quantities, so shopping online is a smart strategy (especially considering that you'll score free shipping on just about everything).
(Special thanks to Slickdealer rsvpd for putting together a complete megathread of this year's highlights!)
threadID: 11860819
Sam's Club Membership Deals
Not a club member? You may just want to join. Our forums are always buzzing about Sam's Club membership deals, since the store frequently offers promotions to lure new customers. Right now, you can score a one-year basic membership for $35 via Groupon or Living Social. Both offers also come with free gift cards and food vouchers, as well as a complementary membership card for a spouse or other household member.
Even better, new members can score a free slice of pizza and a drink at the snack bar during their first month of membership thanks to a current in-store promotion. (Shout-out to Slickdealers tunabreath and wildridge for sharing these offers on our forums.)
Occasional Sam's Club customers may prefer to shop with a one-day shopping pass or Sam's Club gift card instead, but keep in mind that this option includes a 10% service fee on your total purchase. According to Slickdealer MonaS3207, you can also "get the membership for the one-day sale and then cancel it for whatever reason - they'll prorate the fee back to you."
threadID: 11824243
threadID: 11863311
How to Get $45 Off $45+

The store is offering a way to save even more during its one-day sale when you open a Sam's Club credit card. Take $45 off a $45+ purchase when you open a store card and make a qualifying purchase the same day with your new account.
This offer is valid online now through Aug. 31, and the $45 will be issued as a statement credit.
Check out "9 Tips for Shopping at Sam's Club" for even more ways to save!
Sam's Club One-Day Sale: TV Deals

At $300 off the listed price, the $1,697 Samsung 75" 4K UHD Smart TV and 1TB Xbox One Game Pass Bundle is a deal worth looking at. Sure, we've seen 1TB Xbox One bundles sell for as low as $230, but you're still basically getting a free Xbox with your new TV. And this particular bundle includes a three-month Xbox Game Pass, plus three full months of Xbox Live Gold.
The store also offers a Vizio 5.1 soundbar with SmartCast for $149.88, which matches a recent Costco deal from December. Rakuten actually had a crazy good price on this same system -- $59 along with a Google Home Mini -- but it obviously sold out fast. Slickdealer kevinca says, "I own this and it's definitely worth that price. It won't blow you away, but being able to add a Chromecast audio zone was a nice perk."
Some Slickdealers have managed to score the Sharp 43" Class 1080p LED TV for only $64 at their local Walmart stores, compared to the $199 Sam's Club offers. So you may want to check what's available in your neighborhood before you buy:
threadID: 11299239
Sam's Club One-Day Sale: Phone & Tablet Deals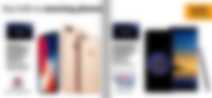 iPad Pro up to $150 off. Select models. Limit two. *Online only
Receive a $200 Sam's Club gift card and waived activation fee with the purchase and activation of iPhone 8, iPhone 8 Plus, and/or iPhone X on installment. Limit one gift card per activation. *In-club only
Receive a $350 Sam's Club gift card and waived activation fee with the purchase and activation of Samsung Note 8, Galaxy S9, and/or Galaxy S9+ on installment. Limit one gift card per activation. *In-club only
This year's iPad deal isn't quite as good as last year's, which saw up to $200 off the 10.5" tablet. The 512GB model will be around $848, which is just a couple dollars cheaper than Target's current price, and not as good as Best Buy's recent $825 price tag.
Also, last year's iPhone deal included a $300 Sam's Club gift card -- not $200. The good news? This year's $350 gift card incentive for select Android devices trumps last year's $300.
Sam's Club One-Day Sale: Computer & Electronics Deals
The $439 HP 15.6" HD Notebook is a good deal considering its 12GB memory. For reference, we saw a similar HP notebook with 8GB go for $350 at Office Depot earlier this year.
The $669 price for the HP Pavilion 2-in-1 touchscreen convertible notebook isn't bad, either. You'll find similar models for around $599, but this one has a Quad 4 processor for more powerful performance overall.
The $219 HP 14" HD Chrome Notebook isn't super impressive considering that Sears has a manufacturer-authorized refurbished model for $169.99. Best Buy also has a comparable Chromebook for $259 with double the flash memory.
Sam's Club One-Day Sale: Home Deals

If you need it, definitely snag the Honeywell shop light for $24.88 (it's $44.99 at Amazon.) Sears has freestanding icemaker without a drain pump similar to the Maxx Ice offered by Sam's Club, but it's on sale for $710.96 (over $40 less). Also, JCPenney had sheet sets for $5.59 last week, so it's a good idea to shop around for lower-priced alternatives.
We recently saw a similar Shark vacuum at Walmart for $99, but its availability was pretty limited. If you need one now, this is a decent deal. The store's online-only Serta mattress sale is also worth checking out depending on the model. You'll get $50 off twin/full mattresses and $125 off queen/king styles -- and they all ship for free.
Smart Home Deals
We recommend passing on the Nest Hello Video Doorbell with the Google Home Mini and $25 gift card. We just saw this same combo sell for $159 at Rakuten and $180 at Costco. The Arlo security system is a decent deal (its most recent low price at Amazon was $399.) But Slickdealer LiemN cautions, "Don't buy this Arlo. I've made this mistake, they are terrible and Netgear is NOT doing anything to improve this version. Get the Pro version at least."
Kitchen Deals
If you need cookware and kitchen appliances, the Sam's Club One-Day Sale is a good a time to get the basics. The Ninja Professional Blender with Nutri Ninja Cups is priced right, but you may want to compare it with other current deals. For $10 less, you can get a Ninja Professional Blender with a single Nutri Ninja cup at Best Buy instead (and Walmart has the 700-watt version for $29.)
Slickdealer jubae highly recommends the Tristar Power AirFryer: "It's one of my best purchases and I bought it at regular price."
threadID: 11858579
Food Deals
The 100-ct. box of Folgers K-cups may sound like a good deal, but we've seen 100-ct. packages of other brands sell for around $25 to $30. Skip this one unless your favorite part of waking up really is Folgers in your cup.
Sam's Club One-Day Sale: Outdoor Deals
Sears and DICK's Sporting Goods both have similar 10' x 10' commercial canopies on sale for less, so you'll want to compare your options if you're considering that deal.
The Mockingbird View playset is a fair price for how big it is, although you'll find smaller KidKraft styles at Walmart for as low as $500. Both generators are solid values for the price, and the Sports Afield safe is almost $10 cheaper than Amazon's lowest price.
Finally, the $89.98 84" kids' trampoline is a fair price and beats Amazon's listing of $104.04. (The lowest we've ever seen on this size is $87.88.)
Sam's Club One-Day Sale: Sports & Fitness Deals
At $19.99, the Tasco flashlight set already beats competitors, so $14.98 is a steal. And $49.94 for the Igloo 150-Qt. MaxCold Cooler is an awesome price (the lowest you'll find on this size is around $65 elsewhere.) The $20 off deal on all Duracell golf cart batteries and marine batteries beats other stores like Batteries Plus, even with coupon codes.
Sam's Club One-Day Sale: Health & Beauty Deals

The $99.98 price tag on the Philips Sonicare HealthyWhite Rechargeable Toothbrush duo comes close to its previous low price of around $49 each (or $98 for two).
The $54.98 Waterpik Ultra Water Flosser Combo costs just a little more than a single Waterpik Ultra Water Flosser, and you're getting two in this deal. That being said, we did see an amazing rebate offer on these back in January that put them at $24.65 each, but this deal comes close enough to matching it without having to wait for a rebate.
You may want to skip the BaByliss hot tools. ULTA currently has a CHI 1" flat iron for less than $60, and you can use their current $3.50 coupon to drop the price further. At $229.98, the Clarisonic cleanser & massager is a good deal that beats ULTA and Sephora's sets (and even includes the Refining Skin Polish scrub).
Sam's Club One-Day Sale: Clothing, Accessories & Back-to-School Essentials

If you need new boots, it's hard to beat the store's upcoming prices on select Eddie Bauer and Seven7 designs.
The Levi's boys' 511 slim jeans are priced better than Kohl's and Macy's regardless of coupons or rewards. In fact, this price even beats Levi's recent clearance prices that were popular on the Slickdeals forums. The same goes for the $9.98 girls' 710 skinny ankle jeans, which were $10.20 each at Levi's clearance sale. The Free Country Shell Jacket is around $20 everywhere else, so its $12.98 sale price makes it another smart buy.
The Under Armour Hustle 3.0 backpack is a good deal at $29.98 and comes in a variety of color options. And the $29.98 SwissGear Laptop Backpack beats every other competitor's price.
As for the convertible car seat, Walmart has comparable models in select colors for as low as $52. Also, shop around before buying the store's diamond earrings. Kohl's regularly offers 30% off fine jewelry for cardholders, and you'll likely find cheaper prices if you just wait for Black Friday.
Sam's Club One-Day Sale: Gift Card Deals

Members are essentially getting 25% off the store's Extreme Value gift cards during the Sam's Club One-Day Sale, so this is definitely a good time to stock up before the holidays. Check out the complete assortment of gift cards here.
Sam's Club One-Day Sale: Tire Deals

If your tires need changing, you may want to schedule an installation on Aug. 4. You can save up to $140 altogether when you buy and install four new Pirelli or Goodyear tires. Plus, you can shop while you wait.
Just follow Slickdealer itengineer's advice: "You may need to order the tires online right away so it makes it to the store by Aug. 4. You do not not pay when you place the order online. They have very limited selection for tires in store. Only Pirelli p4 and Goodyear fuel max. Also, you will need to make an appt. to install tires on Aug. 4. You cannot just walk in and get the tires installed."
*****
Will you be shopping Sam's Club One-Day Sale? Which of these deals is on your list? Let us know in the comments!
Images courtesy of Sam's Club.
Add a Comment