Big Changes to the Kohl's Rewards Program Benefits Loyal Customers
It's everything you love about Kohl's Cash... and more.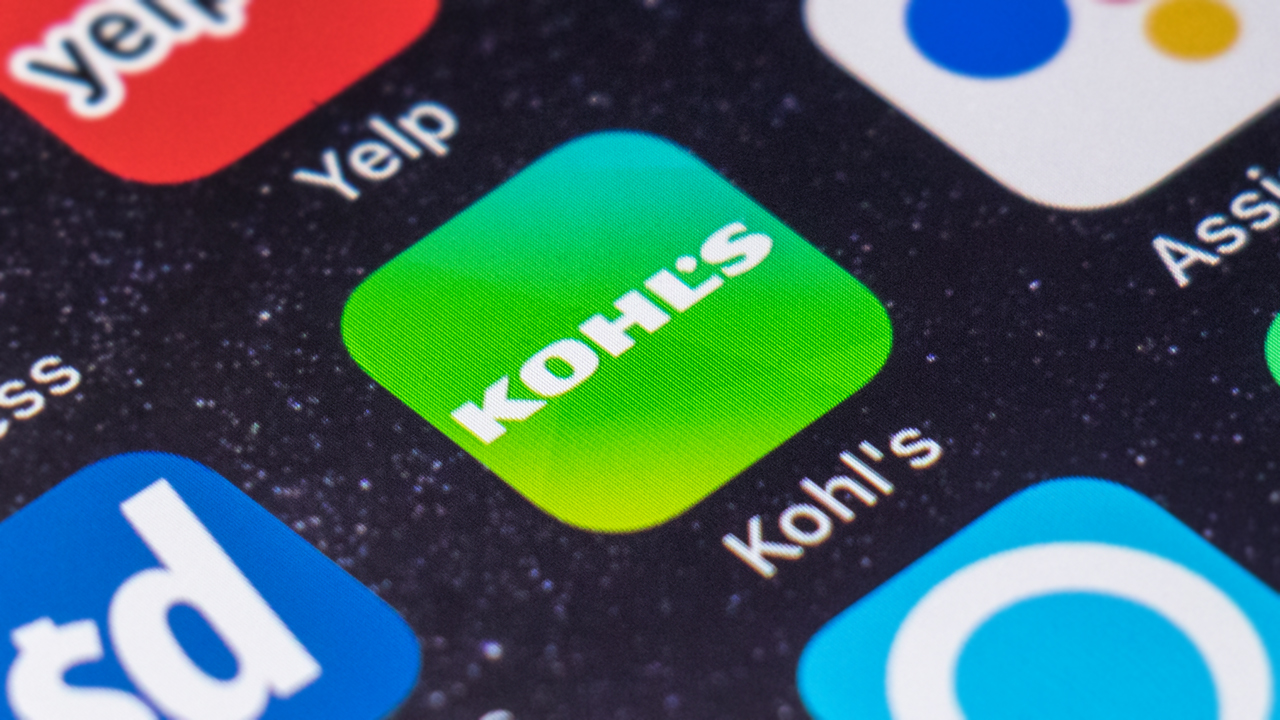 Kohl's shoppers already enjoy plenty of perks like Kohl's Cash, Yes2You Rewards and frequent sale events. But things are about to get even better thanks to the retailer's brand-new Kohl's Rewards program. Heralded as a simplified approach to earning and redeeming rewards, the company's revamped loyalty program is already being piloted in 100 stores within eight select test markets across the nation — and it promises some pretty exciting changes for Kohl's shoppers everywhere.
What is the New Kohl's Rewards Program?

According to Greg Revelle, the company's Chief Marketing Officer, "Kohl's Rewards unifies our three best-in-class loyalty programs – Kohl's Charge, Kohl's Cash and Yes2You Rewards – into one platform based on the power of Kohl's Cash."
Essentially, Kohl's Rewards will replace the store's existing Yes2You Rewards system with more Kohl's Cash. Yes2You points always transferred into Kohl's Cash certificates each month, but let's face it: It got a little confusing having two separate types of rewards in play. Now, everything will be streamlined into an all-in-one format. The best part? Members will have more opportunities to earn Kohl's Cash and save money in the process.
How Does It Work?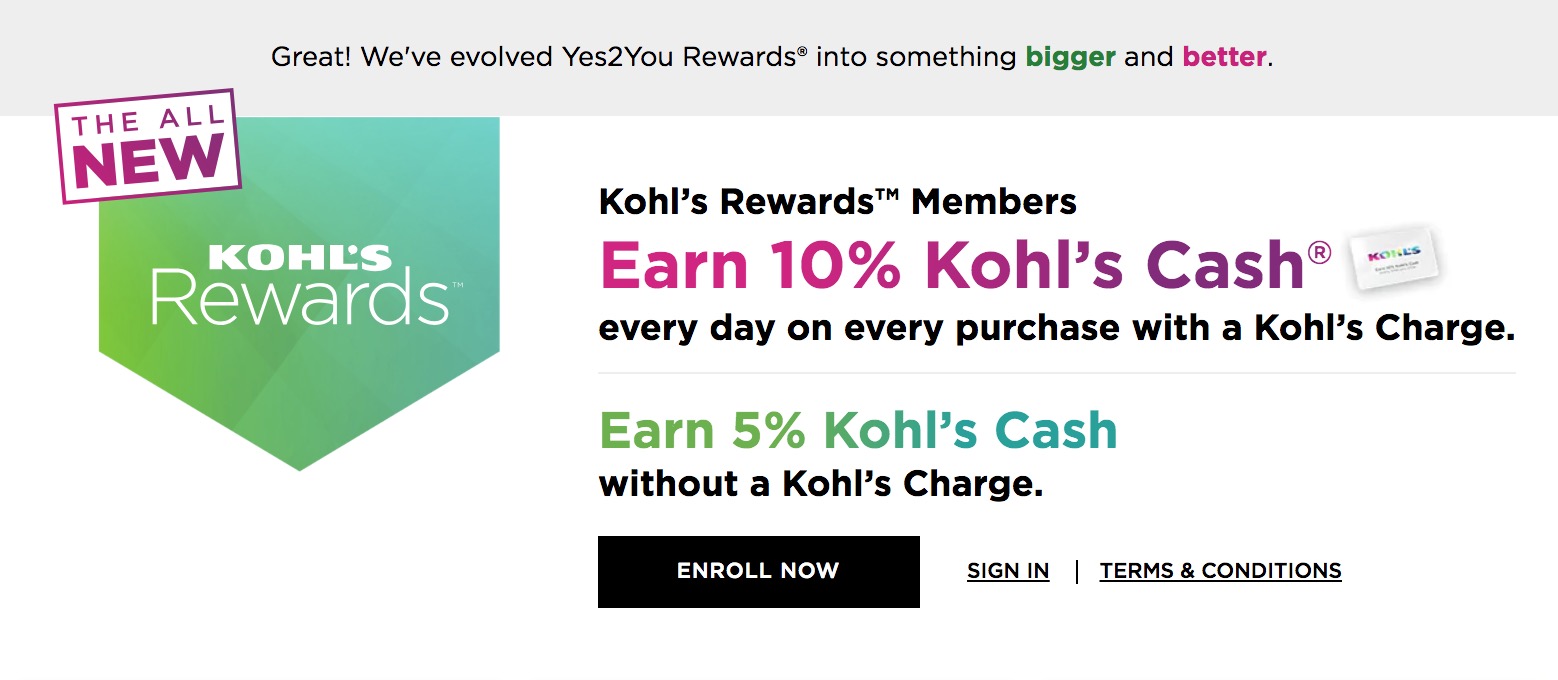 With Kohl's Rewards, you can earn Kohl's Cash two ways:
Earn every day on every purchase: Both Kohl's Rewards members and Kohl's cardholders will earn Kohl's Cash on any purchase they make — any day of the week. Standard Kohl's Rewards members will earn 5% Kohl's Cash on their purchases. Cardholders, on the other hand, will earn 10% Kohl's Cash on their purchases when they use their Kohl's Charge.
Earn during "Kohl's Cash Bonus Events": The store will keep offering its Kohl's Cash bonus events throughout the year to Rewards members and non-members alike. During these events, customers will receive $10 Kohl's Cash for every $50 they spend. These earnings will be based on the subtotal of your transaction after all discounts are applied and before shipping, fees and taxes are added.
One caveat is that Kohl's Cash earned on everyday purchases will come in $5 increments instead of $10. If the balance is less than $5, it will carry forward; if the balance stays below $5, it will expire 12 months after it's been earned. (This is similar to the original Yes2You Rewards program, which awarded members $5 for every $100 they spent.)
When you shop inside a Kohl's store, you'll get your Kohl's Cash coupon right there on the spot. Otherwise, if you shop online, in-app or at a store kiosk, you'll receive your Kohl's Cash coupon via email within 48 hours of your purchase. Want it faster? Just link your Kohl's Rewards membership account to your Kohls.com shopping account. Doing so will ensure that your Kohl's Cash is automatically stored in your Kohl's Wallet.
What's Better About Kohl's Rewards?

The new Kohl's Rewards program is fantastic for loyal Kohl's shoppers, and it's especially good for Kohl's Charge customers (who account for 60% of the store's total revenue, FYI). Cardholders will now earn more Kohl's Cash than ever before, and those who spend more than $600 in a calendar year will enjoy free shipping every day with no minimum when they use their Kohl's credit card.
Rewards members will also be earning Kohl's Cash more frequently. Not only will you receive Kohl's Cash on every purchase, but you won't have to wait until the following month to redeem your Yes2You rewards.
The company will automatically track customers' Kohl's Cash in the Kohl's app, and you'll get mobile, digital, email and even personal reminders from associates at checkout so you won't forget to redeem your rewards.
Perhaps the biggest change is that all Kohl's Rewards members will get access to the store's 30% off sale events. Traditionally reserved for Kohl's cardholders, these promotions always give us lots of amazing Frontpage Deals. Now, everyone can enjoy them regardless of how they choose to pay.
Here's how the new Kohl's Rewards program stacks up to the current system if you were to purchase the NutriBullet Rx 1700-Watt Blender during a Kohl's Cash bonus event at its sale price of $149.99:
Current Rewards: $30 Kohl's Cash + 150 Yes2You points ($5 Kohl's Cash plus 50 points that carry forward until you reach the next 100 points) = $35 total rewards
New Kohl's Rewards: $5 in "every day" Kohl's Cash (and $2.50 Kohl's Cash that carry forward until you reach $5) + $30 Kohl's Cash = $35 total rewards
New Kohl's Rewards for Cardholders: $15 in "every day" Kohl's Cash + $30 Kohl's Cash = $45 in total rewards
Membership Benefits

As a Kohl's Rewards member, you'll enjoy the following incentives:
5% Kohl's Cash every day on every purchase (or 10% when you use your Kohl's Charge)
Kohl's Cash is tracked for you (and you'll get reminders about redemption periods)
30% off during exclusive savings events throughout the year
Birthday gift
Easy returns with no receipt required
Elite Membership Perks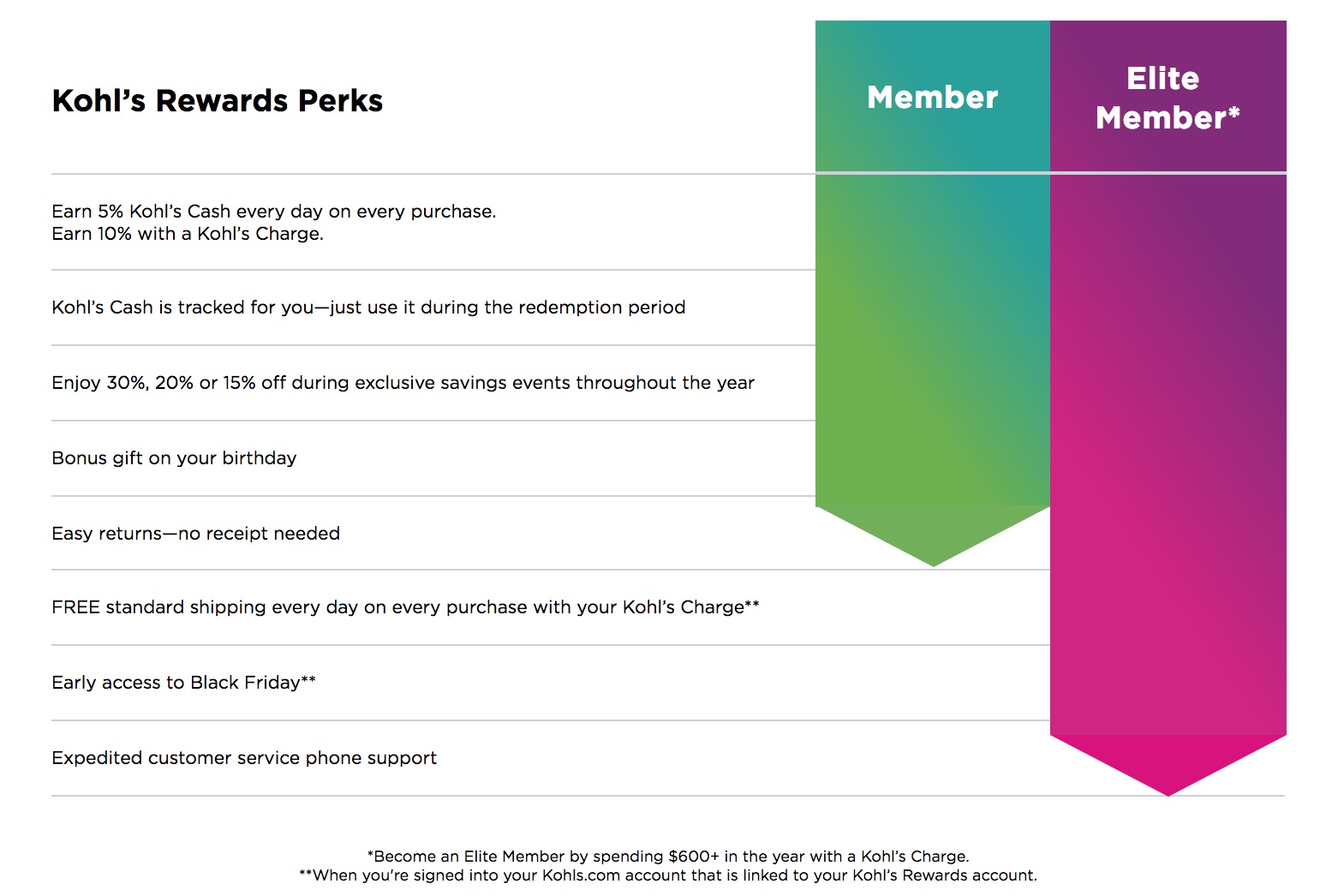 Kohl's Rewards members who spend $600 or more in a calendar year using their Kohl's Charge will now get upgraded to "Elite Member" status. Once you qualify, you'll receive your Elite status for the remainder of the current year — and you'll get to keep it for the duration of the following year. That means if you qualify in June of 2018, you'll score Elite Member benefits all the way through 2019.
Speaking of those Elite benefits, they're pretty enticing. You'll get all the standard membership perks listed above plus the following extras:
Free shipping every day on every purchase when you use your Kohl's Charge
Early access to Black Friday sales
Expedited customer service phone support
How to Enroll in Kohl's Rewards

If you're already a Yes2You Rewards member or have a Kohl's Charge, you'll be automatically enrolled in Kohl's Rewards. Otherwise, you can enroll here. All you'll need to provide is your email address, phone number and ZIP code.
The new program is currently being tested in the eight pilot markets. These locations include Phoenix, Arizona; Indianapolis, Indiana; Minneapolis, Minnesota; Austin and San Antonio, Texas; Buffalo and Rochester, New York; and Raleigh, North Carolina.
Are you excited for the new Kohl's Rewards program? Let us know in the comments. While you're at it, bookmark our Kohl's coupon page and subscribe to my monthly roundup of Kohl's deals!

Images courtesy of Kohl's.
---
Any product or service prices/offers that appear in this article are accurate at time of publish, and are subject to change without notice. Please verify the actual selling price and offer details on the merchant's site before making a purchase.