Save $50 on a Black+Decker Power Tool Kit Great for DIYers and Weekend Warriors
A great power tool that packs all of the essentials in one collection.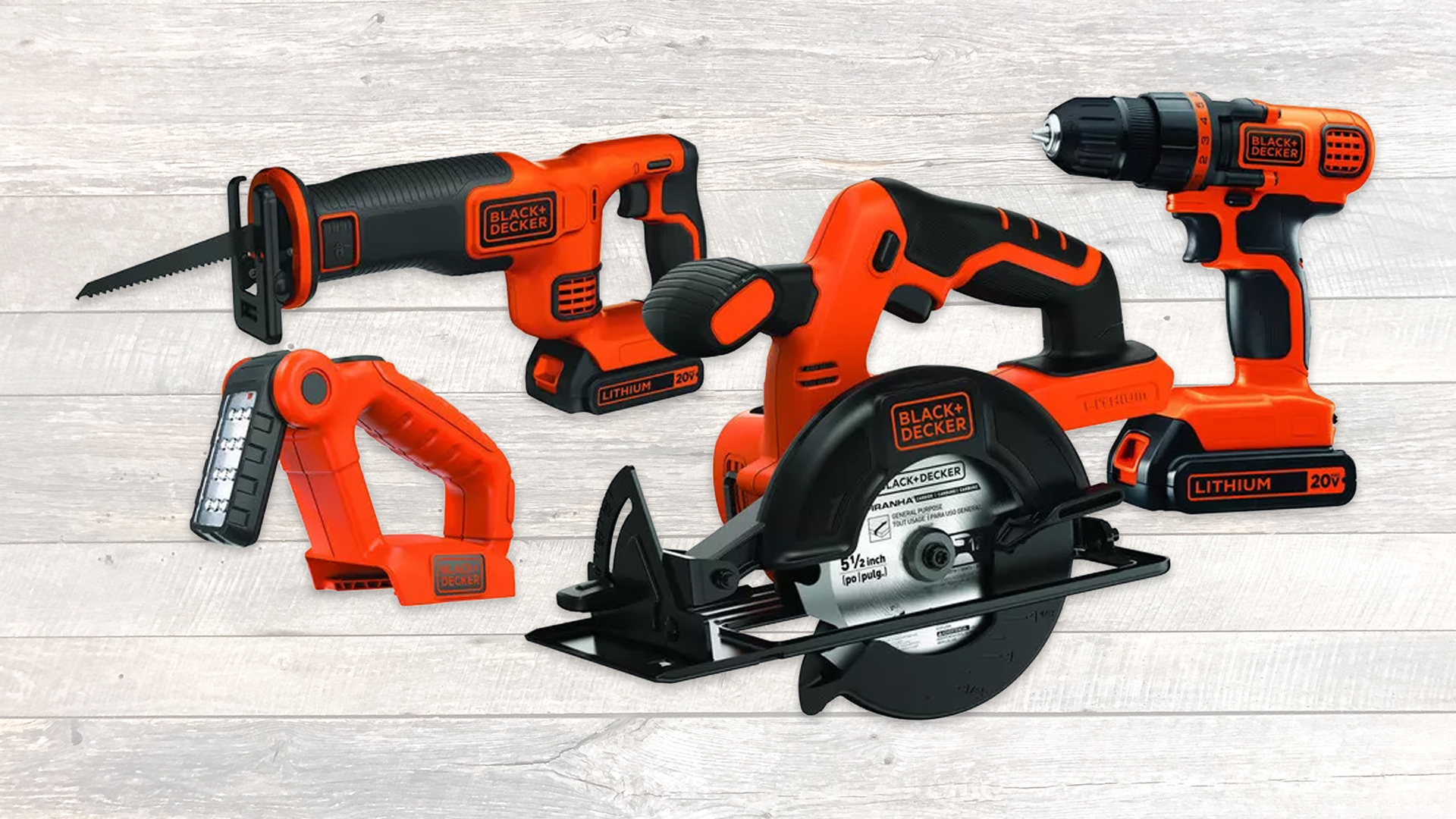 Are you a DIY enthusiast who loves to tackle minor projects around your house, and find yourself constantly trudging back and forth to the garage for the right tool? Right now you can save money and time by purchasing a Black+Decker 4-Tool 20-Volt Power Tool Combo Kit that includes not one, but two batteries that normally cost half the price of the whole kit. Even if you're a beginner when it comes to do-it-yourself tasks, you'll be able to tackle them all with confidence with this set.

Slick Tip: Slickdeals users who bought these tools and similar in the past claim that the value of the two batteries (included in this set) makes this a great reason to invest in this set while it's on sale.
Grab The Deal from Lowe's or Amazon for the Same Low Price
This 4-piece combo kit is on sale now at Lowe's (Sale Price: $129| Reg. Price: $179) and qualifies for free delivery. But for Prime Members, it's worth noting that Amazon has matched this sale price, as the online retailer often does whenever there's a great deal online.
BLACK+DECKER 4-Tool 20-Volt Power Tool Combo Kit
Check Price at Lowe's | Check Price at Amazon
Sale Price: $129 | Reg. Price: $179 | 28% Off 
Having two batteries made it easier. You weren't constantly swapping batteries every time you needed to change tools.
Take 28% off This 4-Tool Combo Set From a Trusted Brand
Black+Decker has been dedicated to making solid, effective and affordable power tools for household use for over a century. You won't be disappointed with your purchase that has all the necessary tools in one set. Key features for this 4-piece combo kit include:
A drill/driver attachment that features 11 adjustable settings to deliver the appropriate torque settings
A circular saw with blades that features a high torque motor with a 5-1/2″ blade
A reciprocating saw with blades that's perfect for basic tasks such as pruning branches off of trees and cutting framing lumber
An LED work light which the manufacturer claims can illuminate your work surface for up to 11 hours
Two  20V MAX Li-ion batteries that offer a long lifespan and less downtime when working on projects, plus a battery charger

Buyers Are Enthusiastic About This Lightweight and Easy to Use Black+Decker Cordless Drill Combo Kit
If you've been searching for a small yet handy toolset, this combo kit is a great bargain purchase for your weekend DIYs. Lowe's customers who purchased and used the kit found it to be their go-to tool when tackling projects around the house.
One customer shared, "This is a great small project or home toolset. It is lightweight and still packs on a punch with power. Having two batteries made it easier. You weren't constantly swapping batteries every time you needed to change tools."
Another buyer shared, "The battery life, quality, and performance are great for each tool. Whether it's small repairs or DIY projects, having this trusty combo kit has made them more efficient and enjoyable."
Missed this Deal? Let Our 12 Million Deal Hunters Find You the Lowest Prices
Slickdeals has the largest deal-sharing community in the world, so you never have to pay full price. Founded 20 years ago as a place for people to share and discuss deals online, the website has grown to include more than 12 million users. And the Slickdeals app allows you to search and find deals on the go.
Download the Free Slickdeals App
How Slickdeals Works:
Slickdeals members (over 12 million strong) find, post and share deals, sales, coupons and promo codes
Every deal gets reviewed by the community and goes through a voting system
Good deals get moved up to Popular Deals (Pro Tip: This is where you can find the hidden gems)
Then, the best of these Popular Deals are screened by our Deal Editors to be considered for the Slickdeals Frontpage
Only the very best of the top deals are promoted to the Frontpage, so check it daily or as often as you can online or on the app

It's Free To Set a Deal Alert
Looking for something in particular? Set a Deal Alert and we'll notify you as it goes live. Sign up for free with just an email and start seeing deals right away. Then, let us know what you want to buy, and Slickdeals will send matching deals to your email or as a notification on your smartphone (or both, if you choose) as soon as that exact item is on sale.
Slick Tip: To receive alerts only for the very best sales and the absolute largest discounts, select "Popular" or "Frontpage" in your Deal Rating filter.
More great deals from Slickdeals:
Use the Slickdeals App to Never Pay Retail
Our editors strive to ensure that the information in this article is accurate as of the date published, but please keep in mind that offers can change. We encourage you to verify all terms and conditions of any product before you apply.