Bose Audio Sunglasses Reviews: What 5 Tech Critics Say About These Stylish Speaker Frames
Is this the very best wearable accessory for headphone-free audio on the go?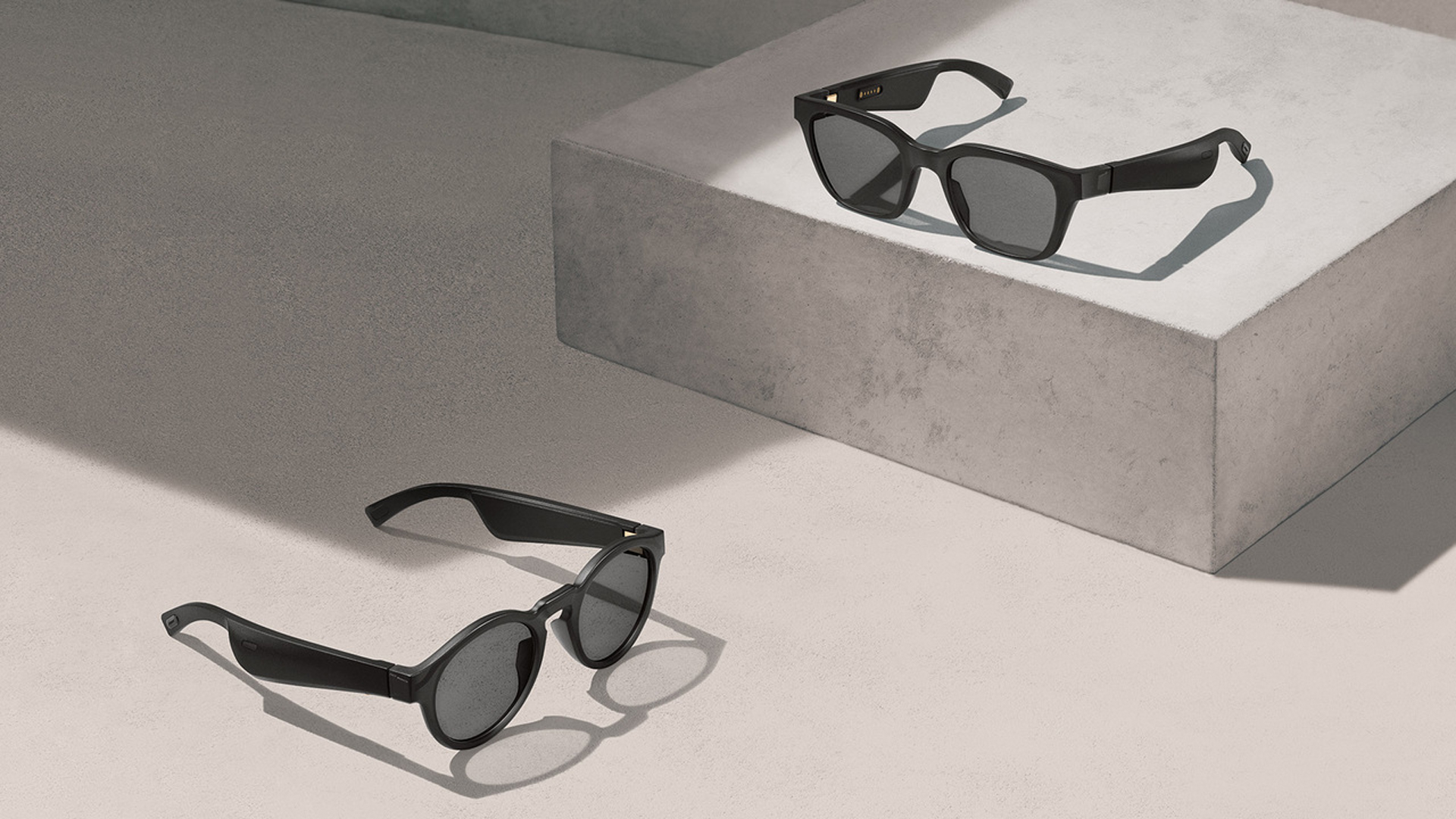 If you're looking for a new pair of sleek sunglasses for summer but would also like a little tech baked into them  – these Bose Audio Glasses (offered in 2 classic but on-trend shapes) may be the answer. The audio experts at Bose now offer a line of stylish sunglasses that combines the fashion staple with Bluetooth headphones by building tiny speakers right into the arms, allowing you to stream music, take calls.
Not only do these sunglasses with a soundtrack look cool, we've also spotted them on sale ($30 off at Bose.com) in the past month and they come in two distinct stylish profiles: the Alto (a classic "Wayfarer" style) and the Rondo (more rounded lenses with a cool-meet-retro style). Plus, the reviews we surveyed (and compiled below all in once place) give the glasses a strong thumbs-up rating with a positive 7.4 score (average) with very little to complain about.
Bose sunglasses reviews note how these surprisingly powerful speakers direct quality audio at your ears while not allowing it to escape, so nobody around you will be privy to your musical selections or phone conversations, which are picked up on your end from a pair of microphones embedded in the glasses. While Bose abandoned their plans for audio-only augmented reality apps to synch with these sunglasses (for now), the combo of cool sunglasses with Bluetooth headphones and speakers built-in is still wearable tech we want to try.
Shop All Bose Audio Sunglasses
According to Bose sunglasses reviews, the Bose Frames Alto features classic angular lenses and a larger fit that's available in S/M and M/L (Sale Price: $169.95 | Reg. Price: $199.95). Meanwhile, the Bose Frames Rondo has distinct rounder lenses and a slightly smaller fit since it's available in just one size, S/M (Sale Price: $149.95 | Reg. Price: $199.95).
Both include a carry case, cloth bag and charging cable.
So are the Bose Frames really worth it? SlickDeals has collected Bose sunglasses reviews from five top tech critics to determine where the sunglasses shine — and where they fall short.
Appearance/Design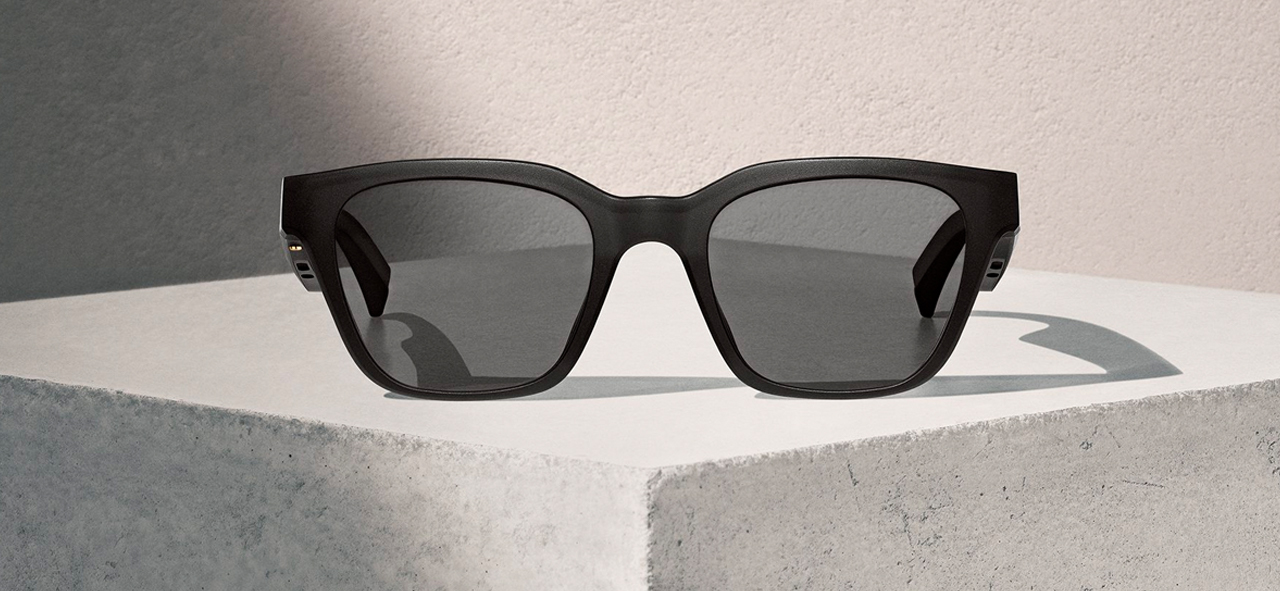 Consensus: Generally Positive to Neutral (2/5 Positive, 2/5 Neutral, 1/5 Negative)
Main Takeaway: A common theme in the reviews was how the sunglasses look really great, but the plastic they're made from feels a little cheap.
"Bose Frames are a great attempt at an augmented audio experience that fall just short of excellence….They're more of an interesting accessory than a replacement for your favorite pair of sunglasses and headphones." — Mashable
While the arms do look slightly bulky because of the speakers and other internal tech components, many reviewers noted it's a small price to pay for great sound quality. Many also pointed out the sunglasses don't actually feel heavy and aren't uncomfortable to wear.
The bigger issue that came up was the material used to make the sunglasses.
"The matte black material Bose has used doesn't feel like it's made with high-quality plastic. This could also be why the Frames are so incredibly light though, with both styles weighing around 45g." — Techradar
Sound Quality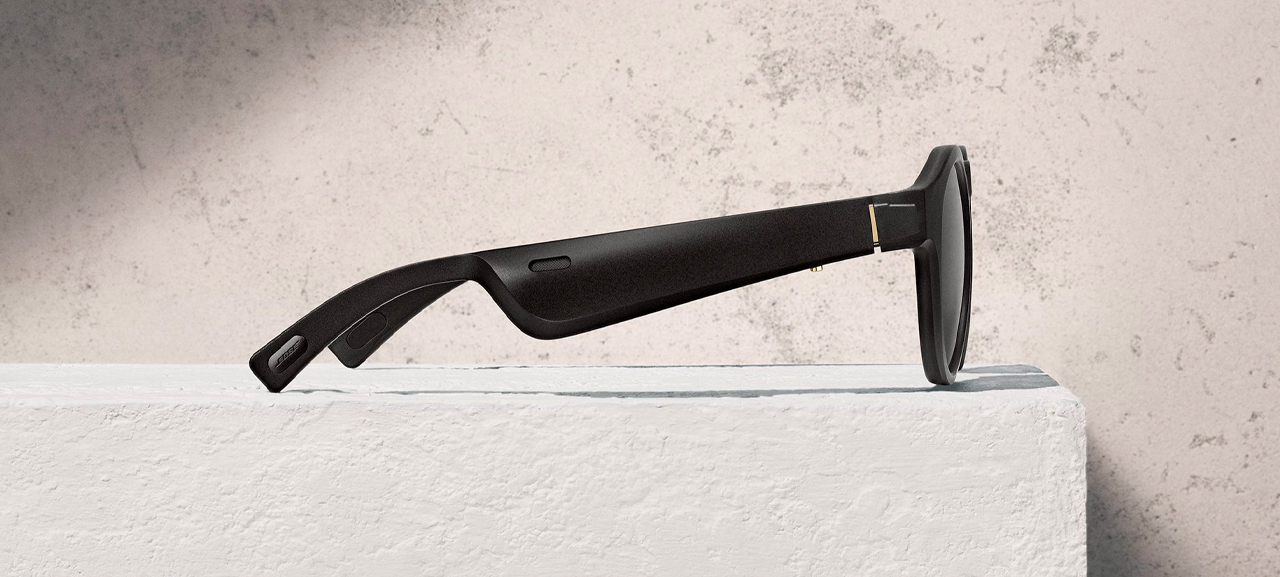 Consensus: Generally Positive (4/5 Positive, 1/5 Neutral)
Main Takeaway: The sound quality of the frames is high for such small speakers, which are uniformly praised in the critiques.
"Listening to a song feels like it's enveloping you. It's a gentle wave lapping your feet instead of a dive headfirst into the ocean. You're surrounded by sound but you can hear everything around you clearly. It's your own soundtrack." — Mashable
So while you might not always enjoy the best experience listening to songs that rely on a thudding bass line, said the Gizmodo reviewer, "for most music, the Frames are decent, if not better than expected. I also found the quality to be clearer than bone conduction headphones I've tried." — Gizmodo
The only small issue was using the sunglasses when there was loud background noise such as from traffic or public transportation.
But the CNET expert loved that the glasses can replace headphones and don't contribute to noise pollution when you're out and about. "What's cool is that, even though they sound loud to you, they leak very little sound, so people around you can't hear your music or who you're speaking to on a call." — CNET
Ease of Set-up/Use/Controls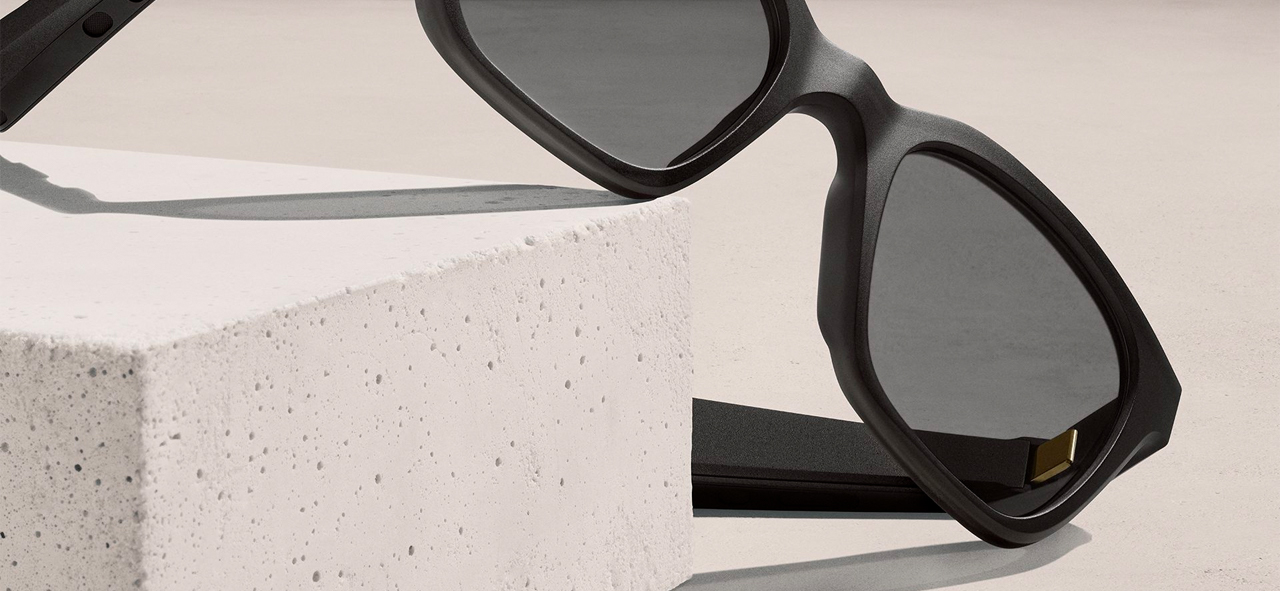 Consensus: Generally Neutral (2/5 Positive, 2/5 Neutral, 1/5 Negative)
Main Takeaway: Setting up the phone using the Bose Connect app is a breeze, but operating the sunglasses isn't always so easy, depending on what you want to do.
There's only one control button, which is responsible for almost everything. The Gizmodo critic best summed up the high learning curve of the user experience: "You press it once to turn on the device, which will also give you a handy voice update on how much charge is left. You can press it again to pause or play a song. Pressing twice will skip a song, while pressing three times will let you go back to a previous one…When receiving a call, you can press the button once to accept or hold it for one second to decline. If you hold it for two seconds, you can either pull up Siri or Google Assistant on your smartphone." — Gizmodo
Other reviewers liked the multi-function button control, but some complained that if you want to adjust the volume of a call or music, there are no separate controls on the sunglasses so you'll need to use your phone.
Durability/Battery Life/Performance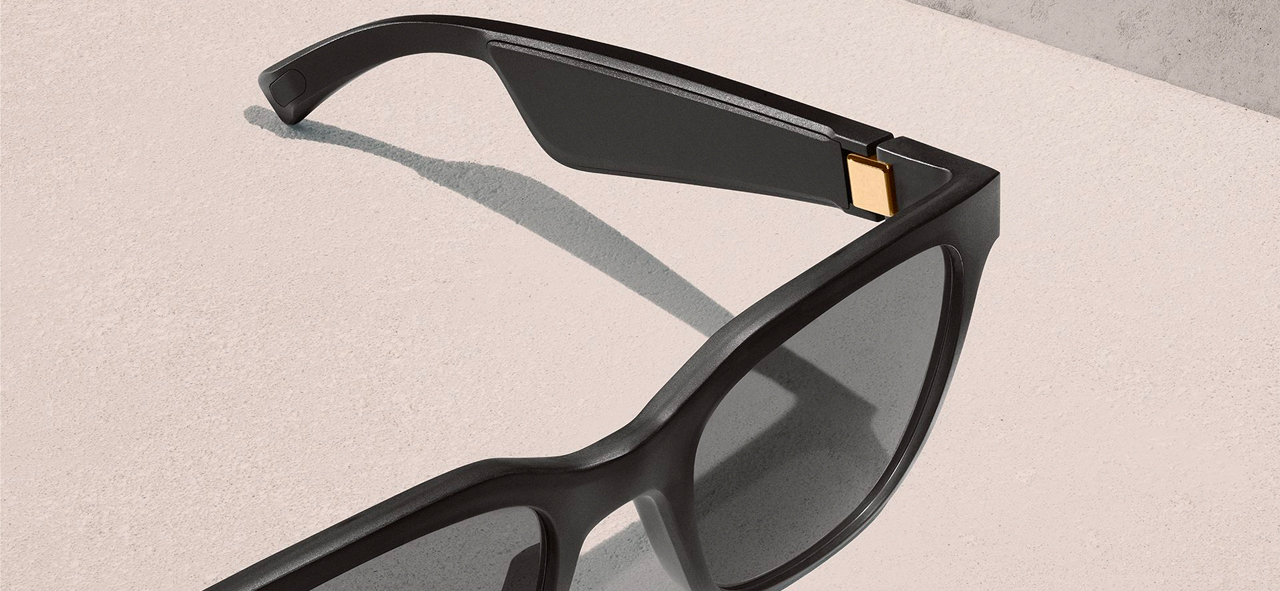 Consensus: Generally Neutral (4/5 Neutral, 1/5 Negative)
Main Takeaway: The glasses are drip resistant so they can handle a little rain or sweat, but they aren't completely waterproof, so don't wear them in the pool. As for battery, charging time for the Bose audio sunglasses can take up to 2 hours, and once fully juiced, the Frames can stream music playback for up to 3.5 hours. While great for some, those who want longer battery life may be disappointed.
"In normal usage, I found that I could go about two days before having to charge them. That's not amazing, but it's about on par with plenty of wireless exercise earbuds, so I didn't find it all that cumbersome." — Gizmodo
One critic also pointed out the glasses do not come with a convenient charging case and need to be recharged with a cable.
Plus, "There's also no great way of monitoring the battery life on the glasses. When you turn them on and off, you'll be greeted with the battery amount in audio form, but it doesn't offer a way to monitor how much charge is left over visually from the glasses themselves." — Techradar
Price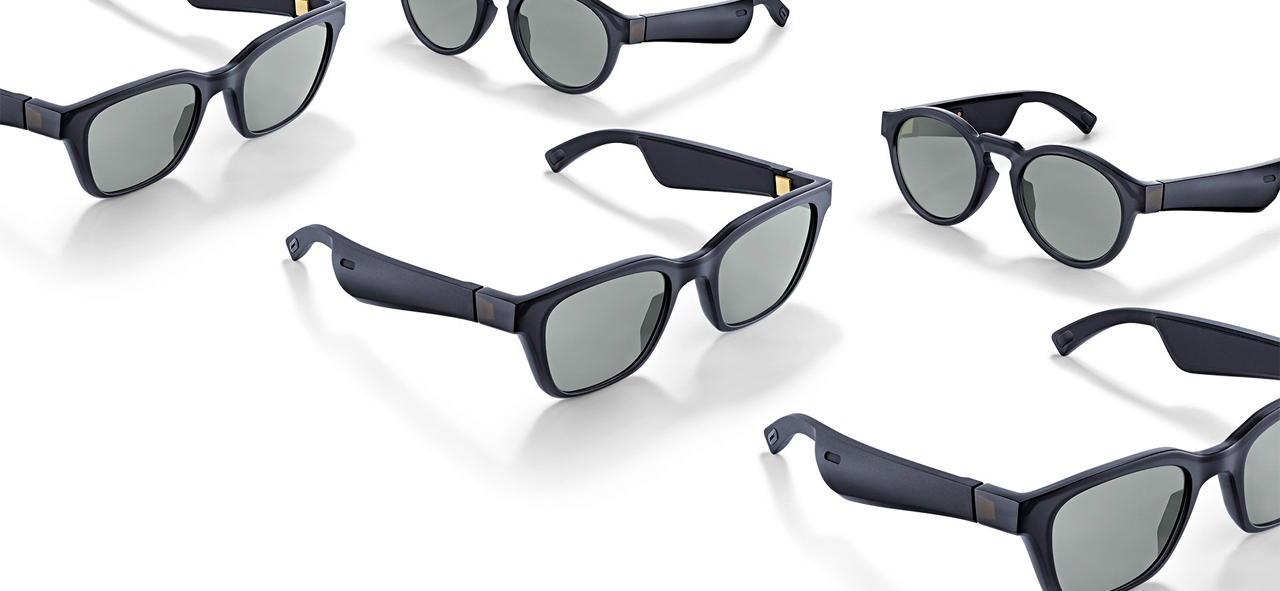 Consensus: Generally Positive (3/5 Positive, 2/5 Neutral)
Main Takeaway: Bose Frames aren't cheap at the regular price of $200 a pair, but the extra bonus of quality speakers with great sound puts them on par with similar headphones or a stylish pair of regular sunglasses at the same price point.
"If you are going to shell out for some designer shades — like a pair of Ray Bans — the Bose Frames are kind of a deal. After all, you are getting decent headphones, a non-hideous pair of sunglasses, access to your smartphone's voice assistant, and the option to try out some free audio AR apps. If I had a spare $200 lying around, I wouldn't feel too guilty about spending them on a pair of these." — Gizmodo
"If you're thinking of them as sunglasses first, with the added bonus of using them in the car or during a walk, then it may be worth the price for you." — Mashable
But What Do Actual Bose Audio Sunglasses Users Have to Say?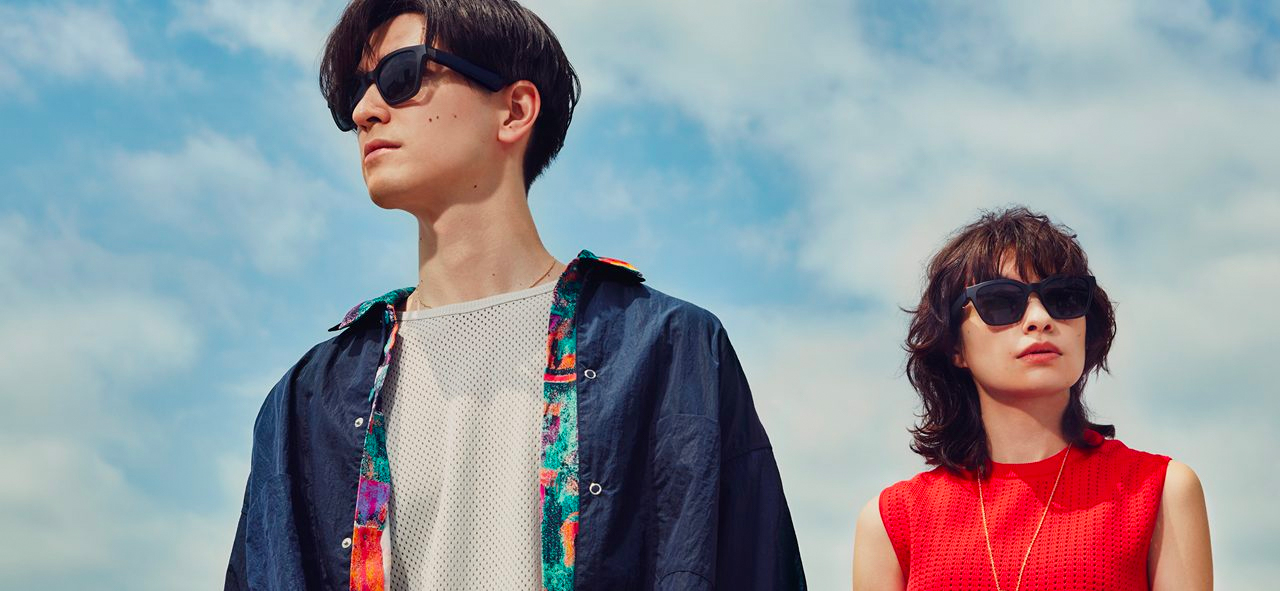 Consensus: Generally Positive
Main Takeaway: Customers who rated the Alto Frames on Bose's site, most appreciated the ease of set-up (4.6/5) and ease of use (4.5/5) while appearance/design scored slightly lower (4.1/5).
Some enjoyed the audio quality: "The speakers really do beam music straight to your ears without bothering others. I tested this in a silent area and could barely hear my friend's Frames, although he was just a couple feet away."
Others loved the style of the sunglasses: "These glasses are so light and comfortable! The sound is so clear and are so easy to connect to your Phone!"
Many of the negative reviews of the audio sunglasses referred to fit issues, which the company has now addressed with an additional size choice in the Alto style. Bose is also now offering prescription or mirrored lenses for an additional cost.

Battery life was a common issue brought up by those who had hoped to wear the sunglasses for more than a short time: "Battery life. 3.5 hours is great for commuting, but not for a whole work day. At least 7-8 hours would be a great improvement."
Bose Audio Sunglasses on Amazon
Reviews Consulted
Be sure to set a Deal Alert, so you'll be notified the next time these go on sale.
Up Next:
Our editors strive to ensure that the information in this article is accurate as of the date published, but please keep in mind that offers can change. We encourage you to verify all terms and conditions of any product before you apply.