Build a Gaming PC with Slickdeals (Part 3)
PC gaming is all about high-resolution graphics.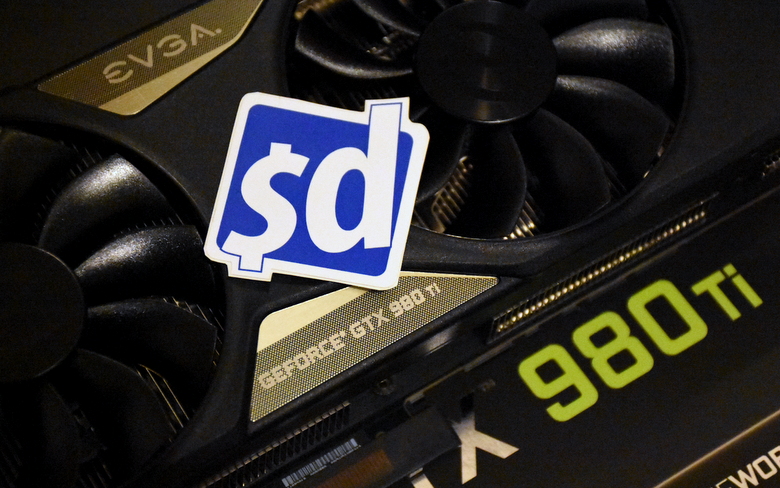 Our Slickdeals gaming PC is coming along quite nicely, having received a case and power supply unit, as well as a processor and motherboard. Now it's time to talk about the main reason that people switch to PC gaming — high-resolution graphics!
Graphics Card
PC game graphics tend to look better than what you'd see from a gaming console (like a PlayStation 4 or Xbox One), mostly due to a robust, dedicated graphics card.
The role of a graphics card is to translate software code into 3D models, as well as handle lighting, texture and color. The card's processor, known as a graphics processing unit (GPU), manages these complex calculations, and works in conjunction with special video memory called VRAM.
Graphics Processing Unit (GPU)
The GPU directly affects how well a game looks and how smoothly it runs, so it's important to understand what characteristics affect performance. Just like a CPU, the GPU's capability is determined by its frequency and architecture. A higher frequency (measured in Gigahertz) means that the GPU can handle more tasks per second, and the architecture (its physical construction and design) affects overall efficiency, operating temperatures and power draw.
Most current generation GPUs have reached a frequency cap of around 1 Gigahertz (GHz), but advancements in architecture — particularly the ability to host numerous parallel processors — provide additional performance gains. Depending on the manufacturer, a GPU can have hundreds to thousands of parallel processors (similar in concept to a multi-core CPU), and their combined power can be used to calculate more than just graphics. Many games take advantage of the technology to create an immersive environment, which includes real-time physics for effects like smoke, rain or debris.
Increasing the number of parallel processors is primarily how GPUs gain performance from generation to generation, and it's also one of the main considerations when it comes to setting a retail price.
VRAM
VRAM is a dedicated amount of memory that the graphics card uses to store textures or 3D models that it has already rendered. This method of buffering allows the game to run at a smooth frame rate, usually 30 or 60 frames per second (fps). If an in-game asset is going to be used repeatedly, like a character model, environmental texture or building, there's no reason to keep rendering it over and over again — storing it in the VRAM for quick access is much more efficient.
For most games, 2 GB of VRAM will keep things running smoothly. But in some cases, the use of very high-resolution textures may exceed the VRAM's capacity, resulting in lower frame rates or even worse, choppy gameplay. Your screen resolution will also affect the usage of VRAM — rendering a game at a resolution of 2560 x 1440 will require more memory than doing the same at 1920 x 1080.
My old PC is using a graphics card with 4 GB of VRAM, and I've only come across a small handful of games that need more than 4 GB to display high graphics settings on a 1920 x 1200 resolution monitor. The VRAM is there for you to use however you wish, so you can tweak game settings to sacrifice graphical quality for higher frame rates or vice versa.
Choosing a Graphics Card
There are many graphics cards currently on the market, with prices ranging from $100 to $1,000 or more, and choosing one can be quite confusing, especially with all of the different models and options available. As I mentioned in my first article, it's a good idea to identify the recommended graphics card for the game you're most looking forward to playing. These suggested specs can usually be found on the game publisher's website.
If you're torn between a few graphics cards, GPUBoss.com is a good resource for side-by-side performance comparisons and benchmark results.
NVIDIA Versus AMD
Two GPU manufacturers have been dominating the market for some time: NVIDIA and AMD. Yes, this is the same AMD that manufactures CPUs — AMD acquired NVIDIA's then-competitor ATI in 2006.
It's another classic rivalry scenario, like Ferrari versus Lamborghini — both companies make sexy, powerful products, and the fight for new customers falls to the marketing department.
AMD-based graphics cards are known for offering great value in the low to mid-range, while NVIDIA-based cards are able to pump out extreme performance at a premium price.
As usual, stick with popular manufacturers like Gigabyte, Asus, MSI, Sapphire and EVGA, to name a few.
My Weapon of Choice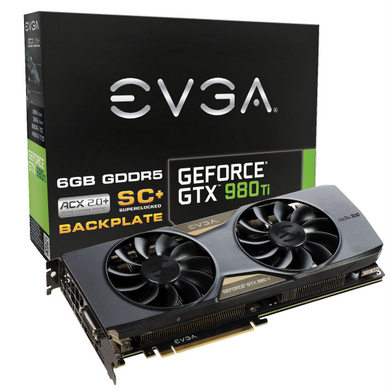 Because I'm the type of person who gets a kick out of running a game with "Ultra" graphics settings, I'm going with the latest generation NVIDIA card, an EVGA GeForce GTX 980 Ti. The exact model that I selected (SC+ GAMING ACX 2.0+) features a 1.1 GHz GPU, 2816 processor cores, 6 GB of VRAM, a heat-dissipating backplate and two cooling fans. This is a very high-performance graphics card, but it comes with a hefty retail price of $669.99. Most of the price increase from previous generations is due to the additional 2 GB of VRAM and extra 768 processor cores.
I was able to find this card at Newegg.com for $619.99 after a $30 mail-in rebate, which is just $20 higher than the all-time low price found on our deal forums for this specific model. Shortly after I bought the card the price actually dropped another $20 though, so I just filed a price protection claim with my Chase Sapphire Preferred credit card. Once approved, the final cost will be $599.99. My purchase also came with a free copy of Rise of the Tomb Raider, a $60 value.
Obviously, I'm a special case (read: super geeky) and most people won't need a $600+ graphics card to enjoy their games. Here are some popular choices at more reasonable prices:
Gigabyte R9 380x 4GB – Retails for $229, but currently selling for $214.99 after a $10 mail-in rebate from Newegg.com.
Asus Radeon R7 360 2GB – Also available at Newegg.com. MSRP is $109.99, but it's available now for $99.99 after a $10 mail-in rebate.
MSI GeForce GTX 960 4 GB – Currently selling for $210.00 (down from $249) after a discount and $15 mail-in rebate from Amazon.com, but it was $165 after rebate just a couple of months ago.
Build Recap
Let's take a look at the PC's total cost so far:
$104 – NZXT Phantom 530 case
$119 – Corsair HX850i power supply
$175.30 – Intel Core i5-6500 processor
$115 – Asus Z170-A motherboard
$24.44 – Cooler Master Hyper 212 EVO
$619.99 – EVGA GeForce GTX 980 Ti SC+ GAMING ACX 2.0+
(-$500) – Chase Sapphire Preferred bonus cash
Cost after rebates and bonus cash: $657.73
Like what I'm doing? Think my setup is overkill? Hop on over to my forum thread and give me your two cents!
Click here for Part 4 of "Build a Gaming PC with Slickdeals," where I'll be adding data storage and RAM.
Missed the previous articles? Get up to speed with the links below:"
Part 1 – Build philosophy, case and power supply
Part 2 – CPU and motherboard
Images courtesy of Andrew Chen, EVGA.
Our editors strive to ensure that the information in this article is accurate as of the date published, but please keep in mind that offers can change. We encourage you to verify all terms and conditions of any product before you apply.