Slickdeals Editor's Choice CES 2020: Add These to Your Wish List Right Now!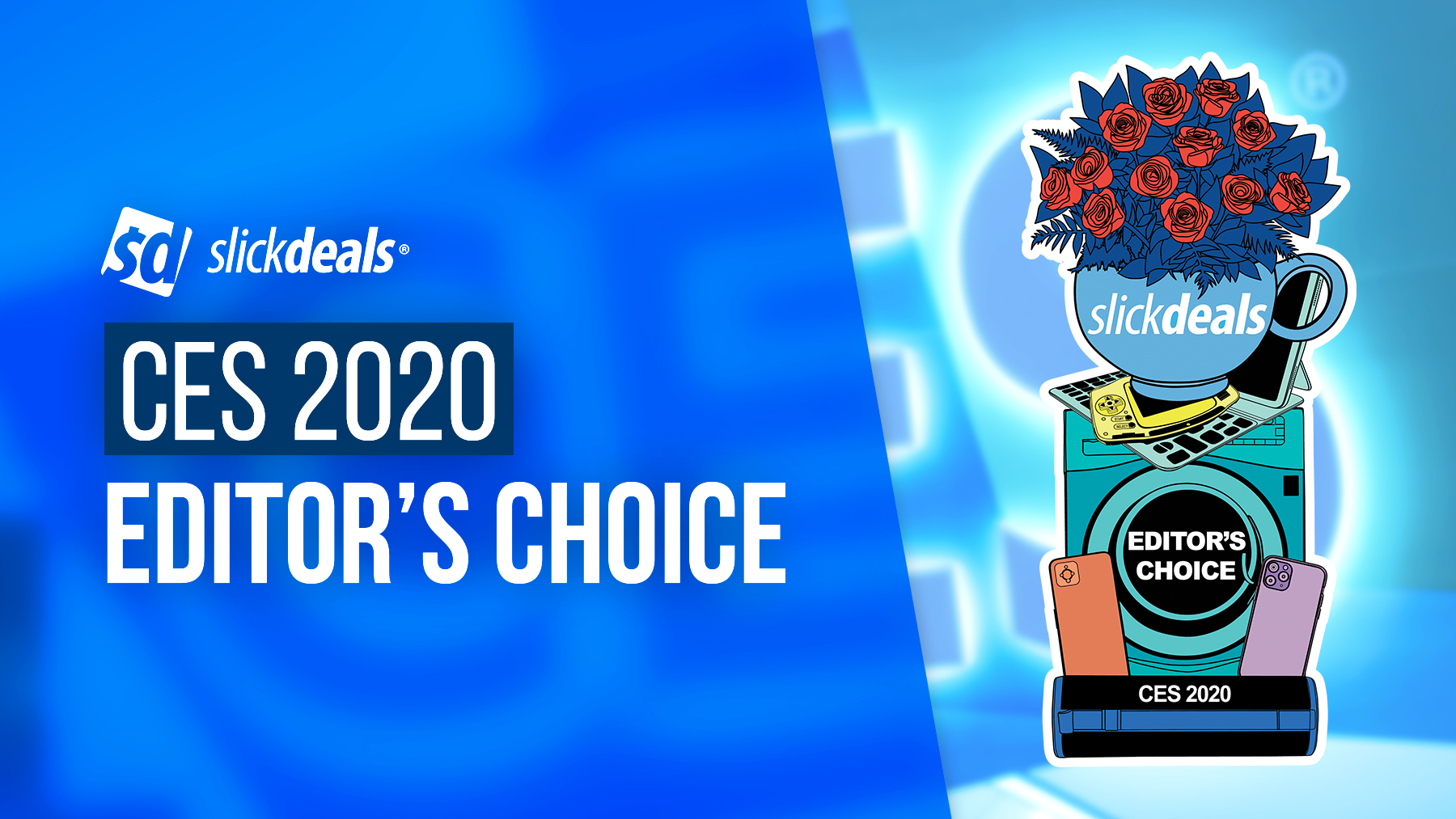 The most talked about products at the annual Consumer Electronics Show (CES) are typically the ones that will never make an appearance inside our homes, like a wardrobe that can automatically fold clothes or a 300-inch TV. But it is fun to get a glimpse of where technology might be headed in 10-20 years.
I'm at CES with a different mission, though: to find the most impactful and innovative products that you'll actually want to buy — and can afford!
Armed with the opinions, experiences and feedback from my fellow tech editors and our ever-vocal Slickdeals community members, I pushed through the endless sea of visitors and convention center hallways to find the most Slickdeals-worthy new products for 2020.
RELATED: The Coolest, Most Bizarre and Most Expensive Tech We Saw at CES 2020
Be sure to bookmark this page or follow @Slickdeals on social media because I'll be adding live updates throughout the show!
In no particular order, here are this year's editor's choice winners, which have been selected based on their features, overall value and deal potential.
Jump to your favorite category:
Laptops, Personal Computing & Accessories — Editor's Choice CES 2020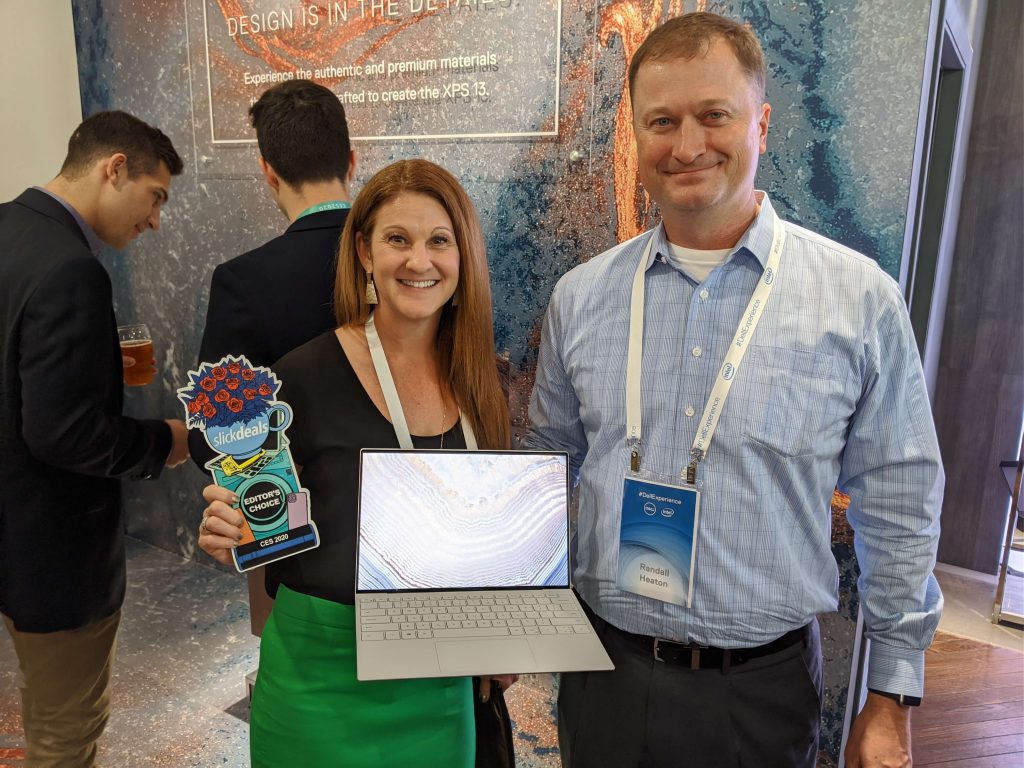 XPS 13 Laptop
There's no denying the popularity of Dell's XPS 13 laptop, with its sleek design, powerful components, and its tendency to go on sale — Slickdeals recorded over 90 significant deals on the XPS 13 in 2019 alone.
And for the latest iteration, just unveiled at CES, the storied XPS 13 is getting closer to absolute perfection. It now features a 4-sided InfinityEdge display, an edge-to-edge keyboard, larger touchpad, and has the option to come preloaded with Ubuntu.
RELATED: Dell's XPS 13 2-in-1 is Pretty Close to Being Perfect
These updates give the lightweight XPS 13 much more usable space, while maintaining the same footprint of past versions. The screen bezels are so thin all around, there's no space to include Dell's own logo! And I thought it couldn't get any better after the "nostril cam" was moved to the top — boy, was I wrong!
The new XPS 13 is available today, with a starting price of $999.99.
Search for Dell XPS 13 Discounts
*****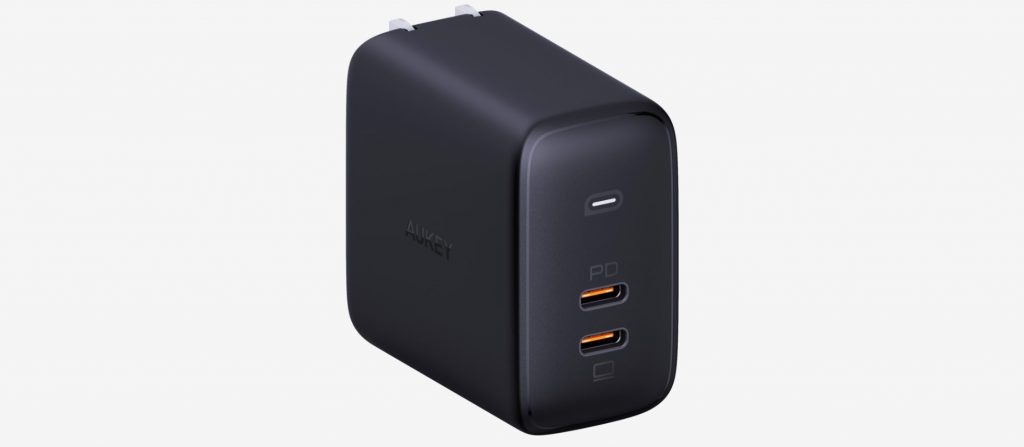 Aukey Omnia 100W PD Wall Charger
Leave your MacBook Pro charger at home because the new Aukey Omnia 100W PD wall charger means you'll only need to carry one plug for all of your devices.
From smartphone to tablet to laptop, this little 2-inch by 2-inch block is the first of its kind to deliver faster charging speeds and enough oomph to replenish the battery on the new 16-inch MacBook Pro. Featuring the latest GaN and Dynamic Detect technologies, the Omnia wall charger is smaller, lighter and more efficient.
Look for the Aukey Omnia series of chargers in Q2 of 2020.
If you can't wait to get your hands on a new wall charger, Aukey also has a 56.5W USB C charger on sale for $21.99 at Amazon (a savings of $13). While it can't charge quite as many devices as the upcoming charger will be able to, you'll still be able to power up your iPhone 11, Samsung Galaxy phone or Macbook Pro no problem.
*****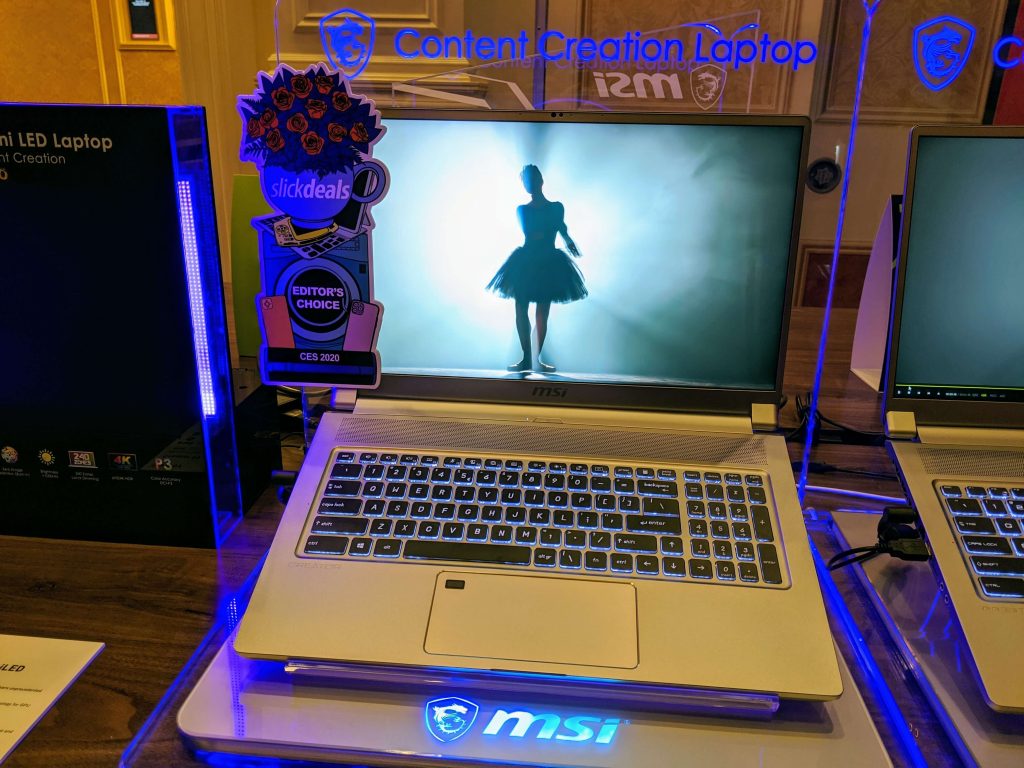 MSI Creator 17 miniLED Laptop
For very serious or professional photo, video and graphic designers, MSI's new Creator 17 laptop features a stunningly vibrant miniLED screen that delivers near-flawless color accuracy and more than twice the brightness of traditional laptop displays. Let's geek out over the screen specs: >1,000nits brightness, UHD4K HDR 1000, 100% DCI-P3 color space, 240 local dimming zones, zero image burn-in. If you know what any of those terms mean, then do yourself a favor and experience the Creator 17 in person. Watching Netflix in bed will never be the same.
The Creator 17 truly allows creative types to take their work on the road, no longer tethered to the professional-grade monitor at their desk. Of course, it also has the horsepower to support this impressive display, allowing configurations that include up to a 10th Gen Intel Core i9 processor, three M.2 SSD slots and the latest graphics processing technology.
Release date and pricing have yet to be announced, but you can bet that I'll be keeping an eye out for it. Papa needs a new "work laptop!"
*****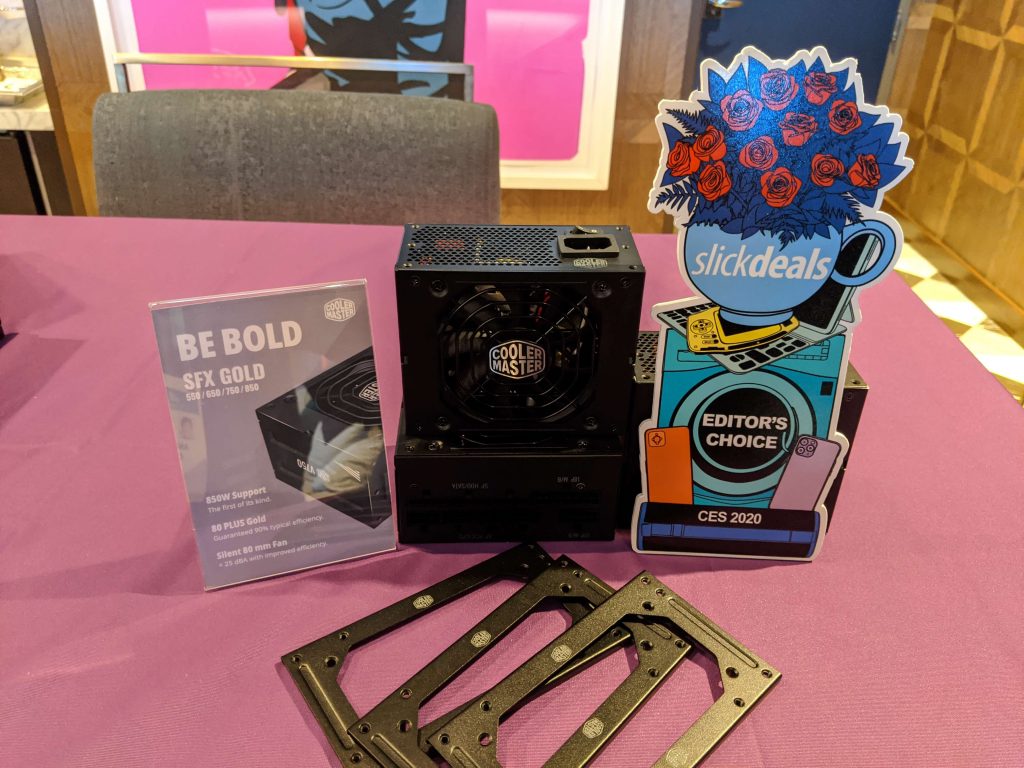 Cooler Master SFX Gold Power Supply
In a sea of RGB fans, liquid coolers and cases, the "boring-est" product caught my eye because of its power-to-size ratio. The new Cooler Master SFX Gold power supply unit (PSU) is the first of its kind to support 850W while maintaining its tiny size, which is about 60% smaller than a traditional PSU.
Meant for small form-factor PC builds, the SFX Gold is equipped with a silent 92mm fan, but it also comes with a free mounting plate for full-size PC cases — this use case is what gets me excited because as PC builders, we're constantly chasing the cleanest "museum" build, and having more available space means more flexibility for cable management and options to hide auxiliary controllers and such.
The new Cooler Master SFX PSU will be available around May 2020 with a starting price of $109, and comes in 550, 650, 750 and 850W variants. And with a standard 12-year replacement warranty, you can trust in the product's reliability — if for some reason it stops working, even in its 11th year, Cooler Master will send a new PSU with a new 12-year warranty. Sounds like a safe investment to me!
*****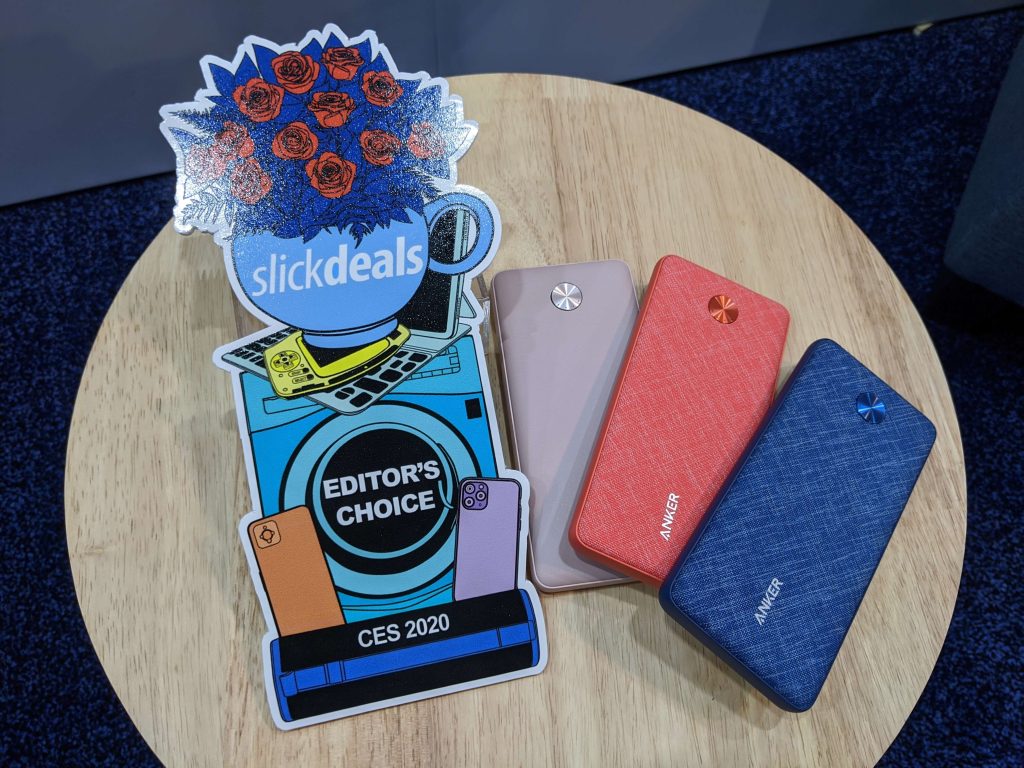 Anker PowerCore III Sense 10K Portable Charger
Gasp! A tech device that's not black, white or silver?! Be still, my heart! Anker's trusted PowerCore portable charger gets a nice refresh for 2020, featuring a slimmer and lighter design, 10,000mAh capacity, and also six daring color options for the premium exterior fabric finish.
The mini-USB port has be replaced with a USB-C input/output capable of 18W, meaning charging both your phone/device plus the battery bank itself will be much faster thanks to PowerIQ and Power Delivery (PD) technology. For smaller devices, like a smartwatch, the PowerCore III will automatically switch to trickle-charging mode for a lighter touch.
At last, I can be matchy-matchy with my burgundy Surface Pro. Expect these luxe-looking chargers to be available later this year for around the same price as its previous generation.
Want to pick up a new charger today? Anker also has a portable wireless charger on sale for $12.99 at Amazon. This little device can charge the majority of popular phone models, including most iPhones, Galaxy phones and Pixels.
Gaming and Peripherals — Editor's Choice CES 2020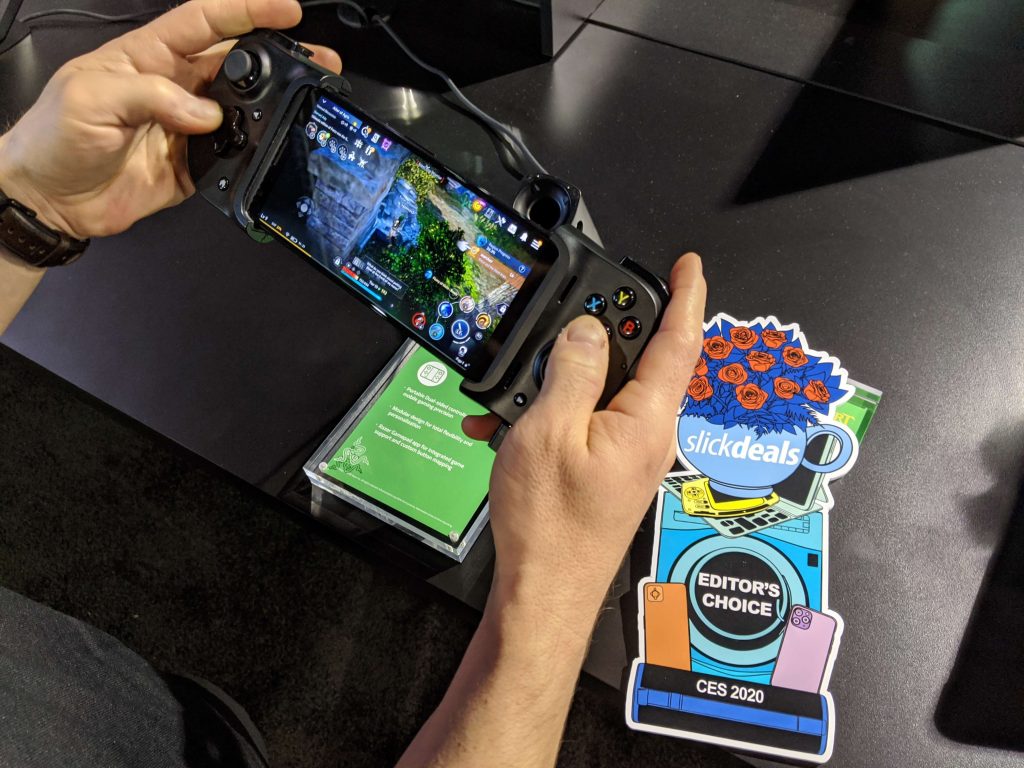 Razer Kishi Mobile Gaming Controller
As more gaming experiences move to the cloud, our smartphones are quickly becoming a convenient pick-up/put-down game console. And while the processing and streaming power is there, trying to play any type of game on a touchscreen besides Candy Crush is an exercise in frustration.
Enter the Razer Kishi, a universal mobile gaming controller that works with most Android and iOS phones. Yes, we've seen smartphone controllers in the past, but they've typically been tied to one single phone model, a la Moto Z Mods.
That's why, in my opinion, the Kishi offers way more real-world benefits, with its compact design, a hidden USB-C or Lightning connection, and pass-through charging ports. Then, throw in official support for GeForce NOW, Microsoft xCloud, and other streaming services, and you've got a legitimate alternative to the Nintendo Switch (in form factor and performance only — no one can replace Mario!).
RELATED: Xbox's xCloud Streaming Service Wants You to Play Console Games on Your Phone
The Razer Kishi mobile gaming controller (for Android or iOS) will be available in early 2020.
*****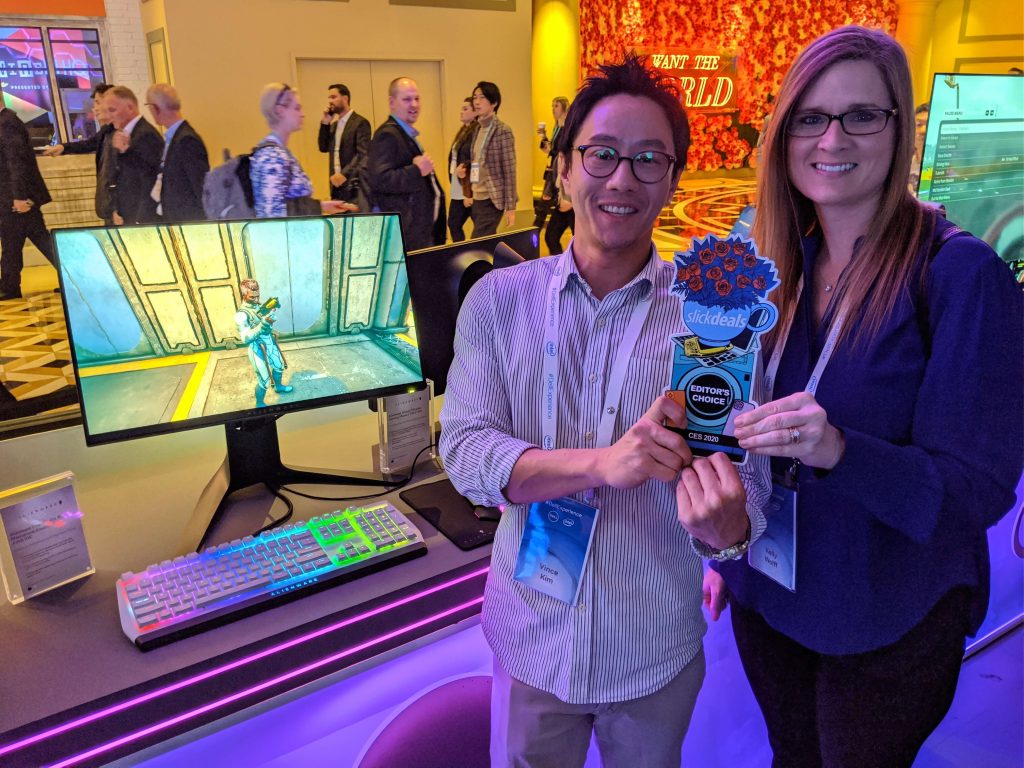 Alienware 25 Gaming Monitor
"No performance compromises." For me, this is what Alienware has always stood for, and the newest gaming monitor (AW2521HF) achieves exactly that sentiment.
Try not to drool too much over these specs: 240Hz refresh rate, 1ms response time, IPS panel with 99% sRGB color, native FHD resolution, FreeSync and G-Sync compatible, 3-sided borderless bezel, and AlienFX lighting.
Finally, we don't have to choose between high refresh rates and color accuracy. Play like the eSports pros, and then get creative with digital artwork using the same monitor. Plus, Alienware monitors like to go on sale often — 55 times last year, as recorded by Slickdeals.
The Alienware 25 Gaming Monitor — an official competition monitor of the LCS, LEC and League of Legends Global Events — will be available beginning March 11, 2020.
*****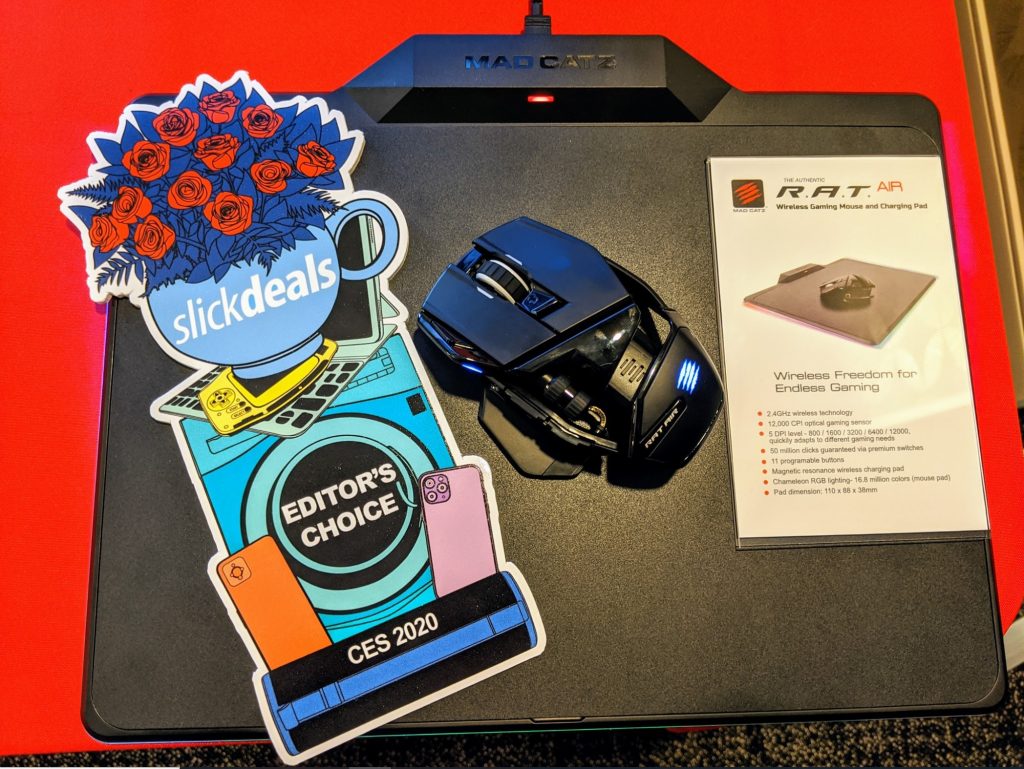 Mad Catz R.A.T. AIR Wireless Gaming Mouse
After a short hiatus due to financial challenges, the Mad Catz brand is back and under new ownership, with a renewed mission to make their products faster, lighter and better. And they're going hard right out of the gate because the company's take on a wireless gaming mouse is one I've never seen before.
The new R.A.T. AIR wireless gaming mouse features all the bells and whistles of a modern pointing device — 2.4 GHz tech, 12,000 DPI optical sensor, 50 million clicks, 11 programmable buttons, RGB lighting. But it stands out from the competition thanks to its dramatic weight reduction strategy — get rid of the on-board battery and rely on the included RGB charging pad to supply continuous power.
If you think about it, this move makes a ton of sense. I've gamed for years with a wireless mouse and have never taken it away from my desk. So, why include a long-lasting battery that will never really serve its purpose? As long as the R.A.T. AIR is touching or very close to the surface of the charging pad, it will receive uninterrupted power. And if you're one of those players with dramatic lift-off, the mouse will stay on for 15 seconds when away from the pad.
It's like having the best of both worlds — the lightness of a wired mouse and the unrestricted movement of wireless. You also still have the option of connecting a USB cable for competitive play, and the mouse pad surface is interchangeable/replaceable.
Seems like Mad Catz is ready to claw its way to dominance with the new R.A.T. AIR.
Wi-Fi and Smart Home – Editor's Choice CES 2020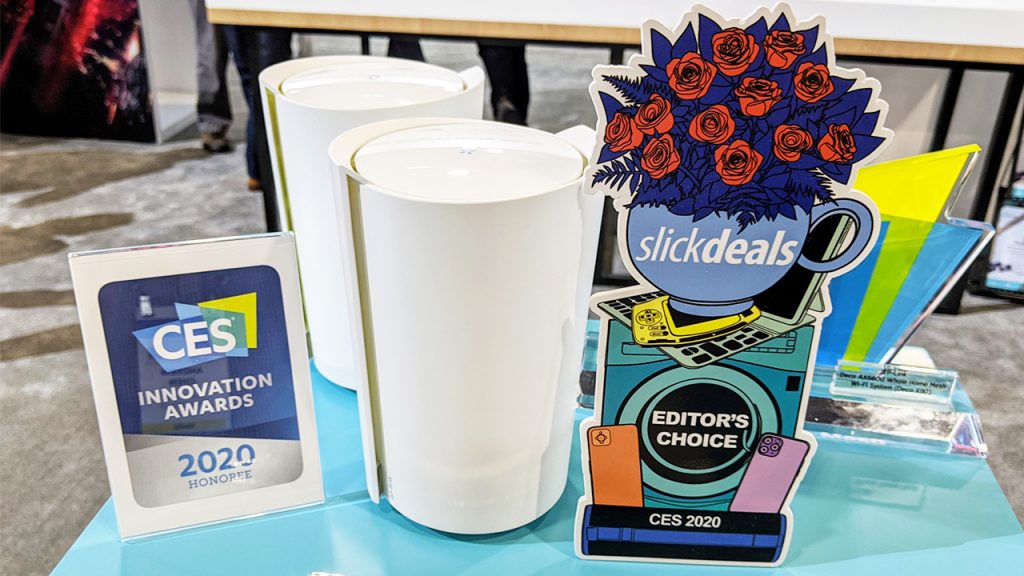 TP-Link Deco Mesh Family
TP-Link is well-known within the Slickdeals community for its low-cost high-performance Wi-Fi routers, and the company's newest family of Deco Mesh Wi-Fi networking devices further builds upon this winning formula.
Featuring the latest wireless standard called Wi-Fi 6, the Deco Mesh lineup consists of three models — X20, X60 and X90 — and each offers dynamic data management, multi-band support and wide signal coverage (up to 6,000 sq. ft with the X90).
Our previous experience with the Deco M9 removed dead zones in a small apartment when no other traditional router could. And now with AI-powered learning, the upgraded Deco mesh network will know when and where to make sure you have the best bandwidth and coverage, based on your usage habits. TP-Link is taking its affordability seriously, with the X20 2-pack priced at $189.99.
This is one of the best ways to upgrade to a Wi-Fi 6 mesh network, especially if you catch the bundle on sale through Slickdeals.
Home & Personal Care – Editor's Choice CES 2020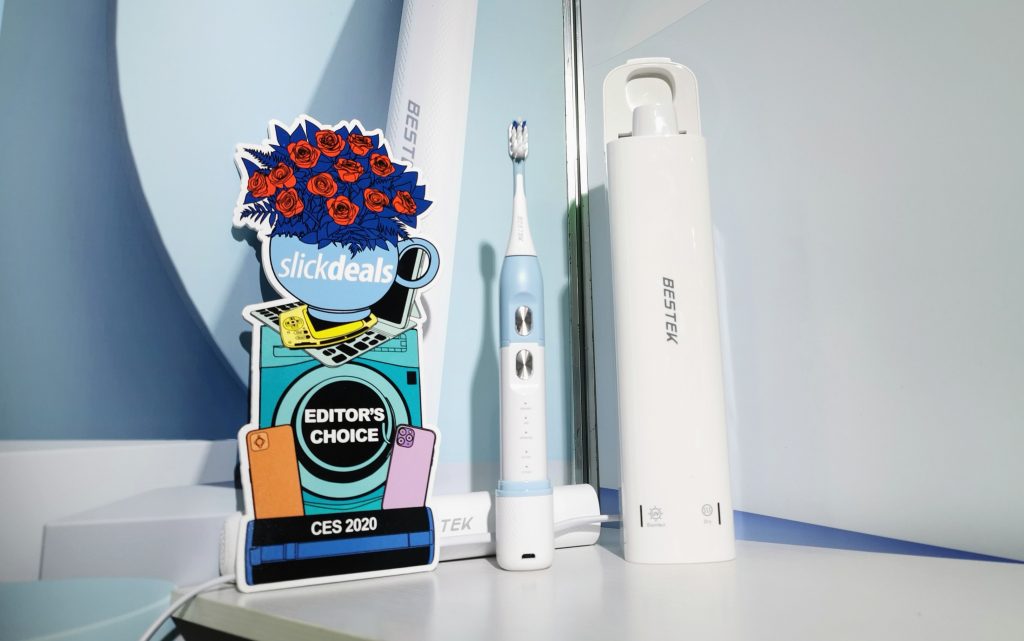 Bestek Electric Toothbrush + Sanitizer
So why is Bestek, a brand known for its power strips and power inverters, making an electric toothbrush? Well, for the same reason it started making power strips and inverters — it noticed a void in affordable yet still premium everyday essentials.
After nearly two years of in-house research and development, Bestek's first-ever electric toothbrush is ready to take Sonicare head-on (in fact, it's compatible with Sonicare brush heads) by offering a tech-savvy design and the performance you've grown to expect from today's top brands. Adjustable intensity and brush timer are a given, but Bestek's toothbrush excels in its portability and convenience. The flat-bottom charging base is also the cap for the slim travel case, and plugs in via any mini-USB cable. With a full charge, the battery can last almost a month with regular use.
But the best feature of all might be its price. The toothbrush by itself is expected to retail for $50 when it launches later this year, and adding the wall mountable sanitizer bumps the price to $60 for the bundle. Factor in the standard 24-month replacement warranty and you might be asking yourself, "Sonic-who?"
*****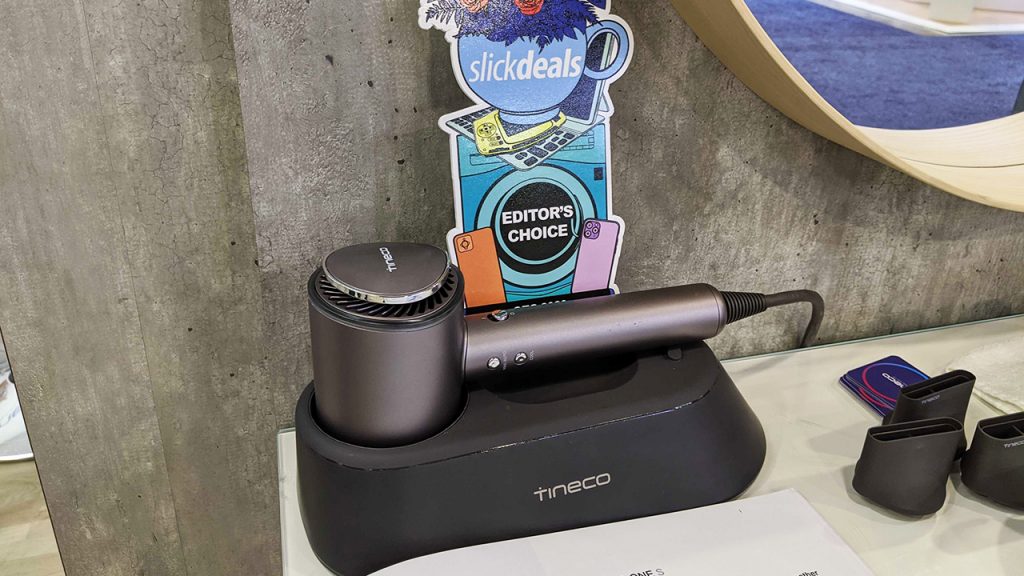 Tineco Moda One S Smart Hair Dryer
As someone who sets the hair dryer to "max heat" and then is confused as to why my hair is frizzy, coarse and puffy, I can appreciate the real-time moisture sensing capability of Tineco's Moda One S. Using a similar intelligent programming found in the brand's vacuum cleaners, the Moda One S automatically adjusts airflow, heat, and ionization based on how wet your hair is, and if there is indeed a person's head in front of it.
I was skeptical of the hair dryer's sensing accuracy, but was blown away (pun intended) when the Moda One S modified its heat and speed based on the dampness and density of however much hair I happened to have lifted for drying. Set the Moda One S down on the table, and the motor slows down to almost idle, barely pushing out a bit of room-temperature air.
According to the professional stylist who gave me a luxurious blow out, the Moda One S cuts down her hair drying time by about 20 minutes (she has thick, wavy hair). Oh, and did I mention that it comes with a variety of magnetic attachment tips for advanced styling?
*****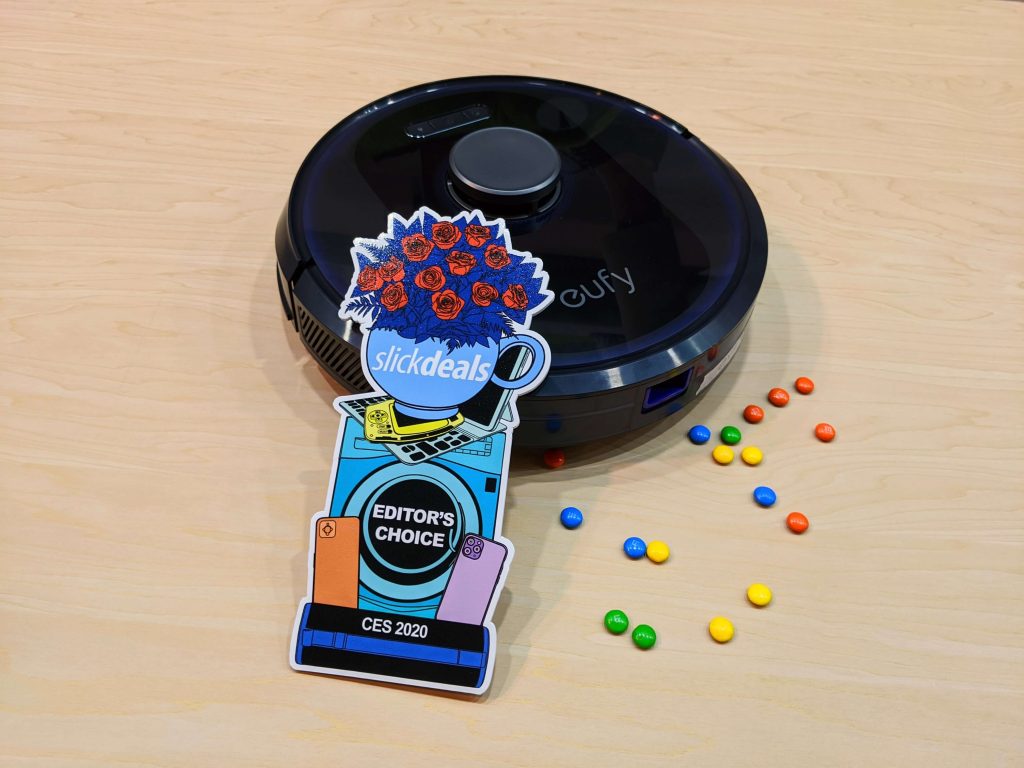 Eufy RoboVac G30 Edge & L80
We all know the feeling of running a robot vacuum all day, and then coming home to find that it left random patches of floor untouched because it decided to drive around in a random pattern. Eufy's RoboVac G30 Edge solves the erratic pathways by including a gyroscope and an optical flow sensor (to keep moving straight on dark carpet), so the little bot can stay true to its course and clean in a confident manner. A straighter path means better efficiency — it can clean the same space in about half the time.
If that's not enough accuracy for you, the Eufy RoboVac L80 uses an iPath laser system to scan the room in real-time, producing a virtual landscape that it will memorize over time. With its knowledge of your living space, you can use the app to set virtual boundaries or tell it to spot clean an area.
The future is here, people. The Eufy RoboVac G30 Edge will be available in March for $399, and the RoboVac L80 will be ready to scan your floors in May with a price tag between $450 and $500.
*****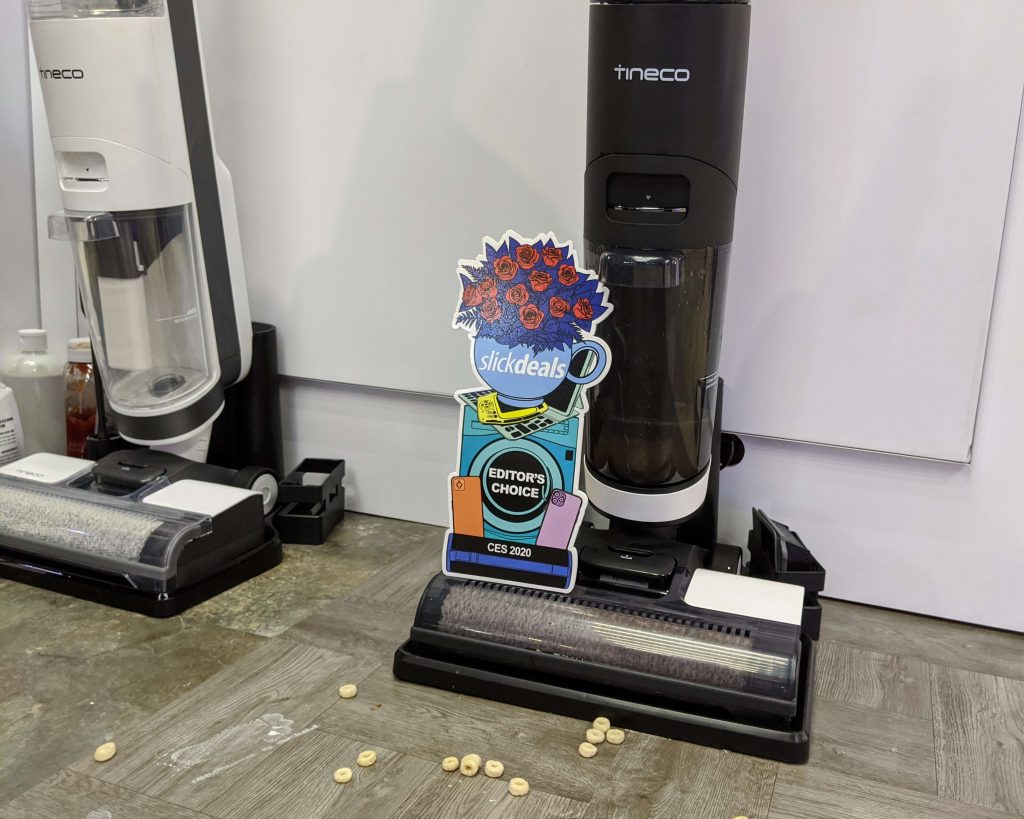 Tineco Floor One S3 Smart Wet Dry Vacuum
When you've got a big spill in the kitchen and a Swiffer WetJet just won't cut it, Tineco's Floor One S3 is ready to provide a deeper clean in one effortless move.
Functioning sort of like an automatic mopping system, the Floor One S3 applies water (and optional detergent) onto the dirty surface, optimizes brush roller speed, and then sucks everything back into a "dirty water reservoir," leaving the floor instantly dry and streak-free. Sound too good to be true? That's what I thought too, until it cleaned up a trail of ketchup that I had squirted onto the floor without leaving any evidence of moisture or stickiness. It'll even grab larger debris like cereal or candy — it's still a vacuum, after all.
RELATED: How to Choose the Best Tineco Cordless Vacuum
Just like Tineco's other smart cleaning solutions, the Floor One S3 features an available LED display that tracks power, battery levels, maintenance reminders and real-time performance. And when you're finished making quick work of messes in the kitchen, bathroom or other hard floor surfaces, you can dock the vacuum for charging, plus activate its self-cleaning feature. The system will automatically flush the tubes, brush roller and other internal surfaces to prevent weird smells or germs from building up.
It's just a short wait before you can start cleaning smarter, not harder, as the Tineco Floor One S3 looks to launch in Spring of this year.
Smart TVs – Editor's Choice CES 2020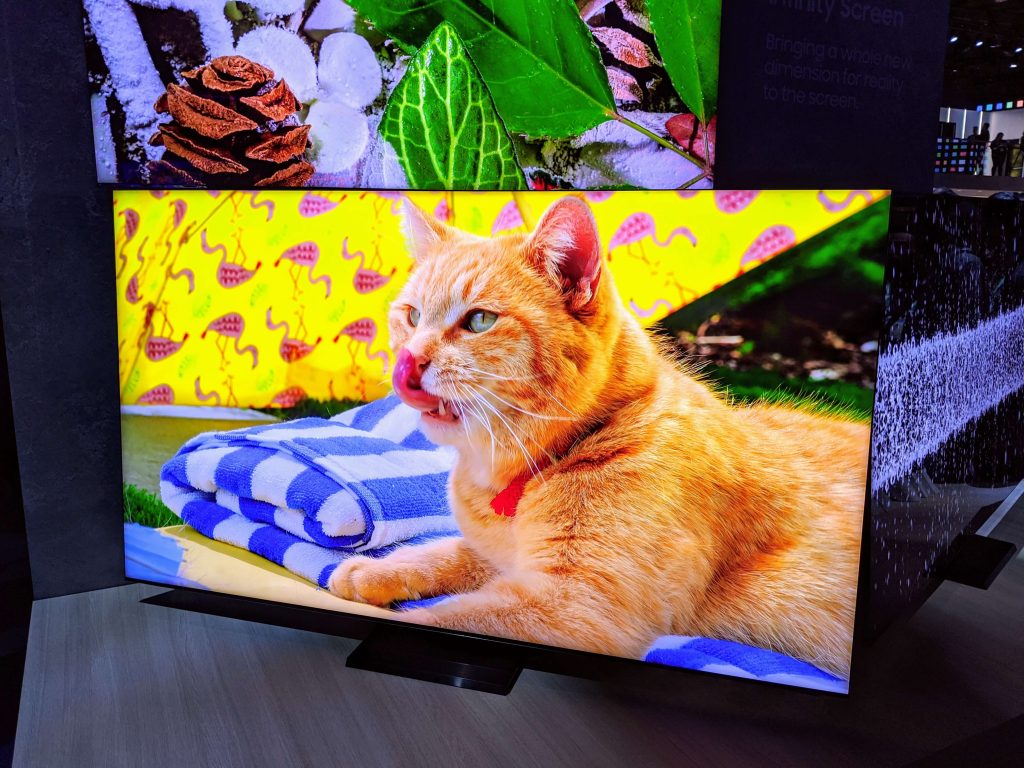 Samsung Infinity Screen
In a rare move, I'm choosing a feature not necessarily a product, but a design trend because who likes bezels anyways? We're used to nearly invisible edges on our laptop screens and computer monitors, so why not bring that look and feel to the display we spend the most time in front of — our TV.
RELATED: How to Find the Best Deals on 4K TVs in 2020
Here's to hoping that Samsung trickles this look down to its more affordable models in the near future.
Oh, the 8K OLED picture is pretty nice too. Ha!
Our editors strive to ensure that the information in this article is accurate as of the date published, but please keep in mind that offers can change. We encourage you to verify all terms and conditions of any product before you apply.