8 Common Plumbing Myths That are Costing You Money
Don't spend money you don't need to.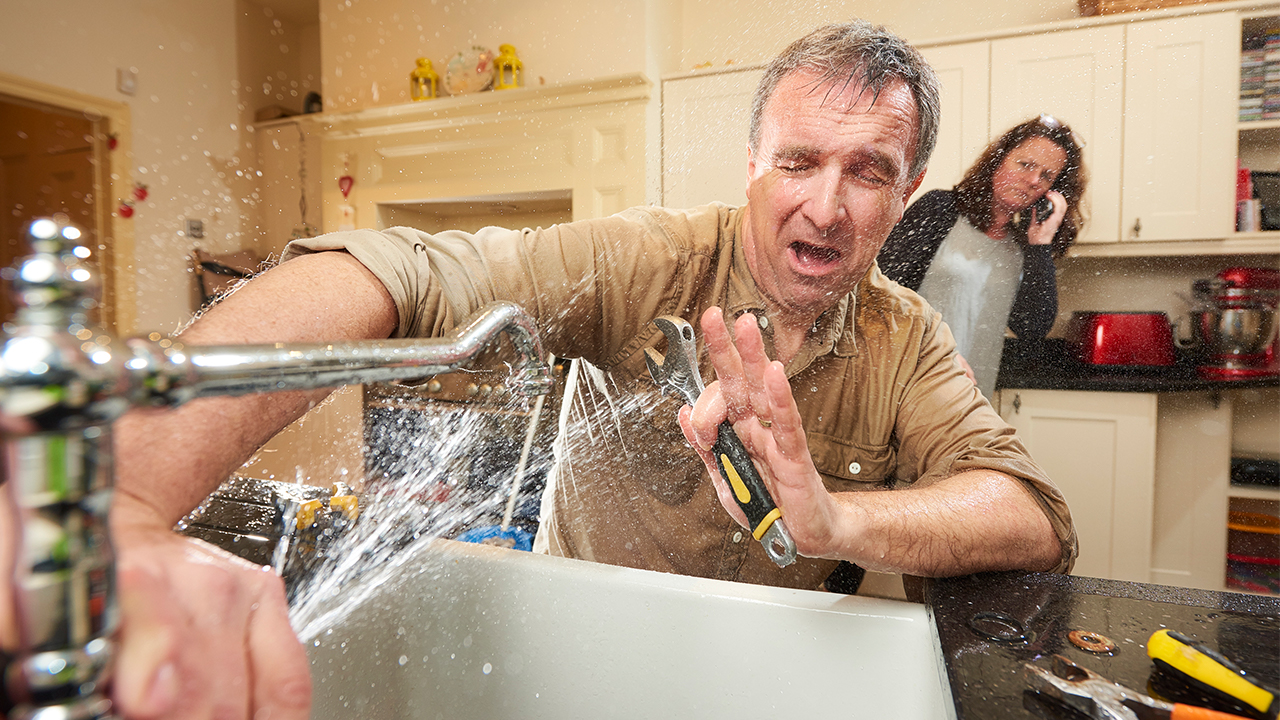 While there's a lot of common advice about your home's plumbing that is true — washing your clothes in cold water will save you money, for example — there's plenty of misinformation out there as well.
These eight common plumbing myths could be costing you money you don't need to spend.
8 Expensive Plumbing Myths
1. Flushable Wipes Are Flushable 

Many people like using flushable wipes for potty training toddlers, and to clean themselves, but just because the package says you can flush them, doesn't mean you should.
In fact, a study released in 2019 conducted by Ryerson University in Toronto, Canada tested 101 single-use wipes, and discovered that not a single one of them passed a flushability test. What's more, "flushable" wipes can actually cause clogs in your home's sewer system, resulting in potentially costly plumbing repairs.
According to Homeadvisor.com, it costs anywhere between $135-$302 for a plumber to clear a drain clog. Depending on how bad the clog could be, you might need to replace your pipes, which can be thousands of dollars based on the amount of work involved.
And, further down the system, these wipes can cause damage at sewage processing plants. The Ryerson study estimated an annual cost of $250 million for work related to removing blockages caused by flushable wipes across Canada. The bottom line? Put wipes in the trash, not the toilet.
2. Hot Water Down the Drain Will Help Unclog Grease 
In much the same way as drinking hot tea after eating a fatty meal won't help prevent cholesterol from building up in your arteries over time, pouring hot water down the drain will not help to unclog grease. No, not even if you add soap into the mix.
Using hot water in the garbage disposal can actually push grease further into the pipes, causing buildup and clogs. Plumbing professionals say you should never ever ever put grease down the drain, but instead collect it in a glass jar to be placed in the garbage, or in the garbage directly.
If your drain is only mildly clogged, you can try using a drain cleaner such as Green Gobbler, currently on sale for 20% off, to help keep things flowing smoothly, but you may need to call in a pro if it doesn't solve your problem.
Maintain your drains by clearing them on a weekly basis — simply fill your sink to the brim before pulling the stopper.
3. A Noisy Water Heater Needs Replacing

You might think a water heater that is rattling, rumbling and/or banging needs replacing, but that's not necessarily true. A noisy water heater could be the result of a buildup of sediment in the tank, caused from the various minerals in the water system.
Sometimes, a simple tank flush by a plumber is all you need to fix the problem, especially if your water heater isn't very old. A water heater flush might run you anywhere from $80-$100, whereas a new water heater could cost $400-$1,500.
4. A Leaky Tap Isn't That Big a Deal
You might not think that slow leak from your kitchen tap is that big of a deal — after all, how much water could a few drops really be? But that constant dripping adds up, it's about 5 gallons every day.
Fixing a leaky faucet can save you about 10% on your monthly water bill, and is a project most people can tackle themselves. All you need is a screwdriver or wrench and a new cartridge, along with a couple hours of your time.
5. Putting a Brick in the Toilet Tank Saves Money

This plumbing myth was popular when I was a kid — I remember hearing in school that filling the tank could help us save on our water bill, but this advice is misguided.
Putting a brick in the toilet tank could actually damage your toilet, or lead to flow interruptions. This damage and wear on your toilet might mean you have to replace it sooner than the average toilet lifespan of 15 years.
There are better ways to cut down on your water usage, including installing a dual flush toilet, or an affordable dual flush toilet conversion kit like this one by Fluidmaster which includes an adjustable water-saving toilet flapper at 60% off.
6. Most Plumbing Fixes are DIY Jobs
Sure, there are many plumbing fixes that are simple enough for even the most unseasoned DIYer, but there are many more tasks that you should leave to a professional.
If you try to do a job yourself that is complicated or beyond your skill set, you could end up with costly repairs if your DIY job goes wrong and you have to make an emergency call to a plumber.
7. Bleach Tablets Are Flushable

You might think that chlorine bleach is safe to flush, but that's just not the case. And while using a bleach tablet in your toilet tank might leave it smelling clean and fresh, it could cause more harm than good in the long term. In fact, bleach tablets are so effective that they can actually begin to degrade the working parts of your toilet, or even the toilet itself with prolonged use.
Also, less expensive tablets might break apart rather than dissolve, potentially causing a blockage that prevents the toilet from flushing properly — gross! Avoid this headache by sticking with a weekly cleaning schedule using a spray or liquid cleaner and a toilet scrub brush.
8. Ice Cubes Sharpen Garbage Disposal Blades 
It's a common myth that placing ice cubes in your garbage disposal will help to sharpen the blades. Garbage disposals actually don't have sharp blades, they have impellers which are blunt and grind things apart.
Putting ice down the disposal won't do anything to make the system sharper, but it will help to clean the impeller.
UP NEXT:
Our editors strive to ensure that the information in this article is accurate as of the date published, but please keep in mind that offers can change. We encourage you to verify all terms and conditions of any product before you apply.