Corsair's New K65 RGB Mini Is a Compact Keyboard With Big Ambitions
Corsair launches a new 60% mechanical keyboard for competitive gamers.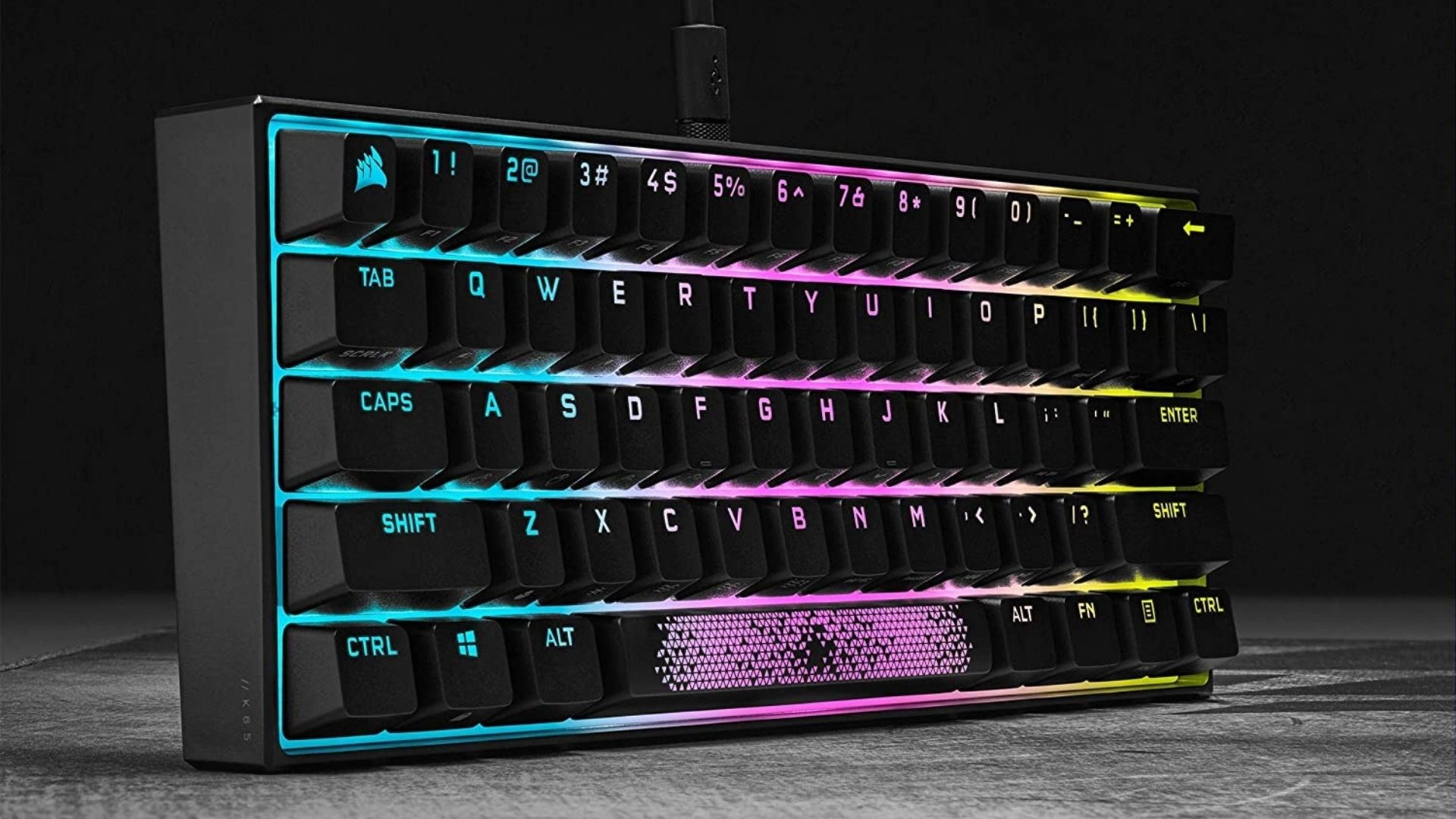 Much to the chagrin of devout arrow key lovers in forums everywhere, Corsair has entered the competitive arena of the premium, ultra-compact 60% mechanical keyboard with its K65 RGB Mini. And it's quite the looker.
Available now via the Corsair website and other retailers for $109.99, the new K65 Mini takes the already compact proportions of the old tenkeyless K65 keyboard and trims the fat even more by cutting out the arrow and function keys, the home cluster and dedicated media controls.
Despite its small size and minimalist design, the K65 is still a premium keyboard. High-end performance, custom macros, RGB lighting and other features are aimed squarely at competitive PC gamers who don't mind sacrificing physical keys in the interest of a cleaner, more portable frame.
Corsair K65 Mini 60% Mechanical Keyboard Technical Specifications

60% compact form factor
Detachable USB-C to USB Type-A USB cable connection
Per key RGB lighting
Up to 50 on-board custom macro profiles
8,000Hz polling rate
Cherry MX Speed keyswitches
1.2mm actuation distance
Customizable keycaps with ambient spacebar included
All Bases Covered

Corsair designed the K65 RGB Mini to accommodate the functionality of a full-size keyboard, despite the obvious lack of physical keys.
Of particular note is that Corsair stuck resolutely to a standard keyboard layout, rather than adopting an oddball layout to shoehorn in some arrow keys. This may infuriate internet commenters who lament the missing arrows, but the standard layout makes the transition to touch typing on your first 60% keyboard an easier one.
The K65 RGB Mini does just about everything it can to accommodate almost every input on a full keyboard by assigning them to secondary functions. These are intuitively printed on the user-facing side of the keys, and include media controls, system adjustments, lighting, macros and profiles. This makes for a comprehensive selection of input options, while keeping the upper faces of the keys clean and maintaining that minimalist look.
Corsair also went to town with custom macro options, providing instant access to two layers of macro recording via the FN keys (FN1 and FN2). And your custom macros can be saved to on-board memory, which can hold up to 50 user profiles.
A Fierce Competitor

The K65 RGB Mini backs its claim of being a keyboard for competitive gamers with a specs list to suit the task. The polling rate of 8,000Hz is exceptionally high. That's a maximum response time of just 0.25ms, which is an imperceptible amount of time. But the most competitive of you will appreciate every last advantage you can get.
The keys themselves are also designed with minimal input lag in mind. Cherry MX Speed switches provide a snappy 1.2mm actuation distance.
Of course, full N-key rollover with 100 anti-ghosting is a given in a keyboard of this high-end range. This means it will effectively transmit every single input during the most frantic gaming sessions, with no lost commands even when pressing multiple keys simultaneously.
Keeping It Simple

While most gaming keyboards tend to look quite busy, Corsair has opted for a minimalist design with the K65 RGB Mini. And we like it. The clean, blocky frame is free of bespoke knobs and dials, making for a mature yet premium-looking device.
The detachable USB cable is another growing trend that we fully support. It's not just a cleaner-looking alternative to the traditionally thick hardwired cables of old, it's also more convenient for quick setup and easy portability.
Full RGB control via the iCue Corsair software interface is present of course, with an included optional "ambient" space bar, for additional flair.

The K65 RGB Mini is also compatible with Corsair's PBT Double-Shot Pro Keycap Mod Kits. These come in a range of six colors and open the door to extra personalization. At $29.99, these keycap kits also ship with silicone O-rings for those who might want to dampen the clicking sound of the mechanical switches for stealthier typing.
Corsair's K65 RGB Mini is a small but feature-packed keyboard that goes head-to-head with the likes of Razer's superb Huntsman Mini. If we can all just forego allegiance to the almighty dedicated arrow keys, Corsair fans have one more choice for a premium, compact keyboard for their gaming rig.
---
Want to make sure you're getting the best prices on your gaming rig components? Set up a Deal Alert and we'll message you as soon as a new discount hits our forums.
Up Next:
Our editors strive to ensure that the information in this article is accurate as of the date published, but please keep in mind that offers can change. We encourage you to verify all terms and conditions of any product before you apply.