Fully Loaded CRAFTSMAN Tool Kit Is $100 Off Again
Expand your garage with a CRAFTSMAN multi-piece mechanic's tool box.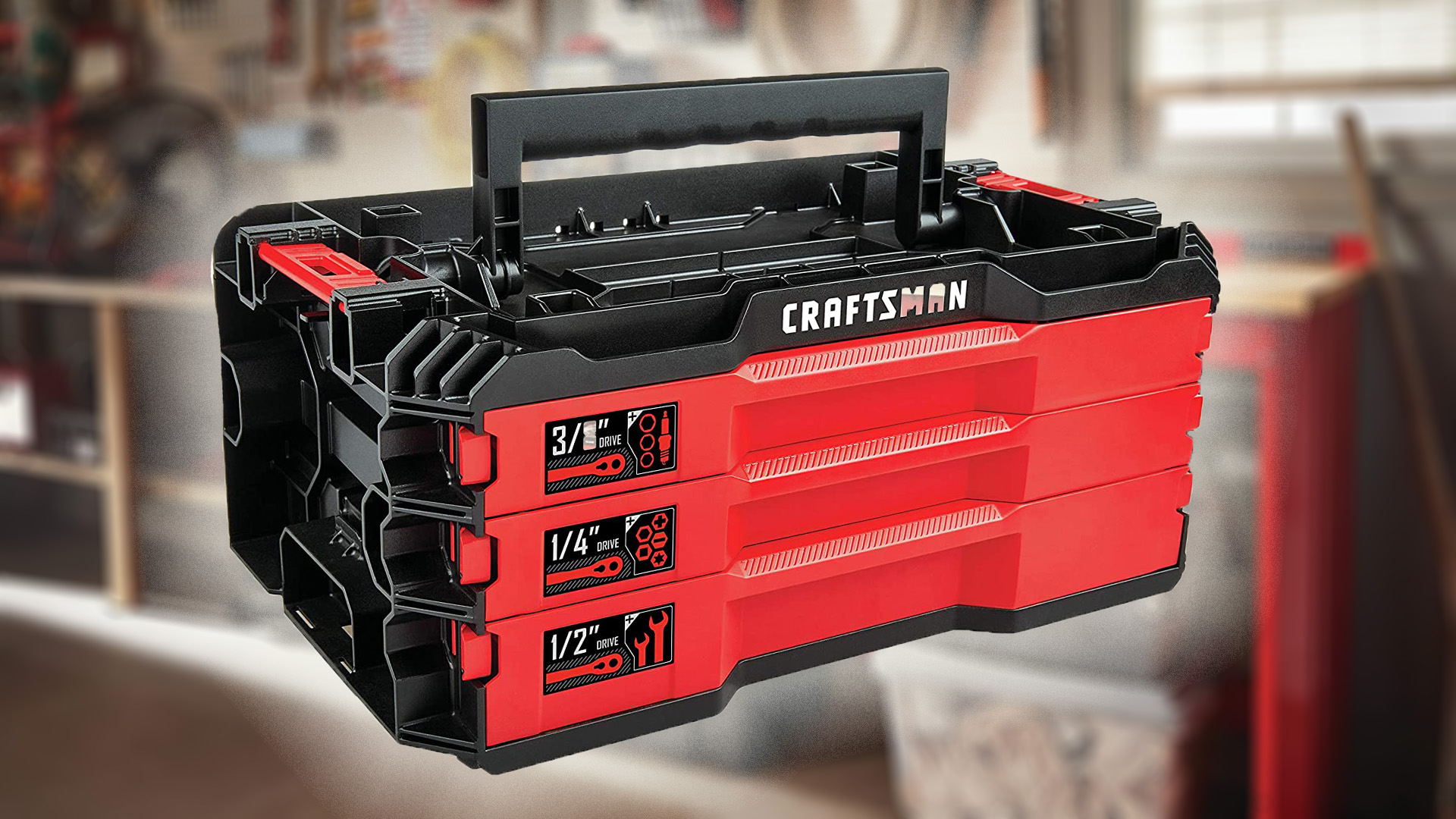 Select Lowe's stores have a 105-Piece Craftsman Standard & Metric Combination Gunmetal Chrome Mechanics Tool Set on sale for only $34.67 (Reg. Price $139) but you'll have to get to the store this time since this deal is valid In-Store Only. If you are a weekend warrior, hobbyist or aspiring professional looking for a great mechanics starter toolset, grab this deal before it ends.
Set Up a CRAFTSMAN Deal Alert Now
Editor's Notes & Price Research
Price Research: The $34.67 sale price is $104.33 Off (75% Savings) off the list price of $139.
Warranty: Backed by Craftsman's Full Lifetime Warranty.
Lowe's Return Policy: Most new, unused merchandise can be refunded or exchanged with proof of purchase within 90 days of the original purchase date
Deal Details:
Offer is valid In-Stores only, not available for purchase online
Availability for price and stock varies by location
If your preferred store does not have sale price, check surrounding stores
About this Tool Set:
Made for the auto-enthusiast, semi-pro, or do-it-yourselfer.
This set comes with 120-Tooth Quick Release Ratchets which provide maximum accessibility in tight spots.
With their slim head and 3Ð arc swing, you can get into narrow spaces with ease and quickly tighten or loosen a fastener.
Thanks to our Slickdeals community member sheltonfilms for finding and sharing this deal on Slickdeals and our on-staff Deal Editor slickdewmaster for the additional research.
---
The last time our deal hunters spotted a deal this good was in August of this year on a CRAFTSMAN 216-piece versastack 3-drawer mechanics tool kit with a three-drawer box with a discounted price that was the lowest price we have tracked so far in 2021. That last 216-piece toolset was on sale on Amazon (Sale Price: $119 | Reg. Price: $219), and also at Lowe's for the same price
---
CRAFTSMAN 216-piece Versastack 3-Drawer Mechanics Tool Kit
Previous Sale Price: $119 was 46% Off
Check Current Price

Save on Tool Set From a Trusted Brand
CRAFTSMAN has been dedicated to making reliable, effective and affordable tools that home builders, homeowners, auto enthusiasts and master mechanics can trust for over a century. You won't be disappointed with your purchase that has all the necessary mechanics tools in one set.
Slick Tip: Slickdeals users who bought these tools and similar in the past claim that if one of your tools breaks, you can easily have it replaced by the original retailer or CRAFTSMAN.
Buyers Are Enthusiastic About This Durable CRAFTSMAN Mechanics Tool Kits
If you've been searching for a small yet handy mechanic's toolset, one Slickdealer who bought and used a Craftsman tool set shared, "I picked this one on Lowe's last week for $120. It is a good set, it has everything you will need for regular car projects. The tools are well made, very heavy pieces. The case is made of plastic, but a strong plastic. I highly recommend it." Another commented, "This is a very good kit. A great starter that isn't too small."
Set a Free Deal Alert For Anything You Want to Buy
Looking for something in particular? Set a Deal Alert for FREE and Slickdeals will notify you as it goes live. Sign up with just an email to start seeing deals right away. Let us know what you want to buy, and Slickdeals will send matching deals to your email or a notification on your smartphone as soon as that exact item is on sale.
Slick Tip: To receive alerts only for the very best sales and the absolute largest discounts, select "Popular" or "Frontpage" in your Deal Rating filter.
Set Up a CRAFTSMAN Deal Alert Now
Missed this Deal? Let Our 12 Million Deal Hunters Find You the Lowest Prices
Slickdeals has the largest deal-sharing community in the world, so you never have to pay full price. Founded 20 years ago as a place for people to share and discuss deals online, the website has grown to include more than 12 million users. And the Slickdeals app allows you to search and find deals on the go.
Download the Free Slickdeals App
How Slickdeals Works:
Slickdeals members (over 12 million strong) find, post and share deals, sales, coupons and promo codes
Every deal gets reviewed by the community and goes through a voting system
Good deals get moved up to Popular Deals (Pro Tip: This is where you can find the hidden gems)
Then, the best of these Popular Deals are screened by our Deal Editors to be considered for the Slickdeals Frontpage
Only the very best of the top deals are promoted to the Frontpage, so check it daily or as often as you can online or on the app
More great deals:
Our editors strive to ensure that the information in this article is accurate as of the date published, but please keep in mind that offers can change. We encourage you to verify all terms and conditions of any product before you apply.