Ditch the Wall Outlet and Protect Your Privacy with a Portable Charger
Avoid Compromising Your Private Information by Being Self-Sufficient.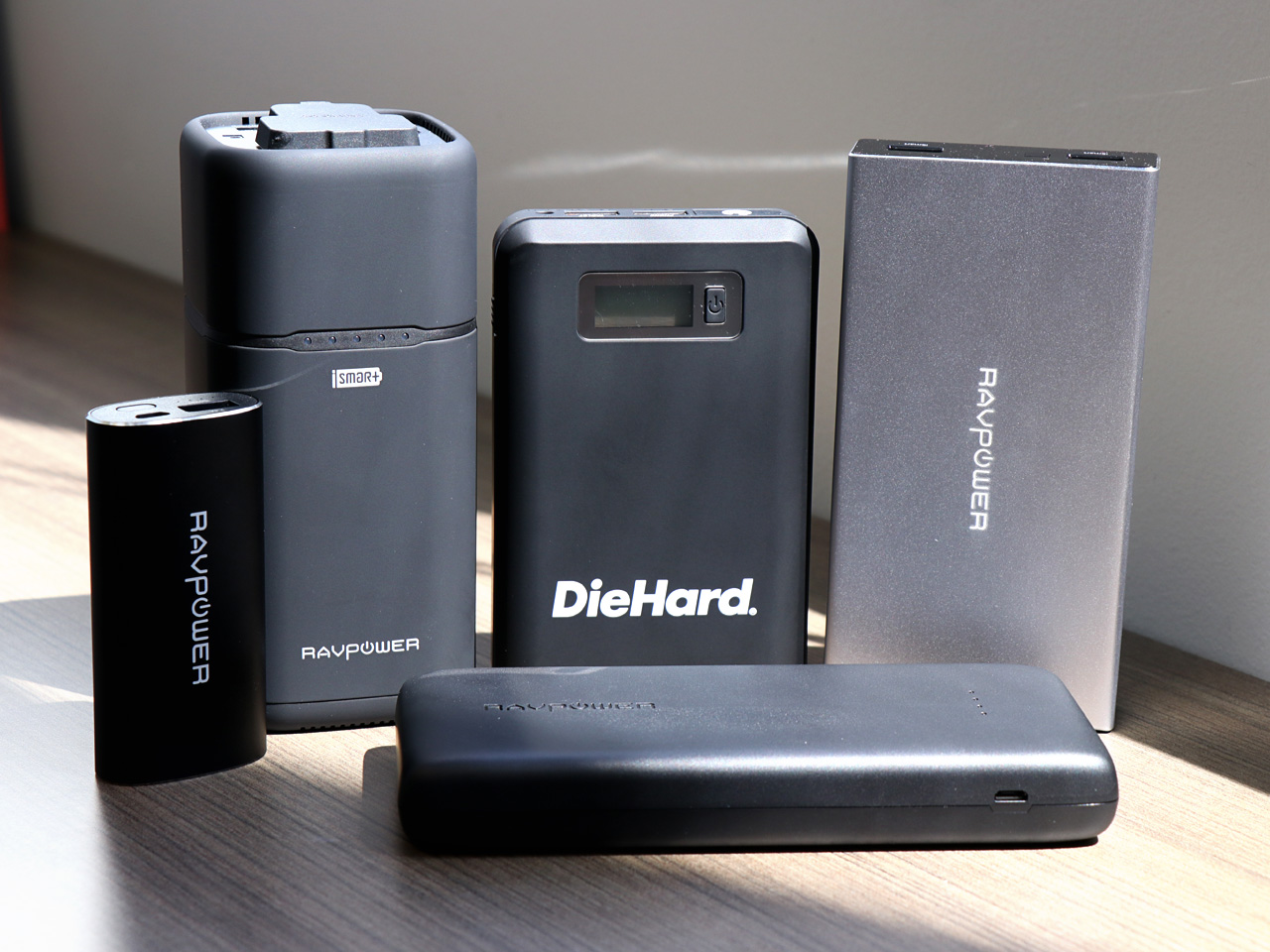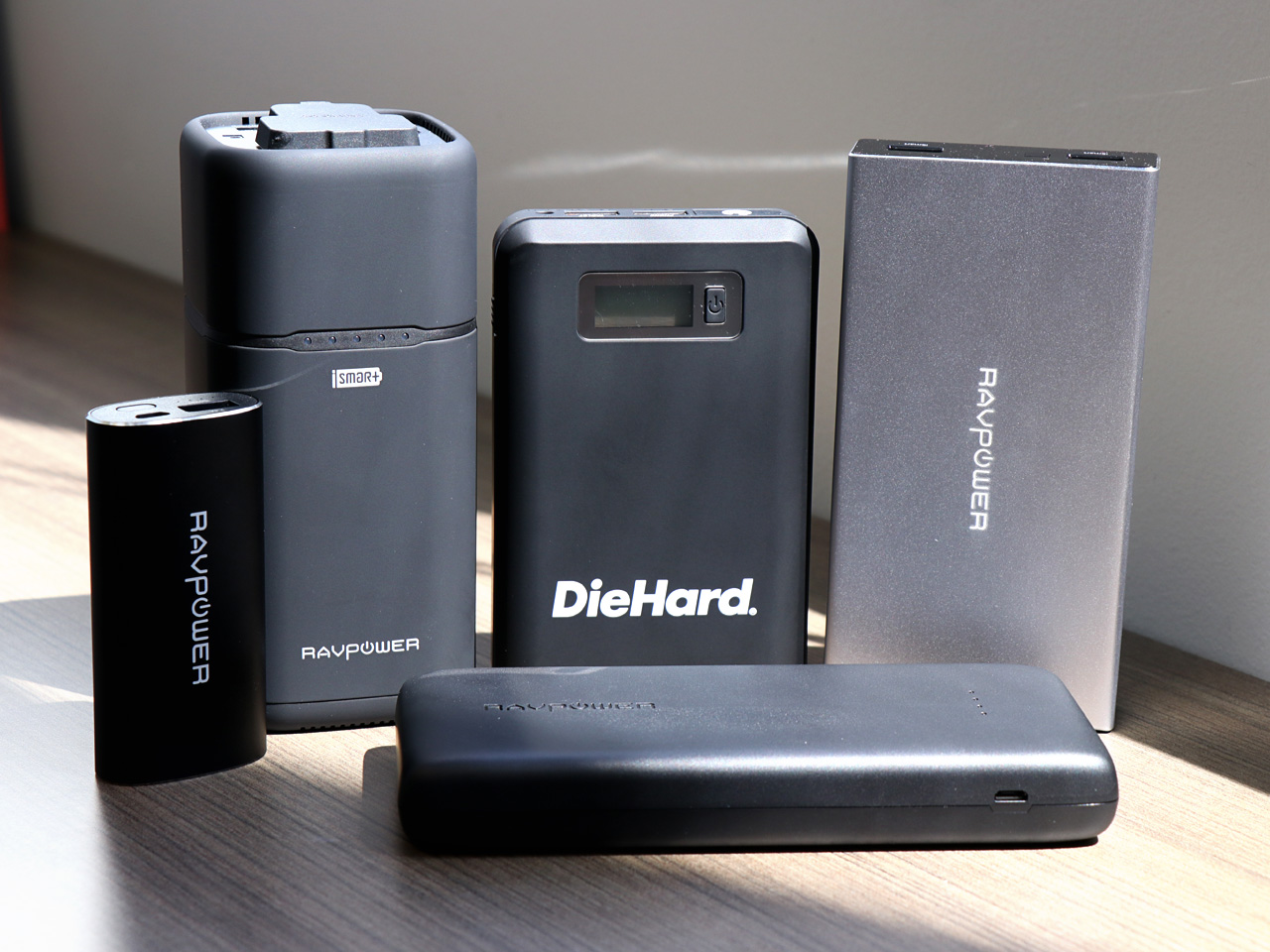 Do you frequently plug in your cell phone to public charging stations for a quick top-off or recharge? Well, you may want to reconsider doing that as recent reports have found that hackers can steal just about everything on your phone — email, text messages, contacts, and photos — when you plug in to a compromised public charging station because your USB charging cable is also a data transfer cable. If a charging port has been modified to transmit data, there's no telling what information could be extracted from the phone without your consent.
One of the best ways to eliminate this risk is investing in a portable external battery. Not only do you get to recharge while you go about your day, it also gives you peace of mind, knowing that your data and privacy are protected. Certain power banks can even jump-start your car!
We reached out to RAVPower and DieHard — both trusted battery manufacturers — and they graciously sent us samples of their most popular external batteries so we could explore the different options, use cases, and features.
What to Look for When Shopping for a Portable Charger
The three most important specifications to pay attention to when shopping for a portable charger is physical size, maximum power output (measured in Amps) and capacity (measured in milliamp hour or mAh). You'll want something that's easy to carry and also has enough juice so you're not constantly plugged in to the device meant to provide back-up power.
For reference, an iPhone 7 has a battery capacity of 1,960 mAh, so a portable charger with a capacity of 4,000 mAh can fully charge an exhausted iPhone 7 twice. Power output (Amps) directly affects how fast your device charges, and the standard iPhone 7 charger, which outputs power at 1.0 Amp, brings the battery from 0% to 100% in about 2 hours. Using a portable charger with a higher power output of say, 2.4 Amps, will accomplish the same task in much less time.
Another characteristic to look for is how well the external battery holds a charge while not in use — poorly made batteries will quickly lose their charge when not being used. There's no way to identify this quality without experience, which is why sticking with widely-used and trusted brands is important — RAVPower chargers are often featured on Slickdeals' Frontpage with high ratings from the community.
Compact and Discreet

RAVPower RP-PB17
Capacity: 6,700 mAh
Max output/charging speed: 2.4 Amps
Dimensions: 3.5 x 0.91 x 1.69 inches
Price: Seen on Slickdeals for $7.99
The RP-PB17 is a lightweight (4.8 oz) and convenient charger that you can stash just about anywhere. It's small enough to fit comfortably in the front pocket of pants, and the low-profile design allows it to fit in the often-tiny center console compartments of a car. You'll get about three and a half full charges of an iPhone 7 with the RP-PB17 — this is a great just-in-case charger for your cell phone, tablet, or small accessories.
Charging with Friends

RAVPower RP-PB052
Capacity: 22,000 mAh
Max output/charging speed: 2.4 Amps x 3 ports
Dimensions: 6.50 x 2.76 x 0.94 inches
Price: Seen on Slickdeals for $19.99
You can stop fighting over a single power outlet because the RP-PB052 has the ability to charge three devices simultaneously, using iSmart 2.0 technology to efficiently manage power output and heat. Because of the larger form-factor and heavier weight of the RP-PB052, it's better suited for people who are constantly on the move and carry their personal belongings with them in a backpack, purse, or briefcase. With its whopping 22,000 mAh capacity, the RP-PB052 can charge an iPhone 7 over 11 times or a 12.9″ iPad Pro just over two times.
Designer Chic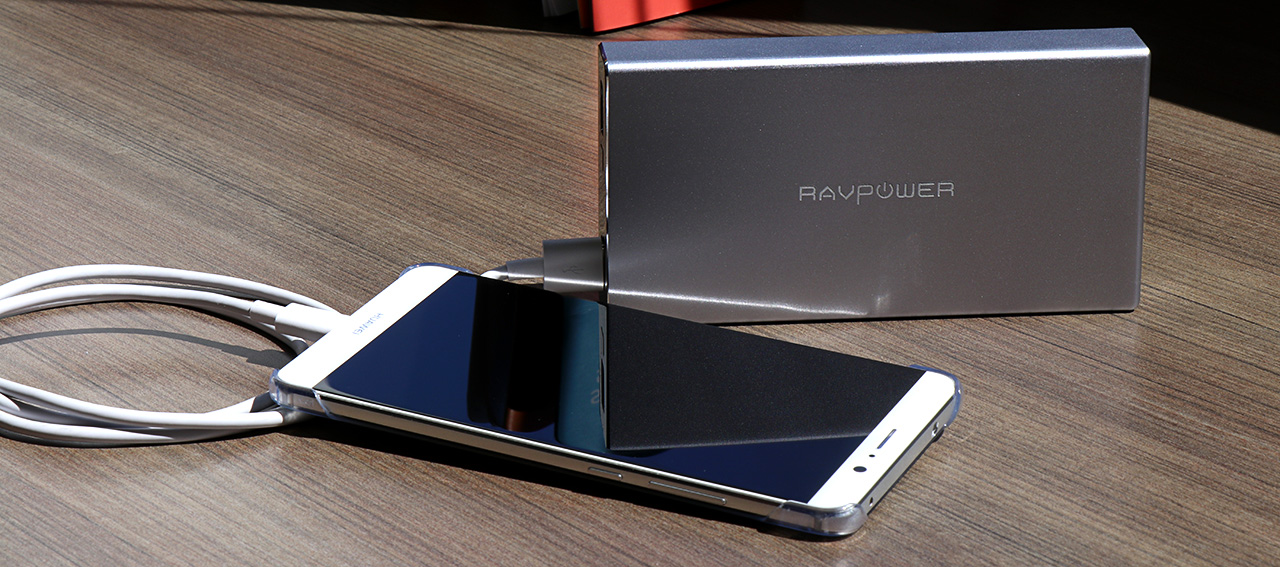 RAVPower RP-PB062
Capacity: 20,100 mAh
Max output/charging speed: 2.4 Amps x 2 ports
Dimensions: 5.75 x 2.95 x 0.91 inches
Price: Seen on Slickdeals for $41.99
No one said your portable charger had to be only utilitarian, which is why RAVPower teamed up with the legendary Studio F.A. Porsche — founded by the designer of the original Porsche 911 sports car — to create an elegant power bank made from a single piece of cast metal. If you have other silver-colored devices, the RP-PB062 makes for a nice aesthetic pairing while delivering almost four full charges for the new Macbook and just over 10 charges for an iPhone 7. You can charge your laptop and phone simultaneously with the dual USB ports.
Household Voltage On-the-go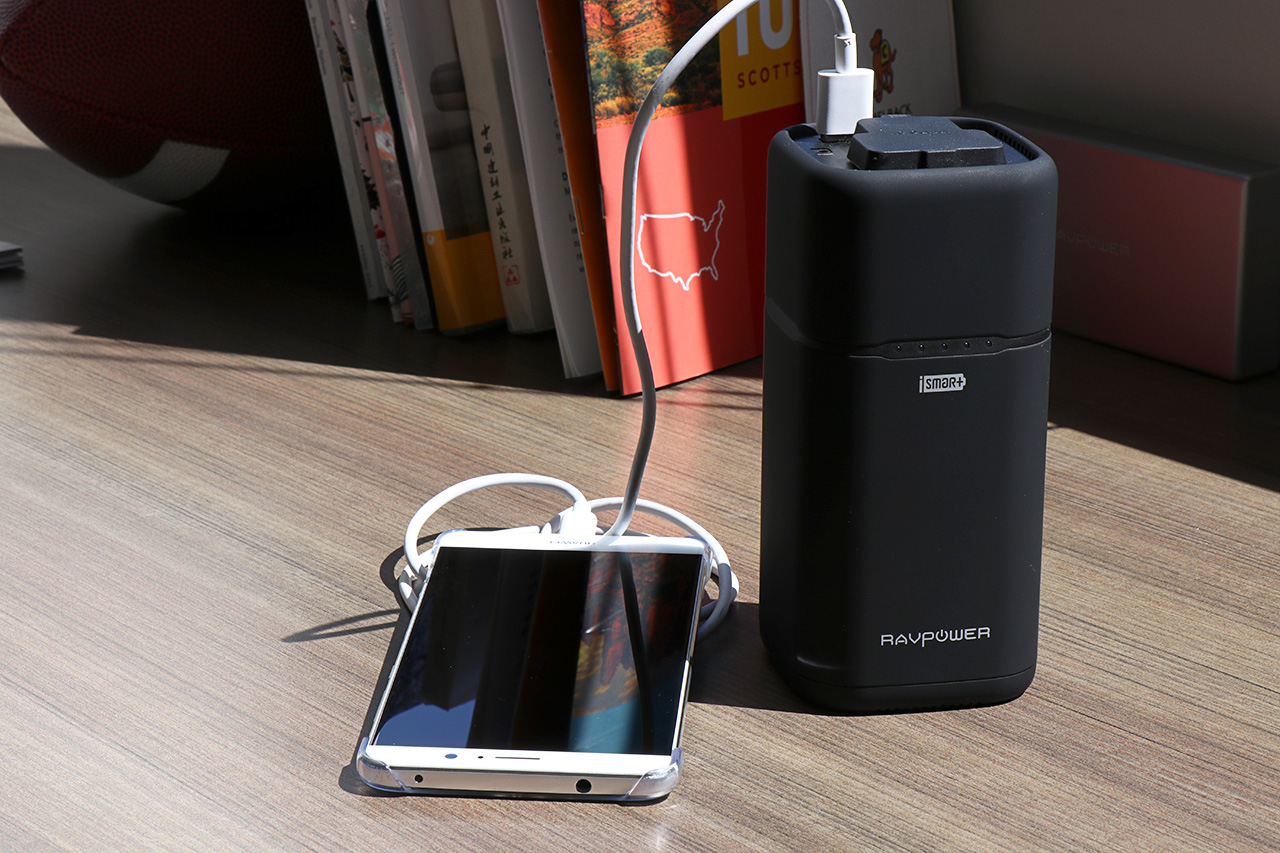 RAVPower Power Station RP-PB054
Capacity: 20,100 mAh
Max output/charging speed: 2.4 Amps via USB 2.0, 3 Amp via USB-C, 65 Watts via AC Outlet
Dimensions:  5.71 x 2.56 x 2.56 inches
Price: Available at Amazon for $135.99
With the Power Station's 110V three-prong AC outlet, you can now charge or operate larger devices and appliances (up to 65 Watts) anywhere! Power up a printer or fan at your mobile workstation, or recharge your drone or remote-controlled car to extend your play time outside. The Power Station also features outlets for traditional USB and the faster charging USB Type-C, and comes in a sturdy travel case to keep the various charging cables organized. You can stay out on your adventures even longer knowing that you've got household voltage nearby — perfect for camping, outdoor photography, or country-side getaway.
Cranking Power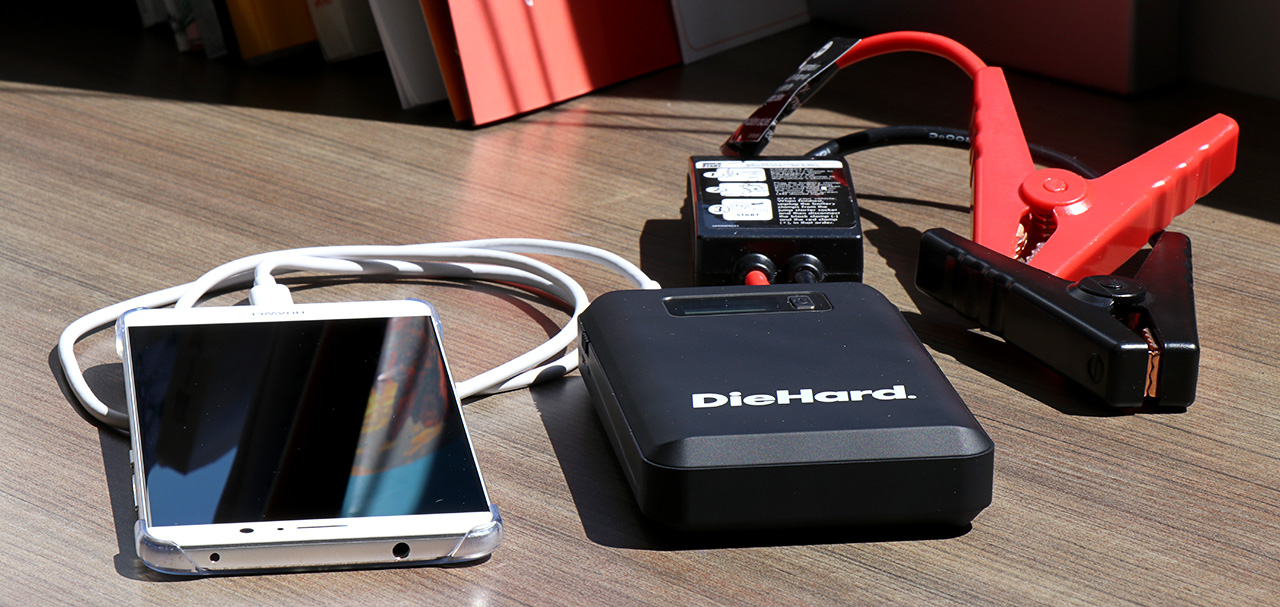 DieHard Compact Lithium Jump Starter
Capacity: 8,000 mAh
Max output/charging speed: 2.1 Amps
Dimensions: compact
Price: Available at Sears.com for $52.49
One of the best features of Lithium-ion portable batteries is their small form-factor, and DieHard's Jump Starter adds automotive battery cables to its compact charger to provide convenient emergency cranking power. Stow the battery and smart jumper cables in your glove box and travel with confidence. The DieHard Jump Starter features 400 peak cranking Amps — enough to turnover most engine starters — and can charge an iPhone 7 four times. It also comes equipped with a flash light that can strobe and signal S.O.S.
*****
Regardless of capacity, form-factor, or functions, these portable battery packs all offer the same thing: the freedom to live your life on-the-go, un-tethered from the wall and free of low-battery anxiety. With the possible threat of identity theft thrown into the mix, there's really no reason not to have a portable power bank in your life.
Our editors strive to ensure that the information in this article is accurate as of the date published, but please keep in mind that offers can change. We encourage you to verify all terms and conditions of any product before you apply.