Don't Be a Victim of Black Friday Shopping Frenzy
Want to survive the madness of Black Friday? It's time to get prepared.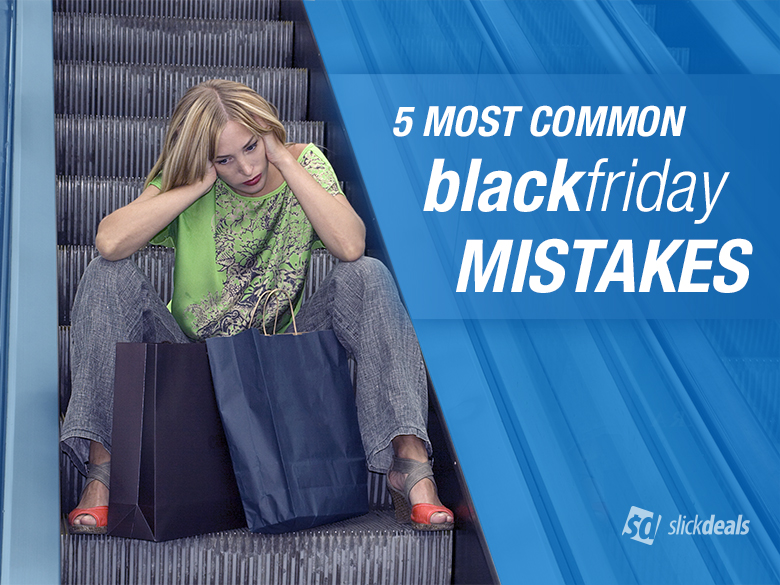 During Black Friday, retailers are hoping for hoards of people to rush into stores with their minds off and wallets open. But here at Slickdeals, we all know not to let the hype and excitement cloud our judgment.
For those looking to brave the crowds on the craziest shopping day of the year, here are some common mistakes to avoid so that you can have a successful and value-packed Black Friday shopping experience.
1. Don't Use Cash, Checks or Debit Cards to Make Purchases
If you have the discipline to pay off your monthly balances on time — and not overspend, of course — it's better to make your Black Friday purchases with a credit card since many of the popular ones come with additional benefits, like purchase protection and/or price protection.
We've seen Black Friday items get an even bigger discount in December, just outside of a store's standard return policy, and a credit card's price protection perk can cover the difference, even if the store won't offer a price adjustment or accept your return/exchange.
Purchase protection gives you peace of mind by offering a safeguard against theft or damage of your hard-fought deal item — it's much easier for a thief to break into a car or house than a retail store with heightened security, so it's best to be prepared.
2. Don't Go Browsing the Aisles
It feels like the entire store is on sale during Black Friday events, so do your homework. Study the available Black Friday ad scans before the big day to hone in on the best of the best deals.
Walking into the store with the intention of browsing will undoubtedly leave you overwhelmed and empty-handed as all the hot items fly off the shelves while you were perusing a different area of the store.
To help you make a winning play, we've got preview ads from all of the top stores in our Black Friday hub, complete with curated items from our savvy community.
Visit the Slickdeals Black Friday Hub
3. Don't Buy on Impulse
The goal of most retailers during Black Friday is to get you into the store, and then bombard your emotions and your FOMO with "limited-time deals," hoping you buy first and think later (or not at all).
Don't fall for this age-old tactic! Equip yourself with the Slickdeals mobile app and perform a quick price history search before you make a purchase.
Go ahead and put what you want in your shopping cart, then pull over into a quiet corner and use the Slickdeals app to verify that each purchase is a good one — if it's something worth buying, it has probably appeared on Slickdeals before.
4. Now is Not the Time for Loyalty
We all have our favorite retailers, but with so many stores offering similar products and pricing, the biggest difference is often the bonus store credit offered with select purchases.
For example, you may have a Target REDcard, but the same purchase might net you $60 in Kohl's cash. With both Target and Kohl's offering largely the same products, are you better off shopping at Kohl's this one time for the bonus $60 in-store credit?
Leave your loyalties and allegiances at home during Black Friday as you hunt for the best bottom-line.
5. Don't Be Fooled by the Low Price
Black Friday doorbuster deals are designed to blow your mind based on the price alone, but oftentimes, these products are derivative models that are produced only for the holiday season and lack many features. How else do you think they get the price so low?
Be sure to research the exact model number on things like 4K TVs and other electronics to ensure whatever product you're looking at has all the features you need. You can also see what the Slickdeals community has to say about any doorbuster deals on our Black Friday hub.
*****
Keep an eye out for Black Friday news on our blog, where we will be reviewing some of the most popular ad scans for 2019. You can also download the Slickdeals app on iPhone or Android to get push notifications when your favorite stores release their Black Friday ads.
---
ncKxk_Yhu_A
Our editors strive to ensure that the information in this article is accurate as of the date published, but please keep in mind that offers can change. We encourage you to verify all terms and conditions of any product before you apply.