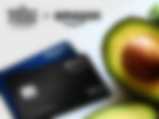 Calling all Amazon Rewards Visa cardmembers! From Dec. 17 through Dec. 24, you can earn double rewards at Whole Foods Market -- and we're showing you how to take advantage of the savings.
Get up to 10% Cash Back with the Amazon Whole Foods Discount

This exclusive offer for Amazon Rewards and Amazon Prime Rewards Visa cardholders is valid on purchases made at most Whole Foods Market stores, as well as Whole Foods Market 365 locations. Cardmembers will receive double rewards on the first $400 they spend at Whole Foods Market, and will then receive the standard cash back percentage on all remaining purchases. You can also combine this deal with current markdowns for Prime members at Whole Foods Market, as well.
Note that gift card purchases are excluded from this promotion, and you won't earn double rewards on purchases made via Amazon.com, Prime Now, international Whole Foods Market sites, or third-party sellers who may sell Whole Foods Market-branded products. Shop anytime between 12 a.m. ET on Dec. 17 and 3 a.m. ET on Dec. 25 to earn your rewards.
How Much Cash Back Will You Earn?
The total amount of cash back you'll earn is based on the type of Amazon Rewards Visa card you have:
Amazon Prime Rewards Visa cardholders with an active Prime membership earn 5% cash back at Whole Foods Market. That means they'll earn an impressive 10% cash back during the promotion (or $40 maximum).
Amazon Rewards Visa cardmembers without an eligible Prime membership earn 3% cash back at Whole Foods Market. That means they'll receive a grand total of 6% cash back during the promotion instead.
To qualify, make sure that your Amazon Rewards Visa card is loaded onto your Amazon.com account. According to Amazon's website, "cardmembers must be approved and have their Amazon Rewards Visa card in hand before the promotion end date in order to take advantage of this offer."
Special thanks to kaengle for posting this deal on our forums!
threadID: 12402820
Learn More About the Amazon Prime Rewards Visa Card
*****
Do you have an Amazon Rewards Visa card? If so, do you plan on taking advantage of this limited-time Amazon Whole Foods discount? Let us know in the comments!
Images courtesy of Amazon.
---
Any product or service prices/offers that appear in this article are accurate at time of publish, and are subject to change without notice. Please verify the actual selling price and offer details on the merchant's site before making a purchase.