The 2nd-Gen Nest Hub is now an Even Better Bedside Assistant
New improved model features sleeker looks, better sound and advanced sleep tracking tech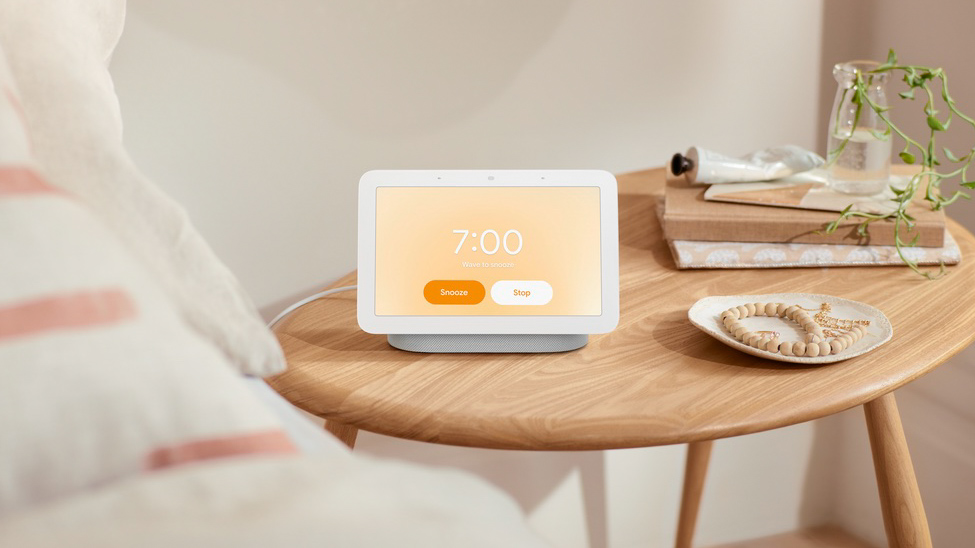 Google has revealed the second-generation Nest Hub, with a host of improvements aimed at making it a significantly better companion during both the day and at night.
Coming two years after the release of the first Nest Hub, the new smart display introduces a more modern design, better sound, faster voice recognition and improved motion control gestures.
But the biggest step forward in the new Nest Hub is its advanced sleep tracking technology. It promises to deliver effortless, automatic sleep detection, and then compile the data into a trend so you can use it to inform improvements in your sleep habits.
Google Nest Hub (2nd Gen) Technical Specifications
7-inch touchscreen display
Google Assistant voice recognition
Quick Gestures motion detection
Advanced sleep tracking via Soli radar
Three microphones
Built-in machine learning processor
Improved speaker with 50% more bass
YouTube, Netflix, Disney+ and more
Pandora, Spotify, Apple Music, YouTube Music
Smart home device control
A More Powerful Hub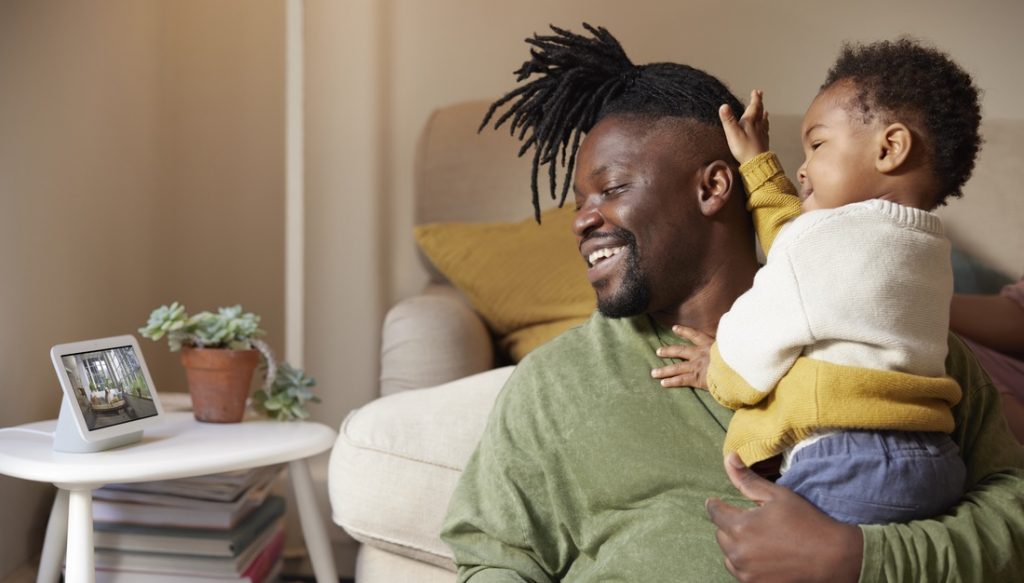 Google's Nest Hub is effectively a smart speaker equipped with a 7-inch touchscreen. It serves as a voice-activated embodiment of Google Assistant, a central hub for controlling smart home devices, and an entertainment streaming device for music and video content.
Owners of the original model will be well accustomed to the many ways the Nest Hub aims to improve your everyday life by acting as an ever present, always-online sidekick.
With Google Assistant and compatible smart devices, you can summon music and video, check a live stream from your security cameras, see who's at the front door, control your smart lights and thermostats, and so much more. It's an incredibly versatile accompaniment to the connected smart home.
The second generation Nest Hub promises several improvements over the original model, along with innovative new technology to increase its usefulness. Google has engineered a new edgeless glass display, which is easy to keep clean and offers a more modern, industrial look. It also enhances the digital photo frame experience, which according to Google, is one of the more popular use cases of the Hub.
The internal speaker has been enhanced with 50% more bass, to deliver deeper and richer sound particularly for users who enjoy music streaming through services like Spotify, Pandora, Apple Music or YouTube Music. Video streaming will also benefit, with apps like Netflix, Disney+, YouTube, and YouTube TV all accessible on the device.
Google Assistant voice recognition will be faster, thanks to a third microphone, and a built-in machine learning processor that gradually learns your most common productivity, music and smart home commands.
Quick Gestures will also be enhanced by the inclusion of Google's proprietary Soli radar technology, enabling better hand gestures for controlling media and other content. But the Soli radar will play another far more critical role; advanced sleep tracking.
Getting Ready for Bed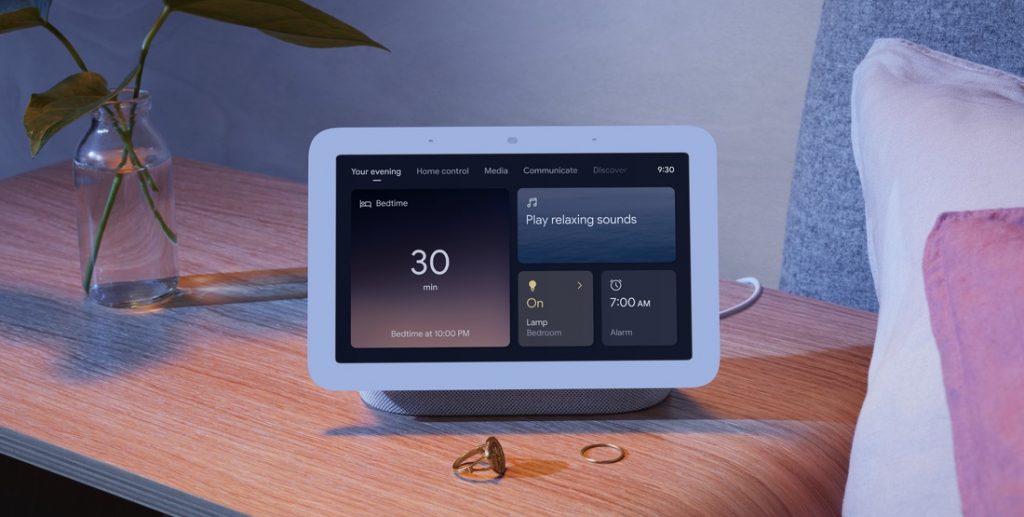 According to Google, the bedroom was one of the most popular locations for the first Nest Hub. In response, the company has placed a great focus on improving the new Nest Hub's capabilities as a bedside assistant.
This starts with simple yet intuitive enhancements to the user interface. When it's time for bed, the display automatically dims. A 'Your Evening' page will offer instant access to alarm settings, along with control of smart lights and other relevant devices. The screen can display a large clock face for easy reading, and play soothing sounds as you doze.
In the morning, the hub will wake you gently with a Sunrise Alarm that slowly raises screen brightness and alarm volume. And you can wave your hand to easily activate the snooze mode.
Emphasizing Sleep Health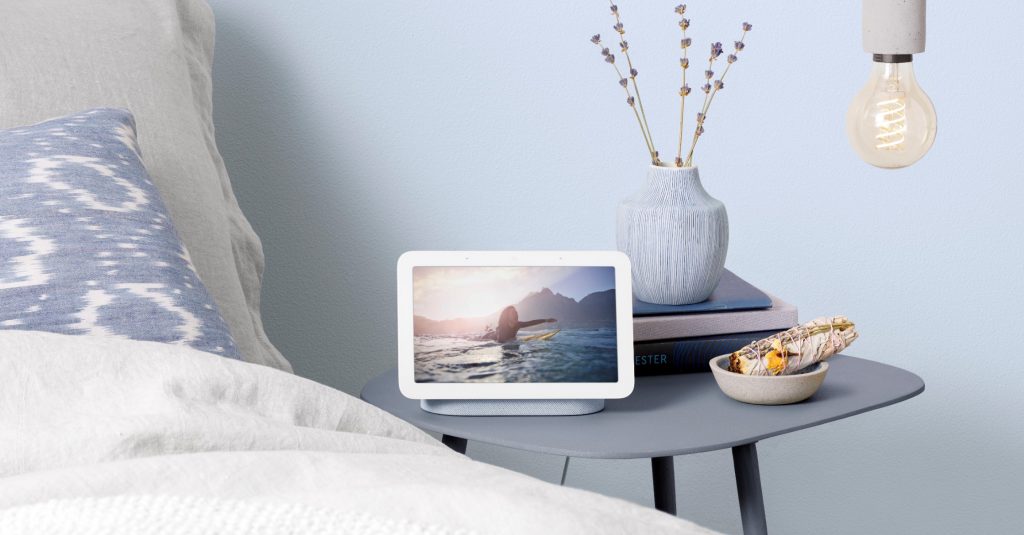 The biggest innovation in the 2nd gen Nest Hub is the use of Google's Soli radar technology to accurately track your sleep.
There are lots of sleep tracking devices on the market, but according to Google, the most prohibitive aspects of them is discomfort (i.e. the need to wear a device to bed), and the hassle of having to remember to charge or activate them.
Soli's Motion Sense allows the Nest Hub to overcome these issues by providing effortless sleep tracking that activates automatically and without the need for a camera or any kind physical wearable device.
As an opt-in feature, the Nest Hub keeps track of your nightly sleep schedule, along with the duration and quality of your sleep, with cough and snoring detection, and changes in lighting. It intelligently tracks only the person sleeping closest to it, to prevent your data from being muddled with that of a co-sleeper.
You can summon your sleep data in the form of intuitive visual graphics right on the Nest Hub screen with a quick voice command, or access it via the Google Fit app on your smartphone. Importantly, rather than being left to interpret the data on your own, the Nest Hub will analyze your sleep patterns to provide you with personalized ways to improve your sleep health.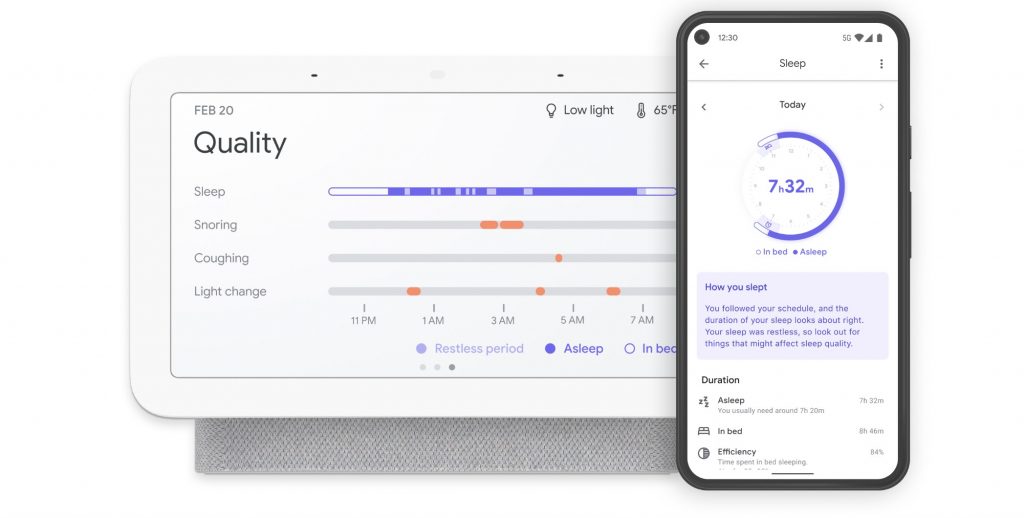 Despite being completely contactless, Google says that the Nest Hub's sleep tracking is on par with or better than many other consumer and clinical sleep tracking devices. But Google says it is also "looking for ways" to integrate with Fitbit sleep trackers, for enhanced features later. It also promises tight privacy measures, with all audio and Soli motion data being processed on the device locally, and simple controls to quickly and easily delete data collected.
All 2nd gen Nest Hubs will come with free access to sleep sensing "until next year", says Google, with future pricing yet to be detailed.
The new Nest Hub is available for pre-order now on the Google Store and other retailers for $99.99, and will be offered in Chalk, Charcoal and Sand colors, alongside a new Mist variant.
Our editors strive to ensure that the information in this article is accurate as of the date published, but please keep in mind that offers can change. We encourage you to verify all terms and conditions of any product before you apply.