Gronk's 5 Must-Haves To Throw The Ultimate Football Watch Party
Let's tackle that to-do list. With Gronk.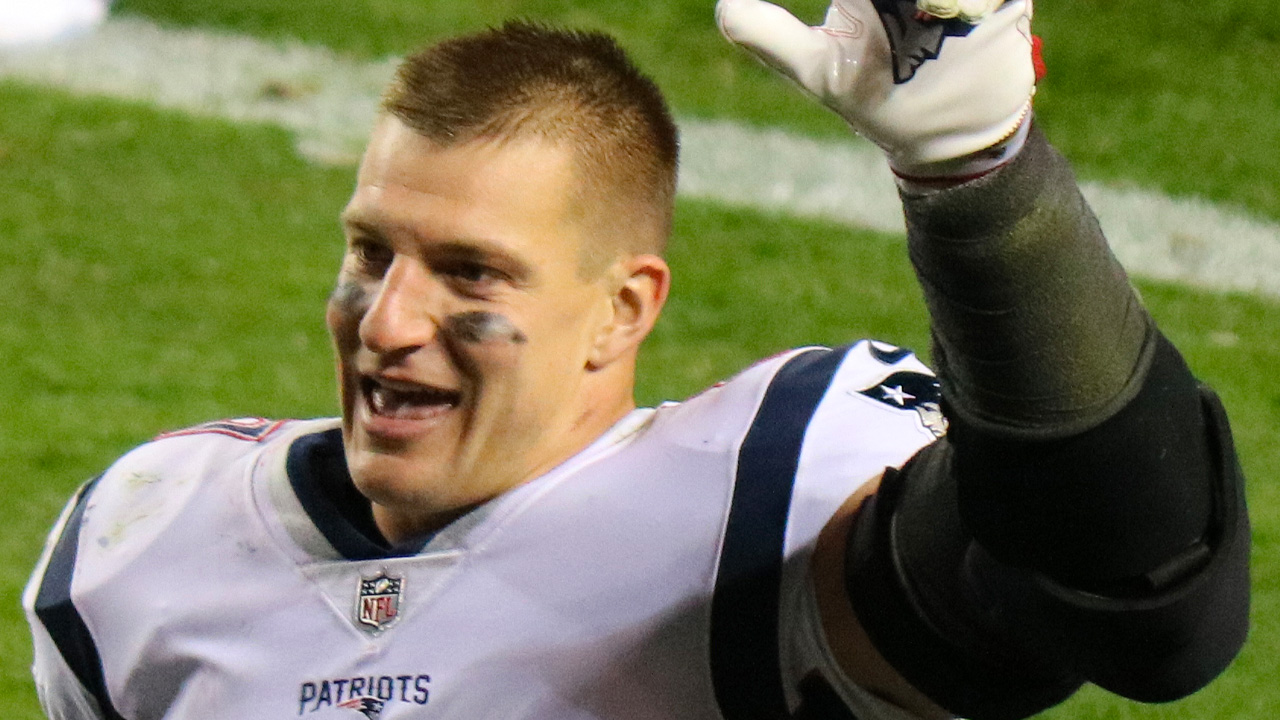 The Patriots may be out of the Super Bowl this year, but that's not keeping former Pats tight end and NFL icon Rob "Gronk" Gronkowski out of Miami for the Big Game.
Gronk teamed up with Uber Eats in Miami to create the Uber Eats x Gronk Box, and as one of Slickdeals' travel writers, I got the call to interview the FOX Sports NFL analyst about his own Super Bowl plans.
Gronk: The Martha Stewart of Football
While many would like to see Gronk come out of retirement in 2020, he's making a different play for this year's final football showdown by hosting Gronk Beach, a festival-type party and live concert in Miami the day before Super Bowl LIV. Fans can enter to win tickets to party with Mr. "Yo Soy Fiesta" by ordering his limited-edition donut box via Uber Eats (twist our Homer Simpson pudge arms).
But for all you donut-haters (repent!) and everyone outside of Miami-Dade County, we used our interview time with the walking beer bong tournament to get his must-haves for hosting your own Gronkified watch party at home.
Not only is Gronk one of the greatest NFL players of our era, but one of his other party planning enterprises included his own cruise ship, making him our Slickdeals go-to expert for your party checklist.
Gronk's Top 5 Game Day Party Essentials
1. Big-screen TVs (but small can do in a pinch)

"You have to have a big-screen TV, that's number one," Gronk says. Luckily, Best Buy is offering up to $500 off many of their top-rated 65″ TVs including this Hisense LED Smart 4K TV for $349.99 and free shipping.
RELATED: Best TV Deals and Sales Going On Now
Gronk went on to point out that just having a way to watch what's going is all that really counts. "Sometimes, I'm flying during the Super Bowl, that's happened to me before," he shared. "Yup, I've watched [the Super Bowl] from an airplane screen, so what is that? Like 8 by 10 inches, but it got the job done."
For those on-the-go like Gronk, pick up these Beats Studio 3 wireless noise-canceling headphones still on sale for $184.99 (regularly $349.99) at Best Buy — and if you find them any cheaper, they'll match the price.
2. Comfortable seating for your crew—and lots of it

"Number two, you have to have nice, comfortable chairs," he emphasizes. Depending on what you're planning, there are chairs for every occasion—but we assume you'll need more, ahem, sturdy seating… amirite?
You can't go wrong with any of these under $200 high-quality recliners at Hayneedle plus an extra 10% off with coupon code CYBER. You'll also get free shipping on orders over $49. Touchdown.
Sectional seating on a shoe-string budget? For multifunctional comfort plus a wallet-friendly deal, snag two of these impressive memory foam sofa-meets-futons at Walmart for $129 each (regularly $249 each) and free shipping for instant (and deluxe) seating for six for about $250 (or four-person seating for huskier crews).
Regardless of your seat setup, Gronk guarantees the more, the merrier. "You can't have everyone standing the whole time, especially because there are some people who want to sit, watch the game, focus on football and enjoy what's happening," he says.
3. Grilling and your go-to game food

There's nothing worse than being hungry at a get-together, and given how long the Big Game can be, you need enough food to last through fourth quarter. Gronk even shared his own go-to grilled chicken wings recipe: "It's easy. I just add some lemon sauce with olive oil on the wings."
If he's going out for game grub, Gronk couldn't help offering up a shout-out his hometown of Buffalo, New York. "I got to give love to where I'm from. They have the best food for watching the game," he raves. "I grew up eating delicious buffalo wings there." Noted.
Hey Gronk! Slickdeals Pro poster @l_r_r found this deal on a GALLON of Frank's RedHot Original Buffalo Wings Sauce for just $11. With a gallon, you can now literally "put that sh*t on everything!"
4. Drinks are a must—and delivery is totally acceptable
"Number four, you need good drinks because everyone at your party is expecting it," the NFL champion explains. Preparing and shopping for food and drinks takes time (unless you get it all delivered… hello, pizza, our old friend).
Target offers delivery and in-store pickup and usually has weekly deals on drinks. This week you can score 12-packs for $5.99. This low price makes it easy to knock drinks off your list and stock up before the opening kickoff. Plus, you can pile on the discounts at Target:
Spend $15, get $5 gift card with same-day orders
Save $10 when you spend $100 with same-day pick-up or delivery
Get $25 off a future qualifying purchase over $25 when approved for the Target RedCard
Plus, RedCard holders get 5% off daily (though some minor restrictions apply)
Extra Points: Amazon now delivers alcohol in two hours (let us repeat: booze dropped on your doorstep on-demand within two hours) to Amazon Prime members in 13 lucky cities. Plus, get $10 off Amazon Prime orders in January 2020 with code SAVE10NOW.

RELATED: Walmart Has Enlisted A Grocery-Picking Robot to Streamline Shopping For Food
5. Clear the clutter
"Last but not least, it's important to have a nice venue," according to Gronk. If you're going to invite people over, do it right and spruce up your space. Plus, it's free. "You can't just invite people to your house if it's not Super Bowl ready," he chides. Rearrange furniture (even if your only furniture is workout equipment) to ensure all seating has the best possible views of the TV, and get rid of unnecessary clutter.
Moreover, Gronk pointed out that any place is about to feel a whole lot smaller, so it's best to get everything out of the way. "I'm all about space," our favorite man-puppy tells Slickdeals. "It's necessary to allow people to celebrate, jump around or react however they want."
Don't miss out on anything you need for the Big Game on Sunday by setting Deal Alerts
Win a Chance to Party with Gronk

Want to skip your party and hang with Gronk instead? First, you'll need to get yourself to Miami.
Uber Eats is giving Miami-area residents the chance to be part of Gronk's party crew. Gronk even created his own limited-edition Gronk Box which includes four Gronkified donuts for $15 and is available exclusively on the ride-sharing app.
Miami-area customers who place an order and purchase the Uber Eats x Gronk Box by January 27th, 2020 will automatically be entered to win a series of prizes, from signed Gronk memorabilia to Gronk Beach VIP tickets that the football legend will personally deliver to winners. Potential winners will be sent a direct message to their email account or phone alongside their Uber Eats order. Then, during the week of the Super Bowl, the big guy will also pay a visit to three lucky winners to give them VIP tickets to his Gronk Beach fiesta.
Don't miss out on anything NFL
UP NEXT:
Our editors strive to ensure that the information in this article is accurate as of the date published, but please keep in mind that offers can change. We encourage you to verify all terms and conditions of any product before you apply.