Hands-On with HP's Premium Line of Mobile Lifestyle Computers
From tablet to hybrid to luxury laptop, there's something for every work/play lifestyle.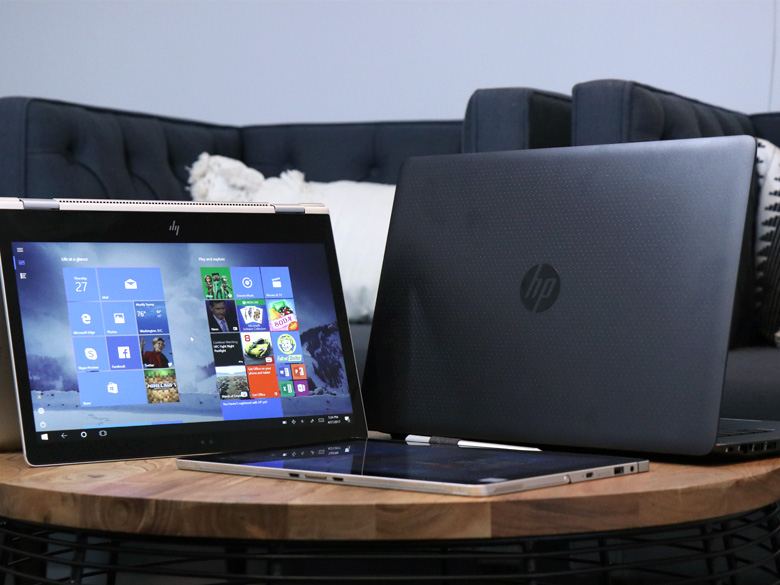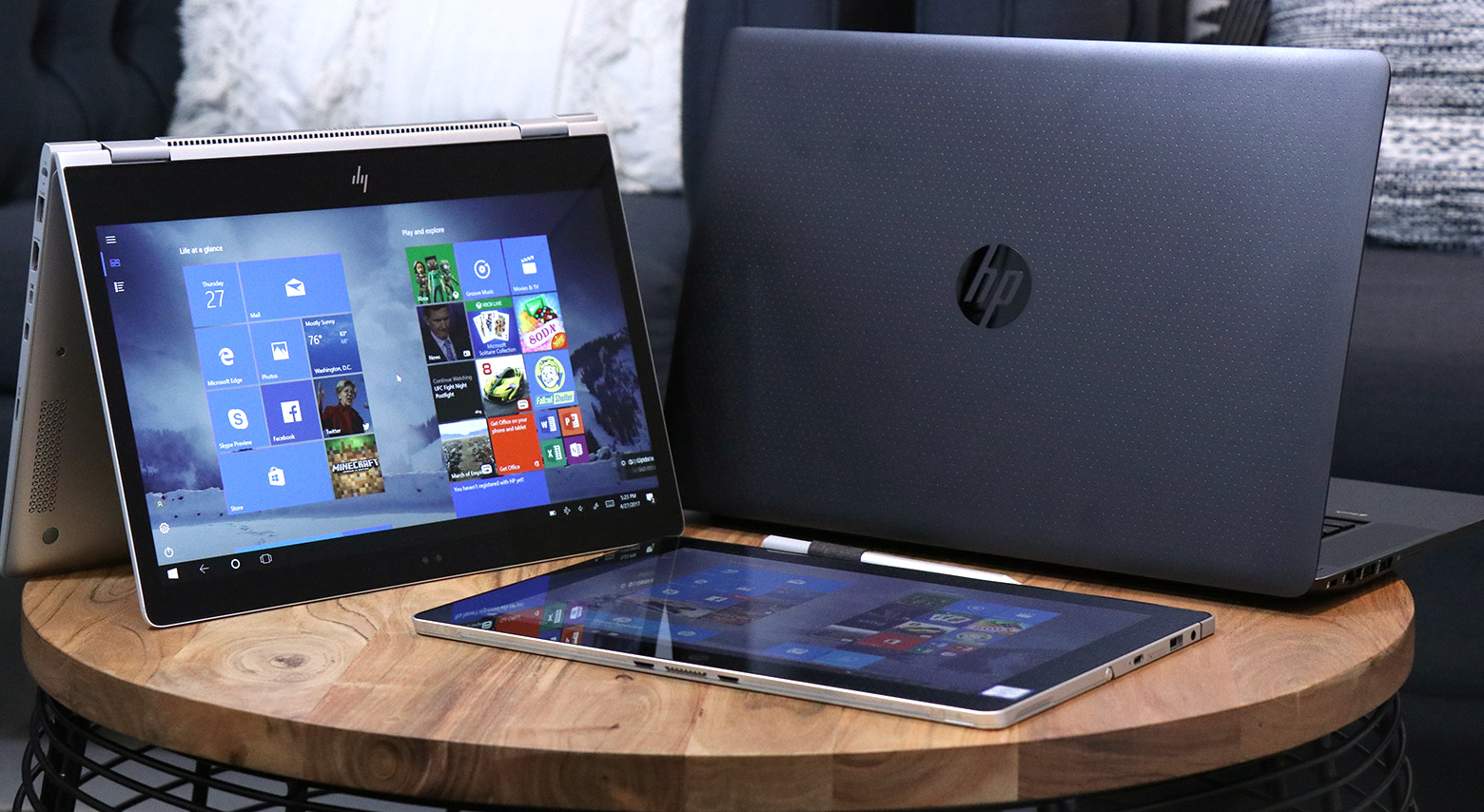 HP's newest family of premium laptops and tablets are beautiful, lightweight, and pack a ton of power, and you wouldn't be wrong if it seems like they're trying to sway some Mac users to the PC world with elegant designs and high-quality materials.
We recently had the opportunity to live with three different products from HP — Elite X2 tablet, Elitebook x360, and Zbook Studio G3 — to see just how much our productivity increased with these mobile lifestyle PCs. Keep reading for our hands-on impressions!
Disclaimer: These products were made available for us to review by HP.
HP Elite x2 Tablet – Starting at $909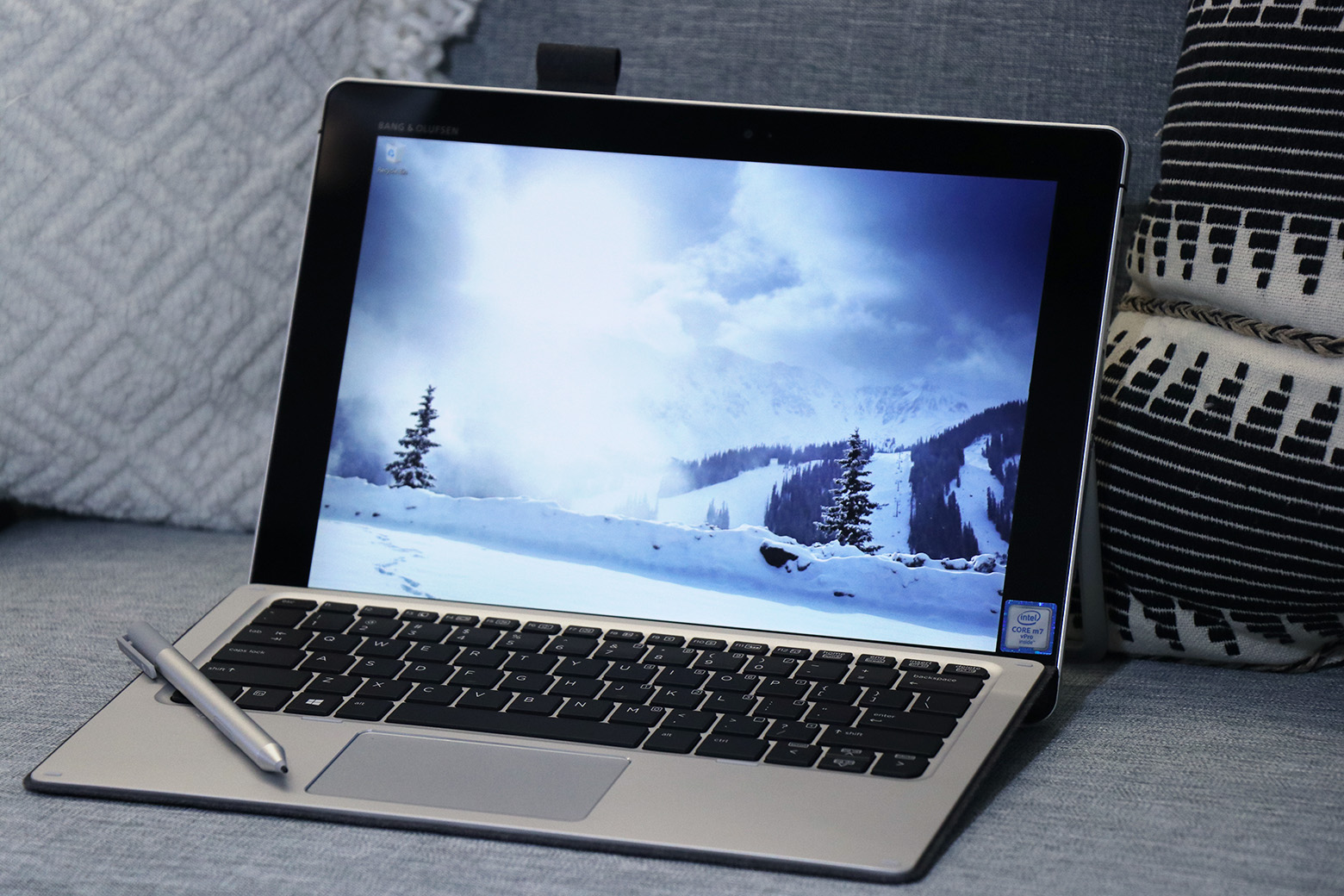 For those who require maximum portability and versatility, HP's Elite x2 tablet answers the call with a lightweight, small form-factor and a detachable travel keyboard. A built-in rear stand extends for tabletop use while a fingerprint sensor and stylus offer streamlined access to everything Windows 10 has to offer.
HP Elite x2 1012 G1 Tablet Specs (Our Test Model)
Intel Core m7-6Y75 processor with Intel HD Graphics 515
8 GB RAM
11.6″ diagonal FHD (1920 x 1080) LED touchscreen with pen support
2 megapixel FHD 1080p front-facing webcam; 5 megapixel FHD 1080p rear-facing camera
256 GB Solid-State Drive (SSD)
Touch Fingerprint Sensor
Tri-Band Wireless and Bluetooth Connectivity
HP Active Pen with App Launch
External I/O Ports: 1x USB Type-C w/Thunderbolt; 1x USB 3.0
On-Demand Productivity
As a content producer and writer, my work space is wherever the story is happening, which means I could be on location or in transit. And having the power and portability of the Elite x2 allows me to cover events on the spot, as they unfold.
When the magnetic travel keyboard is detached, the Elite x2 changes to tablet mode, using the entire screen space to present pinned apps for easy access. The included HP Active Pen with Wacom technology is a great way to take quick notes and navigate Windows — a single click of the pen pulls up a sketchpad on the 11.6-inch HD touch display where I can capture thoughts or drawings, and then share them with my colleagues.
The touch display also significantly improves the Windows 10 experience thanks to multi-touch gestures which are useful for faster web browsing and page scrolling. I didn't find myself using the touch pad very much, but swiping four fingers horizontally across the pad cycles between virtual desktops — multi-tasking on-the-go has never been easier!
While the Elite x2 packs plenty of processing power, it always took a few seconds for the screen to turn on when in tablet mode — it's most likely a software issue because with the travel keyboard attached, the screen instantly wakes whenever the Elite x2 senses you've flipped open the cover. The included Wacom drawing apps also tended to not launch from the pen's shortcut button after the screen was unlocked. Neither are a big issue, but they do add a speed bump to what's otherwise a fast and convenient device.
Other features include audio enhancements by Bang & Olufsen, damage resistant Corning Gorilla Glass 3, and an integrated smart card reader.
HP EliteBook x360 Notebook – Starting at $1,269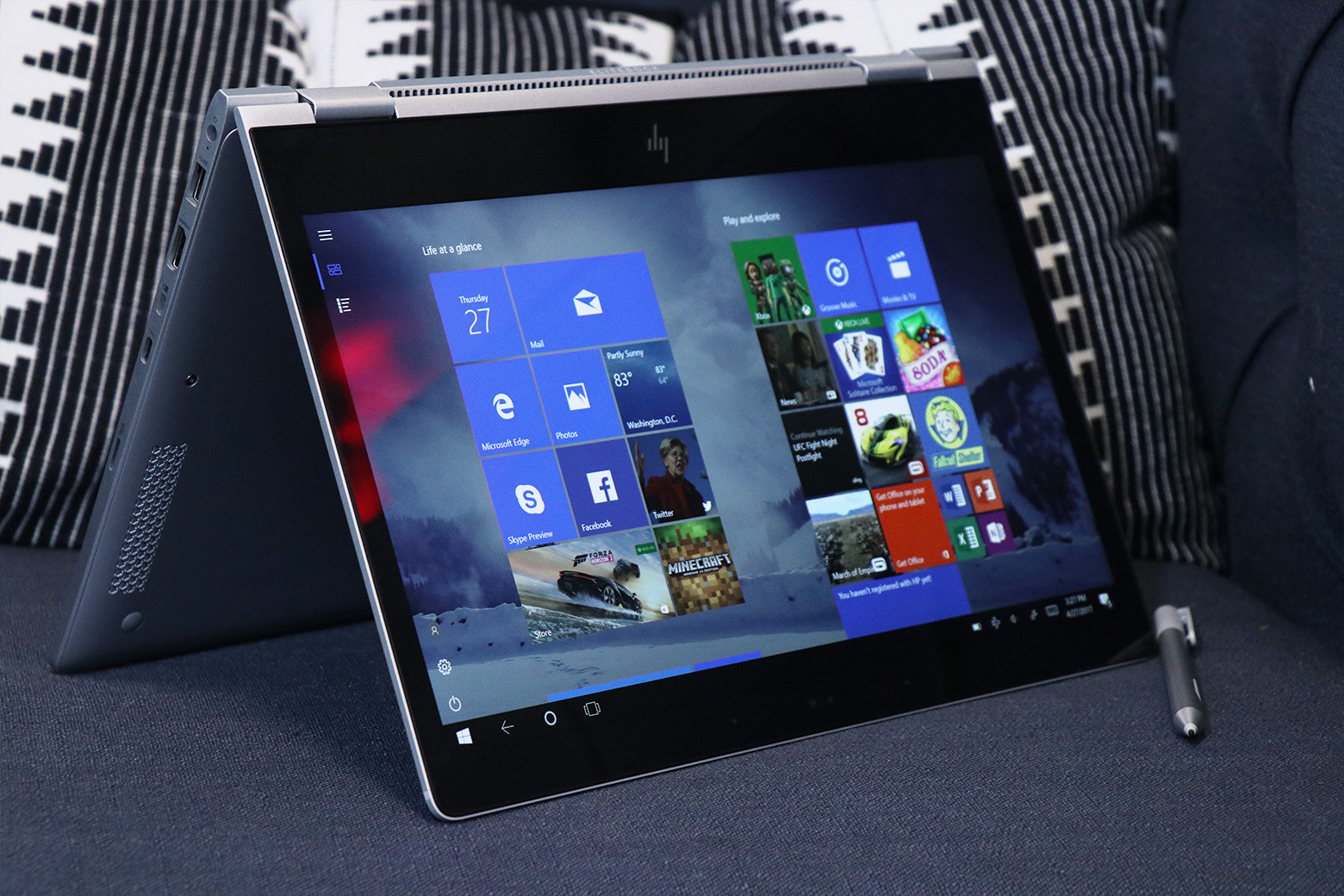 A 360-degree hinge, timeless aluminum unibody design, and a responsive touch screen make the HP EliteBook x360 the new standard for highly mobile professionals. Instantly switch between different use modes like presentation, writing, conferencing, and more.
HP EliteBook x360 1030 G2 Notebook Specs (Our Test Model)
Intel Core i5-7200U processor
8 GB RAM
13.3″ diagonal FHD (1920×1080) LED touchscreen with pen and touch support
720p HD webcam
Intel HD Graphics 620
128 GB Solid-State Drive (SSD)
Touch Fingerprint Sensor
Dual Band Wireless and Bluetooth Connectivity
WACOM AES Pen with APP Launch Button
External I/O Ports: 1x USB Type-C w/Thunderbolt; 2x USB 3.1; 1x HDMI
Maximum Versatility
Touch screens aren't anything new — we all have them on our phones. However, based on my initial reaction you'd think I had never seen one before. It's easily one of my favorite features and I don't know why it's not standard on all premium laptops now.
Having the 360-degree hinge was also very useful when I wanted to use it for entertainment purposes, such as casually browsing the web or streaming movies or TV shows on Sling TV and Netflix. Business in the front, party in the back!
From a design perspective, it's very similar to a MacBook, and I don't think that's a coincidence. If this laptop was meant to try to make some disloyal Apple users like myself jump ship, making it look very similar helps; even if it's just a little bit. Well played, HP.
While there are some really cool built-in features — like a collaboration with Bang & Olufsen which optimizes audio for better speech clarity and noise cancellation — the Elitebook fell flat in a few important areas. The speakers delivered mediocre sound, the camera captured muted images, and the shortcut button on the included WACOM AES pen only launched the drawing apps sporadically.
There's still a lot to like about the HP Elitebook x360, though. I thoroughly enjoyed it, both as a laptop and tablet. The versatility is fantastic — you basically get two products rolled into one. If you want a laptop for work but also something you can use to watch your favorite shows on your commute or when you're travelling, this powerful laptop definitely deserves to be in the mix.
HP ZBook Studio Mobile Workstation – Starting at $1,159.10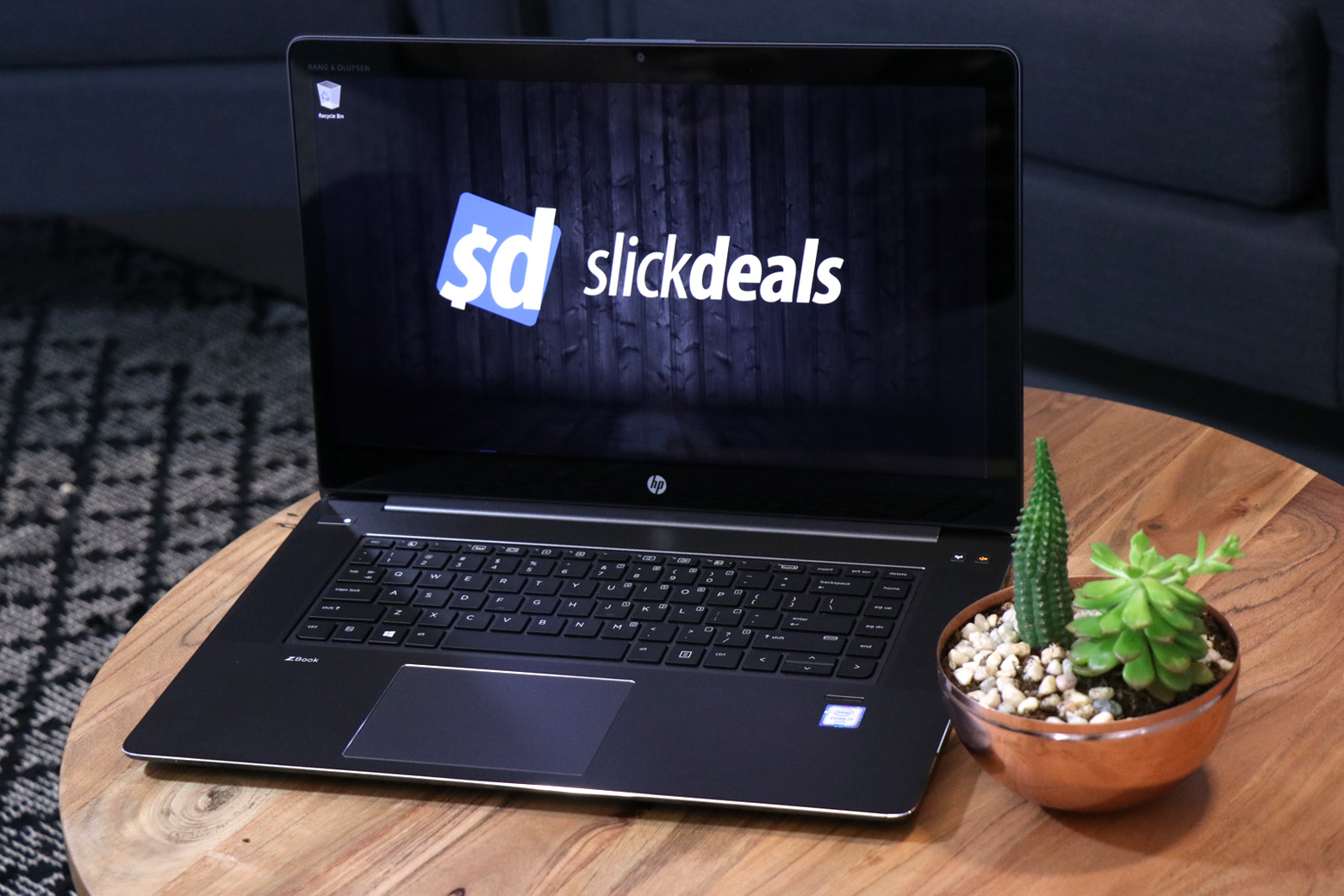 HP's ZBook Studio is bringing the fight to the MacBook Pro by delivering premium desktop computing power in a sleek and luxurious package — the fully-machined aluminum and die-cast magnesium body is both eye-catching and pleasant to the touch.
HP ZBook Studio G3 Mobile Workstation Specs (Our Test Model)
Intel Core i7-6700HQ processor
8 GB RAM
15.6″ diagonal FHD (1920×1080) LED touchscreen
Integrated 720p HD Webcam
NVIDIA® Quadro® M1000M with 4GB dedicated graphics memory
256 GB Solid-State Drive (SSD)
Touch Fingerprint Sensor
Dual Band Wireless and Bluetooth Connectivity
External I/O Ports: 1x RJ-45; 3x USB 3.0; 2x USB Type-C w/ Thunderbolt; 1x HDMI
Portable Powerhouse for Work and Play
With an Intel Core i7-6700HQ processor, 8 GB RAM, and an NVIDIA Quadro M1000M graphics processor, the ZBook Studio G3 is ideal for creative types like video editors, graphic designers, or music producers.
A full-HD touch screen gives users a simple Windows 10 experience, and when you need to take your multi-tasking to the max, two Thunderbolt 3 and an HDMI connection offers support for additional monitors. Weighing in at about 4.4 lbs, the ZBook is a portable solution for working remotely, and the "long-lasting" 64 watthour battery helps you go the distance between charges (varies based on your usage).
We were most impressed with how cool and quiet the ZBook remained while in use — an almost inaudible hum reminded us that it was powered on, and temperatures at the bottom of the body stayed low enough for extended use on our laps, even while it was charging (a scenario which generally produces more heat).
The ZBook Studio G3 isn't all work and no play: 4 GB of dedicated graphics memory helps deliver smooth high-definition video playback and fast-frame rates when playing games. Pair that with the Bang & Olufsen audio processing, and you've got a premium personal entertainment system for when you need to relax while on-the-go.
Pricing for the ZBook Studio G3 is competitive with that of a MacBook Pro 15-inch, but without the same blind-followers that Apple has, the Zbook may be reserved for only those that demand the most power and portability for their job.
*****
Ready to power-up your productivity? Find more deals for laptops, computers, and accessories on our HP store page.
Our editors strive to ensure that the information in this article is accurate as of the date published, but please keep in mind that offers can change. We encourage you to verify all terms and conditions of any product before you apply.