Hands-on with Slickdeals: Nintendo Switch Review
Nintendo takes console gaming to the great outdoors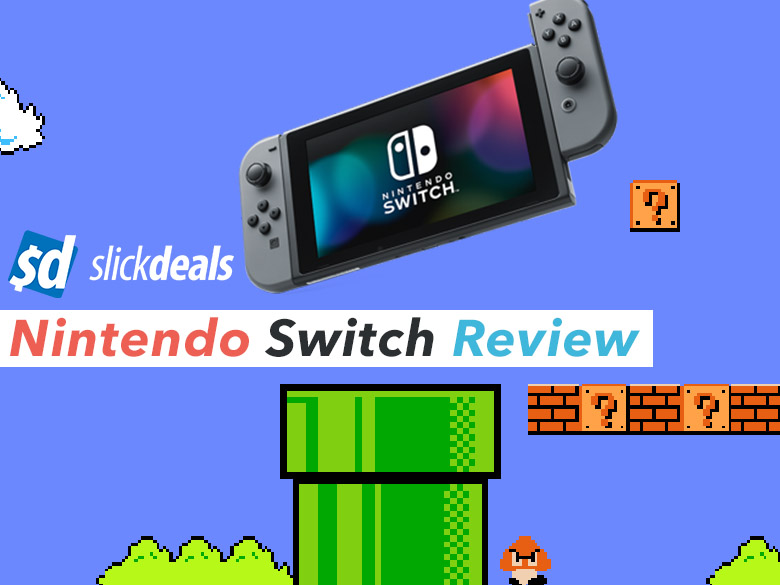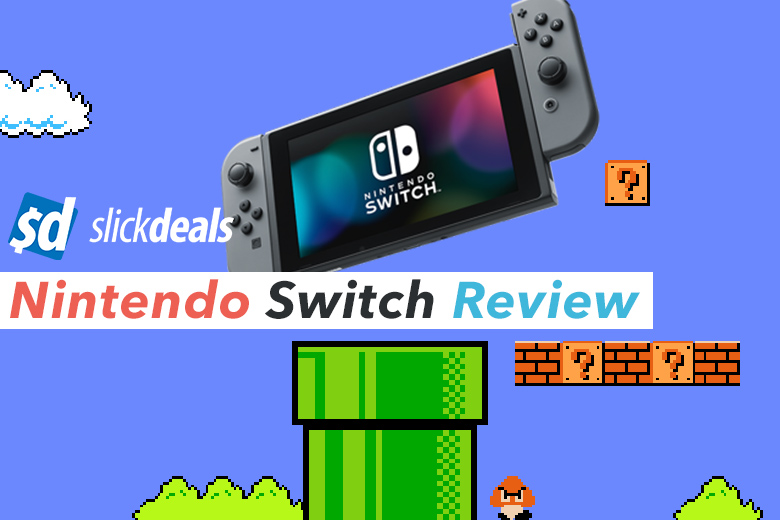 Nintendo is known for being the most innovative console maker in video games, and that's a reputation it will certainly maintain with the recent release of its newest console, the Nintendo Switch.
Every console Nintendo makes comes with a new mechanic or feature, and the unique twist this time is the promise of console gaming that's playable anywhere. The Switch is essentially a powerful tablet-like device designed to be played both as a traditional HD console hooked up to your TV, and as a portable system playable on the go. For gamers, this means you can bid farewell to cut-back, inferior portable versions of your favorite Nintendo games, because with the Switch, you can take your full-size, full-fat Nintendo games with you.
Nintendo Switch Features
Home console / portable hybrid design
6.2-inch, 720p (1280 × 720 LCD) touch screen for portable mode
Detachable Controllers for home and tabletop modes
Motion-detecting Joy-Con controllers
32GB internal storage
Micro SD Card slot for expandability
Solid-state cartridge games
What's in the box
Nintendo Switch console
TV Dock
Two Joy-Con controllers
Joy-Con Grip (non-charging version)
Two Joy-Con Wrist Strap attachments
Power Cable
HDMI cable
Revolutionary Design
For Nintendo fans, the Switch represents one of the most exciting developments from the Japanese game giant in decades.  At home, the slim device slips into a docking station that's connected via HDMI to your TV. In this mode, it serves up traditional console-quality couch gaming in 1080p on the big screen. But, when it's time for the daily commute to work or school, you can pull the Switch out of its dock to transform it into an impressively powerful handheld console. Then just continue playing the exact same games on the move via its built-in 6.2-inch screen.
If nothing else, the Switch is certainly the most versatile gaming machine ever made. The controls that bookend the tablet device in portable mode are called Joy-Cons, and can be detached for use as a traditional wireless gamepad (akin to the Xbox controller,) or as two separate mini controllers for multiplayer games. And the Joy-Cons are motion-sensing too, so while core games, like "Legend of Zelda: Breath of the Wild," embark on epic adventures with all the needed buttons, Wii fans can expect to see motion controlled party games like "1-2-Switch" on the console, too.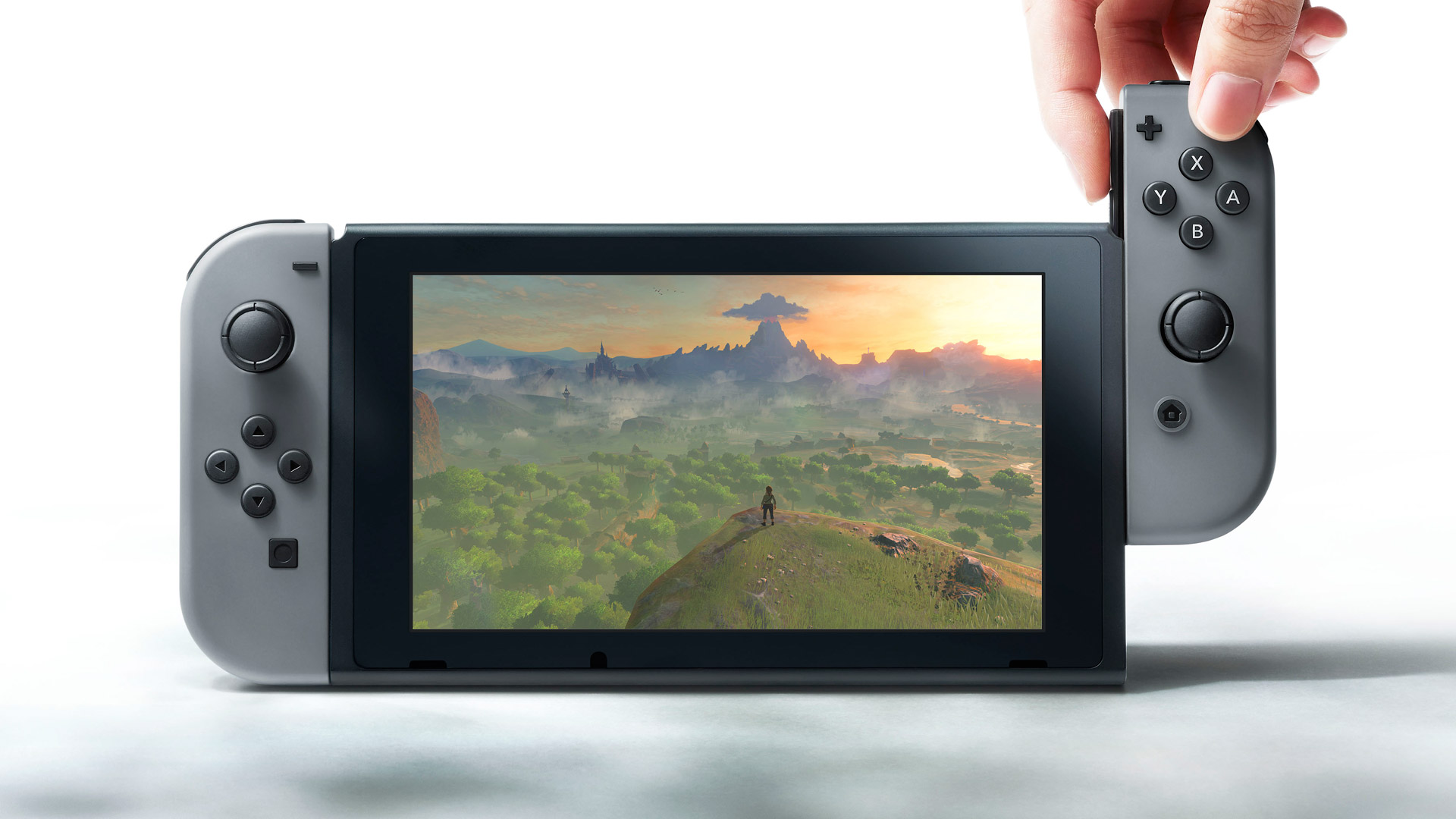 System Performance
In raw specs, the Switch isn't quite on par with the high-end PS4 and Xbox One consoles. Nintendo obviously had to sacrifice some of that upper-level technical prowess to achieve the unique portability aspect. Don't buy a Switch expecting to play the next "Battlefield" or "Grand Theft Auto" game on the bus.
But as anyone who's played the new "Legend of Zelda: Breath of the Wild" might tell you, this is still one remarkably powerful little console. Zelda features a massive, open, 3D world that's as gorgeous as it is immense.
Despite being a fraction of the size, the Switch represents a significant upgrade over the Wii U, offering higher resolutions and smoother frame rates than the outgoing Nintendo console. This is even more impressive when you're playing in portable mode — the Switch is the most powerful handheld gaming device by a country mile, and games look fantastic on its 6.2-inch LCD screen.
But with all that power in a device so small, don't expect long battery life in portable mode. You get roughly two and a half to three hours when playing intense games like Zelda. Simpler titles can stretch the battery life beyond four hours, but that's not much. Luckily, the Switch can be connected to a standard cellphone charging pack, or to any USB-C outlet, which will extend its portable life considerably.
The Joy-Cons also suffer from weak Bluetooth signal strength that can be interrupted by other wireless devices or by sitting too far from the console. Nintendo is investigating the issue, but if you have a large living room, you may want to consider buying the Switch Pro Controller, which is a larger, Xbox-like controller (and better for those with bigger hands) that doesn't suffer from connectivity issues.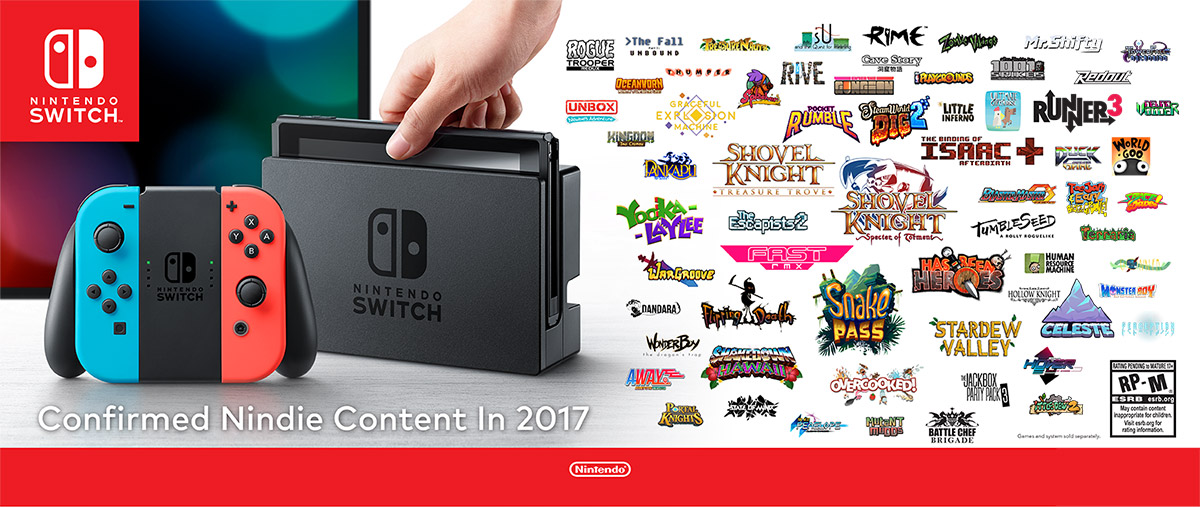 Nintendo Switch Launch Games
As is common with new console launches, there are only a handful of games available for the Switch right now. But within this small selection is a number of fantastic options.
The clear star of the show is "Legend of Zelda: Breath of the Wild." It's an absolutely massive, open-world adventure and one of the most highly-rated games of all time. This is a must-buy title.
"Snipperclips" is also fantastic; it's a unique and charming multiplayer puzzle game that has players solving physics-based puzzles while snipping away at each others' paper bodies. Smaller indie developers have come out strong on the Switch, with notable titles like "Shovel Knight," "Fast RMX," "I am Setsuna" and "The Binding of Isaac" adding vibrancy to the Switch's early library.
There are already a number of big titles on the horizon, as well: "Mario Kart 8 Deluxe," an enhanced version of the critically acclaimed Wii U racer, arrives in April. "Splatoon 2," the sequel to Nintendo's much loved multiplayer shooter, is due in Summer, and the next big 3D Mario game, "Super Mario Odyssey," will be out in time for Christmas.
threadID: 9885000

Overall Value
The Nintendo Switch is a delightful little console. As a value prospect, however, it's a tricky one to weigh up. At $300, its price sits in line with Xbox One and PS4 — but as a home console, it's less graphically capable than those machines. Additionally, you have to consider the cost of your first game (ranging from $10 for smaller download titles up to $60 for the full retail games) since Nintendo chose not to include a pack-in game with the Switch. Plus, if you want to download all your games, you'll have to expand the internal 32GBs of storage to at least 128GB with a Micro SD Card.
On the other hand, the Switch offers great value for what you do get, which is a powerful gaming tablet and the most capable portable console ever made. It's impressive that Nintendo has managed to pack this powerful little slab in a box with two feature-packed bluetooth controllers, a dock, cables and other accessories all for a price that's hundreds of dollars less than high-end tablet devices from Samsung or Apple. Granted, the Switch is a dedicated gaming device and lacks the diversity of an iPad, but this is definitely a game machine for gamers, and a very capable one at that.
It's a bit difficult to get your hands on one of these consoles right now, but some less traditional places to find the Nintendo Switch in stock is at Costco, Amazon Prime Now, and Dell.
See more Nintendo deals on our Video Games Category Page >
Images courtesy Nintendo.
Our editors strive to ensure that the information in this article is accurate as of the date published, but please keep in mind that offers can change. We encourage you to verify all terms and conditions of any product before you apply.