Fabletics for Men: How It Works and How to Make It a Good Deal
Kate Hudson's famous Fabletics online store has launched a line for men.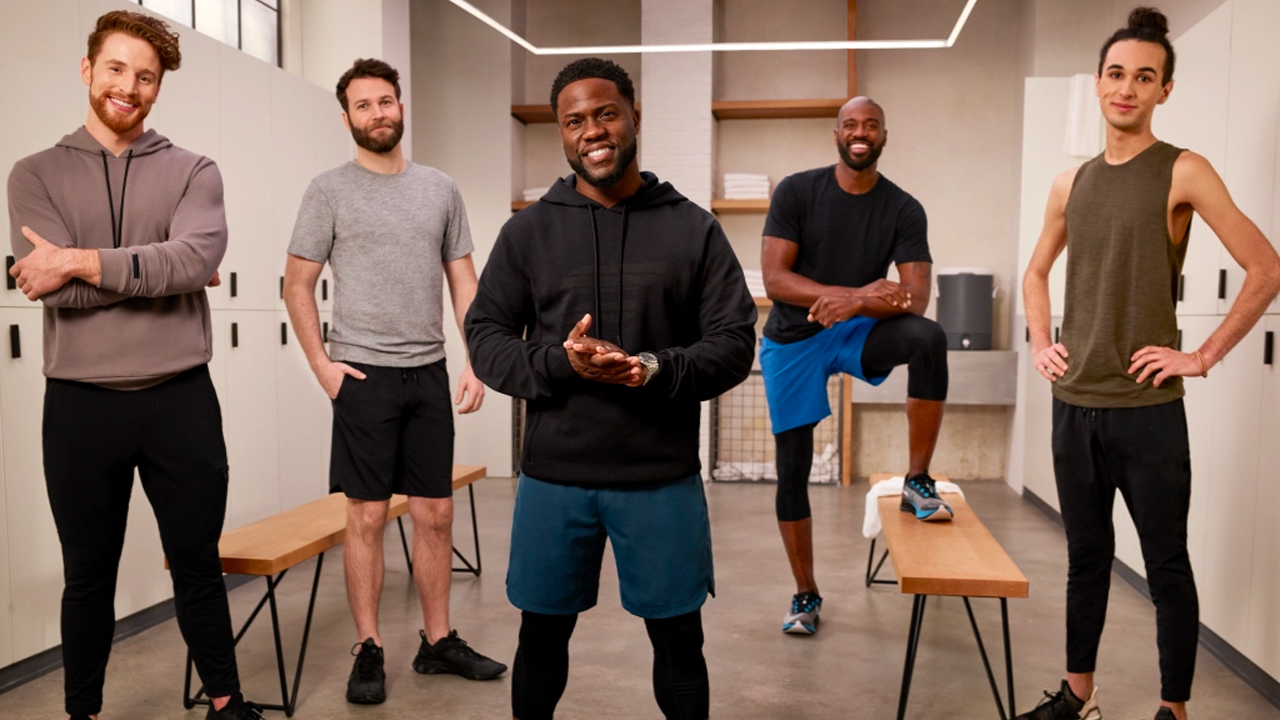 Fabletics, the wildly popular subscription-based membership for workout clothes spearheaded by actress Kate Hudson, recently launched a long-sought-after line of workout clothes for men.
In partnership with comedian Kevin Hart, the new Fabletics Men collection launched at the end of April 2020, and a limited selection of men's workout clothes now live online at Fabletics.

---
How Does Fabletics for Men Work?
Fabletics for men works just like Fabletics for women — it's a subscription-based membership that offers discounted prices on workout clothes. Here is an outline to better understand what you get from the service:
Pay $49.95 per month for Fabletics to curate a virtual closet of workout clothes for you.
Choose one outfit from your closet each month.
Fabletics sends your new look in the mail each month.
If you don't like the outfit, you can send it back for an exchange.
Shop or skip by the 5th of every month to avoid the monthly $49.95 charge.
All charges become a member credit that can be spent at any time toward gear.
Outcome: A stylish addition to your actual, tangible closet of something you already chose.
Sign up as a "VIP member" to access heavily discounted athleticwear on top of your monthly workout outfit.
For about $50 per month, one new workout outfit each month is a pretty great deal, considering a single pair of Fabletics men's sweatpants from the company's line costs almost $90 if you were to buy the sweatpants on its own.
Other non-member prices range from $39.95 for the Front Row Tank to $79.95 for the Postgame Hoodie, whereas member pricing for those same items is $29.95 and $59.95, saving you $10 – $20 of each item, respectively.

Fabletics for men also offers a pretty compelling deal to get people to sign up for a VIP membership: When you sign up, you can get two pairs of workout shorts for $39, while non-member prices run $59.95 for a single pair of shorts.
This all sounds fine and dandy, unless you just don't want to fork over $49.95 each month for new workout clothes.

---
How to Make a Fabletics Men VIP Membership Work for You – Try This Hack
If you like the idea of a curated closet based on your workout style, favorite colors and favorite styles — but not the idea of a subscription you may or may not use — there is a Fabletics hack.
Every month, on the first of the month, Fabletics sends VIP members a reminder that their virtual closet is ready to shop or to skip the month if you don't want to buy anything that month. If you skip the month before the 5th of the month, you won't be charged the $49.95 membership fee.
You can then go back to Fabletics later in the month and purchase an outfit or individual pieces at the special VIP pricing. If you forget to skip, though, you will be charged the $49.95, which is placed on your account as a credit to use later. This means you'll still have to purchase a curated outfit or piecemeal your own, although you don't have to shop right away.
The other sticky part? If you forget to skip the month and don't spend that month's credit, it doesn't apply to the next month.
For example, let's say you forgot to skip May. Your account is charged $49.95 and it's placed on your account as a credit. June comes around and you never used that credit from May. Well, Fabletics will still charge you $49.95 if you don't skip the month in June. So, by then, you may be out $100.
Moral of the story: Don't forget to skip the month if you don't want to shop in a particular month. If you do remember to skip the month, you can still shop, but you don't necessarily have to spend the entire $49.95. You can buy just one shirt at the discounted VIP price if you want.

---
Fabletics Men Workout Clothes and Styles
In terms of selection and styles, it looks like Fabletics' men's line consists of just the basics: T-shirts and long-sleeves, hoodies, muscle tanks, board shorts, jogger sweatpants and moisture-wicking boxer briefs.
In all honesty, the new men's line of workout clothes looks somewhat limited so far — but that's coming from a woman who eagerly awaits new seasonal releases of workout clothes to stock up on more (probably floral) leggings she doesn't need.
Based on the vast selection of Fabletics styles for women (and both Hart's and Hudson's penchants for fashion), I think I can safely assume that the Fabletics men's collection will expand over time to include more styles and move away from just the basics.
---
READ NEXT:
---
Any product or service prices/offers that appear in this article are accurate at time of publish, and are subject to change without notice. Please verify the actual selling price and offer details on the merchant's site before making a purchase.