How I Booked a $4,500 Trip for Two With Points
Credit card points could earn you a free dream vacation, but only if you know how to use them right.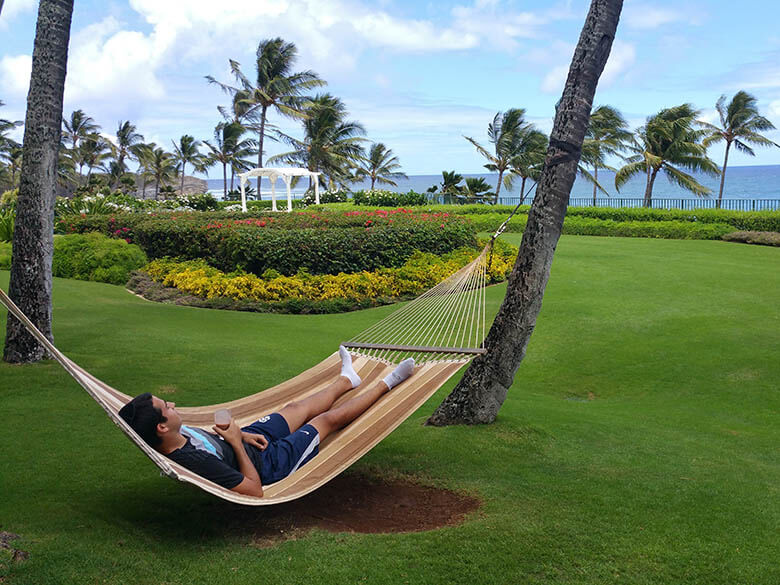 Last summer, my brother and I decided it was time for a vacation, and what better way to unwind than a visit to the beautiful Hawaiian island of Kauai. Most people spend months, or even years, saving up the thousands of dollars it takes to fund a trip like this, but thanks to the magical wonders of credit card points, we were able to successfully book a four-day vacation for an out of pocket cost of around $100 per person with only a week's notice. Here's how we did it.

Flights
As with most trips, we started with the flight. Our plan was to fly directly from LAX to Kauai on American Airlines, which normally costs 45,000 miles roundtrip. However, we knew that if you book it through British Airways, the same flight is only 25,000 miles. Don't ask me the logic behind that, it's just the nature of the points world and a good reminder to check out all your options before booking.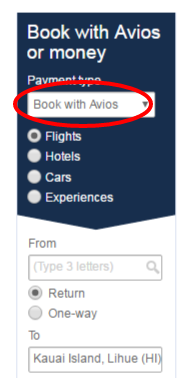 To book an AA flight on British Airways, you'll need an Avios account number and password, as well as a British Airways Executive Club account (which you can register for here for free; you don't need the credit card to sign up.) Once you're logged into the British Airways site with your Avios account info, you will be taken to your Avios account page, where you can search for available flights using points or money. Be sure to choose the "Book with Avios "option. The flight we chose would have cost $805 per person, but we covered the cost with points and paid only $11 in airline taxes each.
Earning British Airways Avios Points
So then the big question is, how do you earn Avios points? Don't worry. We've got you covered. There are two good ways to earn British Airways Avios points to use toward your next trip.
First, you can get the British Airways Visa Signature® Card and spend at least $2,000 in the first three months. This will earn you 50,000 points (just be sure you're paying your balance every month to avoid racking up interest.)
Your other option is to transfer the points from Chase Ultimate Rewards, which, luckily, has a one-to-one transfer rate with Avios. If you don't have any Chase points, you can earn them by getting the Chase Sapphire Preferred® Card. This popular card lets you earn 100,000 bonus points after you spend $4,000 on purchases in the first three months from account opening. That's $1,250 in travel when you redeem through Chase Ultimate Rewards®.
If you don't currently have either card, I wouldn't recommend getting both at once. It would be challenging for most folks to spend $6,000 in three months and still be able to pay off the balance each month. Therefore, if you want to take full advantage of both cards, apply for them at different times, allowing yourself three months per card to reach the spending threshold.
threadID: 12940198
Hotel
When it came to picking a hotel, I looked at my point balances to see which program would work best for our stay. The Chase Hyatt Credit Card seemed like the best deal, partially because this card offers two free nights at any Hyatt in the world after you spend $1,000 in three months. I ended up using one of the free nights, leaving one night free for this particular trip. The Grand Hyatt in Kauai is a category six hotel, which means it costs 25,000 Hyatt points per night. We booked the hotel for four nights, and it cost us 75,000 Hyatt points, plus the free night I had left on my account.
How to Earn Hyatt Gold Passport
If you decide to go with the Hyatt points program, you've got a couple of options for racking up points. Your first option is to get the Hyatt credit card, which, as mentioned above, offers two free nights at any Hyatt in the world. That's worth up to 60,000 points, since a category seven hotel (the highest Hyatt category) is 30,000 points per night. Your other option is, again, the Chase Sapphire Preferred card, which transfers to Hyatt at a rate of one-to-one.
Car Rental
While it's not as popular as using points for flights and hotels, you can actually book a car rental with points. Many credit card travel portals and airlines give you the option of using your miles on car rentals, though to be honest, it's usually a terrible value.
That's where the Barclaycard Arrival Plus comes into play (Note: This credit card is no longer available to new applicants). The Barclaycard Arrival Plus card allows you to use your points toward any travel-related expense, including car rentals. Once you pay for something travel related with your Arrival Plus card, you have 120 days to redeem your points for a statement credit toward the amount. For example, if a flight, hotel or car rental costs $230, you would need 23,000 points to pay it off. Barclaycard Arrival Plus has a sign-up bonus of 40,000 points if you spend $3,000 within 90 days (which is more than enough to pay for a car rental.) You earn 2x points on every purchase you make with the Barclaycard making it easy to accrue points. We booked a car with Hertz, used a 30% discount code, and charged it on the Arrival Plus card.
Redeeming Barclaycard Points
You can redeem Barclaycard points for a number of travel related expenses, including airfare, hotels, cruises, car rentals, and more. With the card, you have 120 days after a travel purchase has posted to your account to redeem your points for a statement credit. So, theoretically, you could purchase a flight or hotel before the points from the sign up bonus have posted to your account, and then redeem the points for a statement credit once they post. After you redeem points, you immediately receive 5% of those points back as a bonus to use toward a future purchase. For example, if you redeem 20,000 points for a $200 travel expense, you will get 1,000 points back.
 
Excursions
There is no possible way you could use your points to pay for excursions right? Wrong! Using the versatile Barclaycard Arrival Plus card, we booked our excursions (kayak to a waterfall, Napali Coast boat trip, and even a round of golf) all with points. The way we did this is by booking the excursions through the concierge at the Hyatt and charging it to our room. At the end of our trip, we paid for all of the room expenses with the Barclaycard, so even the meals we ate at the hotel were paid for with points.
How We Earned Our Points
So, how did we earn all these points? It's really just a matter of thinking strategically about which cards to apply for and making sure you meet the minimum spending requirements. My brother and I both signed up for the Barclaycard Arrival Plus card and Chase Sapphire Preferred cards. After we each met the spending requirements for both cards, we were left with 46,000 Barclays points each and 59,000 Chase points each (this includes the points from the money spent to reach the spending requirements.) I applied for the Chase Hyatt card and earned two free nights at any Hyatt after meeting the spending requirements. My brother had applied for the British Airways card earlier that year and earned 52,000 points. This left us with a combined 262,000 points to pool from for this trip.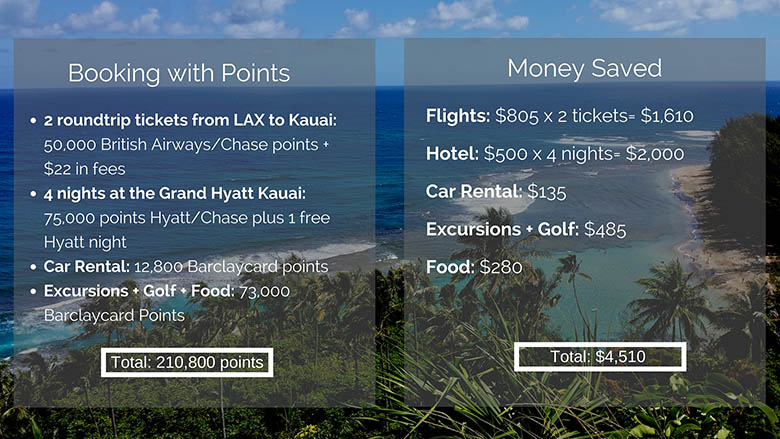 This trip would've cost us a fortune to book without points, but we only spent $120 ($22 in airline taxes, plus the few meals we didn't eat at the hotel). We also gained a lot by pooling our points together and sharing a hotel room.
So that's how it's done. Have you been taking advantage of any point-earning credit cards? If so, let us know in the comments! If not, I hope this inspires you to try it out and start earning points toward your next vacation!
Images via British Airways, Barclaycard.
While we work hard on our research, we do not always provide a complete listing of all available offers from credit-card companies and banks. And because offers can change, we cannot guarantee that our information will always be up to date, so we encourage you to verify all the terms and conditions of any financial product before you apply.